Former WVU Players On Rich Rodriguez, Unvarnished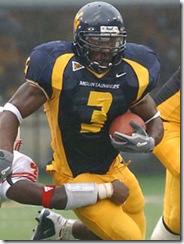 Grant Wiley, Dee McCann, Quincy Wilson
So MGoUser fab5 found a West Virginia blog called Couch Fire Sports that had an interview with former WVU linebacker Grant Wiley—a totally unvarnished interview. The blog's managed to land almost a dozen of these interviews with former athletes and they're… blunt. A section of cornerback Dee McCann's interview:
CFS: Was WVU your first experiance with mass amounts of "white girls"?

DM: Yes it was, and I had fun.

CFS: Is it true you knocked out a younger star recruit at Hardees and sent him straight to Divison 2 ball over a very cute female athlete?

DM: NO COMMENT, Hahahaha. NO COMMENT !!!
These things have a zero BS rating, and a lot of them talk about Rich Rodriguez. The results follow.
Dee McCann [CB, JUCO, 2004-2005]:
CFS: How were the practices in the NFL compared to thoughs of Rich Fraud? Did he have you practice to many hours also?

DM: The practice hours were about the same but Coach Rods practice was more high tempo but he prepare me for the next level. …

CFS: If you could tell Rich Fraud one thing it would be … Hey Coach …

DM: THANKS FOR EVERYTHING.
Anthony Mims [CB, 2000-2005]:
CFS: How do you feel about the negative light being shed on WVU by Ex Coach Rich Rodriguez?
AM: I think it's some BS, but not mainly on Rods part, but the NCAA. Those "violations" can be seen at any other school in the country.

CFS: If you talked to Coach Rod on the phone, you would say … Hey Coach ….
AM: I'd wish him luck on the upcoming season and thank him for everything he's done for me.
Quincy Wilson [RB, 1999-2004]:
CFS: So is Rich Rod a dick? What are your thoughts?
QW: The whole Coach Rod thing was handled wrong on both ends. I never had a problem with Coach Rod. I think if you want to leave then fine will find a coach that bleeds blue and gold like Coach Stew.
Also:
CFS: What are your thoughts on the Super Bowl Shuffle?
QW: one of the classiest songs ever.
Vaughn Rivers [CB, 2003-2007]:
CFS: How do you feel about the negative light that is shed upon WVU with all the Rich Rodriguez drama?
VR: Alot of propaganda you know alot of behind the scenes issues the public really never knew about. Some things that never get brought to light but the loyalty of the West Virginia faithful is incomparable and I can also understand their feelings of betrayal.

CFS: If you talked to Coach Rod on the phone, what would you have to say to him? Hey Coach …
VR: I would tell him as I always have and always do, thank you for the opportunity you gave me and the work ethic you installed in us.
John Pennington [walk-on WR, 2000-2003]:
CFS: How do you feel about the negative light Rich Rodriguez has brought upon WVU with the investigations?
JP: I know Bill Stewart will do a great job handling the situation and I hope we can turn it into a positive.
Finally, Grant Wiley [LB, 2000-2003] wrote paragraphs and paragraphs, too many to replicate here. Here's a chunk:
Couch Fire Sports: First impressions of Rich Rod?
Grant Wiley: … Michigan players, fans, and alumni need to stop crying like a bunch of babies and turn on the 2007 Mountaineers so they can see their future.

I remember coming back to school after the Music City Bowl, on crutches, for our first meeting with Rich. I didn't research him or read any of the papers so I really had no idea what to expect. I wouldn't have known that I was Big East Rookie of the Year hadn't it been for the trophy I was presented with.  So Rich introduced the staff and very adamantly told us we were going to play like our hair was on fire or not play at all. From the start he was re-instilling the discipline I feel we needed at the time. The meeting ended and typically people were overreacting, trying to find their exit strategy, and a lot of guys were just ready to take that next step to win, coming off of destroying another SEC team.

Rich pulls me into his office and breaks me down like this. "Grant, you had a good year, and I think you are a good player. You didn't really have to work for your position, it was kind of handed to you." At the time I wanted to tell him to go fuck himself, but I knew what I went through to start as a freshman and the work I put in to be the best linebacker in the country. So I didn't over react, I just took it as more motivation to prove this guy I was the best. Maybe that is what his objective was to begin with.
Wiley's "one knock" on RR was his lack of "truly  genuine relationships" with the players he didn't recruit. Wiley says he's sure that's changed, but the transition at Michigan suggests it hasn't.
A second question about whether he'd rather play for RR or Bill Stewart has this section:
I loved the fact that Coach Rod's in your face attitude was being embodied by guys I played with that naturally didn't have that attitude, so in the end they were better players because of it. I mean the proof is in the pudding. Coach Rod wins games. No matter where he goes, he is going to win games. Coach Stew has been winning games as well. But, I don't see the same attitude out on the field, offensively, as when Rich was in charge. You can teach technique until your blue in the face but if you don't have that killer inside come out when you play, you won't stand a chance.
You should probably read the whole thing; it's more insight into Rich Rodriguez's philosophy and program in a few paragraphs than we've gotten since his hire.
BONUS UNEXPECTED BEILEIN HATE. One basketball player who experienced the John Beilein era was interviewed, Drew Schiflino:
CFS – If you and Coach Beilein had a phone conversation how would it go, Hey Coach ….
DS – Hey coach you're so fake and the biggest asshole ever, karmas a bitch … CLICK.
That's like… hanging up the phone, right? Not pulling a trigger?
UPDATE: should note that Schiflino was kicked off the team before his senior year.  You could probably find some WVU football guys who did not complete their careers with unkind words for RR, too.