Fee Fi Foe Film: Ohio State Offense
[Recurring guest author note: Ace is on Hawaii time]
RESISTENCE IS (/checks weather) FUTILE.
Lower your shields and surrender your ships. We are Borg. We have existed for hundreds of years, marching inexorably forward at a rate sufficient for first downs, passing only in conditions of peak efficiency as calculated by a quotient of run-pass-optimization. We have scored 200 touchdowns, accumulated 10,000 yards, won 35 of 41 games started.
Our ultimate goal is achieving perfection; to that end we have by maximum face-saving means finally removed creatively challenged Ed Warinner from our Collective, and assimilated the diabolical and technological distinctiveness of former Indiana  head coach Kevin Wilson to our own. His tempo, motion, and deep passing concepts have been adapted to serve us as we plod forward at optimal zombie efficiency.
I observed this collection of cybernetic organisms versus Iowa and Michigan State, two good defenses that lean on their cornerbacks. They're a threat.
------------------------------
Personnel: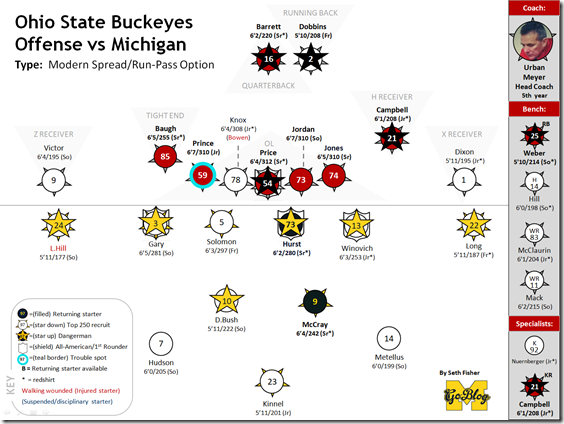 You know these guys. QB JT Barrett is trying to become the first quarterback in this rivalry to win four straight since Rick Leach ever. He remains what he is, an excellent runner with total command of an offense designed around his ability to get every inch (and sometimes more) available to him, and a meh passer. RB JK Dobbins is a low bugger who Wally Pipp'd returning starter RB Mike Weber. Dobbins has more speed and moves his feet so quickly he tends to squirt through no holes all the time. Weber is squatter, slower, and the better blocker.
Pay no attention to which receivers are "starting" because they rotate all of them often, though H-receiver (their term for slot) Parris Campbell is usually in. There's a lot of athleticism, but all the outside guys still run routes like Michigan's freshmen, i.e. badly. TE Marcus Baugh is rounding into a good blocker; as a receiver he's more of a catch-and-run dude than a matchup problem.
The genetically perfect offensive line has improved despite losing a decent new starter at one of the guard spots. C Billy Price has been a starter since their national championship season. Now at center, most of the offense goes through him. LT Jamarco Jones didn't impress me as much as I thought he would—he's more of a finesse guy than a mauler, but he's not long enough to translate that to elite pass protection; he's on the border. RG Michael Jordan took over Price's old job and is better at being a large object in the way than the more complicated stuff he was doing last year. RT Isaiah Prince had a great Penn State game and has improved as a pass protector, however he's still quite the sieve. LG Demetrius Knox was the projected starter last offseason so replacing injured Branden Bowen with him hasn't hurt them. I'm anxious to see what they're like next year without Price and Jones.
[Hit THE JUMP for the rest of the breakdown]
------------------------------
Spread, Pro-Syle, or Hybrid: Archetypical spread. In two games I charted 3.29 WRs per play and every snap from either a Pistol or Shotgun (and all but two times the Pistol motioned into a Shotgun). I've removed the 4th quarters (when OSU was salting away a blowout vs MSU and trying to pass their way out of one at Iowa) from the following:
| Formations | Run | Pass | PA | RPO |
| --- | --- | --- | --- | --- |
| Gun | 51 | 32 | 8 | 14 |
| I-Form | - | - | - | - |
| Ace | - | - | - | - |
| Pistol | 1 | - | - | 1 |
| Heavy | - | - | - | - |
A handful of those runs might be RPOs since Ohio State will use J.T. Barrett as the run option and that's functionally impossible to tell from a QB draw. They only use a few formations so it's worth going over them. This is the main one, called "Y-offset" in Urban playbooks because that infuriates football purists. The tight end often lines up inside the tackles where he act as a quasi-fullback. He'll motion often.
The next most common formation is they'll put the tight end on the line in the slot for a four-wide look. This formation then puts the "H" in motion, making him a threat to run. They also do a lot of unbalanced stuff—against Michigan State they were in an unbalanced formation over a third of the time! I'll cover it in the overview.
Basketball on Grass or MANBALL? They are far more zone. The base run play is back to regular zone read, with that Penn State zone read counter motion option worked in. Out of 52 plays I charted as called runs, 24 were zone reads, five were the counter pitch, five were called QB runs, and only six pulled a lineman. The Power Read that was their base in the past only comes out once or twice a game.
When they do pull, it's often a fold. This play came out three times before Michigan State learned to react to it. It's a draw that becomes a fold. Watch the left guard:
Price, the center, blows a DT out and the left guard just folds around that to pancake a linebacker. The regular power stuff has all but disappeared as they try to keep things simple for the guards and feature Price.
Hurry it up or grind it out? The Wilson Effect is felt strongest in the tempo. Ohio State was previously a standard "hurry up and wait" offense, keeping their base 11 personnel on the field then checking the sideline for their play. Now they'll actually snap it quickly about a quarter of the time.
Quarterback Dilithium Level (Scale: 1 [Navarre] to 10 [Denard]): I'm going to copy-paste what I wrote last year:
8, effectively 9. We've always struggled to nail Barrett to a number on this scale because he's a good runner but not Gardner-level. What he lacks for in whoop he makes up with vision, patience, and leaving all of his bad decisions for off the field. Against Michigan State I charted JT a perfect 19/19 on zone reads. That didn't include the RPOs, which he also, on review, chose correctly every time. There's a serious there there, which is a big deal for an offense that has to stay ahead of the sticks.
He got two zone reads wrong in this year's two games. A reminder of his annoying ability to maximize yards against your filling safety:
Danger Man and the Dangermen:
I think this is the first time I've put a shield on a lineman; the Weber touchdown I clipped above is one example. There are about 60 more. Watch the center handle this slanting DT like he always wanted that guy to do this:
Here's another slant on which Price hands a block on his DT to the right guard on a silver platter then seals a linebacker.
Price is ridiculously strong, gets Ohio State in the right protections every time, and is by some margin their best pass protector. They pull him sometimes on play-action jut to get him at left tackle (Barrett bugs out unnecessarily here):
Though Mike Weber lost his job to Dobbins, he is still a dangerous dude earning nearly as many carries. The touchdown above is his as much as Price's: Weber sets up Price's second block by pressing outside before a sharp cut. Then he splits MSU's safeties. I'm tempted to give Higdon a star now.
And here's the guy Weber lost his job to:
J.K. Dobbins has ridiculous feet, sprinter speed, and excellent vision in traffic. He's also compact and difficult to bring down. He's averaging 7.3 YPC on 149 attempts this year. He's not allowed to go to the NFL until 2020.
The current iteration of the H or "Percy Harvin" slotback position is Parris Campbell, who's kind of a weird dude. Campbell was a running back in high school but is shaped like a receiver—Ohio State will used him as a slot merchant and jet sweep threat but not as much of a full-blown running back as Curtis Samuel was for them last year. Despite missing a game this year, Campbell is their top receiver in yards (his backup, K.J. Hill, has 20 more targets). Campbell is very crafty blocker and uses his elite acceleration to good effect:
He's also their returner. Despite Campbell reclaiming his job, K.J. Hill gets on the field plenty—if they pull the tight end to go four-wide Hill's the first guy in, though he's not used as much outside as he once was. Hill didn't feature as much in these games but I've seen enough of him to tell you what he is: a slippery receiver with a good inside-out move and plenty of speed to keep your safeties in danger.
I was back and forth about LT Jamarco Jones as I explained in the personnel section but here's one of the reasons I thought about starring him:
I don't have to go over J.T. Barrett again do I? Oh, right, there's a section for that.
HenneChart:
| Opponent | DO | CA | MA | IN | BR | TA | BA | PR | SCR | DSR |
| --- | --- | --- | --- | --- | --- | --- | --- | --- | --- | --- |
| Iowa | 1 | 16(3) | 3 | 2xx | 5xx | 4 | 3 | 3 | - | 60% |
| Michigan State | 1 | 6(8) | 2(1) | 5xx(1) | - | - | - | - | 2 | 63% |
J.T.'s passing game relies heavily on his feet and defenses overreacting to the running game in general. His long passing is accurate enough to be plenty dangerous to a defense going Cover Zero or overreactive zone safeties. The old joke is his weakness is rain, because defenses can get away with run-focused safeties without worrying about receivers with five-star speed getting behind them. In fair weather Barrett doesn't have to be that accurate to put a ball up and win a talent competition:
Kevin Wilson has added a lot more deep switches and a more coherent pass game to maintain that threat. He still can't fix Barrett's accuracy (not the INs above), especially when he's under pressure. And sometimes when he's not:
The Iowa game was a new experience: as Barrett's protection broke down he would come down backside reads and not see that a zone defender was right there to pick it off.
OVERVIEW:
Again this is with no 4th quarters:
| Down | Run | Pass | PA | RPO |
| --- | --- | --- | --- | --- |
| 1st | 26 | 13 | 6 | 7 |
| 2nd | 17 | 10 | 2 | 6 |
| 3rd | 8 | 9 | - | 2 |
So Ohio State isn't as run focused as they were previously, though you have to remember most of those passes are screens. This offense is still based on running the ball against six in the box, and all the frippery is there to make you play that straight up. There isn't an idea Urban won't use to screw with defenses. Take two steps toward a veer and they'll pull a tackle around:
The run-pass-options are a big part of that. One of the most successful was a package that uses the tight end as a very wide option pitch:
Another RPO they turned to a bunch is one you saw earlier when I pointed out how good of an inside runner Barrett is. Here's the other option on that play if the safeties are staying inside:
------------------------------
PLAY BREAKDOWN: THE UNBALANCED GAME
Ohio State went unbalanced a ton in these two games, and did more of it against Illinois. Each of these games saw the package further developed: against Michigan State they were running several RPOs out of it. The base of that is the standard Rich Rodriguez zone read with a pre-snap bubble read:
Going unbalanced means the second receiver from the top is officially an offensive linemen for this play—if he goes downfield like on the above play Ohio State can't throw downfield. They can still pass behind the line of scrimmage, hence the screens.
You do lose an eligible receiver but what do you care if your passing game doesn't actually look for a fourth guy to get open.
The tradeoff is fewer defenders on the backside unless the defense wants to pull someone out of the middle. That accomplished, Ohio State is back to running a simple zone read versus six in the box.
If you have a Rivals account—and Ross Fulton is the best reason to do that—Fulton this week tied OSU's development of their unbalanced game directly to the Michigan gameplan ($), as the constant RPOs will stress Michigan's safeties and lead to Ohio State dictating matchups. It's not hard to picture WLB #33 here as McCray on Dobbins in an edge race:
The Buckeyes likewise targeted linebackers in coverage, below throwing a counter flood route to Dobbins.
I wish I could quote the whole article. Fulton discusses how the motion puts a defense like Michigan's in a bind. If you have every defender follow his man, he gets caught behind on jet motions. If you choose to swap the OLBs' jobs Ohio State gets to pick their matchups. Your last option is to bring down a safety and play with no help against their 5-star receivers.