Fee Fi Foe Film: Ohio State Offense
[Recurring guest author note: Ace is on Hawaii time]
RESISTENCE IS (/checks weather) FUTILE.
Lower your shields and surrender your ships. We are Borg. We have existed for hundreds of years, marching inexorably forward at a rate sufficient for first downs, passing only in conditions of peak efficiency as calculated by a quotient of run-pass-optimization. We have scored 200 touchdowns, accumulated 10,000 yards, won 35 of 41 games started.
Our ultimate goal is achieving perfection; to that end we have by maximum face-saving means finally removed creatively challenged Ed Warinner from our Collective, and assimilated the diabolical and technological distinctiveness of former Indiana  head coach Kevin Wilson to our own. His tempo, motion, and deep passing concepts have been adapted to serve us as we plod forward at optimal zombie efficiency.
I observed this collection of cybernetic organisms versus Iowa and Michigan State, two good defenses that lean on their cornerbacks. They're a threat.
------------------------------
Personnel: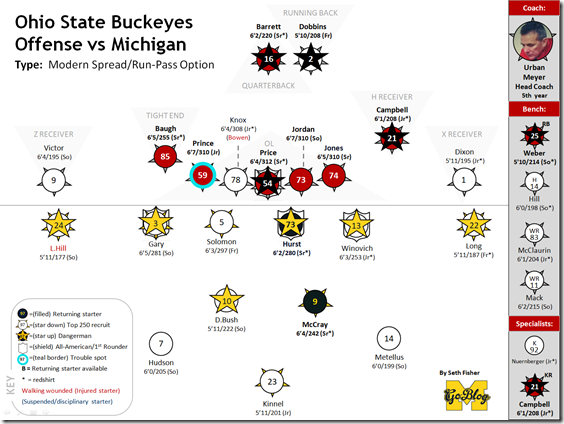 You know these guys. QB JT Barrett is trying to become the first quarterback in this rivalry to win four straight since Rick Leach ever. He remains what he is, an excellent runner with total command of an offense designed around his ability to get every inch (and sometimes more) available to him, and a meh passer. RB JK Dobbins is a low bugger who Wally Pipp'd returning starter RB Mike Weber. Dobbins has more speed and moves his feet so quickly he tends to squirt through no holes all the time. Weber is squatter, slower, and the better blocker.
Pay no attention to which receivers are "starting" because they rotate all of them often, though H-receiver (their term for slot) Parris Campbell is usually in. There's a lot of athleticism, but all the outside guys still run routes like Michigan's freshmen, i.e. badly. TE Marcus Baugh is rounding into a good blocker; as a receiver he's more of a catch-and-run dude than a matchup problem.
The genetically perfect offensive line has improved despite losing a decent new starter at one of the guard spots. C Billy Price has been a starter since their national championship season. Now at center, most of the offense goes through him. LT Jamarco Jones didn't impress me as much as I thought he would—he's more of a finesse guy than a mauler, but he's not long enough to translate that to elite pass protection; he's on the border. RG Michael Jordan took over Price's old job and is better at being a large object in the way than the more complicated stuff he was doing last year. RT Isaiah Prince had a great Penn State game and has improved as a pass protector, however he's still quite the sieve. LG Demetrius Knox was the projected starter last offseason so replacing injured Branden Bowen with him hasn't hurt them. I'm anxious to see what they're like next year without Price and Jones.
[Hit THE JUMP for the rest of the breakdown]