Mike Hart Visualizes You Some Scoreboards
The worst thing is when you know you saw something useful somewhere obscure a long time ago and stare at the Google box certain it will not help you. So it was yesterday when I tried to dig up a scoreboard comparison graphic that I thought I saw on a Mississippi State blog sometime in the murky past. Never found it, [UPDATE: It was on an Auburn blog; we are basically going from South Carolina to Tennessee] but the Daily did this:
So there you go. Bigger than a blue whale. IIRC, this is a standard Daily graphic they use whenever they have to compare the size of anything to objects in the world. I remember that elephant.
The actual viewable area for the boards is 47 x 85. This is large. When I went to Auburn a few years back I reported their single HD board was "killer" and that Michigan fans had "no idea" how much they needed one. That board:
That board was packed with frippery and advertising—about every fourth play instead of a replay you'd get a frustrating ad—that Michigan's boards will presumably be free of. This is going to be life-changing. Serious. Your life will be different. There will be a band hype-up video that actually gets you hyped up. You will understand what is happening in football games better. You will have up to date stats. Also grapefruit will taste better.
Let's explore in the universal language of Mike Hart pictures. I could not find dimensions for the existing scoreboard but I remember Michigan State's setup, also installed the late 90s, as nearly identical. The size of that increasingly vintage board:
The size of Auburn's board:
What you'll see this fall:
Very big. Somehow still considerably smaller than Minnesota's. And just for the hell of it here's Godzillatron:
Ah but wait:
In its first usage, the portion of the new screen that was typically used for showing replays and film highlights was approximately the same size as the old video screen. More recent games have featured a 16:9 format image centered in a ring of advertisement and score/clock related information. Nevertheless, complaints continue about the advertising, with some fans shouting out "We won't shop/eat/bank there" when advertisements are played loudly in the stadium.
This is wikipedia so it's true. With ads…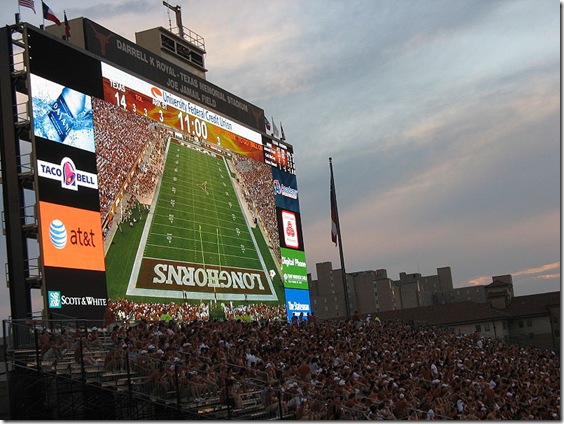 …Godzillatron loses a big chunk of its advantage, especially if they blare as loud as the ones at Ohio Stadium or Memorial Stadium. Michigan's going to have the best combo of replay and lack of annoyance in the country. Point Dave Brandon.