Dear Diary is Winning at Ticket Quest
Given the weak home schedule this year, I planned on creating a new feature on the site to detail my exploits in obtaining seats for every home game (by methods available to the hoi polloi) without ever paying a forced donation. Rule was I had to get two people into each game and sitting next to each other. Then I didn't bother for awhile because it would've been a lot of dividing by zero. To wit:
Air Force: I couldn't attend so I sent a correspondent, who then accepted a free ticket from somebody.
UMass: Offered one guy near the northeast entrance $10 each for his tickets and another guy interjected with two free ones.
Illinois: Family friend offered me a pair of his earlier in the week, then the day of the game both my designated game buddy (Misopogal) and the couple who owned the tickets decided it wasn't worth sitting in a rainstorm for this edition of Illinois, so I rolled solo with 4 tickets. I traded one to a student for his student ticket and 5 bucks 'cause the kid needed to get his buddy in, and sold the other two extras for $10 each outside the Stadium-Main entrance. I think I gave the student ticket away. Total: –$25.00
MSU: Bought two Row 11s from our new affiliate on Friday for $129 each plus $14 to have them FedEx'ed overnight (cheapest seat on Stubhub was $20 higher at the time even before their fees). Corner, but our endzone got most of the action.
Remaining home games are Iowa and Northwestern, and I'm at net $111. Guys, I think this is working.
DON'T MISS THESE:
The Thing About Purdue. In other useful though tardy things, the blogger formerly known as Blue Seoul (now ttifiblog) brought back the formerly weekly Game Wrap With Pics post for Purdue. Don't remember what that looks like? Like this: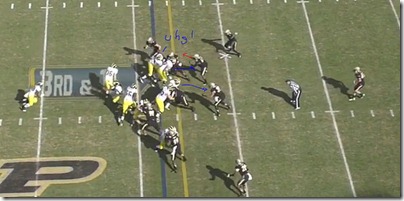 …but bigger and legible and there's lots of them. Brian front-paged but those who went to see discovered some bad html. Now fixed; dig in. And welcome back, Diarist of the Week.
Denard Watch. As he climbs toward the big career marks, let's look back on some of the milestones already passed along this trail of hobbled safeties, heaving linebackers, flying shoes, sanctified endzones, flappitty laces, askew helmets, smile-curved mouthguards, and soaring dreads. Courtesy of jeepinben.
Kugler and some guys we're looking at. Everyone's looking for the next 2013 recruit with consensus 4 stars to start moving up boards, and Patrick Kugler's one of those dues. A couple of helpful readers got a scouting report on his recent game, plus those of three prospects.
[JUMP: Weeklies, Best of the Board, Waving things in front of Brian]
THIS WEEK IN THINGS THAT ARE WEEKLY:
Wallpaper by jonvalk
Best and Worst is I guess what bronxblue is now titling his streams of consciousness. He breaks out "Good job; good effort" kid, which just about captures the sentiment our fanbase had for State after this game. That and finally some peace and quiet 'round these parts. May we be coyly patronizing about their ice cream and stuff for many generations before a monkey like that can grow again.
Inside the Boxscore says the most important number this week was 900. Other important numbers were 68 yards on 26 carries for the best back in the conference (?), and by now you know what's the dileo with "the Threat."
Statistics and FEI Prediction shows Michigan's offense improving 23 places after this week. Note that their S&P ratings put us at 5th on offense, and 11th overall. Until they can decide if we're top 5 of FBS or just in the top 50%, I ignore. Enjoy Life's Turnover Analysis now comes with 2011 comparisons.
Best of the Board
THE POSSIBLE ORIGIN OF AIRBHG
This archival footage was discovered by 5th and Long. I mean the meme did originate with Brian in re: Michigan's 2005 secondary. And I mean this could be a younger version of this:
And I mean I dunno guys, I guess keep waving that thing in his face and see if he raises a finger of smiting. In the meantime I don't know if you can say Terp QBs are the victims of such a deity who haunts the Maryland pocket, or if the fact that there is no such thing as the Maryland pocket is perhaps the real culprit?
SUUSA DILEO CULPA
Before even the winning happened, what really got me behind this coaching staff is they stress culpability. Could you imagine Urban Meyer telling a press conference "We went with a chickenshit offensive gameplan, and
it left some points on the board"? Could you imagine Charlie Weiss? Mark Dantonio?
This is why bwgrudt1484 is one of my favorite posters this week, for rather than hide amongst the shadows of forgotten history, he held a press conference to deliver his mea culpa, pulling his own negative comments in re: the Hoke hire, Denard's value at quarterback, a scholarship for Drew Dileo, and the darker days of Gibbons. Let his shame be lesson for why when a coach does a thing you need to be extra certain before calling it stupid, unless the coach has proven he's really stupid. Also I checked all those threads and whew—worst thing I whispered to the bitter watches of the HOLD ONTO THE DAMN BALL! nights was Dileo was probably recruited because he can catch punts.
ETC.
I really like Nebraska fans. If we're going to make sweeping generalities about the petulant Spartans and boorish Buckeyes, let's acknowledge internet Nebraska fans are likeable, yes? Michigan finally won a big game 12-10. Softball's complex next on the building docket.