Dear Diary is Winning at Ticket Quest
Given the weak home schedule this year, I planned on creating a new feature on the site to detail my exploits in obtaining seats for every home game (by methods available to the hoi polloi) without ever paying a forced donation. Rule was I had to get two people into each game and sitting next to each other. Then I didn't bother for awhile because it would've been a lot of dividing by zero. To wit:
Air Force: I couldn't attend so I sent a correspondent, who then accepted a free ticket from somebody.
UMass: Offered one guy near the northeast entrance $10 each for his tickets and another guy interjected with two free ones.
Illinois: Family friend offered me a pair of his earlier in the week, then the day of the game both my designated game buddy (Misopogal) and the couple who owned the tickets decided it wasn't worth sitting in a rainstorm for this edition of Illinois, so I rolled solo with 4 tickets. I traded one to a student for his student ticket and 5 bucks 'cause the kid needed to get his buddy in, and sold the other two extras for $10 each outside the Stadium-Main entrance. I think I gave the student ticket away. Total: –$25.00
MSU: Bought two Row 11s from our new affiliate on Friday for $129 each plus $14 to have them FedEx'ed overnight (cheapest seat on Stubhub was $20 higher at the time even before their fees). Corner, but our endzone got most of the action.
Remaining home games are Iowa and Northwestern, and I'm at net $111. Guys, I think this is working.
DON'T MISS THESE:
The Thing About Purdue. In other useful though tardy things, the blogger formerly known as Blue Seoul (now ttifiblog) brought back the formerly weekly Game Wrap With Pics post for Purdue. Don't remember what that looks like? Like this: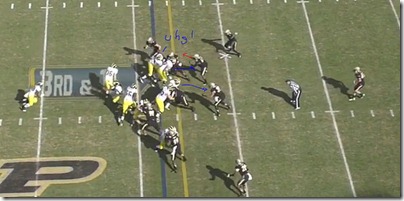 …but bigger and legible and there's lots of them. Brian front-paged but those who went to see discovered some bad html. Now fixed; dig in. And welcome back, Diarist of the Week.
Denard Watch. As he climbs toward the big career marks, let's look back on some of the milestones already passed along this trail of hobbled safeties, heaving linebackers, flying shoes, sanctified endzones, flappitty laces, askew helmets, smile-curved mouthguards, and soaring dreads. Courtesy of jeepinben.
Kugler and some guys we're looking at. Everyone's looking for the next 2013 recruit with consensus 4 stars to start moving up boards, and Patrick Kugler's one of those dues. A couple of helpful readers got a scouting report on his recent game, plus those of three prospects.
[JUMP: Weeklies, Best of the Board, Waving things in front of Brian]