Under the Lights II logo, other info released
Per MGoBlue
Neato
ANN ARBOR, Mich. -- The University of Michigan Athletic Department revealed the Under the Lights II logo on Monday (July 29) as well as other new information about the game. The second night game in school history will be the final time that Notre Dame plays at Michigan Stadium for the foreseeable future.

The U-M Athletic Ticket Office will begin taking ticket orders for the Sept. 7 primetime game against Notre Dame starting this Tuesday, July 30. For information on eligibility and how to obtain tickets, visithttp://www.mgoblue.com/tickets/fbl-index.html.

Blue Cross Blue Shield of Michigan and Blue Care Network are the presenting game day sponsors for this 41st game in the storied rivalry between two of college football's winningest programs. BCBSM is helping to provide two separate giveaways to attendees: maize pom pons and LED bracelets.

The athletic department has an exciting pre-game ceremony planned to honor former Wolverine and Heisman Trophy winner Tom Harmon. He will be celebrated as a Michigan Football Legend and his No. 98 jersey will be returning to the field that evening. Harmon will be featured on the ticket artwork and in a 16-page commemorative section of the game program.

U-M has created a special logo with apparel provider adidas. The Under the Lights II logo will be featured on a limited amount of merchandise for sale at M Den locations or online at MDen.com.

This will be the third straight primetime game played between the Wolverines and Fighting Irish. The first night game in Michigan Stadium history came against Notre Dame on Sept. 10, 2011, a 35-31 Wolverine victory on a 16-yard touchdown pass from Denard Robinson to Roy Roundtree with two seconds left in the contest. Michigan has a 23-16-1 record all-time against Notre Dame and is 12-7 at home.

Stay tuned for more exciting news surrounding the night game in the coming weeks.
I wonder what the exciting news will be. Wouldn't mind seeing the Legacy helmets again.
It also bugs me they are going to give someone #98. There will never be another player like Harmon that does everything. Harmon passed, ran, caught passes, played defense, kicked extra points, kicked off and punted. He was in movies, pro football and did broadcasting. His plane was shot down in WWII and he walked to safety. The doctors said that he would never be able to play offense again so he played defense in the later years of his pro football career. He even got a standing ovation in ohio stadium after dominating ohio 40-0. And juked out a drunk Cal Bears fan who ran on the field and tried to tackle him.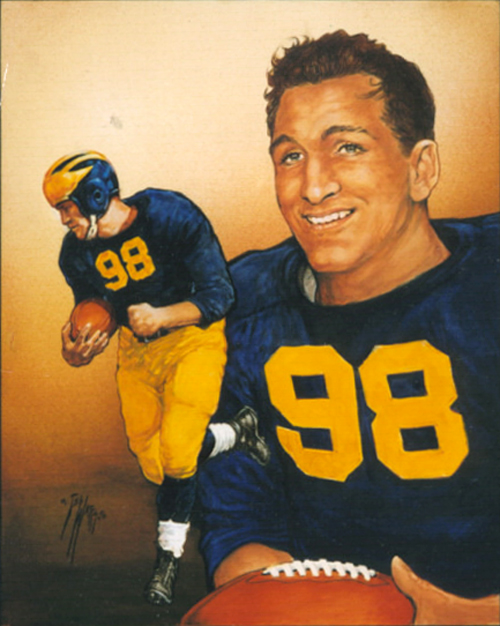 The only reason his son, Mark Harmon (most known for his NCIS acting) didn't come to Michigan is because he didn't want to be in father's shadow and be compared to him. He attended UCLA instead and played QB from 1972-1973. Michigan played the Mark Harmon-led #6 UCLA team in 1972 and blew them away 26-9.