Harbaugh discontinued Spring awards
Well, after a couple years of curiousity on my end it looks like Harbaugh has decided not to give out spring awards.
A quick search of U-M record's on MGoBlue show "Not given" next to 2015 and 2016 after previously being blank. Obviously another "not given" happened this past spring. 
The one that sucks about losing (temporarily?) is the Meyer Morton Award. It predates the Bo Schembechler Award which began in 1926 by one year.
This is a photo 1932 Meyer Morton Award winner Gerald Ford and the previous year's winner, Herman Everhardus.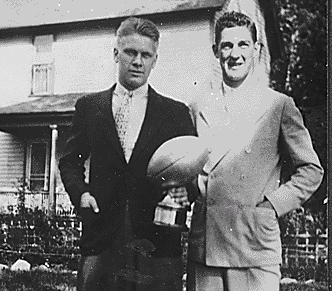 The award has been given out since 1925 and the only time it wasn't awarded was because of the spring practice becoming spring tryouts since WWII was drafting players at a moment's notice. 
Award's description-
The Meyer Morton Award, established by the 'M' Club of Chicago in 1925, is given to the football player who shows the greatest development and most promise as a result of the annual spring practice. Morton, a 1912 Michigan graduate, was a lawyer in Chicago from 1915-48 and served as a Big Ten football official for 23 years. In fact, Morton was the referee in the famous 0-0 tie between Notre Dame and Army played at Yankee Stadium in 1946. A member of the Chicago 'M' Club, Morton traveled to Ann Arbor to present the award for many years, and the award was named in his honor after his death in 1948.
The 1984 Morton winner was Jim Harbaugh.
The other two awards discontinued are the John F. Maulbetsch Award-
The John F. Maulbetsch Award was given to the freshman football candidate after spring practice on the basis of desire, character, capacity for leadership and future success both on and off the gridiron. It was established by Frederick C. Matthaei in 1954 in honor of the late John F. Maulbetsch, an All-American halfback in 1914.
And the Frederick Matthaei Award
The Frederick Matthaei Award was given to the junior-to-be gridder who displayed leadership, drive and achievement on the athletic field and in the classroom. The award was established by Frederick C. Matthaei in 1968.
The final(?) recipients of these awards were Joe Bolden with the Morton Award, Jarrod Wilson with the Matthaei and Chris Wormley with the Maulbetsch.