You Were Killed By A Bear And I Am Sad
In less than a week, Michigan will run under the banner a team directed by Rich Rodriguez and the Bo Schembechler era will finally, permanently belong to the past.
It's a change that most Michigan fans feel was too long coming after the tribulations in recent years: losses to Ohio State, Rose Bowls that end the wrong way, national embarrassment and the infamous picture that will stand as one half of the Carr era denouement:
It lived in the past and now it is of the past and it can stay there, to be memorialized in song and commemorative DVD. Amen.
But this is the other half of the Carr era denouement.
This picture makes me happy.
Over the past three years on this blog I've chronicled my endless frustration with Michigan football; I've also chronicled just how important it is to me. Carr is at least partially responsible for both these things. It has been a deeply schizophrenic existence, and the Citrus Bowl was everything about that existence wrapped into one three-hour summary.
You can check the UFR after most games for an explanation of the first. The second has something to do with Carr's tireless scorn for those who deserved it, primarily the money-changers cramming into the temple of the game, his obvious devotion to his players, his desire to read things more stimulating than a playbook.
This latter item about reading is weird and useless—who cares if the football coach knows who Keats is?—but it's also indisputably true. Former Daily sportswriter J Brady McCullough indirectly touches on it in his excellent article on the changeover:
"I'm studying up on it," Rodriguez says. "Reading books. I got 500 books sent to me. I got four or five of the same book, 'Bo's Lasting Lessons,' and it gave me some perspective on things."

Rodriguez has realized Michigan is unique. Fans and former players who want their football coach to spend his time reading?
Yes. When I was editing Hail to the Victors 2008, space requirements forced me to cut down Craig Ross's article about his experience at a Scot Loeffler quarterbacks meeting, and when I had to cut a small but telling paragraph about Lloyd Carr it lingered with me. This is it:
After a few minutes Carr appeared. He was relaxed and fresh, even though it was mid-evening and he had worked for the entire day. We chatted for a few moments about a book, The Long Walk, the story of a WWII prisoner of war who escaped from a Gulag and then trekked across Siberia, through the Gobi desert and then through the Himalayas to India.
I didn't want to cut it but it was either that or something directly relevant to Ross's odyssey so out it went. I wanted people to see it, to get the little glimpse into how odd Lloyd Carr—football coach, friend of Russell Crowe, strident Democrat—is. He reads books! About things! This is important.
There is something to the sometimes annoying "Michigan Man" thing. There is a mindset, an attitude, some characteristics that are shared by enough people that they characterize a program and a fanbase. (The annoying part is when people pretend all these things are positive.) Carr was of this and in more than a decade came to define some of it. Kipling and Into Thin Air and The Long Walk were part of the fabric of the program.
Few outside of Michigan fandom understood this or anything about Carr. How could they? Opposing fans took the opportunity provided by Carr's cantankerousness at press conferences and one inopportune photo after a loss against Oregon to label him classless. Neutrals just thought he was a crab, because they experienced him as a crab. A month after the Bo memorial service at which Carr spoke, I found myself in a conversation with Orson Swindle of EDSBS fame. At some point I forwarded the video (part one; part two) of Carr's speech to him. The response: "It's enthralling, actually. Lloyd is downright eloquent."
The surprise was evident.
It was November when they memorialized Bo but it was nice enough out, I thought, and I thought the thing to wear was a suit so I did but I left the coat at home and this was fine for a while. But when the sun started setting the warmth leached out of the air and people kept talking and it was cold. And I wrapped my arms around myself as Bo's son talked and kept talking and God bless him, I know he just lost his father but it's cold and I've been here for hours. And he kept going.
So I'm cold and in a suit and my mind is wandering back to what Carr said to wrap up his speech. I recorded it with my MP3 player but old obscure-brand MP3 players being what they are and having no external mic the recording was nigh useless and when I discovered this later I was a little shattered but still posted the nigh useless thing on the blog.
Carr said this: "Bo will be remembered as the Michigan Man."
No, not quite, I don't think. Not "the."
I'm happy that the empire of the fallen has finished its long slide into the sea. I'm happy it's been replaced with something young and vivacious and very likely successful. But on Saturday something that lived for forty years sees the last shovelful of dirt on its grave, and I wish it hadn't come to this.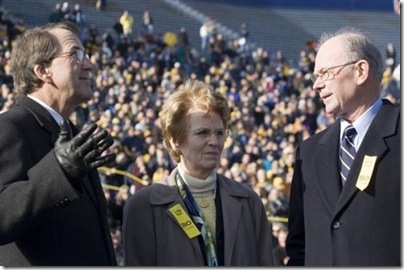 People wish for a lot of things, though, and entropy always tells them to go to hell.