Ultimate Ennui Showdown 2: Ennui Harder
We're back. No need to thank us.
Henri, I'm not sure we're welcome here anymore…
In case you missed Part One, we're on the quest for the ultimate low point of the Michigan sports fan in recent history. I'll present you with the terrible moment/period/whatever, as well as an argument or two in favor of it being the worst moment, and an argument or two for it not being as bad as you remember. I'll also include the flip-side of the karma coin; if the ennui moment was the Yin, I'll try to look on the bright side of life by finding the Yang.
We're looking at the period starting in the 1990's until today. We already looked at the ultimate killer dong-blows, as well as the I-coulda-been-a-contenda moments. Today, we consider the generally miserable experiences in the Well That Was Unpleasant Region, as well as the catch-all General FML Region. Read this, then vote HERE.
You'll be happy to know that this will be the final front page of this here series. I'll keep you posted on the progress of the bracket in the Twitterverse posts in the coming weeks.
Again, remember to vote your pain here: http://www.surveymonkey.com/s/PN9LXST
[For the protection of the childrens, all the gore after the jump].
The Well That Was Unpleasant Region
#1 The Horror (REMIX) (Oregon '07) vs. #8 Trash Tornado (MSU '11)
Duck Duck Goosed - Any hopes that the App State debacle was a fluke were pretty well dashed the very next week when Dennis Dixon and Oregon came to town. Just like the previous week, Michigan took a 7-0 lead, which was great until Oregon executed an uninterrupted 39 point murder-death-kill.
(Side note: this is one of the reasons you don't hold a wedding on a football Saturday. Under the right circumstances, a reception guest will drown his football-related sorrows in enough gin and tonic to kill a grown rhinoceros. Sorry, brother- and sister-in-law, but I'm not sorry)
FOR: It was (and remains) the worst loss in terms of margin of defeat in the history of Michigan Stadium, and that INCLUDES the RichRod years. The worst loss since the 1968 "couldn't-go-for-three" game. Statue of Liberty plays. Yep… it was bad
AGAINST: Oregon was unranked at the time, but it turns out they were pretty damn good.
YANG: 38-0 Win over Notre Dame the next week.
Trash Tornado - Brady Hoke had arrived as if delivered by a bolt of lightning, and (like his predecessor) had started the season on a tear, only to face a windy trashy hell in East Lansing. William Gholston went all Gholston, Denard got knocked out, and Michigan lost 28-14 while gaining only 250 yards.
FOR: Nothing. This can't compare with Oregon. Move along
AGAINST: Sugar Bowl
-----------------------------
#2 Michigan vs. Everything (2008 football) vs.  #7 MBB vs. MSU '13
Quit hitting yourself - As with much of the RichRod era, we have to lump some stuff together to avoid flooding the bracket. In this case, we'll just consider the entire '08 football season as one entity. Any boy howdy, what a craptastic entity. Take in the first 90 seconds or so of this video, and remember the agony.
FOR: A 3-9 record. Outscored by 104 points (347-243). A NEW worst score since 1968, and against Ohio State nonetheless. Sherithreetdamnit. Juice Williams setting the Big House all-time single yardage record. Need I go on? 'Cause I could. All day.
AGAINST: The last couple of minutes of the above video. We beat Wisconsin. Yaaaay.
YANG: The 2006 football season.
Meet the new Breslin, same as the old Breslin - Michigan came into Breslin on the heels of games against Indiana, OSU, and Wisconsin (the latter being the Ben Brust dong-punch), and didn't seem to bring much oomph into this one. So despite being the #4 team in the country, they spent most of the game being beaten on or about the head by a fired-up Sparty.
FOR: STAEE.
AGAINST: National Runner-up. Plus we got them in Crisler.
YANG: The throttling Michigan put on Michigan State in '06. It was 'only' 31-13, but it was fun.
-----------------------------
#3 The End of the '10 season vs. #6 The Death of Manball (OSU '07)
I'm starting to think this isn't going to work - Michigan carried a 7-3 record and a sliver of hope for the RichRod Experiment into its last two games of the season, which they promptly lost to Wisconsin (10,000 to 7) and  Ohio State (6 billion to negative pi). They recovered in time to lose to Mississippi State in the Gator Bowl ($Texas to HOLY HELL ITS CHRIS RELF NOT TOM F***ING BRADY). And thus ended the 3 year Smutnoye Vremya. Fortunately the new guy is rumored to be pretty good.
FOR: They were outscored by 88 points in their final three games. For context, in the four SEASONS from 2003-2006, Michigan was outscored in their thirteen losses by a combined 84 points. They gave up over 45 points and over 500 yards per game. Blerg.
AGAINST: Like a bandaid, this gave us a nice clean break from the Great Leap Forward. Hoke Uber Alles.
YANG: The six weeks or so of the 2013 basketball season.
Sad RoboHenne – The year that started with The Horror ended in a very different, but similarly blerging game. The weather was cold, wet, and crappy. Chad Henner was basically a quarterback-shaped pile of pinball machine parts. And thus ended the 40 year Glückliche Zeit. Fortunately the new guy is rumored to be pretty good.
FOR: Terrible game to watch. Terrible game to attend. Sad ending for Hart, Henne and company. Obvious Ohio State bonus is obvious.
AGAINST: They got to kick the crap out of Florida. It also looks better in hindsight when the following few seasons are considered.
YANG: Biakabutuka.
-----------------------------
#4 Senior Day Massacre  (MSU '00) vs. #5 Dallas De-pantsing  (Alabama '12)
Sparty NOOO'd – Take one National Championship Michigan State team, one middling Michigan team, and one Senior Day at Breslin, and you're gonna have a bad time. And I would qualify 114-63 as a bad time.
FOR: When your rival is throwing half-court lobs when up 50… yeah.
AGAINST: Eh, Sparty was pretty good that year, I guess.
YANG: The 49-3 drubbing Michigan football laid on State in '02.
Rolled by the Tide – There was a flickering hope before the start of the '12 football season that Alabama had lost too much talent to maintain its recent dominance. That hope lasted all of one quarter.
FOR: Michigan was ranked #8 in a nationally-televised game. With a 5'6" primary running back against Ala-freeking-bama. Yeppers.
AGAINST: Eh, Bama was pretty good that year, I guess. Plus they got the band to the game.
YANG: Michigan vs. Notre Dame football in 2006. In my dreams, Lamarr Woodley is still rumbling.
-----------------------------
The General FML Region
#1 The Horror (Appalachian St. '07) vs. #8 Ohio Upset (Ohio U. '12)
The Horror – The tournament's overall #1 seed. You are familiar with this game. It was not a positive experience.
FOR: It happened.
AGAINST: I hate me for this series.
YANG: The times Michigan didn't yak one up against Division 1-AA teams. Remember those times? They happened, I think. Hell, unless Michigan beats SkyNet, we'll never pull an upset this big, so let's just move along.
Beat(en by) Ohio - Michigan was in the running for a two-seed in the 2012 NCAA tournament until the last week or so, and they slid to a four-seed and a matchup with 13-seed Ohio. Which was all well and good, until the Bobcats turned out to not suck, and Michigan went home early.
Believe it or not, YouTube has largely forgotten this event. Click HERE to re-live it.
…
You didn't click the link. We're waiting for you.
…
We have all day. Click the link. What, are you afraid of your feelings?
…
Wimp.
FOR: The end of the Zack Novak era. Brief confusion and embarrassment on the whole "Beat Ohio" thing.
AGAINST: The 2013 season. Also, they are up against App State.
YANG: All of the games that weren't App State.
-----------------------------
#2 The Ed Martin Saga vs. #7 The End of The Streak (Hockey '13)
Ed Martin – If you aren't familiar with this scandal, (a) you should probably watch the Fab Five documentary, and (b) tell us about life in the swamps of Dagobah. In any case, booster/friend of the program/general ne'er-do-well Ed Martin gave over $600,000 to Chris Webber, Maurice Taylor, Robert Traylor, and Louis Bullock. Michigan had to vacate several years worth of wins, including the 1992 and 1993 Final Four appearances. They suffered a brief postseason ban and a probation that threatened to make #5 on our countdown a bigger deal than it was.  The banners which were once up are now down.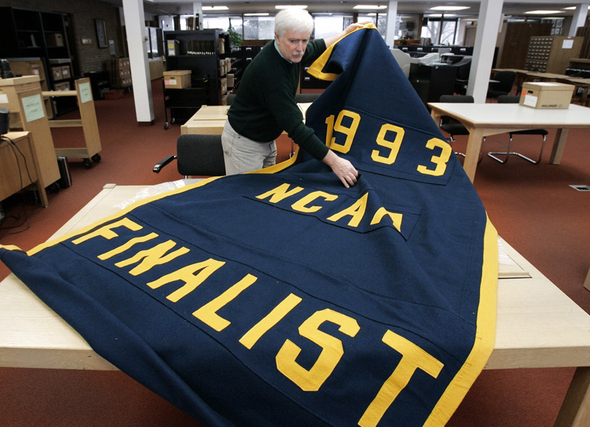 FOR: It was the biggest institutional black eye in the school's athletic history, and it wiped out one of the most successful periods in recent Michigan sports history.
AGAINST: It didn't actually wipe out that stuff, because it happened and everyone remembers that it happened. Plus it didn't negate any titles, so it could've been worse.
YANG: Tatgate maybe?
Oh yes they called it The Streak – Michigan Hockey had been to the NCAA Tournament so many consecutive times that The Streak was old enough to legally drink (assuming alcohol consumption rules are the same for tournament appearance streaks as they are for humans). Twenty one straight years Michigan hockey went to the Big Ice Dance, until the 2012-13 season. The team put up a thoroughly uninspiring three months of hockey, followed by an encouraging but ill-fated late-season run that fell short.
FOR: This was a collection of good hockey players producing abysmal results for no particularly good reason.
AGAINST: Eh, bad seasons happen, especially in hockey. Twenty-one years is way beyond the shelf life of a streak like this, so this was due.
YANG: Basketball ending the NCAA tournament drought in 2009.
-----------------------------
#3 The RichRod Experiment vs. #6 Holy Toledo ('08)
RichRod – The football was bad enough, but part and parcel was the rift created by Rodriguez' tenure. The Michigan Man debate within Michigan circles. Josh Grobin. The #1 jersey debate. The clash of cultures. Gerg's fuzzy beaver. Three and Out. Josh Grobin. Some of it was Rodriguez. Some of it was a fanbase unwilling or unable to accept change. Some of it was Josh Grobin. But all told, it did not raise anyone up.
FOR: Yup.
AGAINST: It was only three years, which on the cosmic scale is barely the batting of an eye.
YANG: The John L. Smith experience was pretty fun.
Toledo – I know we considered the '08 season as a whole already. And I know we JUST talked about RichRod. But the Toledo game deserves special mention. Coming in, Michigan had beaten 8,000 consecutive MAC teams. The defense held Toledo to six points, and they STILL lost to a bad MAC team.
FOR: Did you hear the part about it being Toledo?
AGAINST: The whole season was an unmitigated disaster, so
YANG: That team somehow beat Wisconsin and a non-abysmal Minnesota team.
-----------------------------
#4 Desmond Howard Tripped (MSU '90) vs. #5 Stretchgate (football '09)
Desmond Down – Michigan was the #1 team in the country in 1990 when Michigan State came to the Big House. Michigan was trailing by seven late in the game, but they scored to pull within a point. This taking place before the time of overtime, Michigan decided to go for two to win the game outright. Desmond Howard, lined up slot left, made a great move to get open on a slant, and Elvis Grbac put the ball on the money. MSU corner Eddie Brown, knowing he was beaten, tripped Howard and caused him to drop the ball. State won, and Michigan never really recovered that season.
FOR: Standard STAEE bonus. Also, did I mention Eddie Brown admits he tripped him?
AGAINST: It was before my time, so I probably can't generate the proper outrage. But a screwed-up pass interference call is pretty much par for the course, right?
YANG: I dunno we're 68-32-5 all-time, so meta-scoreboard.
Stretchgate – Right before the 2009 season kicked off, the Detroit Free Press released a scathing report documenting the illegal diamond mining operation being run out of Schembechler Hall. Players were being made to practice for upwards of 12 hours, much of which was 'off the books.' The NCAA investigated, and it turned out that Michigan HAD exceeded practice time limits. By 15 minutes. Because they didn't count stretching. In my mind, they got put on NCAA probation for doing this too many times:
FOR: Another black eye for a program that was already downtrodden, and a distraction that pounded one of the ten bazillion nails into RichRod's coffin.
AGAINST: This was the least scandalous scandal in the history of scandals.
YANG: Watching the NCAA get its well-deserved comeuppance in the Ed O'Bannon suit (yes, these events can be hypothetical future events)
-----------------------------
Whew. That wasn't so bad, was it?
/ducks.