Thursday Recruitin' Talks About Practice
Today's recruiting roundup covers the various All-American bowl practices, the latest on Derrick Green, and (debunked) rumors about a commit taking visits.
Say "Tease"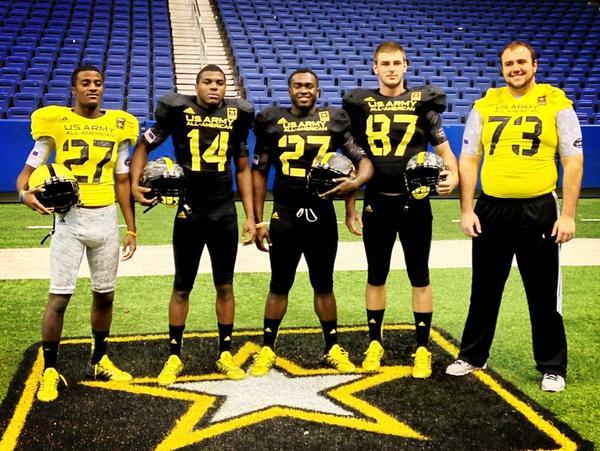 L to R: Jourdan Lewis, Dymonte Thomas, Derrick Green, Jake Butt, Chris Fox
Michigan has four commits at the Army All-American Game and many are wondering if they'll soon have a fifth after VA RB Derrick Green jumped into a picture with them (above, via). Green conducted a live chat on Rivals yesterday, reiterating that Michigan is his top school, holding a "small" lead over the field—Auburn, Tennessee, Miami, Florida State, and USC. He also got the Fred Jackson Seal of Approval for this quote:
Comment From Guest
Who would you compare your running style to?

Derrick Green: I compare my running style to a combination of Bo Jackson, Herschel Walker and Trent Richardson
Green mentioned the possibility of committing within the next week or so—though not at the Army game itself—but also stated a desire to take his two remaining official visits even after he commits; if his choice is Michigan, he'd obviously have to talk that out with the coaches.
FL S Leon McQuay III is set to announce on Friday and the sense from insiders is that Florida State—the presumed pick—and USC both hold an edge on Michigan, and quite possibly Vanderbilt does as well. If he holds off on making a decision, which Sam Webb has mentioned as a slight possibility, then the Wolverines could have hope; as it stands, not so much.
Matters are looking better for CA OL Cameron Hunt, at least if Patrick Kugler is to be believed:
Ok all Michigan fans follow @cjhunt78... trust me its comin soon #GoBlue

— Patrick Kugler (@Kugleybear57) January 3, 2013
Hunt will take his official visit to Ann Arbor on January 11th.
Michigan is out of the running for for Wisconsin commit Marcus Ball, according to 247's Evan Flood. The Wolverines were pursuing Ball as a linebacker.
[For practice reports on the commits and more, hit THE JUMP.]
Yeah, We Talkin' Bout Practice
Some NSFW lyrics, but had to note that DJ Jazzy Jeff >>> DJ Steve Porter
Practice reports abound from the various All-American games. Let's start with the Under Armour game—featuring five Michigan commits (Mike McCray is out with a torn labrum)—where Patrick Kugler has stood out as one of the top offensive linemen, per Scout's Bill Greene ($):
Have to start out with a player I've seen for the first time in Patrick Kugler, and he was even better today than he was yesterday. He will play center at Michigan, and has a chance to be a star. Love everything about this kid, and the more I see him the more I like him. Kugler has size, quick feet, intensity and uses his hands well. Totally earned his ranking this week.
Keep in mind Kugler is a five-star on Scout; when Greene says he's earned his ranking, that lofty praise indeed. Kugler earned the week's top billing at center from 247, which also gave Henry Poggi the nod for best in his position group:
While the defensive ends have received the majority of the attention, and for good reason, a trio of defensive tackles have stood out led by Michigan commit Poggi. The 6-foot-3, 260-pounder has proven to be too quick for any centers when lining up over the ball, and also shown a technically advanced use of his hands and the understanding of when to get small.
David Dawson has also earned consistent mention among the top offensive line performers, while opinion varies on Shane Morris—Scout has him as the white team's top QB($) over Kevin Olsen and Brice Ramsey, while 247 left him off their standout performers list while including his two teammates. The consensus on Logan Tuley-Tillman is that the physical tools are there and his conditioning is much-improved, but he still has a ways to go with technique and pass protection.
Over at the Army All-American Game, the Wolverine contingent is a bit beat up—Chris Fox is out with a torn ACL, while Jake Butt sat out yesterday's practice after aggravating an ankle injury, per 247's Steve Wiltfong ($). The two defensive backs are acquitting themselves nicely, however. Dymonte Thomas came in as Rivals's #10 performer on the East team ($)...
Thomas is a very physical defender who is still getting used to covering in space. He came up in run support very well Tuesday and even when he struggled with guys like Green, he came back as physical as ever. Thomas also covered a lot of ground in pass coverage and you can tell he could be the guy who has the best hit on gameday.
...and Jourdan Lewis got the #12 spot for the West ($):
Lewis is the smallest of the West cornerbacks, but he doesn't play like it. He has great hops, elevates well against bigger receivers and is very consistent getting his head around and playing the ball. His work against guys such as Seals-Jones and Derrick Griffin was especially impressive given how many inches he's giving away.
Derrick Green, meanwhile, earned the top spot on the East team.
In the Semper Fi bowl, Maurice Hurst Jr. has been lauded by multiple outlets for his practice performance. Here's a free report from 247:
Hurst is the type of player that you don't really notice when he's standing in the huddle but as soon as the ball is snapped, he shows up quickly. His play on Wednesday was characterized by high effort, an intensity to get to the football, and quickness to get into the backfield. The Michigan commit has been one of the better practice players this week.
Hurst's efforts are more impressive when noting that he's been dealing with an illness that's kept him well below 100%, per Scout's Brian Dohn ($):
For the second straight day, Hurst makes the list. The amazing part? He is staggering around before and after every play as he deals with an illness.

However, once he is on the field, he is nearly unstoppable. He is incredibly quick and strong, and has a fantastic move of sweeping his arm to knock a lineman off balance before quickly tearing up the field. He is the most consistent, and most dominant, defensive lineman on the East through two days.
Fellow Michigan commit Ross Douglas made the cut for Dohn's day one top performers ($).
Debunkin'
Twitter, where rumors are born...
#Michigan commit scheduled to take official elsewhere michigan.247sports.com/Board/59424/Mi… via @247sports #Wolverines

— Steve Wiltfong (@SWiltfong247) January 2, 2013
...and quickly killed:
On the rumors about #Michigan commit Henry Poggi tonight, after declining comment his dad said "I have no idea where people get their info"

— Sam Webb (@SamWebb77) January 2, 2013
Wiltfong's report that Poggi scheduled an official to Alabama was also shot down by TomVH and Tremendous. Cease panic.
Bonus debunking of a rumor that may or may not have actually been a rumor:
Any rumors about Sebastian LaRue and #Michigan seem to be untrue at this point.

— Adam Gorney (@adamgorney) January 2, 2013
Duly noted.