Thursday Recruitin' Stocks Up On Snake Oil
Zach Gentry: Eyes Off Texas?
In recent days, Texas has turned up the heat on their pursuit of 2015 five-star QB Kyler Murray, a Texas A&M commit, even getting him to take an unofficial visit to Austin.
What does this have to do with Michigan? Well, Texas already has a 2015 QB commit: 6'7", 230-pound NM four-star Zach Gentry, who pledged to the Longhorns last May and has turned down overtures from the likes of Alabama and Tennessee since. With Texas eyeing Murray, Jim Harbaugh visited Gentry in Albuquerque on Monday, and things are moving quickly. Gentry removed "committed to Texas" from his Twitter bio, and multiple outlets, including Wolverine247, report that he'll take an official visit to Ann Arbor this weekend.
Just like that, Michigan may very well be the favorite to end up with him:
I can't imagine Gentry taking a visit to #Wolverines and meeting with Harbaugh and not flipping from #Longhorns. pic.twitter.com/FOqAmQ73Z3

— Mike Farrell (@rivalsmike) January 22, 2015
What would the Wolverines be getting? Scout's free evaluation makes him sound like an ideal fit for a Harbaugh offense:
Gentry is an intriguing quarterback with NFL size but surprising mobility for a big man. He has a downfield arm and can make every throw but also shows the ability, when flushed out of the pocket, to run for positive yards. He looks to have a good feel in the pocket and doesn't panic when the rush comes at him. He can keep his eyes down the field and throws an accurate ball whether in or outside of the pocket-Biggins
The film backs that up; other than some mechanical issues with his delivery, there's little not to like there.
Jay Harbaugh checked out another under-the-radar QB, California prospect Anthony Gordon. Gordon, like McLane Carter, was very productive in high school on a title-winning team but hasn't generated much in the way of college interest or attention from the recruiting services.
[Hit THE JUMP for a couple impending announcements, a rundown of weekend official visitors, and much more.]
Preemptive Happy Trails
Two prospects announce decision today that almost certainly won't go Michigan's way. One definitely won't: after picking up a Michigan offer and scheduling an official visit for this weekend, three-star TX CB Nate Dalton changed his mind and will announce his choice between Arkansas (the favorite), Kentucky, and Liberty this afternoon.
The other hits a little closer to home. Three-star Oak Park ATH John Kelly will choose between Michigan, Michigan State, Minnesota, and Tennessee at around 5 pm. Kelly is coming off an official visit to Tennessee last weekend, and it looks likely he'll end up with the Vols; he hasn't taken officials to his other finalists, though he has visited each unofficially.
That Would Be Nice, Yes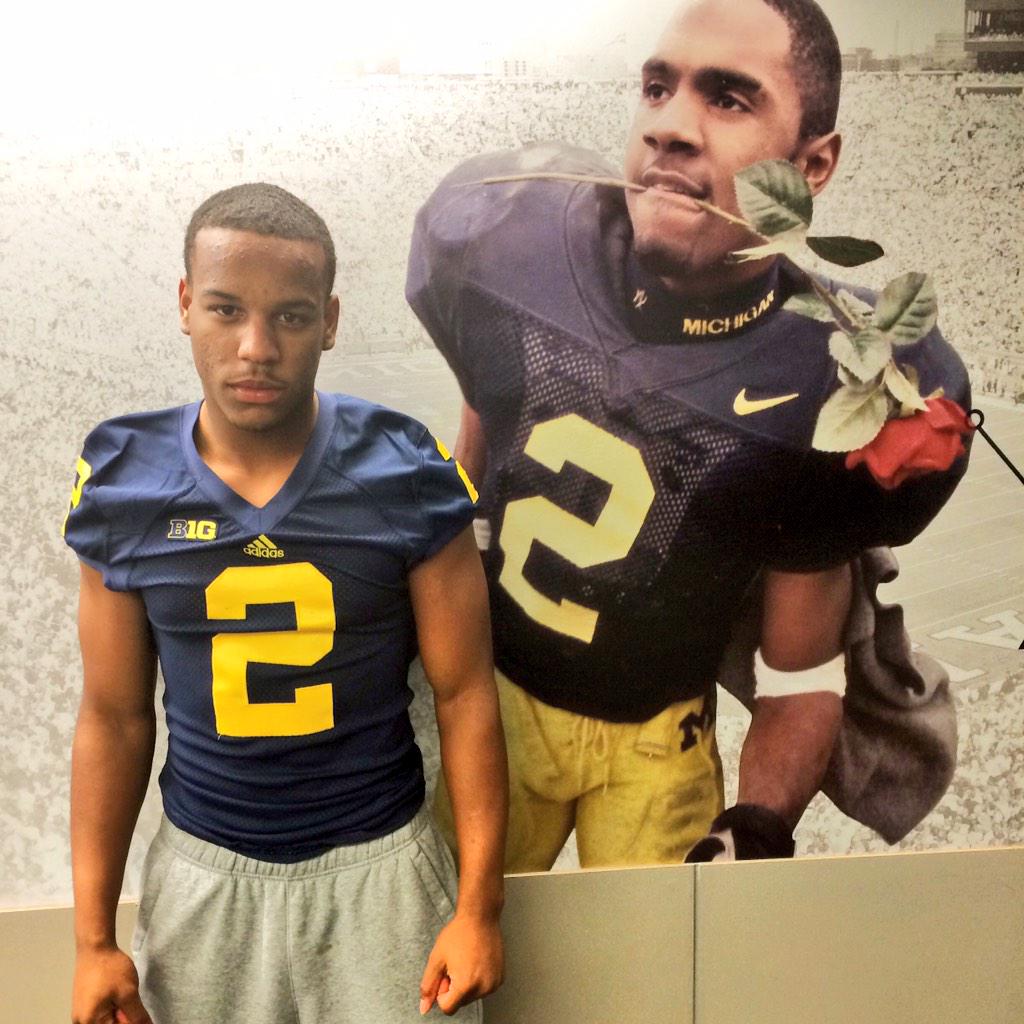 Five-star CA CB Iman Marshall posted the above picture to his Twitter account while on his official visit Monday. Marshall was hosted by Freddy Canteen, a friend of his from training together in California, and spoke with Jabrill Peppers about the potential of playing in the same secondary; he spoke highly of the coaching staff and a couple other aspects of his visit experience to Scout's Greg Biggins ($):
"The academics are another big selling point. A degree from Michigan is huge but it's more than that, it's the networking. There are Michigan alums everywhere and it's not just about football there, it's about life after football and Michigan gets that. Being in that stadium was incredible. It's one of the biggest stadiums in the country and it was pretty special running around in there with the lights on. I had a Charles Woodson Jersey on and I can't really describe what that was like but it was definitely pretty special."

Marshall said location will not play a role in his decision and neither will the weather.
The coaches also took him ice skating.
Word is Michigan did about as well as they could hope on the visit, and they've got another chance to impress when the coaches have their in-home visit with Marshall and his family on Monday. Whether or not that's enough to overcome USC and the other powerhouses in pursuit is yet to be seen.
Michigan also made a big impression on top-50 GA LB Roquan Smith over the weekend; he named the Wolverines to his final three along with Georgia and UCLA.
Weekend Visitors: Flip Candidates Abound
Michigan is hosting several official visitors this weekend, many of whom are committed to other programs—for the time being, at least. Sam Webb provides the list in Scout's free recruiting rundown, which also has more on Marshall and others.
Three-star NJ TE Jake Pickard is a Wisconsin commit, but when Jay Harbaugh visited him Wednesday and extended an offer, he immediately altered his plans, per 247's Steve Wiltfong ($):
A Wisconsin commit, the 6-foot-6, 231-pound Pickard will return to Ann Arbor this weekend for an official visit, canceling his previous plans to go out to Oregon.

"This is kind of been a school I wanted to go to since this whole process started," Pickard said. He camped in Ann Arbor for the previous staff. "I just have to see how the visit goes and take it one step at a time."
He appears to be a prime candidate to commit, as does three-star Stanford commit Reagan Williams, who holds Jim Harbaugh in very high regard, per The Wolverine's Brandon Brown ($):
"[Harbaugh] gave me a quick rundown of how he'd like to use me in the fullback/H-back position," Williams explained. "It was nice to talk to him. He's a great coach obviously, he's a legend to a lot of people. It was great to talk to some X's and O's with him and find out how he'd like to use me."
A potential added factor in Michigan's favor: Williams—a Jackson, Ohio, native—mentioned that he's "motivated" in part by not receiving an offer from the in-state Buckeyes.
Three-star UCLA CB commit Will Lockett met Harbaugh in person this week, got an offer, and set up his official; we should find out sooner rather than later if he wants to change his pledge, per Sam Webb ($):
"It really depends on how the visit goes this weekend, but I probably won't make myself wait until signing day to make my decision," he said.  "If I know what I'm going to do I'll probably make that decision some time next week, end of the week next week."
Michigan will also host a pair of Nebraska commits. Three-star DE Reuben Jones is a serious candidate to flip—he doesn't have a particularly strong relationship with the new Husker coaching staff—but the same can't be said for three-star TE Matt Snyder, per GBW's Josh Newkirk ($):
"Coach Riley and his staff have been recruiting me for a while now," Snyder said. "I would really have to fall in love the place. Michigan's academics have always been intriguing. And really just the coaching staff. They need a tight end. Not all teams utilize one. They would really just have to blow me away. I'm sure they can, but I really just have to go experience it for myself. It's going to be a judgment thing."
Three-star FL ATH Chris Williamson, whose recruitment has taken off of late, is also slated to be on campus, and two-star OH OL Nolan Ulizio, a UConn commit, may also take his official this weekend.
A late addition the list: Florida CB Markel Bush, who isn't ranked on any of the sites (Scout and 247 don't even have profiles of him) and doesn't appear to hold any offers.
It'd be a surprise if Michigan didn't come out of the weekend with at least one new commit, and they may have more room in the class than recent projections have suggested; 247's Steve Wiltfong said "the same number" is 17, meaning the Wolverines would have room for 11 more commits.
Other 2015 Updates
Being recruited by your dad leads to some weird quotes:
Michigan OC Tim Drevno, TE coach Jay Harbaugh and running backs coach Tyrone Wheatley were in Buffalo (NY) to see four-star target Tyrone Wheatley Jr., he tells me.

"I mean, he's (Wheatley) one of the best recruiters in the east (laughing), but all three of them came by to visit," Wheatley Jr. said.
Still no word on whether or not the younger Wheatley will take an official to Michigan, unfortunately.
Michigan may get a visit from four-star TN LB Joshua McMillon, an Alabama commit who strongly considered the Wolverines before making his pledge, per Rivals' Andrew Bone ($).
New 2016 Offers
A quick rundown, because Holy Harbaugh are these posts ever getting long:
The coaches have also been "confirming" offers to several elite 2016 prospects who held offers from the previous staff. One such recruit is three-star CA WR Theo Howard, who's got a very impressive offer list, and it looks like Michigan is working their way back towards the top, per Lorenz ($):
"Michigan was on TV every weekend when I was younger," he said. "And I'd always watch their receivers. They put a ton of them into the NFL, and they always had a crisp offense that could run and throw the ball really well. With Coach Harbaugh there now, I think they will be able to get back to that."

"They are my dream school. I know some say dream school and then name four or five schools, but I can say that Michigan is the school I've dreamed of playing for."
Howard is looking to take a visit as early as the end of February, which would be a great sign for Michigan's chances.
Michigan has also connected with four-star California prospects QB KJ Costello and WR Dylan Crawford, both of whom are "very interested," per Bogenschutz ($).
Etc.
I'm pretty sure Chris Clark goes to Hogwarts:
My dude @JayHarbaugh helping me out at school he's the best pic.twitter.com/guaegtMdsP

— Chris Clark (@Clark8Chris) January 22, 2015
Michigan could have a very nice in with Paramus Catholic, the talent factory that produced Jabrill Peppers and Juwann Bushell-Beatty and now boasts five-star 2016 DT Rashan Gary. Head coach Chris Partridge left to take a college job, and his replacement is Blake Costanzo, who played under Harbaugh for a couple years in San Francisco.
Shady stuff at Tennessee, where the coaches just yanked an offer from four-star DE commit Marques Ford just two weeks before Signing Day.
A pretty strong argument for keeping a separate work computer, or at the very least keeping work and, er, play in different browser windows:
#Sources - ESPN will soon be looking for a new recruiting analyst. pic.twitter.com/gMyVnZprcD

— LG (@LanceGordon) January 21, 2015
#GigEm