Picture Pages: Cut It Up, Tate
Yet another in this site's series "counters to the scrape exchange." 
This one doesn't take a whole lot of explanation. Michigan's in its H-back set and Notre Dame in the nickel it used all day. It's first and ten on Michigan's field-goal drive right before halftime:
Michigan's going to run something I called a "QB counter"; it, I believe, is not a read but a called QB run. Just like the dive play we saw yesterday, the TE (in this case Martell Webb) is going to pull across the formation and look for a block. LT Mark Ortmann, the topmost offensive lineman, is going to downblock on the weakside defensive tackle. But you'll do fine on this play if you just watch #80. He's the whole play.
Here we have a moment right before the key part of the play. Forcier has pulled the ball out of Minor's belly and Webb is approaching the point at which he's supposed to block the defensive end.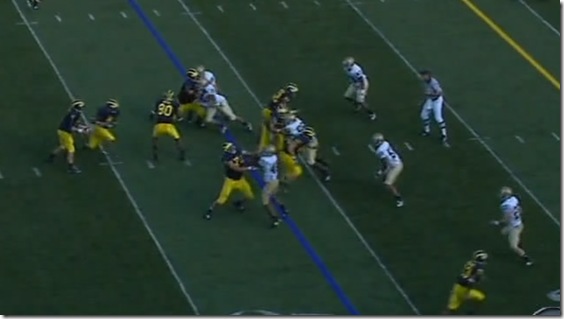 So Webb reaches the DE and… uh… runs right by him.
Here note two things. One: Ortmann has not done a great job with the DT, who has apparently read the play or was stunting or something and has shot into the backfield. This held the defensive end up. Normally on a scrape he'd be hauling ass after Minor, but since he got delayed he's right there and sees Forcier with the ball. Two: Webb ignored that guy and is heading right for the scraper. Tate has to deal with the DE.
Next, the moment of truth:
One: Forcier has beaten the defensive end despite the screwup/stunt by Notre Dame. This is MAKING PLAYS, and something it's doubtful either Threet or Sheridan could have pulled off. Two: Webb has blocked the scraper. Crushed him.
Forcier, well…
look at all that space
nooooooooo cut it up cut it up
…dangit.
Object lessons:
This is another scrape counter. This one didn't go very well for whatever reason and it still should have been 8-10 yards because Michigan has blocked the one guy tasked with the quarterback.
Assuming your guy with the quarterback isn't going to get blocked can be dangerous for the defense. The scrape read presumes that your guy tasked with the QB isn't going to get lit up by a tight end, and it's hard to see any way to read what's going on to help out. The only player who can be of assistance is the backside DE, and that pulling tight end can do so many different things—block the scraper, block you and spring Brandon Minor up the middle, head out into the flat, pass block—that you're really picking your poison.
I don't think it matters what side the guy gets blocked on… usually. Here Webb gets outside of the scraper and that's key because of the defensive end's presence, but if that guy's not there it makes no difference because Tate will be jetting up into massive space on either side of the block.
Rodriguez's offseason planning was hugely focused on the TE. This was something we talked about in UFR, but it's worth repeating. There was a lot of hype about Michigan's tight ends and that hype has been more than met. A TE is on the field 90% of the time and has been a huge key in Michigan's ground game. Rodriguez has adapted to the scrape exchange and his counter is the tight end. At this point I'm actually a little concerned Michigan doesn't have a tight end in the recruiting class.
Tate needs to realize he's no longer way more athletic than everyone on the field. He's done this three or four time in his first two games. It worked against Western,  but not so much here.
This ended up being three yards, but it should have been ten, and holy God what if Denard Robinson was out there in that kind of space?
UPDATE: forgot the youtube-o-vision: