Neck Sharpies: Y Banana
First things first: I think I finally get the Nike hype:
Correct, oh merchants of swoosh.
So…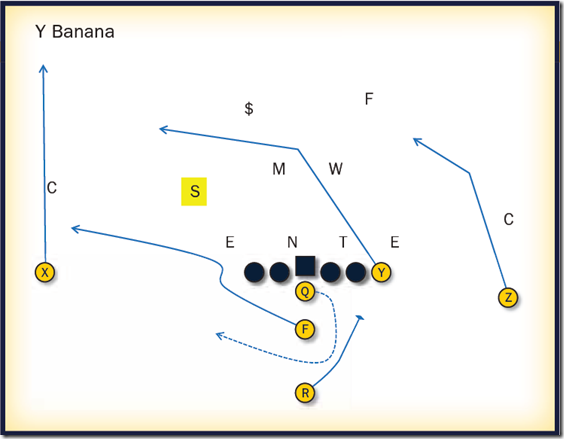 If you got your copy of HTTV this year (if you didn't it's probably too late for a hard copy since we are a few copies away from selling out), you probably already read Ian Boyd's article on John O'Korn, which included several Harbaugh staples that really use the specific talents of Michigan's offensive skill position players.
One of the mainstays of Harbaughffense in every stop before now was this: Y Banana. Gruden's QB camp episode with Andrew Luck spent a good chunk of time on this play (start at 8:38 here and then watch part ii), and if you watched Michigan under Carr you'll recognize the hell out of it too. So if you watched Michigan last year knowing these things, Y Banana might have seemed noticeably absent.
I already covered one play that is basically banana, which I called Levels TE drag.
The only real difference here is instead of an X receiver on the "strong" (field/Butt's) side, Harbaugh put AJ Williams on the playside and had him run the TE's level, making Butt the backside read.
I still would like to get into this again however because the above was a reaction to the 2015 personnel, while the base thing may be a perfect fit for Michigan's 2016 guys, provided they can run.
[Hit the Jump for John Gruden yelling at Andrew Luck to throw it to the fullback]
How Y Banana Works
It starts with a play-action inside-out play with the linemen blocking down and the running back apparently following the fullback out the backside. But the FB is going to whoop the unblocked DE and the running back will cut that guy. Now the fullback is in the flat, with the coverage run off by the routes of the receivers/tight ends.
They've now got the playside linebacker caught between zones: if he backs into the crossing route the fullback is open. If he comes down on the fullback the ball goes over his head. If the defense covered both guys, they've probably used up too many players on the frontside for coverage and the quarterback can run it.
In the Gruden video, he chides Luck for reading backside and chucking an interception, even though his primary read, the fullback is coming open like he should. It's kind of a weakness of this play: you are flooding one side so the guy running a route into the backside is expected to be surrounded by dudes so often it's not worth looking back.
So Harbaugh plays games with the backside. In the example I used last spring the backside was Butt, running what's usually the crossing route, while Williams was running off the coverage like the crossing receiver usually would. Ultimately all of his receivers ended up on the same side of the field.
Spread junkies agree it's not ideal to flood the side you're attacking with enemies, but Butt being able to run off his coverage won the offense a triangle and didn't have to take Rudock's eyes off his primary and secondary reads.
I'll show you one more way he tried to do it:
This is now barely recognizable as the same play except the fullback's route. But it's got the same principles. Butt this time stayed in to block the backside and the slide protection managed to pick up a blitz that made life hard on Glasgow. The RB (Johnson) set up in the hole like he was going to block the MLB if he came late, and when he didn't Johnson went out in a route. Darboh ran off the coverage with a sluggo route, and Perry ran a slant-in that becomes the trail route. Unfortunately Rudock threw it way short, taking Houma off his feet and negating what was about to be a pretty good gain.
Why We'll See It in 2016
Michigan only ran it a handful of times last year, and I think part of that was because they felt they lacked three things that really make it hum:
A scary power running game.
A fullback who could do a lot of damage as a receiver
A quarterback who could do a lot of damage with his feet.
With Butt, Chesson and Darboh, defenses can't just start leaving those guys with linebackers in coverage, which means the designer defenses that really shut down West Coast flat attacks aren't available.
The more the Drevno effect kicks in, the more those linebackers will get caught low and inside, thus facing the wrong way and reacting too slowly to a fullback they thought was about to hammer them.
And while Khalid Hill is doubtless not the running back that Houma was last year, and his blocking is sure to still be a work in progress, he's already a very pretty route runner. Getting him into these routes on the regular seems an effective use of that skill.
And then there's O'Korn, who shined in high school and as a freshman when on the move, is given a relatively easy read, and can himself be a dangerous triangle option, running into the space created by a linebacker who bolts too quickly for the flat.