Neck Sharpies: Unzipped
Thanks to Rutgers Michigan is now merely the #2 defense in the country to favored fancystat S&P+. The Scarlet Knights' 193 rushing yards were the most Michigan gave up all season. In fact Rutgers gained more rushing yards in a single play than Michigan ceded to Nebraska, Northwestern, Michigan State or Penn State all game. Normally I don't like to focus on bad plays, nor things that are unlikely to recur, but Rutgers is so bad at everything than 80-yard run to tie the game didn't even remotely move the needle of concern for a rote washout. It was also the only time there was any threat of Rutgers scoring. And it's a cool play. And people wanted to know what happened. So let's unpack it as best we can.
1. Zipper Motion
The play is a simple zone stretch run with a "Zipper" motion from the slot receiver that forced Michigan's safeties to switch their roles pre-snap and switch again post-snap. Zipper is jet motion that reverses the way it came, and a staple of motion-reliant offenses like the one Matt Canada runs in Maryland, and this derivative.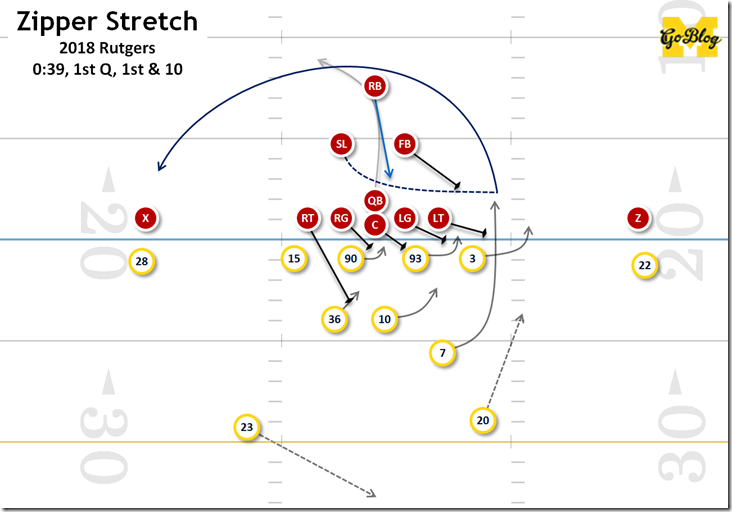 Zipper motion is really just taking Jet to the next level. Jet motion often reveals a defense's coverage, forces defenders to change the assignments on the fly right before the snap, and creates an enhanced threat of an already speedy player with a head of steam to account for. It also puts them out of alignment, and used correctly can break your offensive players free from whomever the defense wanted to match on them. It's sort of like banging the top of a jar before trying to open it—by crossing the defense you're loosening everything up. By crossing a defense again you're giving that top another bang. The tradeoff is you have to vary your motions or else you're tipping when you're going to snap the ball. Also your motion guy can't have his hips downfield so you're losing a precious moment that he could be threatening a vertical route or blocking. It's not a bad trade, and that's why just about every offense uses motion.
A defense that's screwed down well should be well prepared to handle any Jet motion. Michigan's defense has several methods that they can rotate through on a game- and per-play basis. When they get slot motion in man to man they can have the safeties swap jobs ("Switch") or have the slot defender follow the motion. If they're in a Cover 2 look they'll often just leave everyone where they are or reveal the coverage if they've been disguising it. They can also convert their coverage call, or roll the Viper into it. In general if you get a reaction from the top group it's probably man coverage (or Cover 3) and if you get the bottom reaction you've probably revealed a zone (Cover 2).
Michigan's favorite is Switch, and even though it's a Cover 2 presnap look the original jet motion reveals Kinnel and Hawkins switching their jobs, and when the slot zippers back the other way the safeties are flipping back.
On this play the coverage doesn't matter so much as making the safeties run every which way before the handoff. It's one more thing in their heads, and makes it harder for them to be in the ideal position at the snap because they're on the run. It's annoying because their run assignments are going to change based on where they end up on the play, and because Hawkins isn't nearly as experienced at this.
The safety swapping isn't the main event and only possibly a contributor. I think the zipper motion with their best player, #2 Raheem Blackshear, created the sense among Michigan's defenders that Rutgers intended to get the defense moving one way and Blackshear running the opposite way. Brian argued on the pod this week that no coaches teach their players to overreact to a guy and that's true, but it's college football and Blackshear is the majority of the Rutgers offense; it's understandable that Kinnel would find himself floating one way, seeing Blackshear going the other, and think the play is going to come down to whether Tyree can shut down the edge.
The motion is one of two things Rutgers did to make this play crack open—Pacheko being much faster than Hawkins was the other. Michigan's reaction, however, was bust-tacular.