Dear Diary Intends to Blow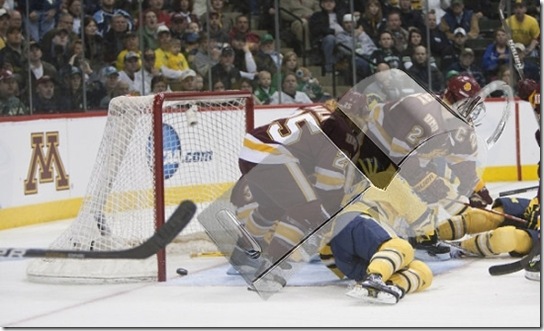 MGoBlue /Ghostwhistle. Not in picture: Hockey East referee being incompetent.
Site note: If you're here for the official MGo-Take on last night's championship game, only Brian can deliver that. These are my opinions, not the blog's. And my opinion is that "Intent to Blow" is the worst rule in sports:
As there is a human factor involved in blowing the whistle to stop play, the referee may intend for the play to be stopped slightly before the whistle actually being blown. For example, the fact that the puck may come loose or cross the goal line before the sound of the whistle has no bearing if the referee determined that the play had stopped.
I have been saying that for years, mostly because the Red Wings are famous for getting screwed by it like all the time. So when Michigan had their first goal waived off last night, I already knew what I'd be writing about this morning, because "Intent to Blow" is one of those topics that I – like pretty much anyone else with who spends an unhealthy amount of time at Kukla's Korner - get screaming mad about whenever it's brought up. The internet hockey world thinks it's such a joke that it's the nom de plume of its best satire guy.
So of course the consensus most mindfuckingly stupid rule ever goes ahead and rips away a National Championship from Michigan.
I can't get into the ludicrous penalty disparity (thanks again Hockey East) that had M playing one fifth of the game with 20% fewer players; I wasn't taking notes, and don't have the torrent yet. Not that it matters: during the course of a hockey game a puck squirted through a sieve and entered the UMD net several seconds before a whistle was blown. As is always the case with game-altering intent to blow calls, the referee was out of position in the corner, lost sight of the puck, and made up his mind that all official hockey activity had ceased. After making some tea and ambling his way behind the net, he finally deigned to blow his whistle to let everyone else know that hockey activities had ceased, and that all things that had transpired in the interim never happened.
In slow-mo thanks to hal2thevic0r:
The point of the rule, as I understand it, is to discourage dangerous scrums in front of the net between when the goalie goes down on the puck and the ref manages to get whistle to lips. But that is rendered moot by the players, who will play until they hear the whistle. Ultimately the refs should blow a play dead when they lose sight of the puck. However in an age when video replay is available and in use, it's all too easy to use standards for goal scoring and stoppage of play that are not at all subjective: pucks cross lines, whistles blow, and we just go to the evidence.
Above I linked the last round of a "worst rule in hockey" tournament by the Minnesota Wild SBNation site. The blog had this to say:
Intent to blow has crushed all opponents thus far in this competition. The reason is clear. Fans are tired of a rule that has so clearly cost teams games. The referees are not supposed to affect the outcome of a game. They are simply supposed to call the penalties and ensure a fair game. With a rule such as this, they have the subjective control to change the outcome of a game. That's just not acceptable.

The rule of "play to the whistle" seems so simple. It is reviewable, it is fair, and it is indisputable. Was the puck across when the whistle blew? Yes or no are the only two answers. Was the puck across the line when the referee intended to blow the whistle? How are we ever supposed to know that?
I'll go further: Video makes the Intent clause nothing more than a cover for referee fallibility. It's the ref's fault, not the players', if he's out of position and loses sight of the puck because of it. Even good refs can have bouts of incompetence, because hockey changes direction faster than jetpack Smurf Denards on swivel rollerskates.* If he blows an early whistle, well, that's an inevitable thing that happens with human refs. The Intent rule was an understandable standard in the absence of instant replay, because how else do you make a call out of a total clusterf—?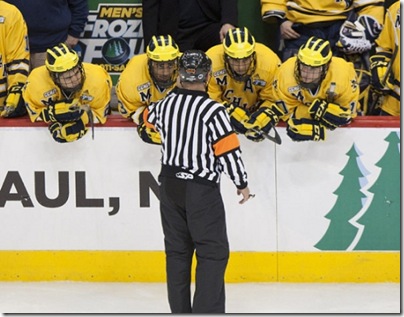 MGoBlue /How dare you question my intent! To the box, all of ye!
Video changes this because we now have what is essentially another referee who's usually in the perfect position and can provide incontrovertible evidence of everything he saw. So if the on-ice ref doesn't blow his whistle until later, what the bloody hell does it matter when he lost sight of the puck, just so long as the video didn't? Why codify errors that are easily avoided? Why keep a rule which its only extant function is to disallow good goals?
I swear if Michigan had scored the overtime winner I'd still hate the stupid rule. If UMD had a goal disallowed I'd still hate the stupid rule. But of course the stupid rule had to be the exact difference in a national title for the one team I can't possibly claim a lack of total idiot bias for.
Due to the butterfly effect we have no idea if the game would have transpired differently had that goal been allowed, but it doesn't change the fact that except for a rule that allows referee incompetence to trump video evidence Michigan scored 3 goals before Minnesota-Duluth did. If you're here from UMD looking for some sour grapes, okay, you have a fine hockey team which played some championship-worthy hockey these past few weeks. Congratulations. Also: the Bulldog is a silly name for a hockey team.
Way to go Champ.
--------------------------------------------
* If you allow that there are competent NCAA hockey refs surely you'll forgive me jetpack Smurf Denards and their associated accoutrements.
--------------------------------------------
Diaries and Whatnot, but First Lose the Shirt

Eddie Shore?
2006 Tigers fans will nod at this: sometimes you have a team that looked kinda good but not like world beaters, and then all of a sudden they're in a miracle season with new traditions and a palpable excitement, and then they topple Goliath and the only thing between it and a championship is the one thing all year they're actually favored a little bit to beat. Then it goes to hell, and not in the "well we came as far as we could" kind of way of freshmen losing to Duke by two but in the 20 errors by pitchers while the dream is shot and stabbed kind of way.
The way Michigan was playing last night after Intent to Blow you thought they were the better team. Then came all the UMD power plays – a few of them actually deserved – and by overtime you could tell Scooter had lost a step and Rust was run ragged and with all of that shaking something had to finally come loose.
It's been five years since the '06 Tigers got within sight of The Thing then fell out of the tree, but all I remember today is the climb. There was gum and Verlander and Inge fouling off 25 pitches from Barry Zito and the Slam in the Bronx, and all of that. Five years from now, what will we remember? The penalties will sting, but more than that it'll be Caporusso's Valentine, Scooter's shot, Rust's defiance of human capacity, a huge Swedish flag, and a tiny little goalie who made big.
Your Diarist of the Week is Gordon, who's already there:
At this time next year, around the time that new banners go up, and old banners get updated, there will be a Carl Hagelin plaque hanging in the north hallway of Yost. Is that anything to be disappointed about?
That's the conclusion of Gordon's diary, but like the 2010-11 Michigan Men's Ice Hockey season, it's not about the end but the journey.
Old Time Hockey?
Before the championship game became literally just this, Brian – as only that guy can do – aptly summarized the "1-0" victory over NoDak as the "world's longest penalty kill." Shortly before that Blazefire made a much less apropos analogy of Berenson's coaching v. UND to a Lloyd game:
"Make that lead hold up, boys! Drive them crazy!"

Just like a Lloyd coached game, UND had chances, and plenty of them. But what they got very little of was the break away, one on that makes goalies around the world wet themselves. Most of their good chances erupted from a pile of bodies, more of which were Maize and Blue than Green and White.  But it was always in a pile of chaos that's hard to take advantage of.

"We're gonna out-execute them. No mistakes. Do it right every time."
Blazefire is pretty much wrong on the comparison – that's just my e-opinion – except for the part of the quote I bolded. If you ask me, Berenson's more Fielding Yost than Lloyd Carr or Bo. But I could totally see him telling his players on the bench that whole UND game: "keep up the pressure, you're driving them crazy!"
FTR, I like Blazefire. I just think the analogy isn't a fit.
They Teach You How to Underline in College
Board, meet yourself:
This is but one small sample of wingedsig's survey results, posted mere moments before I was going to post this. I haven't even read through it all yet but it's MGoDemographics and long so giddyup!
User ertai last week laid out his case for paying D-I revenue sport players, comparing Ph.D. students and their stipends on the basis of how much $ and prestige they bring to the university by choosing to do their work here. Some folks negged him out of hand because paying players is going to be a non-starter for the current NCAA folks. But:
As we can see, from a high level perspective, there are many similarities. The difference is that PhD students get a stipend, which varies based on the school and the location. Also schools may offer PhD students different amounts of money for their services based on how good they are. For example, an OSU PhD student choosing between OSU, MIT and Stanford will probably get a larger offer from OSU than one who just got into OSU. Stipends range between 15K to 30K a year, based on the department, school, and your attractiveness as a candidate.
Read and lend your e-pinion – it's obvious he put some time and thought into the proposal. The strongest case I can make against it is that for most schools, even in D-I, the revenue sports can barely bring in enough to pay for the rest of the athletic department, so we'd essentially be going back to a system of a few mega-Haves and the Boise States of the world unable to compete. Michigan would obviously be a Have, but the other 90% would raise so much hell it's a non-starter.
The folks who don't like Johnny RBUAS got a rep in the diaries in zoltan the destroyer, who riffed on Johnny's guest post. Of course, zoltan totally missed the point: the intellectual weakness of a Johnny post isn't in being kindly sentimental to his subjects, just in the bias of choosing Michigan subjects. When I can explain in less than 800 words why Johnny fans like me naturally get bent out of shape when a cynic breaks up our sap, I'll do so. Just a thought from a writer's perspective: the reason the thoughts he puts in M players' heads are those of great good isn't saying they're all heroes; he's doing that because in our own heads we're all heroes. Make sense? Probably not. Have a haterz gif.