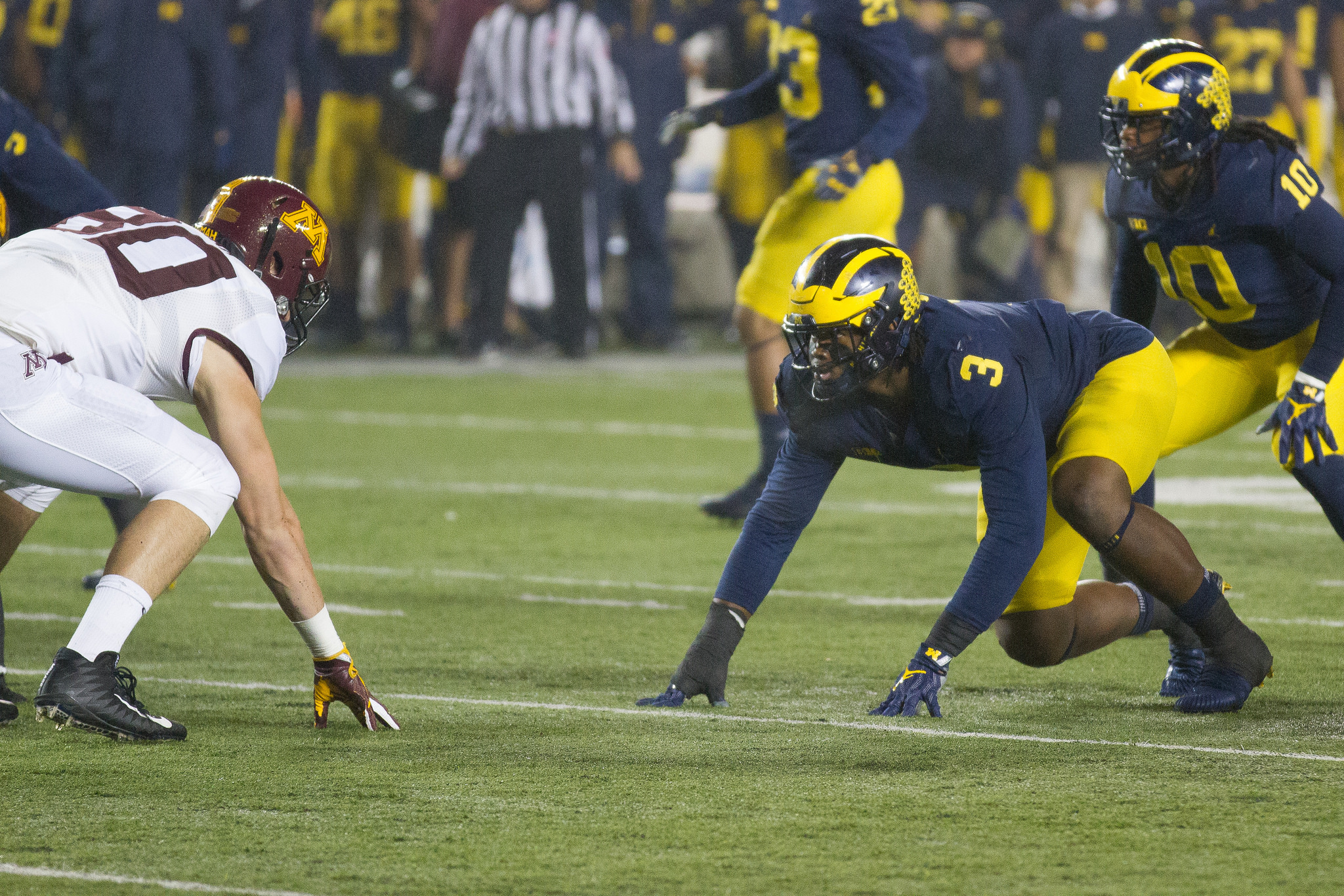 Preview 2018: Defensive End
[Eric Upchurch]
Previously: Podcast 10.0A. Podcast 10.0B. Podcast 10.0C. The Story. Quarterback. Running Back. Wide Receiver. Tight End And Friends. Offensive Tackle. Interior Offensive Line. Defensive Tackle.
  Depth Chart

| STRONG DE | Yr. | NOSE TACKLE | Yr. | 3-TECH | Yr. | WEAK DE | Yr. |
| --- | --- | --- | --- | --- | --- | --- | --- |
| Rashan Gary | Jr. | Aubrey Solomon | So. | Mike Dwumfour | So.* | Chase Winovich | Sr.* |
| Kwity Paye | So. | Bryan Mone | Sr.* | Lawrence Marshall | Sr.* | Aidan Hutchinson | Fr. |
| Ron Johnson | So.* | Donovan Jeter | Fr.* | Carlo Kemp | So.* | Luiji Vilain | Fr.* |
lol
good luck
ANCHOR: THE PRIVILEGE OF MADNESS!
RATING: 5.
now [Bryan Fuller]
It's the payoff year for landing the #1 recruit in the country. RASHAN GARY was real, real good as a sophomore. Here he is dismissing Martez Ivey, a second-team All SEC tackle last year, with one arm:
#3 DE to bottom
PFF has various stats demonstrating his effectiveness. Here's one:
Gary lit up UFR charts as well, although it was a little time in coming. Gary led off Bruce Feldman's annual "freaks" article because he may have evolved beyond the strictures of humanity:
The 6-foot-5 Gary is at the same weight he was at this time last year — 287 pounds — and his 40-yard dash time is the same at 4.57 seconds. His 3-cone drill at 6.79 was a touch behind last year's 6.70, although his time this year still would beat every defensive lineman at this year's NFL scouting combine. His 4.22 pro agility shuttle time also would top every D-lineman at the combine. Next best was 4.32. Another really impressive feat: his 10-4 broad jump, which was 8 inches better than what he did a year ago.
You can't throw a brick without hitting a mock draft that projects him in the top ten. NFL.com:
... built like a defensive tackle and runs like a linebacker. As a pass rusher, he explodes out of a four-point stance and can easily convert speed to power off the edge....flashed the ability to bend and wrap the edge, which is very unsusual for a 280-plus pound defensive end. ...versatility is a huge asset. He can line up at any position on the defensive line and, believe it or not, he's athletic enough to stand up on the edge if needed.
Yes, actually. This was as a freshman:
Now Gary is fully weaponized and ready for his close-up.
[After THE JUMP: chicken from the sky]
And... yet. It is the privilege of madness to suggest anything might be lacking from a career that's barely started, started very very well and will last for a decade in the NFL. But! But if we're ever going to see a Donkey Kong Suh kind of season from a Michigan player this is probably it and getting there is not assured. The NFL.com draft assessment accurately describes the "almost" aspect of Gary's 2017:
...needs to develop a deeper repertoire. He has a lot of success with that long arm move, but I'd like to see him add some hand moves to his arsenal. He can also improve as a finisher. He had several close encounters that should've resulted in sacks, but he couldn't quite seal the deal. ...special player and he's not remotely close to tapping into his full potential. He fits in every defensive system and has the tools to dominate on all three downs.
A +15 game against Indiana was his first elite DL number a year ago; his numbers were usually third in the pecking order behind Mo Hurst and Chase Winovich. And those numbers were piled up slow and steady-like:
When not being robbed of sacks, Gary was a constantly disruptive presence, barely outscoring his linemates. Oddly, I didn't clip much from him. This happened to Wormley last year, where dude would put out a blizzard of +1s and I'd clip Mo Hurst flinging a guy.
I want clips. I want to laugh maniacally at a trail of destruction cut across the Midwest. Craters. Burning. Fire hydrants burst next to flattened vape shops. Several minutes after the destruction ends a wok full of chicken that barely missed grazing a 747 returns to earth in a shower of brown sauce. Also the opposition punts. That kind of thing. I need it, as the two-year-old says.
But that's what we're talking about here: great or historically great. Gary had one obvious flaw last year; he didn't have many outright bad plays, but one stood out because of its giant impact. That would be Saquon Barkley's first run in last year's game, a play documented by Sports Illustrated:
The only detail remaining was to leave a crease for Barkley to escape through when he pulled the ball back from McSorley's belly. That was achieved by having left tackle Ryan Bates pass set instead of run block. That drew defensive end Rashan Gary on an upfield rush and opened a seam to the left for Barkley.
Gary took that bait.
#3 DE to bottom
The story of that play is Gary (and Winovich, to a lesser extent). Gary's first snap was a near sack on a great edge rush:
#3 DE to top
He's fired up. He wants to get after it. He gets after it so hard that he ends up five yards upfield and locked out on a play featuring a direct snap to a tailback. That is a youthful indiscretion that PSU punished maximally because they have Saquon Barkley, who found the gap and then was gone for a TD by the time he crossed the line of scrimmage.
Just a thing that happens when you whoop up on a team the previous year and they have a bye week before your game, but also the kind of youthful indiscretion that the other team can plan around. Every edge rusher is vulnerable to getting upfield; the more absurdly explosive you are the more you can get out of position. Gary's eagerness came in for some clucking after the Florida game:
Too many times in this game Gary tried to be Winovich and dart around the edge only to find himself 10 or 12 yards upfield. That is too many. The Metellus forced fumble is a good example:
Gary tears off the corner and gets shoved. He ends up engaged with an OT ten yards upfield. Hudson gets pancaked; even if that was not the case he had a huge amount of ground to try to shut down and would likely have been unsuccessful. This was a frequent theme.
It receded as the year went on, with the one major exception. Gary's edge rushing became a changeup as he moved more towards "speed to power" rushes like the one on Ivey above. (Sometimes he had to use two hands.)
He had three or four of those and was not relevant on any successful Maryland play. He's not a rabid Viking just yet but he's having an All Big Ten level season, stats be damned.
That should be his bread and butter, and will be.
While over-eagerness is probably not a major concern, there is a potential bugaboo lurking in the shadows: that shoulder. Gary frequently exited the field last year holding an arm. It looked like he had a shoulder issue, a stinger or a low-grade separation of some variety. I wouldn't mention it except it seemed to persist all year—he came off for a drive against OSU because of it—and during Terrifying Injury Rumorpalooza 2018 Gary came in for mentions that turned out to be true-ish:
-Rashan Gary was dressed and did some of the initial warmup drills, but sat most things out. I have been told by one source that this could be the case for a couple days, but that most don't currently expect his injury to be serious beyond that.
This was again a shoulder issue. Same shoulder? Dunno. Same injury? Dunno. Would Sources mislead people if it was going to be a nagging thing again this year? Absolutely.
That's admittedly flimsy as a concern. And it comes with a silver lining: Gary was that good a year ago despite not being fully functional; expectations should increment even a tad further upward. If that's even possible. The outcomes here range from garden-variety All American to defensive Heisman candidate. I want the latter. I need the latter. Give me the clips.
BACKUPS
Prediction: next year we have a better picture of Paye (#19) [Barron]
Various methods of attrition have left the backups here a little worrying. Some of that attrition is relatively benign: Carlo Kemp is no longer a candidate here because he's emphatically a DT. Other bits of it are less great, like guys leaving the program. As a result of these events, there is no experienced, natural anchor candidate on the roster. Michigan is set to go with sophomore KWITY PAYE [recruiting profile], who is beefing as fast as possible...
"This Kwity Paye – he came in here, I don't know, maybe 235, 236, out of nowhere in Rhode Island – Bishop Hendricken. He's 263 right now. He's like a muscle from the top of his head to the bottom of his feet. He's really exceeded expectations.
... but is still a year away from being comfortably sized for an anchor spot.
Paye spent last year as Chase Winovich's backup, which meant he had to subsist on a thin gruel of snaps. When he managed to get on the field he immediately impressed with his athleticism and general, you know, shape. Paye is the variety of football player who only has to walk onto the field to be intriguing. (See: Funchess, Devin; Charlton, Taco.)
The only clip I had for him was a downfield tackle against Penn State:
#19 DE to top
That is a dodged upfield swat from his blocker and impressive redirection to tackle and save some yards. The data we're working with here is minimal but Paye just bounces off the screen as the kind of guy who can be something.
Program chatter has been similarly encouraging. Mattison:
"...he's the best picture I got from our strength staff. They took pictures before and after, when they got there they took a picture of the young man, and then they took a picture last week…he looks like a whole different person. The thing you go to remember about Kwity now, he went to the state finals in Rhode Island in the 100-yard dash. And he is a 265 lb. defensive end now, he came here at 230-something pounds."
Rhode Island isn't a big place—you may have heard—but if there's any random three star recruit Michigan can pluck out of obscurity without complaint it's Taco-shaped refugee from the heart of Don Brown country. Brown's Signing Day comments on Paye were weirdly specific and practiced:
"Kwity is an unbelievable athlete," Brown said. "He plays tailback as well as defensive end. He could play up and down on defense, which is another sign of his athleticism. I have worked with him personally. He is an outstanding pass rusher, and his size potential is off the charts. I anticipate him being an open side defensive end along with the potential to play in packages with his pass rush ability. We are glad to have him here at Michigan."
And correct. Mattison again:
"Kwity Paye might be one of our strongest guys. His leg strength is unbelievable. He's working like he always does, but now instead of being 235-pounds or 225-pounds, Kwity Paye is 250-pounds. I asked him today… I said, 'Kwity you are really looking good. What do you weigh?' He said 256-pounds."
By the time the season starts that will be ten pounds in the past. Paye is the undisputed #2 at both DE spots and should get 200-300 snaps this year. He'll flash his potential and move into the starting anchor spot in 2019. Nobody's going to confuse him with Gary but there's a strong possibility this is closer to a Peppers-to-Hudson transition than a massive dropoff. For 2018 it's about snaps and flashing that talent.
Johnson/Upshaw [Aaron Bills/hudl]
RON JOHNSON [recruiting profile] is listed at 267 on the most recent roster so this is probably where he goes too. I say "probably" because the last time anyone saw Johnson he was playing three-tech in the 2017 spring game—very poorly. Since then there has been virtually zero talk about him. Mattison did mention him a couple times in an interview with Sam Webb:
Ron Johnson [has] worked very, very hard. ... Ron Johnson has done a nice job working hard, and there's a couple of other young kids that have done a good job.
Even that isn't too encouraging I assume Michigan flipped him back out to DE since they stopped trying to bulk him up so much, but with Paye clearly zipping past him in year two, it is late early.
Behind Johnson, probably, are the other two freshman defensive ends. Both are high-upside shots in the dark who Michigan latched onto late in the recruiting cycle when it became clear they didn't have much shot at more highly touted guy. TAYLOR UPSHAW [recruiting profile] is the son of longtime NFL defensive tackle Regan Upshaw, but only started playing football midway through his high school tenure. He did not produce on a future-P5-prospect level but that didn't stop Florida from accepting commitment from him; when Jim McElwain got axed Upshaw re-opened his recruitment and eventually went to Michigan.
There's been a little talk about Upshaw since he enrolled early...
I came back from a couple weeks' vacation and I saw Taylor Upshaw and I didn't recognize him. I said 'who's he?' and they said 'That's Upshaw, he gained 20 pounds.'
...but he's a developmental prospect who should be a lock to redshirt.
hopefully Welschof will make the opposition bucklepiste off down the road
JULIUS WELSCHOF [recruiting profile] is even more of a home-run swing. Welschof is a German guy who does rad exercises underneath overpasses—the Pitbull vibes are very encouraging—and also plays football. He was a Georgia Tech commit before Michigan pulled the trigger and comes with an enticing athletic package:
"He's really raw but his upside is tremendous," said one of the coaches at another program that had him in camp last summer. "This is a really good get for Michigan. He's a beautiful kid. He's going to be 6'6", 280 pounds before too long. His athleticism is really legit."

That school had Welschof measured at 6'6" and 242 pounds, with a 4.87 40, a 10-foot broad jump and an impressive 4.38-second 20-yard shuttle.
He's an older freshman but given his background patience is warranted. No one's talking about him yet; no one should be talking about him. At 253 on the fall roster he seems like a decent bet to actually stick at anchor, FWIW.
WEAKSIDE END: BREAK FAST, CHAMPIONS
RATING: 5.
LOOKS LIKE TARZAN PLAYS LIKE TARZAN [Bryan Fuller]
At Big Ten Media Day they sit a bunch of players and coaches down in a room and unleash the assembled hacks upon them, as one does. Then they ask questions. Many of these questions aren't great; some of those are unintentionally revealing, like when someone asked one of the offensive linemen in the room whether Nick Bosa or Rashan Gary was the toughest guy in the league to block. The response: CHASE WINOVICH was the hardest guy to block.
This might not be literally true. What might be literally true is that Winovich is the most annoying guy to block, because 1) he never slows down, 2) never comes off the field, and 3) never, ever shuts up. The man is an outboard motor in a uniform: relentless, loud, rattles a lot, never stops as long as you stick fuel down the pipe. Here he is playing both ends of a read option.
Chase Winovich might break the record for number of scouting reports that contain the phrase 'high-motor'

— Mike Renner (@PFF_Mike) May 29, 2018
Watching his tape is an exercise in imagining the opposition exclaiming "F! What is wrong with you? JUST STOP FOR LIKE TWO SECONDS."
In addition to this, he is pretty hard to block.
Put it all together and it's Winovich, not Gary, with the flashiest stats and whiz-bangiest counting numbers from last year. PFF packaged up his stats in several different ways over the offseason; this one is the most revealing:
Chase Winovich's stats when rushing the passer pic.twitter.com/8jKvSb6rc1

— PFF College (@PFF_College) June 14, 2018
Those counting numbers are near the national best for returning players, all of them, and then you get to the "productivity" metric and it's a wee tiny letdown. That's because it's on a per-snap basis and Winovich, as mentioned, almost never left the field. This cuts both ways. On any given pass where both were on the field, Gary was a bit more likely to make a play. But Winovich was always out there so the WDE spot had a bunch of snaps with big advantage over the anchor spot because it was playing Carlo Kemp instead of Gary.
So he's a very annoying and near-elite pass rusher. On the ground he's pretty good. The only negative stuff I had for Winovich last year that fits into any sort of pattern were a couple of early runs where Michigan got edged because Cincinnati messed with his keys by going "read option" into a speed option...
This speed option has a clever twist:
#15 DE to top of line
It features a fake mesh point to put the DE in zone read mode. Winovich is contain. The mesh makes him think the QB is the player in need of containment, and he doesn't adjust when the QB and RB switch roles. Michigan's seen this a few times before, but not recently. That's a simple fix Michigan will practice and get down. UC also flanked Winovich on one of those zone sprint plays Michigan had trouble with last year; again Winovich focused on containing the QB instead of the guy running outside. Again: not too hard to fix.
...and three chunk runs that Maryland got. On one he's unable to set the edge; on another he ripped upfield of his blocker before the running back had committed:
Both of these are callbacks to some issues Winovich had early in his career but were also isolated incidents. Every time I've talked about Winovich I have to remind myself that the obligatory bits about how he's not a great run defender don't actually apply. Minuses were pretty uncommon for him. Only one game I charted saw him pop above a –5 in the bad part of the chart, and that was the above game against Maryland, the most edge-run-happy team in the land.
Winovich is a solid run defender who occasionally gets clunked, as do we all. Running directly at his face is not a good plan:
#15 DE to bottom of screen
Opponents tend to think it is, possibly because of the guy bookending him, and are generally proven wrong. Air Force made a habit of targeting him. It didn't go that well:
 

...Winovich was afforded a certain level of disrespect in this game. Air Force never tried this business in Rashan Gary's direction:
#15 DE to bottom of screen
Can Gary do that if singled up? Probably. Opponents are going to have to adjust to the fact that Winovich obviously can as well. ...
Winoivch isn't quite elite at any one thing. He's not a physical specimen like Gary. He's not an every-snap pass rush threat. He's not the perfect weakside run D end. But he is very good at all these things and has absurd endurance that allows him to be his own backup. And he's annoying. Not to me, and not to you. But if there's a Football Moe Wagner on this roster it is Chase Winovich.
Enjoy it. The message boards will be a-froth this year. I didn't even mention his hair. Someone's going to get squeezed out of AA consideration because there aren't enough numbers to go around; it'll probably be Winovich since the other contenders are all younger than him. But here comes the Jake Ryan at DE senior year we never really got to see. LFG!
BACKUPS
Winovich's backup is an almost entirely hypothetical position. If a tree is a highly-touted 260 pounder but is second at a spot where Chase Winovich is first, is he on the depth chart at all? Sort of thing. That's one reason KWITY PAYE is spending time at strongside end, where Gary is less of an ironman. Should there be a need for a non-Winovich he's likely to be first in line for those snaps as well.
When Michigan looks to the future it sounds like freshman AIDAN HUTCHINSON [recruiting profile] is the hypothetical tree du jour. This is a surprise. Hutchinson was listed at 260 as a recruit and is 268 on the fall roster. IE: larger than Paye. At no point in his recruitment did anyone talk about him as a weakside end capable of wrecking stuff, even after he wrecked stuff at the Army game (2 sacks, another half-TFL, to lead all participants). And yet:
...the player I've heard mentioned most so far: freshman end Aidan Hutchinson. ... "His future is beyond bright," one source mentioned. "He is very legit."
Hutchinson blew up as a recruit because he kept getting bigger and faster at the same time, and then he blew up at the Army game. He's now an SDE sized guy who whooped up on the best OT prospects in the country over a week of practice and in the game itself. Long-term he is a great prospect:
Great frame with plenty of room to fill in and has already started that process. Long arms. Fluid kid with flexibility and ability to bend. Can turn the corner and rush off the edge. Likely grows into a strongside end because he has so much room to add weight. Plays hard and plays physically. Still can improve technique with his hands, but physical tools and intangibles are all there.
Right now he's fine to throw in during the brief periods when offenses get a reprieve from Winovich.
Redshirt freshman LUIJI VILAIN [recruiting profile] actually comes more highly touted than Hutchison—than almost anyone on the defense other than Gary—but has seen his first year and change in the program dogged by injury. He'd just started generating some chatter last fall when he got laid up, and even though talk at the time was that a non-freshman Vilain probably would have worked his way back mid-season, in March Greg Mattison noted that he'd barely been able to work with him:
"We haven't even had a chance to work with Luiji (Vilain) yet, who's really coming through his operation well. We are getting ready for all that to happen."
Vilain was not dressed during the open practice, and whether it was for that or a different issue his inability to stay on the practice field is starting to get worrying. The silver lining: there are many external circumstances that prevent Vilain from garnering hype, so if he's just in a run of terrible injury luck there's every reason to expect he'll fulfill his many and diverse recruiting accolades. For example:
"His ability to get off the line of scrimmage and blow past opposing offensive tackles is special. ….he can disengage from offensive linemen and set the edge when he needs to.  …a very, very athletic, solid player and is near elite rushing from the outside."
We have little else to go on because of the injury issues. The goal for this year is to stop having those.
Finally, redshirt junior RUEBEN JONES [recruiting profile] persists. He gets very little chatter and has seemingly been passed by two different freshman classes as soon as they arrived; it would be a real surprise if he got on the field for meaningful snaps. Lorenz did relate that he was "brought up as having some good practices" and he is up to 250 on the most recent roster.That's not much to go on; he'll probably serve out the year as a backup before a grad transfer.