2018 Recruiting: Aidan Hutchinson
Previously: Last year's profiles. S Sammy Faustin, S German Green, CB Gemon Green, CB Vincent Gray, CB Myles "Spider" Sims, LB Cameron McGrone, DE Taylor Upshaw, DE Julius Welschof.
 
Dearborn, MI — 6'6", 260
 

24/7
4*, #88 overall
#5 SDE, #1 MI
Rivals
4*, #129 overall
#8 SDE, #2 MI
ESPN
4*, #193 overall
#22 DE, #1 MI
Composite
4*, #112 overall
#6 SDE, #1 MI
Other Suitors
ND, MSU, LSU
YMRMFSPA
Craig Roh
Previously On MGoBlog
Hello post from Ace.
Notes
Twitter. Army game. Son of Chris Hutchinson.

Film

Junior:

Senior:
You get a lot of before and after pictures these days, following college football. Can't throw a brick on twitter without hitting a strength coach showing you Player X's transition from pencil-necked geek to glistening Adonis. Sometimes these are faintly ridiculous, like when Jabrill Peppers invited the internet to observe his transformation from super jacked to infinitesimally more super jacked. And then there's Aidan Hutchinson.
Hutchinson when he first started popping up on the recruiting sites: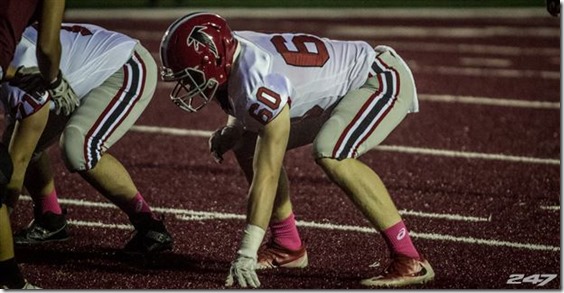 [Isaiah Hole]
Hutchinson as of the Army game: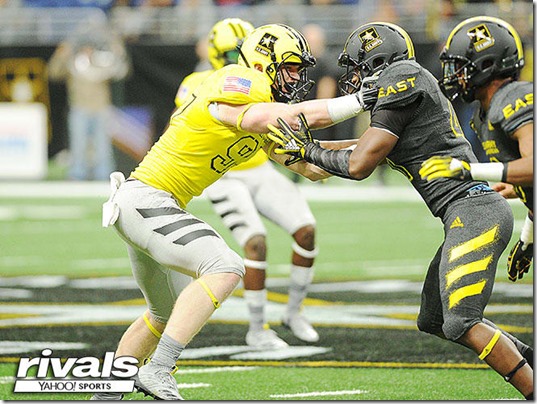 [Nick Lucero]
You can scroll from the bottom to the top of his images page on Rivals to get the flipbook version of someone hulking up. This is faintly terrifying for the father of a two year old, his vision clouded with images of a ravenous teenager eating pound after pound of canned crab meat without even bothering to open the tin. But it's pretty good for Michigan football.
Hutchinson also played like Tarzan at said Army game, grabbing two sacks and another shared TFL in necessarily scanty time, and got the fairly rare Major Late Bump.
[After THE JUMP: reasons for late bump]
4 DE Aidan Hutchinson (Michigan) with the SACK!!!!!!!! pic.twitter.com/KPoVZ0WQt8

— NCAAF Nation (@NCAAFNation247) January 6, 2018
Rivals's Adam Gorney named him the guy who improved his stock the most...
...incredibly effective all week in practice, showed a physical and athletic side and then had an impressive performance in the Army  ...tough, persistent and aggressive all week and really made a statement in San Antonio.
...and Josh Helmholdt marveled at the above physical transformation:
There have been few players in recent memory whose progression during their high school career is as dramatic as Hutchinson's has been. Going from an undersized sophomore to a physical force who dominated the Army Bowl, Hutchinson has shown marked improvement every step of the way. ... motor that was always running 100 percent and the ability to consistently get off blocks, which few others were able to do.
"He's 6-6, he can move, and you see his athleticism playing tight end as well. He just really, really grew and blossomed ... We've been knowing about Aidan since his sophomore year. He was a lot lighter and skinnier then. You watch him develop and grow into this monster. ... excellent as a senior. ....some of the things he was able to do athletically at [TE] – I think – really showed his upside. He's got some fluidity and some flexibility for a guy that big. He's going to be a strong-side defensive end at the next level and I think he's going to be really, really good."
For its part, 24/7 was calling him "an eyeball test guy" and enthusiastically shoving him up their rankings, just like Rivals. Hutchinson made a big leap up, going from 194th to 112th on the Composite and suddenly becoming Michigan's most-touted recruit in the 2018 class. That says something about the class, yes, but still not bad for a guy who looked like you could break him in half with a scurrilous accusation a few years back. And if ESPN still updated things his rise would have been even steeper.
As a result of the above physical transformation, old takes can be as accurate as they like and still have lost most of their usefulness. What does remain is usually about intangibles like attitude and coachability and tangibles like the already-partially-redeemed frame upon which to hang meat. Also that precious word "bend." 24/7's overall eval:
Great frame with plenty of room to fill in and has already started that process. Long arms. Fluid kid with flexibility and ability to bend. Can turn the corner and rush off the edge. Likely grows into a strongside end because he has so much room to add weight. Plays hard and plays physically. Still can improve technique with his hands, but physical tools and intangibles are all there.
Wiltfong reported that Hutchinson and another Opening regional performer had "unique frames and high upside."
ESPN's never-updated underclass evaluation:
...excellent frame and a muscular build. Uses his long arms well to keep blockers at bay and has the strength to hold at the point of attack. Demonstrates a high football IQ and knows where the play is going. High motor kid who fights through the whistle and looks to punish opponents. ... Not overly explosive and lacks the speed to consistently get around the edge.
Allen Trieu noted his "good athleticism and bend" after the Best of the Midwest camp and re-iterated that take in an article most of the way through his senior season:
...lined up more at tight end this year. He is still slated for defense at Michigan but that shows his athleticism. We saw that at camps though. He moves around the field well for a kid that is 6-foot-6 and change. ...could play a lot of positions at a high level. Strong-side defensive end is what we will stick with, but he's bigger and stronger this year and has kept, if not improved, his movement.
His coach has an effort take and simultaneously emphasizes how weird coaching high school football must be:
"The first thing that jumped out at me – he was maybe 6-foot, 180 pounds, a skinny kid – but he really, really played hard. Even as a ninth grader the kid has always played hard. Maybe if you attribute that to his bloodline. He had one speed in practice and games."
That is the kind of stuff you expect to hear about the kid of a Michigan captain who is now an ER doctor, but it's nice to hear it all the same.
Hutchinson's eventual upside depends largely on his pass rush. It seems like a given he'll be a high-motor, NFL-sized strongside end. Especially once you consider the fact that his late rise has a little Caris Levert to it. His coach:
"He's still just a kid. He's only 17 years old and when you look at his face and his core still, he's still young looking," Filiatraut explained. "He's going to naturally develop and I think he's going to be heavier and definitely stronger and more explosive. He plays with great technique, leverage and effort already so I think as he develops physically he'll improve a lot."
Hutchinson is still 17; he turns 18 next month. Many college football prospects would be rising seniors at the same age, so take this Hutchinson and give him another year to beef and, well... yeah. Physical upside: yes.
Pass rush upside? Conflicting reports. Running over five-star Jackson Carman above is a strong point in favor, and Army reports were reserved but fairly positive:
...particularly active all day Tuesday, beat some respected offensive tackles with outside moves and was not afraid to mix it up. ...surprisingly quick to the edge or he can muscle through offensive tackles and get to the inside. He beat Oklahoma signee Brey Walker among others during the practice session.
This is a fairly recent development; Helmholdt knocked him for being "a little high and a little stiff" earlier in his recruitment and there were a couple other reports that seemed to take a "if you can't say anything nice" stance in regards to that aspect of his game. His position coach at the Army game:
"He has great awareness," King said. "He really can read blocking schemes and he can feel pressure well. Even in his pass rush he knows when to switch it up — when to use a power move and when to use a finesse move. He knows when to get his hands up. He's a heck of a player and a great young man. He's probably a better person than he is a player and that's saying something."
So maybe that's happening and hypothetical 2019 recruit Hutchinson would have been an even bigger prospect? Hard to bet against a guy who's arrow is straight up and still hasn't filled out or registered to vote for Christopher Taylor in the mayoral primary on August 7th. Not that he could, because he'll still be 17.
Etc.: Did catch 38 passes from a TE spot as a senior. Don't expect flow:
"I don't know — I don't know man, Chase has got some long hair. I used to have a little bucket going on but my hair can't grow that long. It just won't do that," he said with a laugh.
Also long snaps. Because when he was a freshman that was probably his only path to college football.
Why Craig Roh? Roh came to Michigan as a highly touted weakside end, got jerked around by the 3-3-5, and finally found a home as a strongside end as an upperclassman. Roh didn't have the frame to get past 285 and was never the pocket-crushing presence that Wormley was but his relentless motor made him a solid player. Hutchinson is bigger and a more natural fit at SDE and has more upside, but the high-energy Winovich-ish strongside end is the right genre of player. Also, at 6'6" and change you probably don't want Hutchinson sliding inside, something Wormley was very capable of.
Other comparables are Ryan Van Bergen and... uh. Michigan has a dearth of recent B+/A- SDEs. They're either crushing five star sorts like Brandon Graham, Lamarr Woodley, and Rashan Gary or... not that. If Hutchinson hits he's probably between the RVB/Roh class and the world-eaters.
Guru Reliability: High-minus. Heavy Army scout is recent and Trieu checked in during his senior season. ESPN is off because they quit, though, and there's not much depth because older reports are outdated.
Variance: Low-plus. He does have to add another fairly sizeable chunk of weight. That shouldn't be a problem given his big meaty frame, but not finished product etc.
Ceiling: Very high. Hutchinson is probably not done surging. He does not turn 18 until next month.
General Excitement Level: Very high. In addition to the various physical things and his age, he's a legacy who gets some high football IQ praise.
Projection: Should still be a redshirt given the new rules and Michigan's depth chart at SDE. Will be interesting to see if they want to play him early, which would signal that he's not really ready, or save him for a break-glass-in-case-of-emergency late run.
It'll be tough to displace Carlo Kemp next year when Gary is presumably off to the top ten of the draft but sliding into that two-deep is almost a given since the other two SDE types in the class are raw projects and the SDE types other than Kemp have all been moved inside. That should pave the way for playing time unless Kemp is gangbusters.