Preview 2015: Defensive End
Whether Michigan's DJ Durkin defense is a 3-4 or a 4-3 is in the eye of the beholder. This beholder says it's a 4-3 under again with a weakside end who is a bit more likely to line up in a two point stance or drop into coverage than before. But he's still Dante Fowler, who's a dang end.
Adam did yeoman work with Royce Jenkins-Stone to get some kind of confirmation of this. First:
In your words, describe the Buck position in coach Durkin's defense.

"Uh…exciting. Exciting."
Hmm. Not quite specific enough.
Is it fair to say that it's essentially a stand-up defensive end who can also do the things a linebacker might do?

"Yeah."
Okay.  Maybe we can get him to say more than one word at a time.
So you're going to rush the passer and drop into coverage too?

"Yes, and I'm going to put my hand in the dirt, too. Just depends on the type of formation."
/confetti drops from sky
So we'll leave these previews as they are. Michigan's running Mattison's defense from the first three years. It's not like any of the DTs are liable to be unmovable two-gap mountains anyway.
By the way, this is the most alarming bit of the defense, and it's not all that alarming.
WEAKSIDE DEFENSIVE END/"BUCK" LINEBACKER
Rating: 3
Ojemudia is still learning how to smile [Eric Upchurch]
Michigan has no proven options and only one guy who's got much touted-recruit upside left, but they should have someone who's at least solid. Prepare thyself for the last Ojemudia Death Stare Compilation.
OJEMUDIA DEATH STARE 2015
MARIO OJEMUDIA is now a senior and is nominally ahead of the pack at WDE. This is going to be a platoon unless someone emerges; the bet here is that Ojemudia drives his coaches less crazy, especially early, and gets the most at-bats. He's seen the field on the regular for three straight years now, ascending to a starting spot once Frank Clark got booted. In that time he established that he's not the kind of tailback-leaping, OL-discarding athlete Clark was, but he's got his share of assets.
Ojemudia's a smart, disciplined player. He's excellent at splitting the difference on zone reads; by doing that he prevents them from escaping outside and remains relevant.
Multiple times last year he was the guy the zone is supposed to read and he made the tackle. That's good eats. Against Maryland he was heady enough to make a critical fourth and short stop when the Terrapins rushed to the line for one of those catch-you-off-guard QB sneaks. In general, whenever Clark would do something that caused his coaches to pull their hair out they'd throw Ojemudia out there for a bit and he would get that particular assignment correct.
Pass rush is the thing everyone is worried about. I neither can or want to dispel that entirely. Ojemudia did not have the same kind of impact Frank Clark did. (As the NFL reaction to Clark indicates, his stats badly underrated his play. Clark was robbed of a ton of sacks by poor lanes from the DTs and bad coverage by Blake Countess.) On occasion last year his lack of size and strength saw him blown down the line or pancaked in a way that Clark never suffered, because Clark was 280.
But he's not a total non-entity. He had 3.5 sacks and 7.5 TFLs; not a bad total for a guy who spent much of the season locked behind a really good player. When he did emerge into a starter he made a reasonable impact:
He had another sack against Northwestern, and got a shout out from either Maryland or Ohio State in Mike Spath's annual Big Ten Media Day column:
On Michigan's defensive linemen: "The best kid they had was the kid that took over for Frank Clark [Mario Ojemudia]. We knew next to nothing about him because he was only getting 10-15 snaps per game and wasn't doing much but he was really hard to block and was in our backfield a lot. …

"I don't know what the plan is for him this year but [Ojemudia] is the guy that I think can be really good."
Chatter has actually focused on the two other guys competing for this spot, and both of them will play. The most likely outcome here is a platoon featuring Exciting Guy and Boring Guy; I don't know who Exciting Guy is. I do know who Boring Guy is.
And that's fine. Ojemudia's kind of like a defensive end version of Jake Rudock. That's a worse deal at DE, were a "game manager" is just a guy who doesn't pressure the QB much. But it's not the worst thing.
[After THE JUMP: Ghostly promise and a large man]
BACKUPS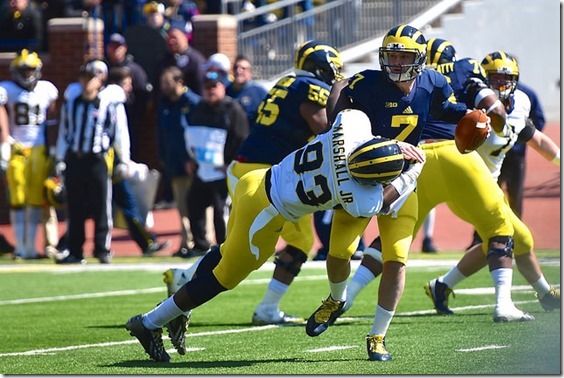 [Fuller]
Redshirt freshman LAWRENCE MARSHALL [recruiting profile] was the talk of spring practice, and was receiving early chatter this fall, and then fell off the map entirely. He was not seen at the open practice; Marshall-related chatter has come to a dead stop. That means one of two things: an injury, or a violation of team rules. Whichever it is has slowed a considerable hype train.
The issue is likely minor or we'd have heard more about it, so after the first game or two expect Marshall to start rotating in with frequency. By fall he'd made himself into the biggest option available:
"After spring ball, I was maybe 240 and now I'm 255," he said, beaming with pride. "I made a big jump. I got a lot stronger, all around bigger.

"I feel like I can compete as an every down player, and I don't know that I could have said that in the spring. I was more of a pass rusher type, but the coaches said to me, 'If you want to play all four downs, you have to get bigger' and I knew if I had a great summer I could put myself in a position to play a larger role this fall."
Marshall had a spectacular sack in the spring game on a play during which the offensive line elected not to block him; that's all we've got to go on beyond talk and high school scouting reports. Here is one of those:
Very long frame. Has great athleticism, change of direction and speed in pursuit. Has all of the tools to be an elite pass rusher, just needs continued work on his technique. …Has to add some weight, but all of the raw tools are there.
Said reports were heavy on the "raw tools" and light on statements about immediate readiness.
That Marshall has generated a bunch of talk in year two is a good sign. Something like sophomore Frank Clark might be in the offing: looks really athletic, doesn't quite know what to do with it yet, makes the occasional spectacular play, gets yanked when he does something the coaches don't like. Next year Michigan will need to rely on him heavily.
[Fuller]
Michigan's third option here is a bit of an odd one: senior ROYCE JENKINS-STONE [recruiting profile]. Jenkins-Stone was a strongside linebacker last year and in fact started a number of games early in the season. Why that was the case was never clear. He struggled in space and ceded his job to James Ross midseason.
By spring he was DE, and he did an okay job with it. He's got about as much size as the other two competitors here and was regarded as being an excellent vertical attacker as a recruit:
He is truly has the physical presence to play inside, and the athleticism to move outside depending upon where Michigan needs him and has the potential to compete early. An aggressive player who is best when in attack mode and shooting gaps.
That we're still talking about high school when Jenkins-Stone is entering his senior season is evidence enough that he hasn't seen the field much. He's going to have to offer big plays if he's going to see it much this year, as Ojemudia is a proven player with lots of experience at WDE/Buck.
At least one person who talks to Rivals thinks he will do so:
Defensively, the front seven remains nasty and we've been told that senior Royce Jenkins-Stone is picking up right where he left off in the spring, simply the most consistent playmaker at the BUCK linebacker position.
We'll see. It might happen. Ojemudia certainly does not have a death grip on the job. It would be a pleasant surprise if it does.
STRONGSIDE DEFENSIVE END:
Rating: 3.5
[Fuller]
Michigan's return to more of an under look is good news for CHRIS WORMLEY, who is not quite a defensive tackle and not quite a defensive end. Over fronts don't really have a spot for a guy like that; SDE in an under look, on the other hand, is his jam.
Wormley was not good at holding up against extended doubles…
…but when he was presented with guys trying to combo him he had a combination of size and agility that allowed him to get through many of those blocks:
At end he's going to get many more of the latter than the former, and often one of the gentleman trying to do bad things to him will be a tight end instead of an offensive lineman.  This is a better fit for his skill set.
Once Wormley made the move in spring practice it stuck immediately; he has not been challenged for the job, and he's got a reasonable challenger. Harbaugh, Durkin, and Mattison were unreserved in their praise for him. Mattison:
"He seems every day to be taking another step toward being the Chris Wormley that we recruited and the Chris Wormley that you were really expecting to see before he had the knee [injury], and I'm really happy with the way he's been working. He's been very physical. He's totally into it. He's been a leader by example."
"The size he is, as well as he moves, and what he's able to do on the football field- he should be a dominant player. I think he will be. He had a great spring. … He's one of those guys- there's not many guys that are 300 lbs. like that that can move around and look like a linebacker."
"One of our most impressive players, I think. He's a real football player and today provided some real good pass rush on the inside, which any way we can get pass rush from a four-man line is what we need to do. We need that improvement. The edge will come, but I thought we had some good interior pass rush today that showed up.
Note that Harbaugh says Wormley offered good pass rush on the "inside", which is usually how you describe a defensive tackle.
That's the kind of rusher he is: not an explosive one. Few guys his size who aren't Brandon Graham are. Neither is he a non-factor, though. He presses well on stunts and has the occasional spin move in his pocket:
Incremental progress should take him up to that Ryan Van Bergen level where he's effective without being an out-and-out star. If the practice praise above is legitimate he could outdo even that. I'm expecting he's a good player but not a great one—maybe a guy on the level that Ryan Glasgow was last year.
BACKUPS
While we're all moaning about Ben Gedeon's lack of a redshirt, let's not forget about true junior TACO CHARLTON [recruiting profile]. Charlton was sushi raw with huge potential coming out of high school; Michigan played him on scattered snaps that served only to prove that he was nowhere near field-ready. Argh.
A year later, Charlton was a rotation defensive end who did reasonably well in limited time behind Brennen Beyer. The talent he flashed with a beastmode sack in the opener…
…was unfortunately not repeated much during the season. Charlton didn't stand out as completely unprepared anymore; neither did he provide many indicators he was on the verge of busting out. (He did demonstrate an advanced understanding of sack celebrations.) Sometimes it felt like he didn't quite get what his assignment was, like on this Penn State run:
That play occurred during one of Brady Hoke's "oh no we suck on offense" defensive shakeups. Michigan started Mone, Wormley, and Charlton; Charlton got an early hook after that play and a 31-yarder that seemed to be at least partially on him.
Charlton does have a knack for bulling back offensive linemen, and he is a hefty, athletic 285 now. His problems in the past have been more about missing assignments than getting beat up because of bad technique, so he is one of those If The Light Just Goes On guys.
It does not seem like it has just yet. Wormley's starting spot hasn't been under threat and when he was held out of the open practice it was in fact Willie Henry(!) who was the starting strongside end. Charlton missed a big chunk of spring practice, including the spring game, and will be coming from behind as he tries to impress his new coach. It should be another year of rotation snaps, hopefully with more oomph when he makes plays and fewer missed assignments.
There's very little past Charlton after Harbaugh raided this position for Henry Poggi. True freshman SHELTON JOHNSON [recruiting profile] is a promising gentleman Michigan snuck out from under Florida State's nose… a promising gentleman listed at 212 pounds on the fall roster. A redshirt is a holy, holy lock. If Michigan does need someone other than Wormley and Charlton to take snaps it seems like they'll have to go with Henry there and play Hurst or Godin at DT.