Previously: Podcast 6.0. The Story. Quarterback. Running back. Wide Receiver. Tight End And Friends. Offensive Line. Defensive End. Defensive Tackle. Linebacker. Cornerback.
| Free Safety | Yr. | Strong Safety | Yr. | Nickelback | Yr. |
| --- | --- | --- | --- | --- | --- |
| Jarrod Wilson | Jr. | Delano Hill | So.* | Jabrill Peppers | So.* |
| Jeremy Clark | So.* | Dymonte Thomas | So. | Blake Countess | Jr.* |
| Reon Dawson | Fr.* | Brandon Watson | Fr. | Dymonte Thomas | So. |
[* = player has taken redshirt. # = walk-on]
So, JARROD WILSON…
Okay, okay, Jarrod Wilson after the jump. Now…
NICKELBACK!
RATING: EXPLOSIONS
ok, you're out of shoes, right
RATING: 4
I've been talking about hybrid space players for years now, projecting that Michigan would acquire one of these important gentlemen since about a year after that, and resigning myself to yet another repurposed 5'9" corner four games into every season since. Two years ago:
The thing that kept me from playing nickel a lot last year – the nickel has to be able to blitz. He has to be able to change the math … some guys can blitz and some can't.
Michigan didn't have that guy, and their defense was solid, but conservative.
Now… now Michigan has a hybrid space player. Sound the trumpets. Unfurl the banners. Roll the carpet forth unto the unworthy ground so that our prince can walk upon maize and blue! Fetch… fetch the Woodson comparison. Yes, from the vaults.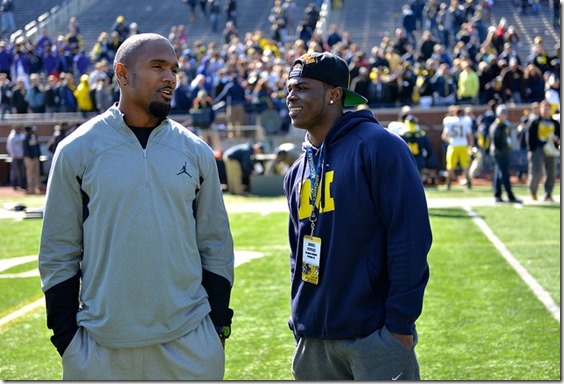 ATTACK OF THE CLONES [Fuller]
And so forth and so on. As to why Michigan is deploying its most hyped recruit ever at a spot historically reserved for a not-quite-starting cornerback on passing downs, let's revisit last year's preview:
------------------------
The ideal nickelback is a corner/safety/linebacker hybrid who can cover slot receivers, blitz like a mofo, and fend off blockers to make tackles in space, and in the increasingly spread-oriented world of football they are essentially starters. This does not just apply to college football:
NFL offenses are identifying the nickel corner as a key part of any defense. "This varies from defense to defense, but the amount of your sub package that you play nowadays — because we're seeing more three wide receivers on the field — your inside player is going to play as many, if not more plays," Capers says. "You could be in some form of your sub defense two-thirds [of the time]." The number Hayward throws out is 75 percent; Whitt says 80. No matter the math, the point is that the nickel cornerback is as much a "starter" as any other spot in the defensive backfield.
The QED here: that's an article on second-year player Casey Hayward, who replaced Charles friggin' Woodson as the Packers' nickel. In his time at that spot, Woodson picked up a Defensive Player of the Year award. The best nickels double as outside corners when teams are in a base package; others are just really important fifth defensive backs.
-------------------------------
SI followed that Grantland article up with one this year asserting that the nickelback has risen in prominence as the NFL's "key battles move to the slot":
Teams ran base (with four defensive backs) 48 percent of the time in 2011, 45 percent in '12 and 40 percent in '13. Nickel sets increased from 40 to 44 to 49 percent over that same three-year span.
College is gradually following a similar pattern. One of the main reasons Michigan is moving to the over defense is that they were in it like half the time last year anyway, because that's how you have to respond to spread offenses. However, the motivations are somewhat different. In college if you get spread out there's a better than even chance they are spreading to run, an innovation still mostly on the sidelines in a league where you can pick the 30 most accurate passers in the world and whoever the Browns have this year.
But the idea remains the same: triple threat.
"To play nickel now? I think it's really hard. You have to play the two-way go [option routes in which the receiver can turn inside or outside based on coverage] inside the numbers, you have to be able to tackle, and you have to be able to blitz. And blitz is a technique, just like playing man-to-man or running routes. You need practice at that. You can't run in there straight up and down like a pencil, or you'll get decapitated. Because as the nickel, sometimes you blitz, and the tackle is set up on you. How do you beat him? You've got to get him back on his heels -- you set him up, almost like a basketball player driving to the hole.
You have to cover, you have to play the run, and you have to murder the quarterback. Come on down, JABRILL PEPPERS [recruiting profile].
Since Peppers is a true freshman, and since he is Jabrill Peppers, I can't tell you anything you don't already know if you've read that profile. Selected, mouth-watering highlights:
"Peppers is a rare athlete with potential to be great at the next level. He is one of the most talented players I have ever seen at the high school level. At 6-foot-1, and 205-pounds, Peppers has college ready size to go with un-matched speed and explosiveness."
This one is particularly apt given Peppers's spot in the defense:
"…could play four to five different positions and excel at them.  He is a strong running back.  He is as fluid as a good corner.  He hits like a linebacker.  He could play safety.  You could honestly take him and put him in an outside linebacker position and he would flourish.
Oh and
USC coach: "Holy s---, that's him? I've only seen two players in high school with a body like that and both of them are named Peterson [Adrian and Patrick]."
Scout's Scott Kennedy gets a gold star for his player comparison:
"I think his impact on the game [would be maximized by] letting him roam around a little bit and freelance and let him play – an Eric Berry style of safety where they would walk him up. I mean, Eric Berry had 15 tackles for loss.  He is that kind of a player.  Eric Berry, I thought, was maybe the best player in college football a couple of years ago."
Eric Berry was a nickel in college. People didn't quite know it at the time because everyone was just inventing the idea of putting your most badass guy there, but he was a nickel. He's a nickel in the NFL, acquiring 3.5 sacks in 2013 and going to the Pro Bowl every time he's been healthy.
That is the mission. Be Eric Berry. Or All Pro Charles Woodson, of course.
Can Peppers do it right away? I'm supposed to equivocate about freshmen here. I won't. He's got the size, he's got the speed, and he's blazed his way to the starting lineup essentially on day one. Sam Webb:
I know the Jabrill Peppers is hyped enough already but the word he is the real deal.  You saw the pictures so you know where he is physically.  But it's the non-stop motor and tenacity that just put him on another level from most freshmen.  …  It's often hard to keep expectations of freshmen subdued, but it's especially hard when they've been as good as advertised in practice.  They all say he is young and has a lot to learn, but also say he is as good as advertised.
I'm sure there will be some busts as he gets situated in the defense. That should be the primary issues. Go time: now.
[After the JUMP: the actual safeties, you shoe-throwing maniac.]