Safety
Rating: 3
| Free Safety | Yr. | Strong Safety | Yr. |
| --- | --- | --- | --- |
| Courtney Avery | Sr. | Thomas Gordon | Sr.* |
| Jarrod Wilson | So. | Josh Furman | Jr.* |
| Jeremy Clark | Fr.* | Delano Hill | Fr. |
[* = player has taken redshirt. # = walk-on]
Well, here it is. Michigan has lost Jordan Kovacs and the replacement derby has gone about as poorly as it could have. Jarrod Wilson was the guy they wanted to take the job and has not done so; Michigan moved a 5'9" slot cornerback back to safety because they had more faith in that guy knowing the defense than Wilson, and then that guy got hurt in a way that is not the way that he is perpetually hurt.
So… yeah, at least we'll have a good perspective on how valuable Jordan Kovacs was?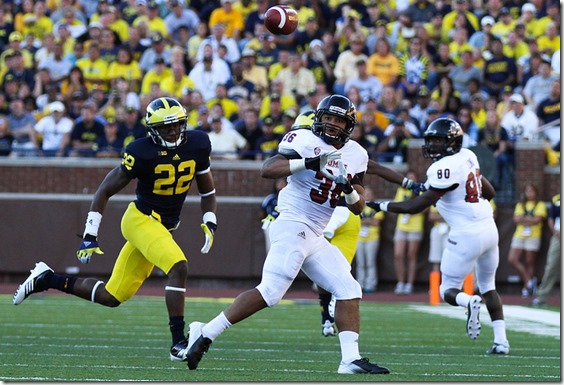 Eric Upchurch
LET'S PULL THE BAND-AID OFF FIRST. The free safety slot is currently a competition between JARROD WILSON [recruiting profile] and COURTNEY AVERY that has gone to Wilson by default early because of arthroscopic surgery for Avery. Avery's only supposed to miss two games.
This preview projects that Avery will be the starter upon his healthy return, for various reasons. These are mostly about Wilson, so I guess we'll address him first. When Michigan moved him into the starting lineup last year in the bowl game, pain followed. Unless the entire rest of the defense was wrong on, Wilson was the culprit on a 70-yard South Carolina pass…
Wilson is on the numbers at the 40. He is supposed to be offscreen(!) to the right
…and the game winner…
it's called CENTER field
…in situations where it was just flat-out blowing simple centerfield assignments. We've made a lot of allowances for freshman whatsit in these previews, but Wilson hasn't done anything positive so far—literally. The only thing he charted on last year before infinite minuses in the bowl game was a critical, legit pass interference penalty on Tyler Eifert in the Notre Dame game. (That was third and goal. Ouch.)
And then there's the late move. When it leaked into the media, Hoke was of course asked about it:
MGoQuestion: What does Jarrod Wilson have to do to solidify his spot at safety?

"He's got to have production."

MGoFollowup: Have you been worried about his lack of production?

"No, we just think that we have good competition and there's guys having some production. He's got to have more."
This is terrifying because at safety, "production" means not doing things like those pictures above. Compounding the terror somewhat is that Wilson enrolled early and should be less raw, more familiar with the defense, etc.
You can hold onto this, I guess?
Do you have an idea who might start Saturday at this point?

"You know, I think Jarrod [Wilson]'s had a nice last two weeks of fall. I think the pressure that was put on him by other guys ... Josh Furman's improved. I would say Jarrod probably."
Does that make you feel good? If so, give me some of your enjoyment.
Okay, okay: Wilson does have some experience and safety is not a kind spot for freshmen. As a recruit, his frame and size got him a lot of nice offers, including Penn State, Notre Dame, and Stanford. Kovacs said he'd picked the defense up fast last year…
"He's come in and picked up the defense really, really well. That's one of the things he's got the football smarts and as a defensive back you really need that," Kovacs said. "Don't get me wrong, there are things he needs to get cleaned up and improved on, but I'm definitely impressed with how much he's progressed and how good of a ballplayer he is as a senior in high school. He has a lot more time here and I expect big things in the future."
…and while that doesn't seem… you know… true, we are extrapolating from limited data here to wave our doomy fingers of doom. It could work out! Yeah!
[After THE JUMP: Courtney Avery trying to come back, Thomas Gordon definitely doing so, and dodgy depth.]
Bryan Fuller
So… COURTNEY AVERY. Avery's been pigeonholed as a nickel corner since his arrival at Michigan, and not without reason. When he moved outside in the Alabama game after Countess's injury, he was immediately burned. It didn't take long for Raymon Taylor to assert himself as the new field corner. Avery went back to the nickel spot he was seemingly ordained at for all time.
Avery started defying that in two phases after the bowl game. In the first, he was a serious contender to displace Taylor. In the second, he moved back to safety. The first was actually encouraging-ish since Taylor was an established Big Ten performer. Avery pushing him implied that he was finally healthy and that Michigan had corner depth.
The safety move was the opposite for the reasons detailed above. Avery's never played the spot and the lasting image of his run support remains the picture from his freshman year in which he's whiffed on an Iowa running back . Unfair? Yeah, probably, but Avery is generously listed at 5'11", 175 on the Michigan roster. Exactly one other safety is listed at under 200 on the roster—freshman Dymonte Thomas at 190.
Every single possible thing you can think about this safety situation is grim. It may not end up that grim, but mostly because things are rarely as bad or good as they absolutely can be. But why would you have confidence here? I've got a nice, albeit unblocked fill in the Air Force game and some nice underneath coverage on a tight end. Safety relevant? Uh.
I do have some faith in Avery as a guy who has been involved with the defense for four years and must have it down by now. As a recruit he was one of those guys who the coach just goes nuts over for being an awesome smart dude, and he has persevered through a chronic injury for a long time now. If he's just always in the right coverage and not giving up big plays he can replace enough of Kovacs to cope if the rest of the defense picks it up like they should.
If he can remain healthy. Or at least healthy-ish.
Eric Upchurch
There's better news at the other spot, where THOMAS GORDON returns for a third year as a starter. He's always been Kovacs's sidekick, the guy this space says "oh yeah and he exists" in between rapturous descriptions of that one tackle Kovacs made that one time. Opposing Big Ten coaches took the same approach to him last year:
"[Jordan Kovacs] is a guy that on film doesn't look that special, not compared to some of the guys out there, but ask our coaches and there was no one they respected more. …

"He's gone and who replaces him? Their other safety was very average. He seemed like a better athlete but the coaches just sort of blew through him like he wasn't a real threat to us. It was all about [Kovacs]."
I think the above sells Gordon short. The kind of long touchdown prevention Michigan has achieved over the last few years is not the work of one safety, but two.
Gordon's Robin status is due to a lack of crunching QB sacks and the occasional long TD on which he bit on play action. He did not MAKE PLAYS, except insofar as tackling Venric Mark 30 yards downfield before he can get 70 is a PLAY. He barely touched the ball last year; I clipped one PBU, and the interception I clipped was a freebie overthrow.
He's still one of the better Michigan safeties of the last decade. Seriously. You guys don't even know how bad—okay you do. Sorry. I know you still have scars. Gordon hasn't given them to you:
| Opponent | + | - | TOT | Notes |
| --- | --- | --- | --- | --- |
| Alabama | 1 | 5.5 | -4.5 | Missed tackles a plague. |
| Air Force | 3 | 5 | -2 | Did not do well compared to Ryan on edge. |
| UMass | 6 | 1 | 5 | Various authoritative fills. |
| Notre Dame | 7.5 | 1 | 6.5 | Also quality. |
| Purdue | 4.5 | - | 4.5 | Playing pretty well these days. |
| Illinois | 3 | - | 1 | Here is your tea |
| MSU | 7 | 5 | 2 | Gave up the big one. |
| Nebraska | 6.5 | 3.5 | 3 | Good in the box this time out. |
| Minnesota | 2 | 2 | 0 | Should have been in man on the TE on the TD. |
| Northwestern | 7 | 3 | 4 | Has skills, man. |
| Iowa | 3.5 | 1 | 2.5 | Nice third down PBU. |
Save the team-wide Alabama washout and option struggles against Air Force, Gordon didn't have a negative day all year in an environment where the easiest thing for me to give a safety is –4 for a massive bust.
I dunno, man. Michigan kept trying to replace Gordon with Troy Woolfolk when Gordon seemed to be playing fine, and other coaches say he's just a guy. I disagree. Gordon is a player. He's not Kovacs, but he's probably the second-best safety Michigan has had in a long time. Maybe he'll get exposed now that Epic Binky is in the NFL; I doubt it. Mattison thinks he's going to have a big year:
Thomas, I'm looking for him to have a great year. Thomas Gordon has had the brunt of me on him since I've got here.  You know what I love about him is some of the things I've said to that kid since we've been here… (laughter)… and you know what, he just keeps coming back.  He just keeps coming back.  Now it's his time. He has his weight down, he's running better, and he's not as tentative at times. I always got on him… 'you're one of the strongest kids, one of the biggest safeties, but I don't see you hitting like that, and you need to do that.' So now he does it.
I don't care if Gordon hits people like a feather duster as long as he gets them down like Kovacs did.
Gordon just about has to move down to the strong safety spot, which will be a more meaningful distinction than it was last year. Kovacs and Gordon were interchangeable at tiny linebacker duties; neither Wilson or Avery—especially Avery—is going to be an asset at the line of scrimmage. He'll play a lot of deep coverage, and he'll be what he was last year. Which I thought was great, but safety is still the greatest mystery since they're rarely on the screen.
BACKUPS
Furman and Clark. [Scout/Blade]
Ominous here as well. Wilson or Avery will be the primary backup at both spots; past that you've got JOSH FURMAN, a redshirt junior who has seen almost no time so far. I've got nothing from him last year. The only guy who did get anything is Sam Webb, who accidentally skipped over Furman when he was talking to Curt Mallory and was told to come correct:
"You're going to think we're crazy, but the kid I really think is going to help us is Josh Furman," said Mallory.  "Don't count him out.  Sometimes kids take four years.  He's just had a lot on this plate.  I just knock on wood…. I just think there's something in there that he can help us.  I believe in the kid.  I think he'll help us."
"I just knock on wood" doesn't inspire a ton of confidence, sure. It does inspire more than you might have had in Furman before. He's always had the raw speed. He's just never been able to translate that into anything. Frankly, I doubt that changes at this point, especially with that Avery move. That implies none of the current safeties were cutting it. Special teams will remain Furman's domain.
After Furman, it's all freshmen. JEREMY CLARK [recruiting profile] took a redshirt last year; he was another sleeper recruit who proved his worth over his senior season. Clark got upgraded from a greyshirt to a normal dude midway through his final year to stave off SEC interest. Ohio State took a long look when he camped but when with Najee Murray over him; Murray just got booted and transferred to the MAC. Point to The Pattern™.
Clark's got a great rangy frame. His 6'4" as a recruit translated to the roster. He's still a bit skinny for that frame at 205, and his only on-field indicator after a redshirt was getting juked by Dennis Norfleet in the spring game. Forgivable, surely, but as with Furman that Avery move is a bit of an indictment to everyone who was already at the position. Clark is amongst them.
Unlike Furman, Clark is just a year into his Michigan career and still has plenty of opportunity to move up.
The other guys are true freshmen. This site thinks they're good bets to be players, but if you want a reminder about what freshman safeties generally equal, please review the bit sabove about Jarrod Wilson. DYMONTE THOMAS was already discussed extensively in the corner section as a nickelback.  Long term he may be a safety; this year they're going to play him at nickel if they play him anywhere. He has the size, speed, and range to play at either safety spot, and well. Experience, as always, will be a major asset.
DELANO HILL [recruiting profile], despite coming from Cass Tech, is a guy with an advanced understanding of the position and excellent size. He's also very fast—not even for safety. He's just fast. He put down a 4.44 at the Opening at 200 pounds. That's great. Buzz around the program has also been about how Hill can run. Mattison:
The guy I didn't know was as fast as he is is Delano. Somebody told me he ran a 10.6 electric in track, and I saw him at Sound Mind Sound Body, and I hadn't seen him since recruiting.  He looked like he got two inches taller.
Unlike Thomas, Hill did not enroll early, and he is still from Cass. He's not likely to play much this year. The coaches have talked him up a bit and I wouldn't be shocked to see him on special teams. If Thomas is a long-term nickel I get it; otherwise, man… what would this year be like if they didn't redshirt Gordon? Yeah. Safety should be like offensive line: autoredshirt. The coaches do not agree.