Preview 2013: Defensive End
Previously: Podcast 5.0, The Story, Quarterback, Running Back, Wide Receiver, Tight End and Friends, Offensive Line, Defensive Tackle.
A note before we start: this preview relies heavily on the defensive UFRs of last year because there's a convenient numerical system that does a decent job of summing up a defensive player's contributions. One caveat: the system is generous to defensive linemen and harsh to defensive backs, especially cornerbacks. A +4 for a defensive end is just okay; for a cornerback it's outstanding.
Depth Chart

| STRONG DE | Yr. | NOSE TACKLE | Yr. | 3-TECH | Yr. | WEAK DE | Yr. |
| --- | --- | --- | --- | --- | --- | --- | --- |
| Keith Heitzman | So.* | Quinton Washington | Sr.* | Jibreel Black | Sr. | Frank Clark | Jr. |
| Chris Wormley | Fr.* | Ondre Pipkins | So. | Willie Henry | Fr.* | Mario Ojemudia | So. |
| Matt Godin | Fr.* | Richard Ash | Jr.* | Ryan Glasgow | Fr.*# | Taco Charlton | Fr. |
Strongside Defensive End
Rating: 2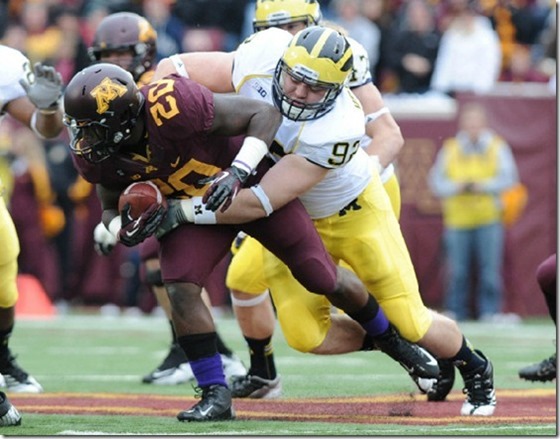 This is a two-or-three-way battle that will last into the season. The tentative guy at the top of the depth chart is redshirt sophomore KEITH HEITZMAN [recruiting profile], who backed up Craig Roh last year and was… well, pretty blah. He got crushed inside too often to have done well, and did freshman things like blow up the QB on speed options instead of stringing out to make the quarterback make a tough decision. I didn't actually grab a positive highlight from him last year, and I usually make a point to clip out something from a player I haven't seen do thing X before. His only good game in UFR was against Minnesota; most of the rest of the year he was around –1.
That's not to write him off. Heitzman was a low-rated recruit (actually a Vandy decommit) scooped up in the first-year Hoke blitz who needed to bulk up from the 240 pounds he was listed at as a recruit. Those guys usually take time. Now at 280, Heitzman is better equipped to hold up against the pounding.
Now that he's older and larger, expect plugging. He is the platonic opposite of Jake Ryan. Hoke:
Tell us about Heitzman.

"Keith doesn't do anything flashy. He just gets his job done. He's just truly one of those lunch pail guys who goes to work every day. Doesn't say much. Doesn't talk much. Just goes out and plays."
I… I've got nothing else here. I scoured the site for something interesting someone might have said about him, came up with that quote and a couple near-identical ones from last season (Q: What is Heitzman doing to get more playing time? A: Getting better). Now I'm out. Heitzman remains something of a mystery.
The bet here is an unremarkable season with a lot of platooning. Heitzman will play a lot of running downs, get pulled on passing downs (Black will take over as another WDE moves into the lineup), hold up decently, and get a lot of half-points in UFR for constricting holes. The upside here is low—at least for this year.
HAIR ZOOM 2013
Heitzman's main competition is CHRIS WORMLEY [recruiting profile], who was in line to receive snaps at three-tech last year when he blew out his ACL in fall camp. A year removed from that, Wormley is still shedding the injury tentativeness that comes with the territory. He is also growing out a ferociously ragged afro, because someone has to take over for Elliott Mealer's interesting hair. A salute to Chris Wormley!
What Wormley brings is hugeness. Ask Hoke:
"Number one, he's huge. He's a big guy," Hoke said. "He's done a nice job coming back from rehab, and probably a better job from the mental side of it. Chris has that potential to be an awfully good football player for us."
He has excellent athleticism attached to said hugeness. He's listed at 6'4", 289, and that looks to be almost all muscle. There was a lot of debate about him as a recruit, with a lack of high school production attributed to motor causing a split between "he's a top 100 kid" (24/7) to "he's a three-star" (Rivals). Ace was actually on the negative side of things:
Wormley's best way to get penetration was to simply run right around his blocker, and while this was nice to see in terms of evaluating his quickness, it brings up another point of concern—how is a 6'6", 270-pound Michigan-bound DE not completely flattening the 6'2", 225-pound offensive tackle across from him with malicious regularity? Again, motor wasn't the issue, but instead pad level; Wormley can get low on occasion, but several times he stood right up off the snap and let the tackle get right into him, turning him into a non-factor.
The fact that he was going to play early at a spot where Michigan had a couple of quality veterans in Black and Campbell is a step towards the top end of his evaluations. Mattison said he was "very talented" and "very smart" and is shedding the tentativeness brought on by the injury:
The thing that he's now showing that he didn't show in the spring is complete trust that he's 100%. So now he's back to turning it loose at different phases. He's got to do it every day. He's got to do it every play. But I don't think there's ever any thought in his mind anymore of, 'Oh, my knee.' "
Assuming Wormley's had a year to work out the kinks in his technique (Certainty Principle), he should be essentially a co-starter with Heitzman quickly. From there, performance will dictate playing time. You are rooting for Wormley to grab the job strongly, as he's the guy with large upside.
[After THE JUMP: Omar comin'? Depth! DEATH STARE 2013. TACO JUMPS OVER THINGS 2013]
Backups
They call him Ol' 99 because they don't know much about Tom Harmon [Bryan Fuller]
Michigan goes three-deep here with scholarship guys. Redshirt freshman MATT GODIN [recruiting profile] is the third guy in line. He was a middling recruit with evaluations that mentioned his body was shaped like an offensive lineman's and he lacked ideal explosion for defensive. At 6'6", 280, he's probably too light for his height at the moment—Wormley is listed at 6'4", 289.
Still, when Mattison talks defensive ends he includes Godin prominently and says things like this about his group at SDE:
Has anyone made a move or caught your eye in camp?

"No? I mean, I'm not going to single out anybody, but I am going to say that the depth of the three guys -- let's use an example -- at end. Heitzman, Godin, Wormley. All three of them look like starters in different phases of that practice."
I think that Michigan has explicit orders from the man up top to never respond usefully to the "is anyone emerging" question, but grabbing the ends first and saying you've got three guys who you like there does say a little something.
There aren't enough snaps on a good defense to get the third string guy a ton of time, though. Godin will have to deal with scraps and bits this year and hope to make a move in spring.
Weakside Defensive End
Rating: 3.5 (but really "I don't know")
HERE THERE BE potential dragons. Emphasis on "potential." Everyone's starter is FRANK CLARK, the 2013 Grady Brooks Memorial Offseason Hype Champion. Clark has done little in his Michigan career except that badass interception in the Sugar Bowl and blowing up Braxton Miller on an free run generated by Mattison, but he managed to finish second on the team with 9.5 TFLs a year ago—yeah, I was shocked by that too—and in two years at Michigan has undergone a body transformation epic in its scope.
BEFORE                                                           AFTER
Now sporting 277 (or 268 or 274) pounds and dueling Taylor Lewan at least somewhat effectively in practice reps, the entire world expects Clark to explode. Devin Gardner has won the award for Hypest Frank Clark Hype Man:
"Huge guy, and he's able to do all the things I'm able to do, which is really frustrating for me," Michigan quarterback Devin Gardner said at the time. "I like to think of myself as a premier athlete, and he goes out and does -- if not better -- close to what I'm doing.

"It's pretty amazing to see, and I can't wait for the finished product to be on the field. You guys got a glimpse of it last year, and I feel like he's going to be one of the best defensive players in the league."
Kyle Kalis, who's been dealing with Frank Clark at three-tech when Mattison puts in a nickel package, is a close second:
"Frank has so many things in his toolbox that he can throw at you, and he's the kind of guy that leaves you shaking and makes you freak out."
Mattison gets the bronze:
"He's running 40 yards down the field, and the first thing, you look up and see a 275-pound rush end -- that used to be 217 pounds when he got here -- running with the guy. He's not chasing him, he's getting up there with him."
Imagine if Fred Jackson was every player on the team or person who stopped by practice, and that they all wanted to talk about Frank Clark. That's the kind of hype we're talking about here. I don't know if I've ever seen its like without a corresponding on-field indicator.
Because… really, there hasn't been anything to suggest that Frank Clark is going to explode that's happened on a football field the last two years. His main skill last year was batting down passes. He had two sacks, one of which was free candy. His run defense was poor. (This was still an upgrade from horrendous, which he was as a freshman.) Here he gets washed down the line, opening up a cutback lane on a play that the DTs had basically stoned:
He got flung to the ground embarrassingly a bit earlier. Meanwhile, the pass-rush payoff was slight:
He got one kind of good rush on which he persuaded Golson to exit the pocket and drew a hold; other than that he was not much of an impact guy.
His UFR chart is blips and bloops:
| Opponent | + | - | TOT | Notes |
| --- | --- | --- | --- | --- |
| Air Force | 5 | 2 | 3 | Too bad impressive PBU not shown by ABC. |
| UMass | 8 | 2.5 | 5.5 | Whacks down all the passes. |
| Notre Dame | 3 | 5 | -2 | Targeted extensively, got smashed a bit. |
| Purdue | 3.5 | 1 | 2.5 | Another batted pass. |
| Illinois | 1.5 | 1 | 0.5 | Eh |
| MSU | 1.5 | - | 1.5 | Eh |
| Nebraska | - | - | - | DNP |
| Minnesota | 2.5 | 2 | 0.5 | Slipping behind next guy in WDE derby. |
| Northwestern | 3 | - | 3 | Not impactful but more responsible than in the past. |
| Iowa | 2 | - | 2 | Pass rush guy. |
[ED: South Carolina does not appear because of the uniformz. Clark's biggest contribution was a hands-to-the-face penalty.]
As noted, Notre Dame seemed to target him extensively, and afterwards his playing time decreased in favor of Brennen Beyer. This is the guy who's going to rescue Michigan's pass rush?
So says everyone. I'm not sure which team this anonymous Big Ten player could possibly be from to have this opinion on Frank Clark, but it is his and he has expressed it:
On defensive end Frank Clark: "We saw some film of him from early in the season and then some stuff from the last few games, and he was a different player. When we saw him, he was motivated. He played pissed off, and he was really a force.

"We blocked him one-on-one and that was a mistake, and then we began putting our tight end on that side, sometimes our fullback, but like I said, he played pissed off in our game and it was like, 'I'm gonna get your quarterback and there is nothing you can do about it.' He might have been the best defensive end in the conference that we played, but it didn't seem like he did that every week. Some guys it takes time to get that consistency. If he can play 12 games like he did against us, he'll get 20 sacks."
I have no idea what game this might be from. I didn't see him do anything of the sort. The only blocks he beat were against UMass. But there it is.
I don't know, man. Clark is being pumped up like an All-American by the program, and they've got a plausible backup in newly 250-pound Mario Ojemudia to compete with him. Those are good signs. Talked-up guy who's clearly ahead of a real competitor is a good look.
But, man, the distance from Frank Clark 2012 to what he's supposed to be this year is immense. Too immense. I have to concede significant improvement to the chatter, but something along the lines of Tim Jamison (as a junior: 10 TFL, 5.5 sacks) would be a massive step forward. Can he really be more than that? I'm skeptical.
BACKUPS
Michigan has quality depth here, too. I know. I don't even.
OJEMUDIA DEATH STARE 2013
Sophomore MARIO OJEMUDIA [recruiting profile] got a fair amount of run as a true freshman despite being maybe 225. In that limited time he did more clip-worthy stuff than Frank Clark did. After a bizarre high school career as a linebacker-sized nose tackle who showed up in the backfield before you even snapped the ball, Ojemudia came to Michigan with a wide array of pass rush moves and no ability to hold up on the point of attack. Mattison challenged him to change that:
I made the comment to him before the summer, I said 'Mario, I can't in good faith put you out there at 230'  He kind of looked at me, because he's a very intelligent, very cerebral guy, and he looked right at me; and I asked him yesterday 'what do you weigh?', and he said 'I weigh 250'. So you now have a guy that has played that position forever, and he's kind of like Pee Wee (Pipkins) in that he had great training. He had coaches in high school that did a great job of teaching him. His technique is very very good; and now added strength, added maturity.
The coaches and insiders have talked about the excellent depth at this position, and while everyone is taking this to mean Taco Charlton is about to eat people, Ojemudia flashed his talent last year. After the Purdue game I pointed out that he had played an inverted veer as well as you can:
Anyone new emerging?

I was impressed by Mario Ojemudia's brief cameo at the end of the game. He swam past an offensive guard on a play reminiscent of his high school tape, and then he played an inverted veer just right. So here he delays the QB's decision, forces a pull, occupies the pulling G, and helps tackle:

Can't do that better. Just getting the two for one (contain and the pulling G) is a major win; doing that and making the subsequent tackle easier for the unblocked LB you caused to be unblocked is great.
If he can maintain his quickness at his new weight he will get plenty of playing time when Clark folds inside on passing downs. Four sacks seems reasonable as long as he can hold off the next guy, and I wouldn't be shocked if he was a co-starter if Clark does not live up to the hype.
Freshman TACO CHARLTON [recruiting profile] is already 270 pounds and is mentioned by anyone who happens to see him as a terrifying human being. Here is Charlton hanging out with three consensus four-star Michigan recruits and making them look like puny mortals:
he's on the right, looking like Alpe D'huez
And here's Charlton leaping over a six-foot-plus tackling dummy:
Charlton is a top-ten NFL draft pick body just waiting to emerge into a player. That might take some time, as Charlton is very raw—even an amateur like me can tell that he stands straight up on the snap. ESPN's evaluator made a comparison to recently departed MSU DE Will Gholston, and I enthusiastically co-sign that comparison. Charlton is a freak athlete in search of technique. Gholston never got any; Michigan has the Heininger Certainty Principle.
As an early-enrollee already at 270 pounds, Charlton will play this year, but probably not that well. In two years when Clark is out the door… man, he could be something.