Preview 2013: Tight End And Friends
Previously: Podcast 5.0, The Story, Quarterback, Running Back, Wide Receiver.
I'll miss you, #19.
Depth Chart
| FB | Yr. | U-back | Yr. | Tight End | Yr. | Flex | Yr. |
| --- | --- | --- | --- | --- | --- | --- | --- |
| Joe Kerridge | So.* | Khalid Hill | Fr. | AJ Williams | So. | Devin Funchess | So. |
| Sione Houma | So. | Wyatt Shallman | Fr. | Jordan Paskorz | Jr.* | Jake Butt | Fr. |
| Thomas Rawls | Jr. |   |   | -- | -- | -- | -- |
Al Borges necessitates a change in season preview strategies. Previously folded into the wide receiver section, tight ends and close relatives have become so prevalent and diverse that they demand their own post and elaborate delineation of responsibilities. I have also snatched the fullbacks away from the tailback section to give a full spectrum of guys who aren't tailbacks or receivers who will see the field for Michigan this fall.
Your author's attempt to distill all the things he's heard about the guys listed above and put them into categories:
FULLBACK: a man with a steel plated head runs into linebackers, gets two carries in his career, and has six catches. See: Kevin Dudley.
U-BACK: A "move" tight end that motions all about, rarely lines up on the actual line of scrimmage, often goes from fullback to a flared spot or vice versa, and operates as more of a receiver than the fullback. Must be a credible threat to LBs; ends career with 40 catches. See: Aaron Shea.
TIGHT END: Larger that the U-back, the tight end is a tight end who is actually tight to the end of the line. He comes out, lines up next to a tackle, helps him win blocks, and clobberates linebackers at the second level. He goes out into patterns as well, and may end his career with 40 catches himself. See: Tyler Ecker.
FLEX: Sort of like the U-back in that he rarely lines up on the line of scrimmage itself, but if he motions away from his spot near the line, it's not to fullback but wide receiver. They get a billion catches and break Jim Mandich's record eventually. See: Devin Funchess is the only flex guy I can think of recently.
Complicating matters is the fact that many of the players listed above bleed into other positions: Houma, Rawls, and Shallman could be tailback-ish, Funchess and Butt will have their share of time with their hand in the dirt, tight to the end, and may even motion to fullback on occasion. In a Borges offense, things are not as they appear!
/tosses smoke bomb
FULLBACK
RATING: 3.5
Fullback is a spot where walk-ons are prevalent; Dudley mentioned above was both a walk-on and Michigan's finest linebacker eraser in the past 20 years, with only Chris Floyd offering competition. This year is no exception, as JOE KERRIDGE eased past converted tailback Stephen Hopkins last year to acquire a strong hold on the job. Judging from one of the sudden legion of shirtless photos players put on Instagram, if you encounter Joe Kerridge in the wild you should walk away slowly and hope you don't smell like salmon:
L to R: Sione Houma, Bobby Henderson, Joe Kerridge.
Jebus.
That plus the whole returning-starter bit should see Kerridge retain his role as Michigan's first choice when something absolutely has to die. In year one he was a little tentative, as you might expect, and there were a number of plays on which I though he was not reacting to the situation in front of him quickly enough to make an effective block. I'm still not clear on whether some of the suboptimal blocking on spread plays was because Michigan wasn't using newfangled arc blocking (ie: using your fullback or tight end to take out an exchanging linebacker and give your edge guy the edge) or because a freshman wasn't executing, but with the move away from spread elements, the job will be simpler: see man, make man wish he had taken up lawn darts. 
Kerridge has a ton of potential. When he makes solid contact with guys, you can hear football:
That linebacker set up outside, Toussaint cut outside, and all the LB could do was fall over. He can bring the pain.
Kerridge had his inconsistencies. After three consecutive +3 games and a monster +6.5 against Illinois…
And Kerridge is racking up big numbers.

I may be giving him too much credit for standing up linebackers but to my eyes he really appears to be whacking them and providing the impetus for an improved under center run game. Those isos and such are
…he fell off into a bunch of games where he hung around 1 point. A large part of that was the Gardner transition; he also lost some playing time to Stephen Hopkins, who came back from injury and was given a shot to displace Kerridge. Kerridge did whiff some blocks. He got smoked for a sack in the bowl game, for one. And this inverted veer against State is something an experienced guy might decide to block the end on because otherwise there's no one else he can hit.
For a redshirt freshman it was a promising season. In year two the goal is to cut his failure rate in half and catch five passes. He'll be an interesting guy to watch in UFR. If Michigan really commits to MANBALL he could see some big numbers.
[After THE JUMP: Funchess, Williams, U-backs, we've got it all. Except upperclassmen.]
BACKUPS
Scholarship fullback-type guy SIONE HOUMA played last year, but mostly on special teams. He is in the picture above on the left, so you can see that he's not quite as… square as Kerridge. He hasn't gotten much mention in press conferences or insider rumblings, so I'll point you to his recruiting profile, in which he was hypothesized as a fullback/tailback hybrid who might be a Matt Asiata-like thunder-back. With that role now under heavy threat from not just Green but others, it's tough to see a route towards playing time in the near future. His best bet is being more of a dual threat than Kerridge and more reliable than the true freshmen listed at U-back.
Houma did get a little run in the pistol diamond sets that featured Denard Robinson and a convoy of blockers on the edge, and could again if Michigan retains that in their offense.
Also, this preview projects that THOMAS RAWLS will end up here sooner or later. Rawls's skillset was unique amongst last year's tailback crew and now that is emphatically not the case. With Toussaint and Green likely to suck up a large proportion of the carries and Hayes and Johnson ready to fill in, there would appear to be little room at the inn for Rawls. Rawls is a big, thick, stocky kid, though, and his lack of height is actually an advantage when it comes to demolishing linebackers. Rawls was more thoroughly covered in the tailback section.
U-BACK
RATING: N/A
Hill/Shallman (Scout/247)
I don't think this roster designation is going to be of much relevance this year, as both of the U-back prototypes are freshmen. Michigan will move tight ends around, sure, but the distinction in this preview is that the U-back is a guy who can flip back to fullback and provide a credible threat to take on a linebacker in a way that Funchess can't (because he's too tall) and Williams can't (because he's not agile enough).
But Michigan does have a couple of these guys. The most natural fit is KHALID HILL [recruiting profile], an oddly-shaped route-runner with excellent hands. Michigan wanted him, and wanted him early. Listed at 235 in high school, he's 258 on the fall roster, and that's probably a bit too heavy to be ideal, at least right now. Long term he's a Philip Lutzenkirchen type who will pound linebackers and slip into the flat, wide open, for redzone touchdowns. He might get a runout this year; he might redshirt.
Fellow freshman WYATT SHALLMAN [recruiting profile] actually spent a good chunk of fall camp practice at tailback. Long term, if he's going to get on the field for more than the odd short-yardage snap, he's going to be blocking guys and catching passes, with the added running ability a bonus if Michigan uses those diamond sets as a nouveau Mad Magicians routine.
Shallman missed a lot of time his last two years with a hamstring issue and reports from the Mott practice had him limping around in a serious-looking brace; a redshirt is all but assured now.
TIGHT END AND FLEX
I'm lumping these fellows together because there's so much overlap in the roles.
Bryan Fuller
RATING: 4
DEVIN FUNCHESS is the headliner here. Hype got out of control last year thanks to… uh… me. And a lot of other guys! But, yeah, me.
FUNCHESS. I try not to get all I told you so because I have occasionally not been right about things—like those three solid years when I thought Rodriguez was going to work out—but dang I told you so. Not that this is any great scouting feat on my part. Pretty much everyone who went to that open practice and saw a 6'5" guy with freaky long arms getting sent deep on wheel routes thought "holy crap" to himself and wrote about it on the internet.
I saw the guy in the semi-open fall practice and he leapt off field as a potential NFL player, what with his crazy long arms and crazy long body and just, you know, crazy longness. I'm relatively impressed that this space predicted just "20, even 30" catches from him in year one. Restraint! (Ignore that thing where I tracked Funchess chasing down Jim Mandich's all-time TE receiving record at M.)
Funchess ended up with 15 catches, not a bad number for a true freshman, but it seemed like it could be so much more after he broke out with a hundred yard game against Air Force in which he looked like a walking margin for error. He's just long, you guys.
Teams started thinking they should cover the guy after that and his production dropped off between the 20s. In the redzone there's only so much you can do:
From my vantage point in the stadium, I thought the play-action rollout that eventually turned into the Funchess touchdown had been defeated by coverage. I thought that Denard saw this too and was chucking the ball out of the endzone, which I was pleased with—WOO NO INTERCEPTION—as I saw the ball soar into the stands… at least the dance team… well past Devin Funchess's outstretched… oh.

Ace made this. ESC to stop it, unless you're on Chrome.

Wow. Is that legal? Should I clap now? Is touchdown? Is touchdown. Clap. Smile.
Funchess led Michigan in touchdown receptions with five and caught damn near everything that came his way. Like Dileo, by the end of the year he seemed spectacularly under-utilized. There are usually reasons for these things.
In Funchess's case, the reason was that Funchess wasn't a tight end, he was a glorified wide receiver.  Funchess picked up a rare UFR –3 run block against Minnesota for a lame shoulder-lunge on the opening play against Minnesota:
[Funchess is over the arrow]
Poor damn Toussaint
This was emblematic of his season as a blocker. He did not get matchups against linebackers because he couldn't block a safety. His presence was almost as much of a pass tip as Williams was a run tip. Ferrigno:
"We're trying to develop that part of his game where we can leave him in more and have him be even more versatile, be able to block and have that element in your offense … you don't want to wave a flag and say 'every time (Funchess) comes into the game it's probably going to be a pass', or 30 percent chance it's going to be a pass to him."
Funchess knows the blocking is a problem. One of the most interesting quotes of the offseason was Funchess describing himself in a less than flattering light:
"I was like a pretty boy that didn't want to get hit. Now I know that I have to change many aspects of my game, change my mindset. Now I just go in there and stick my head in as much as possible.

"I believe I wasn't ready for the Big Ten because it was a tougher game."
If he said it, I'm not going to dispute it.
Funchess's inability to block anyone meant he was not a mismatch. A 6'5" guy who can't block and isn't George Campbell (who is committed to Michigan) quickly finds himself matched up against safety types who can stay with him in the air and beat him on the ground; Funchess's production suffered after his coming-out party against Air Force. Once opponents were alerted to his existence, it was tough for him to get open, except insofar as Devin Funchess is always kind of open. In year two his goal is to repair this issue.
Initially I was worried that Funchess's lack of weight gain in spring was an ominous sign, but then I decided the 225 he was listed at last year was a heinous lie and felt much better. This was aided by one of the coaches talking up Jake Butt's weight gain, which supposedly took him from 212 to 237. Butt was listed at 231 in spring. Funchess is now up 10 pounds year-over-year even in fake roster weight world and looks considerably thicker than he did a year ago. I mean…
UMass last year; Media Day this year. (Bryan Fuller/Steve Lorenz)
Dude is much bigger.
Now it's just translating that into blocking. It says here that he'll be much improved, still a little deficient, but enough of a threat that the glorified wide receiver bit recedes and he sucks up a ton of passes. He should bring in 40 this year and eye even more as an upperclassman.
The other starter-ish person at tight end is far less sexy but is almost as important in the grand scheme of things. He is AJ WILLIAMS [recruiting profile], an emphatically large tight end who will be next to a tackle on literally all of his snaps next year. He came to Michigan at just over 280 pounds after a senior year of high school spent at tackle, and while you might think this meant he'd be a great blocker and little else, in practice he was a bad blocker and little else. Freshmen. You do not want to play them.
The contrast between senior Mike Kwiatkowski and Williams was a living testament to experience. Kwiatkowski reliably sealed guys inside and occasionally kicked the living crap out of Kawann Short. Williams had issues. A lot of them. Williams barely edged above zero in UFR all year. An example of why from Illinois:
Could I get some overly defensive comparisons between the TEs too?

Sure!

So this is the kind of thing I'm not seeing happen much to Kwiatkowski. Watch the TE at the top of the screen, which is Williams in this case:

That should be an easy block since the DE's first step is upfield. You step around him and seal him and ballgame; here Williams is chucked and the DE can flow from the inside to tackle Denard just as he's about to do something fun.

Williams made a similar error later on a play that also got blown up by an LB blitz that erased a pulling guard. That rarely seems to happen against Kwiatkowski.
After the Iowa game I say he "would be redshirting if Michigan had any TEs," and when I clipped something that mentioned him usually it was bad. Meanwhile, I was trying to justify my big ratings for Kwiatkowski week-in, week out. Williams would have redshirted if there was even one scholarship tight end on the roster older than him.
In year two, Williams has dropped almost 20 pounds and is now a much more nimble 265. While the coaches have talked up his receiving skills…
Do you consider AJ Williams a good pass catcher?

"He can catch them. AJ has good receiving skills, he really does. He's not as fast as Devin Funchess, but we're trying to get him more involved, too, so he's not a one-dimensional guy very much in the same vein as Devin, only in reverse."
…I'm just looking for the guy to bury WDEs and linebackers before I care one whit about whether he's open for five yards. Williams is a critical component of the oldfangled offense, which needs opponents to sell out against the run to unlock its explosive potential. If he makes five catches that'll be a surprise.
Williams isn't going to have any stats worth a damn, but I'll be watching him like a hawk in UFR. If he can take a major step forward, so will the running game. He did have a solid bowl outing, featuring a personal-best +2.5 and a playside block I noted:
I still think he's way too high there, but he got movement. More movement + more technique == more rushing yards. As the guy next to Lewan who Kalis will be pulling to, he's a hidden key.
BACKUPS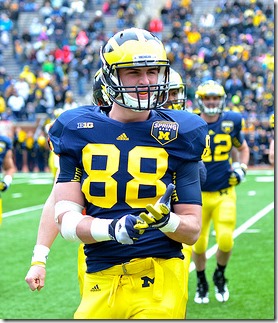 Butt, Paskorz (Fuller/unknown)
Michigan brought in Funchess clone JAKE BUTT [recruiting profile] this year. Butt enrolled early and had that weight gain. He's already bigger than Funchess, at least in roster world.
A four-star recruit to three of the four services, Butt had the holy trinity of TE offers in addition to Michigan: Stanford, Wisconsin, and Notre Dame. He is going to be a flex terror eventually, and he will play this year. He's not going to be a great blocker just yet, and that'll limit his utility. A freshman year much like Funchess's beckons, except he won't get as many snaps because hey, Devin Funchess exists. Long term…
"One time he was 40 yards downfield, and I swore the ball was overthrown. He never broke stride, caught it over his shoulder. He's going to be a very accomplished pass catcher."
…imagine two of those guys on the field at the same time. And they can block.
Someone get him to practice his touchdown celebrations, though.
Williams's backup is JORDAN PASKORZ [recruiting profile], a redshirt junior who has barely seen the field so far after coming to Michigan as a consensus three-star DE in Rodriguez's disastrous 2010 recruiting class. Now up to 255 and two years into his career as a tight end, he's "settled" according to Hoke:
"What I like is, we settled him into that position and I think he can be a guy who gives us a little more on-the-line-of-scrimmage movement. That's exciting."
Unfortunately for Paskorz, internet sleuths have finally picked him out as the guy who appears to say he's got a broken hand in the Tom Brady video; he's listed as injured on the CMU depth chart. That'll slow his entry into the lineup.
Even so, Michigan needs to replace Kwiatkowski. If Paskorz is the second-best blocker amongst the tight ends—and he probably is—he will play. Michigan played three tight-end sets last year; they're going to run them this year. He might get a couple balls thrown his way, even.