#14 M Softball vs OSU [UPDATE: M WINS 8-0, 5 innings, OUTRIGHT B1G CHAMPS]
#14 U-M (41-9, 16-2 Big Ten) vs. OSU (33-11, 13-6 Big Ten), 1PM, BTN
Live Stats: http://www.sidearmstats.com/umichigan/softball/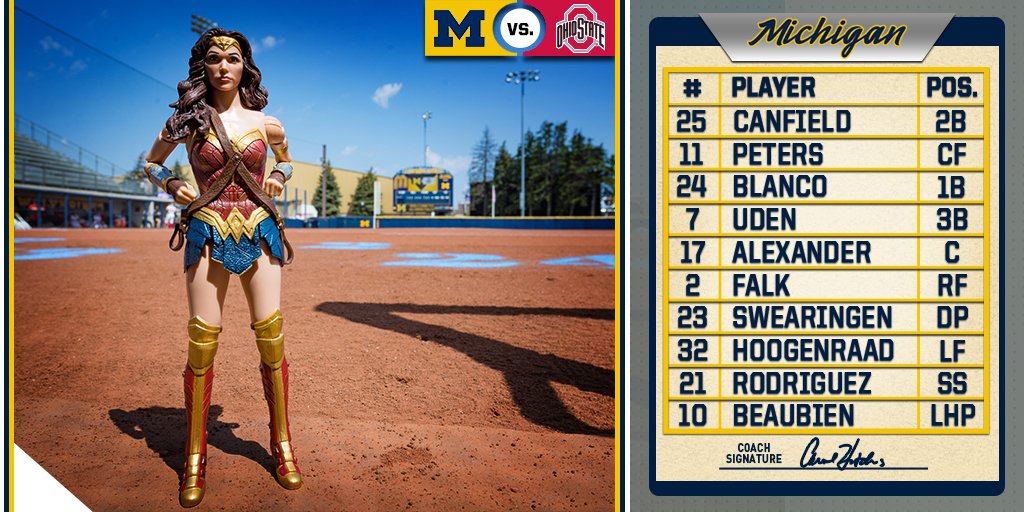 Lots of notes for this game:
-Michigan won Game 1 yesterday 3-2. Beaubien struck out 11, walked no one, and gave up the 2ER on two solo home runs.
-Meghan Beaubien will get the start on the mound again for Game 2. Taylor Swearingen gets the start for the second game in a row in the DP position.
-Michigan clinched a share of the Big Ten Title yesterday with a win/Minnesota loss. The magic number is 1 (Mich win or Minny loss) in the final two games for an outright title.
-Today is Senior Day, honoring: Aidan Falk, Nikki Wald, Amanda Vargas, Morgan Swift, Taylor Swearingen, and Tera Blanco. 
-Today is Aidan Falk's birthday. 
-Yesterday was the annual Pink Game. Michigan softball became the first women's collegeiate team in the country to cross the $1 million threshold total raised for a charity cause.
-OSU Head Coach Kelly Kovach Schoenly starred for Michigan under Hutchins from 1992-1995. She was the B1G Freshman of the Year in 1992 and the B1G Pitcher of the Year in both 1992 and 1995. She remained on the staff as an assistant after her playing career for a few years while also obtaining her Master's from U-M.
-Michigan is 94-21 all-time vs OSU.
-Today and tomorrow's games are sold out.
Go Blue!