Recruits In Retrospect: 2009 Offense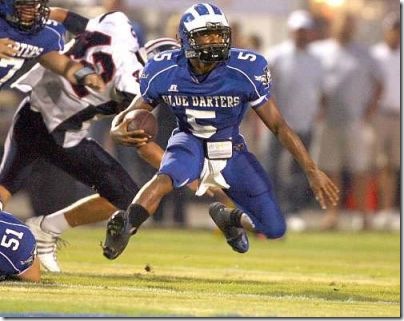 Gallon's levitation skills translated to the college game just fine.
Previously: 2008 Offense, 2008 Defense, 2009 Defense, 2009 Quarterbacks
Finishing out the series looking back on the 2009 recruiting class, here's a look at the non-quarterback offensive players, as described in Brian's recruiting posts of yore. But first...
My Bad, Cam
While I remembered to include then-OL, future-NT Quinton Washington on the defensive side of the ball, I forgot to do the same for Cam Gordon, the future defensive positional nomad who came to Michigan with most recruiting services considering him a wide receiver. As Gordon's recruitment wore on, it became more clear that his best spot may actually be in the defensive back seven, and thus we got one of the odder player comps I've seen:
Jason Avant, or maybe Prescott Burgess

Why Avant or Burgess? Bulky 6'2" wide receiver who will push 215 and lacks deep speed == Avant. Rangy linebacker who needs to put on 20 pounds, switch positions (sort of) and probably struggle with the mental part of being a college linebacker for a while == Burgess.
Free safety wasn't mentioned, because only an insane, desperate person would put a player matching that profile on the last line of defen--AAAAAAIIIIIIIIIIGGGGHHHHHH. (Thank you, Denard, forever and always.)
Gordon ended his career as a backup outside linebacker and situational defensive end. Fire Tony Gibson again, just in case.
The Blue Darter
As for prospects who actually ended up at receiver, Michigan had two: consensus top-200 prospect Je'Ron Stokes, and a high school single-wing quarterback who—despite being an Army All-American—earned four-star status on just one site due to his diminutive stature.
PEAK MIXTAPE WEEZY WITH A KEVIN FEDERLINE REFERENCE.
HOW DID IT GET SO LATE SO SOON?
Though everyone pegged Jeremy Gallon as a pure slot ninja—he'd prove to be much more, obviously—the eye-opening highlights and strong Army week performance earned him plenty of hype:
Gallon is a Swiss Army knife of a player: pocket-sized, versatile, capable of surprising feats, and… uh… hard to tackle. (If you've ever tried to tackle a Swiss Army knife you know what I'm talking about. They're pointy.) It's hard to envision a scenario in which one of his diverse and sundry talents doesn't find him on the field, if not this fall than next.
Brian, I'd like to hear more about your past attempts to ... tackle ... pocket knives.
As for Stokes...
When Je'Ron Stokes committed to Michigan I was in an airport about to board a plane for Egypt by way of Germany, and as soon as he did I logged off and forgot all about him. Ever since when something reminds me of that commitment, it's like a weird bonus: oh, yeah, that universally-praised wide receiver in the class I never remember. He's like a ghost recruit.
Yeah, that was for the best.
Oh Damn, Fitz
From 2008-09, I worked as an intern at The Wolverine, and one of my primary tasks during football season was posting the stats of Michigan's commits each week. A back from Ohio's Division V Youngstown Liberty by the name of Fitzgerald Toussaint committed a few months before I got that job, so week after week that fall I'd look up his stats, bug out my eyes, and get incrementally more excited for him to see the field at U-M:
Fitzgerald Toussaint, Youngstown Liberty: Senior RB and Michigan recruit went over 250 yards for the seventh week in a row in a 33-28 win over Hubbard. After generating 16 yards on four carries in the first half, Toussaint erupted for 235 yards in the second half and scored two TDs. He has 1,950 yards in eight games.
He'd finish the season with over 2,200 yards and 28 touchdowns. Between those numbers and his excellently soundtracked highlights, I thought he'd be the next great Michigan running back:
That wasn't to be, at least in large part for reasons outside his control, but when remembering where Toussaint came from...
It wasn't all flowers and 90-yard touchdowns for Toussaint, though. His dad—also named Fitzgerald Toussaint—ended up in jail after stabbing his ex-wife's boyfriend… at a football scrimmage. Nasty business.
...I'd say 32 career starts, graduating from U-M, and getting a shot to make an NFL roster constitutes a very successful college career.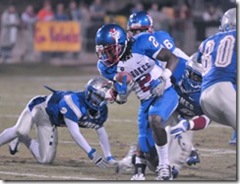 Vincent Smith's profile started out with similar recounting of a tough upbringing in Pahokee, then mostly waffled between excitement about his highlights/fit in the scheme and trepidation about his size, which was the subject of an awkwardly written ESPN scouting report:
ESPN says Smith lacks size "on paper"—which uh what about real life too—and says he runs "low to the ground," as if he has a choice.
Sadly, no mention of fingerguns or being a heat-seeking, defender-destroying missile.
Michigan rounded out a three-man running back class with Cass Tech product Teric Jones, who recorded the fastest time at the Army combine after his junior year but didn't receive much at all in the way of recruiting hype. By the time he got to campus the coaches were already considering a position switch:
In fact, Michigan might be shooting Jones into lots of space as a slot receiver. Rodriguez said Jones was a slot receiver who "may also get reps at running back" at the signing day press conference, and Jones did have some nice receiving numbers as a junior: 24 catches for 306 yards.
Jones ended up playing special teams as a true freshman, bounced between running back and cornerback as the thin roster dictated need, then left the team and went on medical scholarship before the 2011 season after a sophomore-year knee injury.
If You Just Take Two Linemen...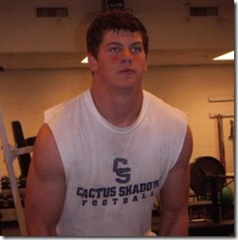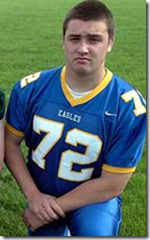 ...you might as well make them NFL linemen, and that's exactly what happened with U-M's 2009 O-line class of Taylor Lewan and Michael Schofield. Lewan, especially, was quite the steal; he was a total unknown until moving from defensive line to offensive line before his senior season, then vaulted into the top 300 recruits on all three recruiting services and played in the Under Armour AA Game in his first year playing the position. Michigan had a nice in with Lewan—his teammate at Chaparral High, Craig Roh, had been committed to U-M for months when Lewan decided to also head to Ann Arbor. 
While this usually doesn't happen, Lewan's high school coach ended up giving the most accurate forecast of his player's potential:
"Michigan is getting, in my opinion, the steal of this year's recruiting class in the country," Ragle said. "I know that's a bold statement to make, (but) this kid's ability on the field won't be questioned. He's as good an athlete on the offensive line as I've ever seen."

...

"He's as good athletically as any guy I have ever coached," Ragle said. "The thing that makes him so special is his upside when you think he's only been coached at the position for about eight months. But the one intangible that's most impressive is his nastiness --Taylor wants to burry [sic] someone on every play, and you can't coach that."
On point, Coach Ragle.
Schofield's rankings were in a similar range as Lewan's after a strong senior season. What stood out about him most was his athleticism—which translated to the college game, as he seamlessly transition from being Michigan's best pulling guard to a nimble pass-protector at tackle—and considering he's now 6'7" and 300+ pounds this is rather astounding:
In his first two years at Sandburg, Schofield ran the 110 high hurdles for the Eagles' track team, winning a conference title his freshman year and finishing second his sophomore season. He also moved up to the varsity team for the state tournament during his sophomore year, finishing sixth in sectionals.
Unfortunately, there's no video of this, as the age of someone-on-a-smartphone-will-film-literally-anything hadn't hit yet.
So, with that exercise out of the way, who's ready to go over the 2010 class?
On second thought, let's save that for next summer. Or perhaps never. Leaning towards never.