Haknpoints: Offensive Concepts
"Every football team eventually arrives at a lead play: a "Number 1" play, a "bread and butter" play. It is the play that the team knows it must make go, and the one its opponents know they must stop. Continued success with it, of course, makes your Number 1 play, because from that success stems your own team's confidence." –Vince Lombardi
As we discuss coaching candidates we'll invariably get into the same old discussions on what kind of base offense said candidate might want to run. There was some discussion on the board this week and I wanted to expand that discussion into some basic "Rock" plays of various offensive schemes.
It is incorrect to identify any one play (and even more incorrect to identify a specific formation or personnel group) as a complete offense. You always need counters to keep doing the thing you do, and the counters will often borrow directly from some other offensive concept's rock. All offenses will borrow from each other so no breakdown is going to describe more than 60% of any given offense. Most zone blocking offenses throw in man-blocked things (example: inverted veer) to screw with the defense. You can run most of these out of lots of different formations. You can package counters into almost all of them (example: The Borges's Manbubble added a bubble screen to inside manball).
Really what you're describing when you talk about any offense is the thing they do so well that they can do it for 5 or 6 YPP all day long unless defenses do something unsound to stop it (like play man-to-man, or blitz guys out of coverage, etc.). Some examples of offenses and their formation needs (where a need isn't specified, figure they can use any set or formation: spread, tight, 23, ace whatever). I've given the rock plays, and left out the counters and counters to the counters because that gets into way too many variants.
Finally, the terms "pro style" and "spread" are meaningless distinctions. NFL offenses have the luxury of getting super complex: they have passing game coordinators who teach the QBs and WRs Air Raid things then run zone or power blocked things. The spread refers to formations and personnel—it doesn't say anything about whether the QB runs, if it's an option offense, or what tempo it runs at, or even what kind of blocking it uses. What I've done here is break up the offenses into "QB as Run Threat" and "QB Doesn't Have to Run" since the construction of these base plays usually stems from that. Remember, however, that QB running offenses can (and often do) still use blocking right out of Vince Lombardi's favorite play.
QB as Run Threat Offenses:
Triple Option
The FB dive will hit too quickly for anyone but the DE to stop; once the DE bites, the RG moves down to the second level while the QB keeps and heads outside, with the RB in a pitch relationship to defeat the unblocked defender there.
Concept: QB makes a hand-off read then a pitch read.
Makes life especially hard on: Edge defenders who have to string out plays against multiple blockers and maintain discipline.
Formation needs: Two backs.
Helpful skills: QB who can consistently make multiple reads and won't fumble, highly experienced, agile OL, backs who can both run and bock.
Mortal enemy: The Steel Curtain. Stopping the triple option is a team effort; if everybody is capable of defeating blocks, challenging ball-carriers, and swarming to the pitch man there's nowhere to attack.
Examples: Air Force, Nevada, Georgia Tech, Bo's Michigan
[Hit the jump for ZR, QB power, Air Raid, West Coast, Manball, Inside Zone, and the Power Sweep].
Zone Read
The pre-snap read to a bubble screen is just one way to keep that defender from squeezing the QB's running lane.
Concept: QB reads a backside defender to hand off if that dude holds up, or keeps if that defender bites on the RB.
Makes life especially hard on: Safeties who have to add being a primary tackler to their other responsibilities.
Formation needs: Shotgun/Pistol
Helpful skills: Lives and dies with the right QB who can make the right reads, is a dangerous runner, and dangerous enough passer that the safeties have to stay back. Jitterbug slot-backs and running backs to punish defenses who pack the box. Receivers who can block to keep the CBs from interfering.
Mortal enemy: Alan Page. The read takes out one defender, freeing up an extra OL to people the point of attack. If the point of attack is being de-peopled by an unblockable purple people eater, that advantage is lost.
Examples: West Virginia under RR, Ohio State, Oregon
 
Wildcat/QB Power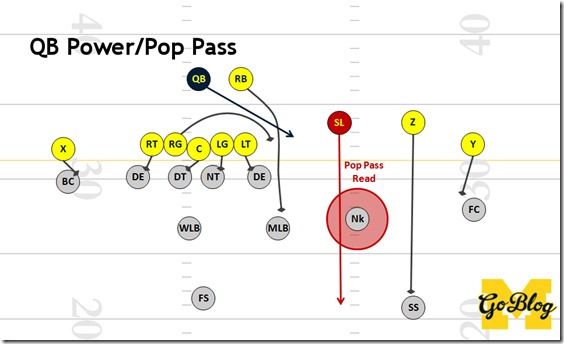 In this example the RG is pulling; this can be run with power or zone blocking.
Concept: QB is primary runner, RB becomes extra blocker
Makes life especially hard on: Second-level defenders who come up at the risk of getting pop-passed over.
Helpful skills: Super-duper quarterback who's a major run threat and can still pass well enough to threaten that, great blocking RB and WRs, athletic slot receiver who can challenge in space and get open downfield.
Mortal enemy: Troy Polamalu. I could go with lots of great safeties who make their living in the box, but chose Pola because he doesn't: he'll be in coverage until the nanosecond he reads run, and then there he is, and then there your quarterback isn't.
Formation needs: Shotgun/Pistol, Spread
Examples: Michigan 2010 (QB power), Darren McFadden-era Arkansas (Wildcat), Mad Magicians
Pro Style (QB Doesn't Have to Run) Offenses:
Air Raid
If that MLB is backing out of the box, you can delayed handoff and run six-on-five. The Y and X receivers are running Mesh routes, the H receiver is running a stick. Blue is the regular route, and the red are stems the receivers can break off against zone coverage. The Z's job is to release outside so that CB's hips get turned away from the play.
Concept: WRs stretch defense and stem long routes based on coverage, often with packaged run plays. Stick routes drag man DBs or curl into spaces zone isn't covering. Mesh routes rub off man coverage, break off in zone holes. Packaged run keeps defense honest so you can really just have variations on that one play all day.
Makes life especially hard on: Interior linebackers, who have to run all over the place to disguise their coverages and have their decisions read to make them wrong no matter what they do.
Formation needs: Shotgun/Pistol, Spread (often spread the OL too).
Helpful skills: Smart and experienced receivers/TEs and QBs who can read defenses and make lightning quick decisions. Accurate QB who can make all the throws.
Mortal enemy: Earl Thomas, the epitome of the "rangy" safety. If all of centerfield is a no-fly zone, there's nowhere to stem to, and linebackers can concentrate on the run and short zones.
Examples: Texas Tech under Mike Leach, West Virginia under Holgo, Mike Marz/Scott Linehan, Bob Stitt.
West Coast Offense and Passing Spreads
If the LB is blitzing the QB throws it to the hot receiver. This example shows a bit of play-action with the OL.
Concept: Timed routes that stretch zones & check-downs, ball is gone before rush can arrive
Makes life especially hard on: Underneath coverage, who keep getting receivers at opposite edges of their zones.
Formation needs: At least two receivers
Helpful skills: Agile receivers who run excellent routes, smart and accurate QB, impenetrable left tackle, backs and TEs who can catch (the better to threaten runs)
Mortal enemy: Lawrence Taylor. An elite edge rusher who won't give the QB even two seconds of peace in the pocket is a recipe for bad reads and diminished QB efficiency.
Examples: Brian Kelly Notre Dame, the Bill Walsh coaching tree 
Manball (Power-O & ISO)
If the guard (red) pulls it's Power O; if he just attacks downhill it's an ISO.
Concept: Quick-hitting and downhill rushing, with lots of dudes blasting holes at the point of attack.
Makes life especially hard on: Middle linebackers who have to make super-fast reads and not get beat up by missile blockers and backs running downhill
Formation needs: QB under center or pistol (so that RB has a running start). A FB or H-back helps.
Helpful skills: Big, tough, quick linemen who can blast their guys off the ball, a running back who can do the same and will get extra yards with momentum. Interior OL who can pull well. Dangerous 1-on-1 receivers to keep the safeties back.
Mortal enemy: Ray Lewis. Will blow up your blocks in the backfield, doesn't bite on play-action, and will stop the momentum of your RB on impact.
Examples (variation): Michigan, fergodsakes editions (power-O), Woody Hayes
Zone Running
Uncovered linemen (light blue) help their buds get their blocks, then head to the 2nd level. The Y will kick the SAM out to make the key hole; the RB usually then can pick whichever side the 5T didn't go.
Concept: Simple blocking punishes DL who try to get off blocks and can attack whatever hole opens up.
Makes life especially hard on: Middle linebackers who have to make super-fast reads and get to the holes clean before a blocker can peel off on them.
Formation needs: TE to the strongside helps.
Helpful skills: Agile, intelligent, experienced OL and RBs who can adjust to defenders on the fly, open up holes, and take advantage of them.
Mortal enemy: Michael Strahan. Ultra-responsible SDE/5-tech who can't be pushed off the ball and can play both sides of the key block.
Examples: Wisconsin, Alabama, Michigan State
Pin & Pull Running
The TE plays the strongside edge defender like a zone block: if he goes inside drive him down the line and the RB goes around; usually he'll go outside and the TE just seals him there so the RB can cut inside. The center calls the blocking based on the DL's alignment.
Concept: Stretch defense with speed and extra blockers at point of attack, run where the hole opens.
Makes life especially hard on: Edge defenders.
Formation needs: Tight end(s)
Helpful Skills: Great blocking TE. Quick/agile/ultra-experienced OL and RBs who can exploit opportunities as they open up.
Mortal enemy: DeMarcus Ware (college version: JMFR). The SAM (odd fronts) or SDE (even/over fronts) is matched on the TE right in the middle of where the action is. If that guy consistently gets penetration inside he can totally gum up the works.
Examples: Lombardi-era Green Bay.
They all have various advantages and disadvantages. The math of those works different for college and the NFL because most college programs have difficulty recruiting generally good players, so offenses that only emphasize certain characteristics are beneficial, and college coaches have way less time to teach their offenses.
The reason zone read offenses dominate college football is they are relatively easy to teach, and let you run a highly efficient running game from highly efficient passing formations. The reason downhill running offenses dominated college football in the '90s was national recruiting let a few power programs recruit generalists who could run roughshod over everyone but each other. That advantage hasn't disappeared, but spreads and zone reads make it possible to have just as good or better of an offense than the old power offenses had. Any of the above can work in college football if you have the right personnel and can teach it to them.