Dear Diary Predicts the Past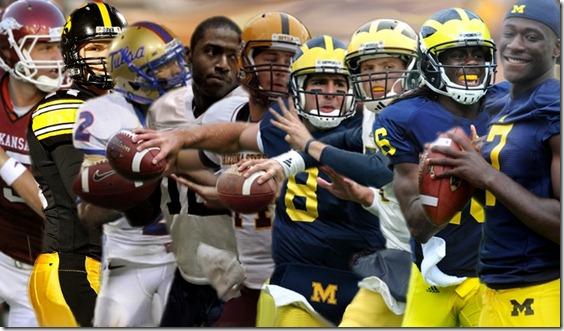 Mallett/Wienke/Beaver/Newsome/Threet/Sheridan/Forcier/Denard/Gardner. Not pictured justcuz: Notorious C.O.N.E., Feagin, Conelius, Bellomy, President Kennedy & various other walk-ons, and Nachoshorts, brother to Tacopants, who is 4 inches tall and made of puppy dreams and snowflakes and was the guy Moosman was always snapping to in 2009.
Dear Diary,
It's about expectations. Among the very few diaries this week was Gordon's highly debatable retcon of recent Michigan history if the sweatervest had remained folded in a Youngstown drawer. That's about what might have happened. My diary's about what we thought would happen.
You've probably done this same exercise a million times after commitments (and 16 times since March): look at the current depth chart for that guy's position, toss in the current commits, and predict a monster future for Michigan, or wonder how in the world we will find playing time for all of these guys. Well things don't always work out how you expect, in fact they never do.
Over the next few weeks I will attempt to review our past expectations for Michigan's position groups at this time in Year X. Hopefully the knife of attrition will be much more lenient in the coming years than it was over the last few. Maybe there's something to be learned here about adjusting expectations. Maybe this is just a colossal thought loop. Either way it's not about OSU's scandal, and will hopefully make for an entertaining walk down memory lane. If it sucks, feel free to eat me alive in the comments. I'm told I taste like chicken.
This week: 2007 Offense.
What was going on:
It was a lazy offseason in pre-Apocalyptic Ann Arbor. I mean really lazy: we had like 3-6 commits at this point (Cissoko, Wermers, Moore, Witherspoon and Mike Martin) but led with plenty more, and thought '08 recruiting was just dandy. Baseball made its run on the national stage (the peak was a 2-game sweep in the regionals over N
o. 1 Vandy) to get us all excited-like. Mostly we sat around watching Sam McGuffie YouTube highlights and hoping Comcast wouldn't kill our ability to watch Michigan play football. Will Campbell committed for 2009, and early speculation had Larry Capers coming eventually. Cobrani Mixon became our first Facebook transfer. Comcast and the Big Ten were having their great phallis-off. On a way smaller scale John Pollack and Jim Carty were having theirs with the university over plans to install (gasp) luxury boxes at Michigan Stadium. Brian got really excited over the possibility of games on Torrents (MGoVideo debuted June 18), and spent much of the summer trying to figure out why Jonas Gray (and to a lesser extent his teammate and "package deal" Kenny Demens) didn't have a Michigan offer. Autumn Thunder made epic comparisons of people to Lord of the Rings villains, with Jim Tressel cast as Saruman. Crystal ball? Try internet connection.
We were not Harbaugh fans.
Quarterbacks

Depth Chart: Chad Henne (Sr/Sr), Ryan Mallett (Fr/Fr), David Cone (So/Jr)
Incoming: Steven Threet (4-star, 2007 Transfer/Fr from Georgia Tech), John Wienke (3-star)
Expected: Going into what everyone knew was Lloyd's last year, Michigan was the NFL's quarterback factory, having produced an unbroken line of pro passers dating back to the stone age. That such a legacy would continue was a certainty with 4-year starter and robot Chad Henne mentoring 2007 uber-recruit Ryan Mallett (who survived transfer rumors to Arkansas in late April). In the event of near disaster, Navarre-like object Cone was on the roster. Homecoming transfer Threet and the statuesque southpaw Wienke – who received his camp offer a year ago today – would be on hand if (God forbid) anything happened to Mallett from 2008-'10, or else to mop up the blood from the star's latest aerial assaults.
How'd that turn out? Ha. Henne was iffy and frustrated in the HORROR then had his shoulder blown up in the Oregonian Disaster—the rest of his heroics would be gutting it out with that shoulder to Little Brother little brother, and the legendary dismantling of Florida in the Cap One Bowl. The bubble burst on this dream with the hiring of Spread 'n Shredder Rich Rodriguez. The writing was on the wall for a 3-star pocket passer, and Wienke wisely bolted (for Iowa). Mallett transferred to Arkansas and went on to a productive career with lots of character questions. Cone stuck around to give us a fantastic YouTube video and a few garbage time cheap thrills. Threet emerged from his transfer purgatory to find himself fighting a duck-tossing walk-on for the right to get beaten up in the worst Michigan offense in ever ever. He spent the season in and out of the lineup with assorted injuries, and later transferred to Arizona State so the Richrodigan freshmen could play.
5 Point Scale of Expectation vs. Outcome: Does this scale have a zero? Way Zero.
More after the jump.

Running Backs
Depth Chart: Tailbacks: Mike Hart (Sr/Sr), Brandon Minor (So/So), Carlos Brown (So/So), Kevin Grady (Jr/Jr), Avery Horn (Fr/Fr). Fullbacks: Mark Moundros (Fr/So), guys.
Incoming: Sam McGuffie (YouTube!), like almost assuredly. Maybe that Mike Shaw guy from Moore's school, but why does he have an offer and Jonas Gray doesn't?
Expected: In June '07 I was really worried about running back. The immediate future was Minor's if his "vision" cleared up but teams usually carry like five backs because dudes like Hart are really rare. I did expect Michigan to pick up a bunch of running backs, and worried they were too scat-like because (Fargas, Baraka) those guys never seemed to make it. Until Denard, Hart was the most likeable guy Michigan fans had ever met. His effortless shifts and effort-laden YACs would assuredly lead Michigan to great things as he conquered every rushing record. Minor had the Chris Perry-ian breakout freshman campaign that had him pegged as Michigan's next great back, though his tendency to hit guys he could have gone around made folks wonder about his vision. Carlos Brown was expected to transfer—his commitment had been a surprise from the beginning and everyone knew he wouldn't go to defensive back where he could be really useful. Grady was already a lost cause with a forwarding address to Carr's Doghouse. Horn I remember thinking of as a point guard. Moundros was just a guy at fullback, and a big dropoff from Dudley.
How'd that turn out? Well Gray never got his offer and that was a good thing. Hart's ankle was damaged again, probably by an unblocked linebacker from running into an overshifted 8-man front. Minor's "vision problem" turned out to be an insatiable hunger for linebacker pancakes. Brown stuck around and tantalized with his speed but never had the balance to withstand a pinky-tackle. McGuffie came and was something to behold before he was decapitated against Ohio State—Rodriguez mercifully shipped the remains back to Rice. Fullbacks became unnecessary in the spread 'n shred. Shaw did commit but on Signing Day after decommitting from Penn State—at times he's been No. 1 on the depth chart, but injured often. All told it's pretty close: we figured M would recruit two speedsters in '08 and a few more in '09. Injuries have played their role; all of the guys mentioned above (and Toussaint and '09 commit Smith) missed serious time or collected an assortment of ailments that added up to severely reduced effectiveness.
5 Point Scale of Expectation vs. Outcome: 3. Because McGuffie never hurdled any fools and Carr or Rod, nobody expected to hit 2010 with a stable of guys recovering from things.

Receivers
Depth Chart: Wideouts: Mario Manningham (Jr/Jr), Adrian Arrington (Jr/Sr), Greg Mathews (So/So), Junior Hemingway (Fr/Fr), Toney Clemons (Fr/Fr), LaTerryal Savoy (So/Jr)
Tight Ends: Carson Butler (Jr/Jr) Mike Massey (Jr/Sr), Martell Webb (Fr/Fr), Steve Watson (Fr/Fr)
Incoming: Darryl Stonum (by this point he was down to Michigan and hats that look cool in a hat dance) and Fred Smith, before we learned his HS coaches were like the creepiest MSU boosters ever (Note: Not all MSU boosters are bad-touch creepy dudes, just most). TEs Brandon Moore and Kevin Koger.
Expected: This was a few months after the St. Patrick's Day Nerd Massacre and we figured Butler at least (along with Chris Richards) would be off the team for good. Butler and Arrington (plus Eugene Germany) had already been held out of Spring practice for an apparent rules breach. A.A. of AA was the first to clean up, going from dude who kept appearing on Facebook pics of Packard parties to that gangly guy on a futon playing PS3 with the door open whom you would pass when cutting through West Quad to the Union. Mario was Super but also tended to get in sorts of doghouse rumor trouble, and we already expected '07 to be his last. NFL flight risk was at the time higher than I expected from Arrington. Receivers were suddenly a priority, even if as expected James Rogers and Zion Babb finally stopped pretending to be cornerbacks. Mathews was established as a No. 2 or 3 guy, and Hemingway and Clemons had high expectations (Hemingway had a role in '07 only on running plays—if the shifted fullback to the left wasn't clue enough already it's a zone left, the presence of Jr. should confirm that). Tight end too was a dire need—presently and down the road—as Michigan was going to more Two-TE formations with Mike Massey atop the non-Butlerian depth chart. By June M had already locked up Moore and was battling Ohio State for Koger. At the time we couldn't figure out why OSU had ignored the much more (by services and offers) touted in-state Moore for the lower Koger. Apparently their scouting doesn't suck. M was in on some major national receivers, and expected to add one of them to Stonum and Fred Smith.
How'd that turn out? Not too far off. Manningham and Arrington went to the NFL—decisions that were only made easier by the wholesale change in offense. Babb and Rogers came to receiver, but the former transferred and the latter had to switch back to defense to be a warm body—he ended up starting at CB as a senior because the secondary was that mangled. Manbearfreak (Butler) strangely survived his violation of double secret probation to rejoin the team in August, later becoming Rodriguez's headache, an emergency defensive end, and finally dismissed. Clemons was a casualty of the coaching change who was Colorado's 2nd leading (but 3rd in yds and TDs) receiver last year. Mathews ended up miscast as a possession No. 1 (because there was nobody else) in 2008-09. Hemingway got hit with everything from injury to mono but has been tantalizing when healthy. Stonum was expected to be the next Manningham, but it took several years and a pair of glasses before he was putting it together. His legal troubles may mean he never gets to finish that. Meanwhile Rodriguez went on a receiver recruiting binge (making us wonder at one point what he planned to do with all of these guys), adding Odoms and Tree to the class.
Scale of Expectation: 4.5. I mean pretty much we figured cave in 2008 and rebuild. Even ignoring the slots, the receiver depth chart has churned along these past years like few other position groups. I was like wow we didn't get Smith but he became, progressively, a personality liability, a fullback and a transfer under Dantonio. That guy really needs to meet an adult who isn't creepy, right?
O-Linemen
Depth Chart: (gonna need a table for this)
| LT | LG | C | RG | RT |
| --- | --- | --- | --- | --- |
| Long (Sr/5th) | Kraus (Sr/5th) | Boren (So/So) | Mitchell (Jr/Sr) | Schilling (Fr/So) |
| Ortmann (Fr/So) | Ciulla (Jr/Sr) | McAvoy (So/Jr) | Moosman (So/Jr) | Zirbel (So/Jr) |
| Huyge (Fr/Fr) | Lawn Chair | Molk (Fr/Fr) | Recycling Bin | Dorrestein (Fr/So) |
Incoming: Rocko Khoury, Kurt Wermers, Dann O'Neill, Elliott Mealer, Kevin Zeitler
Expected: Only the most Internet M fan realized that the beef machine was wearing down in the late Carr years. Attrition (mostly weird injury/disease kinds of things) had worn down earlier classes a bit, and practice observation would note the 2005 and '06 classes meant to be the "next generation" were not built for the zone blocking offense being installed. Only the true freshmen were. Brian's take was basically "oh god we have no tackles" but the feeling was the 2006 class of Boren, Schilling, Ortmann and Dorrestein would be sufficient to keep the next generation of Michigan's line at or around decent. Boren was on track for superstardom (starting as a freshman) but belonged at guard. Schilling looked "for real" but belonged at guard—that he won the starting tackle job in spring could have meant he's that good or "oh god we have no tackles." We had reservations about Alex Mitchell as he got larger. Ortmann, Moosman and Zirbel were supposedly playable backups who would eventually be okay starters, but McAvoy, Ciulla and Dorrestein were known just guys. A big 2008 class of offensive linemen was expected to shore that up somewhat, but hope for a good line in '08 entirely rested on Zirbel and Ortmann emerging as playable tackles, and no injuries.
How'd that turn out? You can take one look at that depth chart today and know precisely why like 75% of Michigan's 1st down playcalls were run <--- thataway. Also you can see just how devastating it was to lose Long, Kraus, and Boren for 2008. Alex Mitchell was in no way capable of handling a Barwis workout, let alone a Rodriguez line. Neither was Ciulla for that matter. Then Zirbel was lost to injury. This means the 2008 team debuted with 3/5s guys who never should have been playing, and a two-deep filled with defensive ends, true freshmen, or stuff from the garage. It was a complete disaster area that actually managed to put together one of the better rushing seasons in recent history because Rich Rod was that much of an offensive genius (nothing could be done to salvage the passing game). RR also picked off Ricky Barnum and Patrick Omameh (we didn't get Zeitler), who ended up the best linemen of that huge class. Molk was as perfect for the new staff as Wermers and O'Neill and McAvoy and Moosman and Ortmann and Mitchell and Dorrestein and Ciulla weren't. Ultimately the o-line was a blank slate in need of radical fixture, and Rodriguez rebuilt the whole damn edifice in his own image in time to be awesome as soon as 2010. Now in 2011 we're back to a very familiar scenario: a great offensive line for the wrong system badly in need of depth at tackles, and a huge class with different skill sets on its way in. Of course utter disaster would mean Lewan transferring to Ohio State, none of the current commits working out, and some major injury. Lightning can hit the same guy twice, but that is rare and usually suggests the involvement of a sour deity.
Scale of Expectation: um…3? 2? Let's go with 2. It totally depends on whether you saw doom coming (Brian) or didn't (the rest of us). The transfer of Mr. Plow was big in the short term; in the long term it simply made the transition that much more radical.