First Look: 2017 Defense
DEPARTURES IN ORDER OF SIGNIFICANCE.
[Paul Sherman]
CB Jourdan Lewis. Two-time All-American has case for second-best cover corner in school history. Various excellent stats, none better than this: over his last two years throwing it in the dirt and throwing at Jourdan Lewis were equally productive in terms of QB rating.
DE Taco Charlton. Rampant in the second half of the season against both run and pass and destined for the first round of the draft. Charlton was the rare WDE to play at 280 pounds and gave Michigan's run defense oomph it will miss even if his replacement keeps up the pass rush productivity.
SAM Jabrill Peppers. Massively overrated nonentity will be mysteriously drafted in first round this April and have decade-long NFL career. Absence in bowl game went completely unnoticed and did not pave the way for almost all of Dalvin Cook's yards.
NT Ryan Glasgow. Robot Viking finally started getting appropriately rated as a senior, when he was again an excellent penetrator and disruptor of all things run and pass.
SDE Chris Wormley. TE obliterator and utterly steady; maybe a hair less than explosive. Pass rush not a huge strength, but that went unnoticed since everyone else was picking QB out of their teeth. Elite run defender capable of playing inside or out.
CB Channing Stribling. Outstanding year in coverage; if he was any easier to hit with a completion than Lewis it was a narrow thing indeed. Run support an Area For Improvement, as they say. Should still go early in the NFL draft, as he's a legit 6-foot.
Safeties Delano Hill and Dymonte Thomas. Close to interchangeable, so addressed together: capable of deep zones and slot coverage, these two kept Jabrill Peppers out of coverage almost all year. Tremendous luxury to be able to do that and flip 'em on motion. Thomas did bust a few times for big plays (most prominently against UCF and FSU), but as safety tandems go this might be tops in recent Michigan history.
ILB Ben Gedeon. Sideline to sideline ILB who couldn't carry wheel routes downfield. Consistent tackler who showed up in the right spot almost every time; took on blocks with aplomb and shed them with authority. Lack of playing time early in career got more inexplicable every game.
DT Matt Godin. Played well enough early in the season, when Hurst was laid up with a minor injury, to maintain that status for the duration. Was solid in his role; provided little pass rush but effective run defender. Least productive rotation DL by some distance but still meaningfully positive per PFF.
WHAT'S LEFT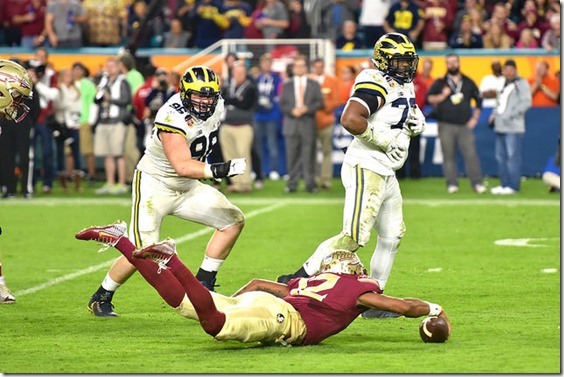 get in his belly [Fuller]
DT Maurice Hurst. Technically not a starter but whatever man. Per PFF, the most productive interior pass rusher in the nation. Huge grades to both them and this sites UFR; with serious uptick in snaps should have breakout senior year and contend for AA status.
ILB Mike McCray. Resurrected career after long-term injury threatened it and was about 80% revelation. Superior blitzer, tough customer on the inside. Struggled to contain edge runs for much of the year; late improvement in that department.
CB Jeremy Clark. Injured in game four and Michigan will try to get a sixth year for him. If that comes through Clark is a bolt of experience in a secondary that will otherwise have almost none. Lost his starting job to Stribling but started anyway since Lewis was out for the first three games; has a year of solid starts under his belt and should be a draftable guy.
DE Rashan Gary. Snaps limited by guys in front of him; impressive and productive when he did get on the field. Physical potential limitless, and should take The Leap as a sophomore.
DE Chase Winovich. Crazy productive pass rusher who'd show up for a handful of snaps in big-time games and come away with a sack anyway. Per PFF had 27 pressure events in 277 snaps, which is almost precisely the same rate at which Charlton racked them up. Run D occasionally wobbly. Potential breakout player.
DT Bryan Mone. Second straight injury-plagued year. As a result barely got over the 100-snap threshold that we're using to distinguish "new" from "what's left." Struggled when he did get snaps much of the year, hopefully because he was not 100%. Flashed ability against OSU.
FS Tyree Kinnel. Promising safety candidate was dimeback for much of the year and did well in that role. Had a couple of Kovacsian TFLs where he'd fly up from outside the picture to kill a guy dead. Coverage, which was reputed to be a strength when he was a recruit, didn't get tested.
CB Brandon Watson. Nickel corner was beat with some regularity when tested. Doesn't seem to have much upside.
WHAT'S NEW, OR CLOSE ENOUGH, ANYWAY
dread level: rising [Patrick Barron]
Everything! Almost everything, anyway. The DL has some guys who have established a certain level of performance, to the point where only one of them is even sort of "new," that a redshirt junior who would be old except for terrible injury luck. 
Dudes flanking McCray. Devin Bush figures to draw into the starting lineup next to McCray since he was the clear #3 ILB last year. That should push the bulkier McCray to MLB and give Bush WLB. Hopefully that would allow McCray to focus more on getting vertical instead of lateral. Bush is very much a spread ILB.
Meanwhile at SAM/Viper(!!!), many different things could happen. Josh Metellus and Jordan Glasgow got Don Brown praise for their work at Viper(!!!) during bowl practices; Noah Furbush is a more traditional LB option at the spot; Khaleke Hudson still seems like a perfect fit as an emphatically box safety; if Michigan can get Willie Gay, recruiting types report that he is an instant impact player.
Either all of the secondary or all but one guy in the secondary. Michigan has a ton of cornerback talent pushing through at a spot where you can get by decently on athleticism. Safety has guys with scattered snaps a year ago and really needs a couple of players to come through.
WHAT'S ROD STEWART 1977
omar comin' [Fuller]
Still the defensive line. Michigan graduates all four starters but this is very much a reload situation, not a rebuild. Michigan figures to start:
Maurice Hurst, who produced just as much as last year's top starters in 60-70% of their snaps. He is going to be elite.
Rashan Gary, who was +13 in about 300 snaps as a true freshman and is a holy lock to be real good as the #1 recruit in the country.
Chase Winovich, who would be coming off a double-digit sack season if he had as many snaps as Charlton, in his first year as a WDE.
Bryan Mone, who had a series of injury struggles the last two years but flashed his ability on a critical third and short stop against the Buckeyes.
Those guys are very much in contention for the best line in the conference.
Probably cornerback? If Michigan gets Clark back that's a veteran who will be of interest to the NFL as a Sherman-type jumbo CB; I thought he was a B+ guy in 2015 and should get better if allowed to return. Surely Michigan can find Lewis 2.0 from the pile of recruits in shiny wrapping paper they've accumulated.
Don Dang Brown. Brown lived up to the hype and then some. Michigan LBs totaled 43 TFLs as he solved problems with aggression; Michigan is at or near the top of any defensive metric you care to look at. While the copious talent had a lot to do with that, those guys were around last year and Brown still just about halved S&P+'s expected points allowed metric from 13.7 to 7.7.
While there's going to be some regression, Brown's defenses tend to take a year before kicking in to high gear. Increased familiarity with the system should help mitigate the personnel losses.
WHAT'S ROD STEWART 2017
Is Kemp ready to play? Is anyone? [Fuller]
Defensive line depth. Seven different guys saw 250+ snaps last year, with Bryan Mone getting 117 of his own. Four of those guys are gone. There is a shortage of gentlemen ready to step in. This site constantly says that nose tackle is a spot with two starters. Starter #2 at NT is...?
DE is probably fine. Between Reuben Jones, Carlo Kemp, Lawrence Marshall, and Ron Johnson Michigan can find a couple guys to spell the starters. The only DT on the roster other than the projected starters is Mike Dwumfour, a middling three star coming off an injury redshirt. Michigan's bringing in a ton of DT types in this recruiting class but even if they get a top guy like Jay Tufele or Aubrey Solomon, relying on a true freshman in the two deep is alarming. Michigan might have no choice but to move Gary to DT.
Going from Peppers to Not Peppers. The silver lining of his absence almost certainly costing Michigan the Orange Bowl is that I don't have to spend much time explaining why Peppers's departure will be costly. Yes, he tended to go on a ride when he got blocked. Michigan was delighted to take that tradeoff if it meant that you could not outrun Michigan's front seven with Usain Bolt.
WHAT'S HEISENBERG ROD STEWART UNCERTAINTY
[Eric Upchurch]
Safety. You know, I'm almost sanguine about safety these days. After a solid decade of safeties topping out at "eh, he hasn't set his head on fire" and frequently dipping into "welp, he set his head on fire again," Michigan's on a run of guys who are actual positives. It is at this moment that we must have maximum vigilance, for this is when Angry Michigan Safety Hating God loves to strike. 
Michigan clearly likes Kinnel. Unfortunately they have few alternatives; it looks like both Hudson and Metellus are tracking towards hits, but are both of those guys box safeties who you don't want to see in deep coverage? I dunno. Mental issues for a couple of true sophomores could pop up as well.
Outside linebackering. Bush will probably be at least all right and could verge on good by the end of the season.  SAM/Viper(!!!) could see just about any level of performance and it wouldn't be much of a surprise.
MANDATORY WILD ASS GUESS
What looks like another excellent starting DL and cornerbacks that should pick up the departed's mantle without too much trouble is a good baseline to work from. And while the unit is going to be young—just three seniors are currently projected in the starting lineup—it isn't going to be troublingly so. The only spots at which freshmen are likely to contend are backup DT and maybe somewhere in the secondary.
So while they aren't going to be this year's outfit, which was neck and neck with Alabama for the nation's best, neither are they going to drop off to average. Unfortunately, this is not a fully Harbaugh-ized program so there are some sore spots at which one injury could radically reshape the outlook—someone please wrap the DL starters in cotton until fall—so I reserve the right to repeal the prediction if the wrong guy goes down, but this should be a top 15 S&P+ defense and top 20-ish in YPP and the like.