Everywhere And Nowhere At All
11/19/2016 – Michigan 20, Indiana 10 – 10-1, 7-1 Big Ten
[Bryan Fuller]
When Midwestern Football Weather looms, there is only one priority for the experienced fan: please, not sleet. The heavens can aim at my head with golf-ball-sized hail as long as the precipitation is of the form that can be dodged or shaken off. The icy needle stuff that penetrates anything short of a spaceship hull is decidedly not preferred.
That's what we got in 2008, figuratively and literally. The infamous Fandom Endurance III game against Northwestern that sent Michigan to 3-7, guaranteeing no bowl bid for the first time in 40-some years, was played in a driving sleet that is bar-none the worst weather I've ever experienced at a game. I imagine the only competition available is that Purdue game from the 90s that ended 5-0; I was not present.
At halftime of 2008 Northwestern the sleet sent me to the concourse in the hope the pretzel machines could restore some feeling to my hands. They could not. And yet:
This is how weird it's been of late: as I huddled near a pretzel contraption at halftime of a game between 3-7 Michigan and Northwestern, soaked, frozen, pondering the grim futility of all things, I discovered that I was sort of enjoying this. Yeah, sure, you had to peel back layer upon layer of misery to get to the morbidly sunny core. But it was there.
That column is staggeringly old now, especially for Michigan fans who aged in dog years during the RichRod era and in you-chose-the-wrong-grail years during the Hoke/Brandon double-barrel fiasco. By the stuttering end of Hoke's tenure I was referencing that column only to repudiate it, my goodwill stripped to the bone and pecked at by Brandon in case there was any seat-cushion related morsel he could take from me and give to himself.
--------------------------
[Eric Upchurch]
I don't know what's going to happen Saturday. John O'Korn didn't look like a quarterback who could win against OHIO STATE, but Ohio State didn't look like the all-caps version of themselves in a one-point win over Michigan State, or a four-point win over Northwestern, or a loss to Penn State. I don't know if John O'Korn is even going to play.
Having an Ohio State game hanging by a thread because of a quarterback problem is frustratingly familiar turf. Denard Robinson and Chad Henne literally could not throw their senior years; Devin Gardner played most of an OSU game on a broken foot; Drew Henson didn't even bother to play his senior season. It is brutal to have this defense and not know if they're going to have a chance because of yet another backup quarterback throwing a spanner in well-laid plans.
I spent large portions of that game playing Ohio State in my head. I've been doing this since the end of the Wisconsin game, to be honest. I didn't like the results much, but I suppose neither did the sliver of the OSU fanbase capable of complex thought after the Buckeyes got outgained by 3-8 MSU.
I think about ten years ago, and how seismic that felt. It felt like the world would rise or fall based on the result of one goddamn game, and how that was right. And Saturday, and ugh, and can we get this over with.
Then the heavens opened up.
-----------------------------
What people with no experience of winter fail to understand is its capacity for sheer beauty. Saturday's transient blizzard turned a football game into a kaleidoscope of lacy geometries. The individual flakes traced whorls across the sky, each brilliantly lit. As they began to stick the stadium brightened, and brightened, until it was glowing. Light bounced from white to white until it seemed to come from everywhere and nowhere at once.
I forgot about Speight's shoulder, and the looming nausea machine this weekend, and Twitter, and even the fucking red hat TV timeout guy. What looked dim from the outside was brilliant as mid-day on the interior. It is something I will not forget.
[Fuller]
110,000 people felt that same lift. Maybe they weren't thinking quite as far back in the sleety past as I was, but they knew the difference between then, and now. Someone started chanting "BEAT OHIO," and thousands more took it up, as Michigan marched out a victory lit by a sun of a their own devising.
One game to change it all. Saturday.
HIGHLIGHTS
Full suite from MGoVideo.
AWARDS
[Upchurch]
Known Friends And Trusted Agents Of The Week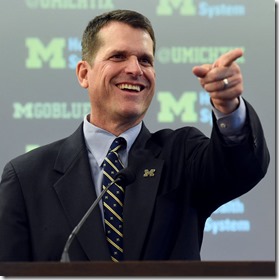 you're the man now, dog
#1 De'Veon Smith had more than half of Michigan's yards and more or less produced all their points. On one particular short yardage run he ran directly over safety Tony Fields, causing him to eject an object that was either his mouthpiece, tooth, or soul. Fields kept coming, and Smith kept turning him into mulch.
#2 Taco Charlton collected 2.5 TFLs and created several more by driving his man deep into the backfield. He has been virtually unstoppable as a pass rusher; this was his best outing against the run. And now his ankle's 100%. Look out, world.
#3 Jourdan Lewis had three pass breakups and only gave up one of the two completions he ceded because it was in a blizzard and he was giving up ten yards on purpose. He had a couple of important PBUs on third down slants that booted Indiana off the field.
Honorable mention: Channing Stribling gave up one completion for 20 yards or so but had his share of PBUs and solid coverage; Ryan Glasgow was an interior terror; the offensive line in general blew up what had been a very good rush defense. Dymonte Thomas had an impressive thunk to prevent a drag route from converting a third down and had one of those PBUs where I have to check to make sure that he's not Lewis.
KFaTAotW Standings.
10: Wilton Speight (#1 UCF, #1 Illinois, #3 MSU, #1 Maryland)
9: Jabrill Peppers(T2, Hawaii; #3 UCF, #1 Colorado, #2 Rutgers, #2 MSU)
7: Taco Charlton(three-way T1, PSU, same vs Rutgers, #3 Maryland, #2 Iowa, #2 Indiana).
5: Ryan Glasgow(#2 UCF, #1 UW), Chris Wormley (three-way T1, PSU, same vs Rutgers, #1 Iowa).
4: Jourdan Lewis (#3 UW, #2 Maryland, #3 Indiana).
3.5: De'Veon Smith (four-way T2, PSU, #1 Indiana).
3: Mike McCray(#1, Hawaii), Ben Gedeon(#3 Colorado, #3 PSU, three-way T1 Rutgers), Amara Darboh(#1 MSU),
2.5: Karan Higdon(four-way T2, PSU, #2 Illinois).
2: Jake Butt(#2 Colorado), Kyle Kalis (#2 UW)
1: Delano Hill (T2, Hawaii), Chris Evans (T3, Hawaii, four-way T2, PSU),  Maurice Hurst (three-way T1, PSU),  Devin Asiasi(#3 Rutgers), Ben Braden (#3 Illinois), Channing Stribling (#3 Iowa).
0.5: Mason Cole(T3, Hawaii), Ty Isaac (four-way T2, PSU).
Who's Got It Better Than Us Of The Week
This week's best thing ever.
De'Veon Smith stakes Michigan to a lead that felt much larger than three points.
Also, shirtless men.
Honorable mention: O'Korn scrambles for 30 yards; Smith extends the lead to 10.
WGIBTUs Past.
Hawaii: Laughter-inducing Peppers punt return.
UCF: Speight opens his Rex Grossman account.
Colorado: Peppers cashes it in.
PSU: Wormley's sack establishes a theme.
UW: Darboh puts Michigan ahead for good.
Rutgers: Peppers presses "on".
Illinois: TRAIN 2.0.
MSU: lol, two points.
Maryland: very complicated bomb.
Iowa: The touchdown.
Indiana: Smith woodchips Michigan a lead.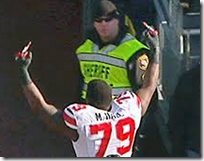 MARCUS HALL EPIC DOUBLE BIRD OF THE WEEK.
This week's worst thing ever.
Indiana goes on a Legitimate Drive in the middle of the second quarter and takes the lead at a point where you're wondering if Michigan can actually score a touchdown of their own.
Honorable mention: Various O'Korn things; the back-to-back-to-back ludicrous catches to set up an Indiana FG.
PREVIOUS EPIC DOUBLE BIRDs
Hawaii: Not Mone again.
UCF: Uh, Dymonte, you may want to either tackle or at least lightly brush that guy.
Colorado: Speight blindsided.
PSU: Clark's noncontact ACL injury.
UW: Newsome joins the ranks of the injured.
Rutgers: you can't call back the Mona Lisa of punt returns, man.
Illinois: They scored a what now? On Michigan? A touchdown?
Michigan State: a terrifying first drive momentarily makes you think you're in the mirror universe.
Maryland: Edge defense is a confirmed issue.
Iowa: Kalis hands Iowa a safety.
Indiana: A legitimate drive.
[After THE JUMP: Quarterback fussin'.]
OFFENSE
[Upchurch]
In this instance I will advocate against Madden-oriented behavior. John O'Korn's debut was exceptionally rough, and I don't think the weather had a ton to do with it. After a brief burst of snow early, things were cold but clear until the Winter Wonderland end of the game. Wind was a factor and may have taken a deep shot at Darboh past its intended target, but for the most part O'Korn's problems were going to be problems even on a sunny 70 degree day.
Those included: balls well behind his receivers, a tendency to drift back in the pocket, and an inability to make quick decisions about where he should go with the ball. The waggle towards the beginning of Michigan's clock-draining fourth quarter drive was emblematic: O'Korn had his fullback for an easy catch and run but did not pull the trigger, instead running for no yardage. (If that decision was a diabolical plan to get hit late, disregard this complaint.)
Also emblematic was a third-and-medium completion to Darboh. On that play—Darboh's only catch of the game—O'Korn had run back 15 or 20 yards, so a completion that felt easily long enough to convert was in fact barely past the line of scrimmage and required a slick move from Darboh to pick up the requisite yardage. O'Korn repeatedly vacated the pocket on absurdly deep drops; only once did he actually step up into pressure. That was kind of a big deal, though:
On the next play De'Veon Smith would put Michigan into the lead.
Some of the negative events weren't his problem—Drake Harris and Jake Butt fell down on potential completions. Enough of them were that I'm dubious about Michigan's chances if Speight cannot return.
[Upchurch]
Speight status. As you can see from Eric's shot above, Speight's warmups were a little unnatural. His shoulder issue is his non-throwing arm, so at least there's that. Speculation various places is that he could in fact play against OSU. Even if he can, would he be effective? What's the deal with Iowa Speight? Etc. The last two weeks have been deeply unfortunate for Michigan's quarterback situation.
[Fuller]
Poor damn Darboh. The above was the fifth time he was missed for a sure touchdown in the last two weeks. Last year's extrapolation of Late season Rudock onto Chesson's stats is equally applicable to Darboh this year.
[Fuller]
De'Veon Smith, human woodchipper. Big Smith runs set up a Michigan field goal and accounted for Michigan's touchdowns, as Michigan was able to get a blocker on the Indiana linebackers and send Smith stomping through fishing villages across the Indiana back seven. The first was Michigan running inside zone at an Indiana formation that spread itself wide to deal with the extra gaps a tight bunch of receivers provided; this was the payoff for Michigan eating a TFL on a crack sweep Indiana blew up:
On the replay you can see an Indiana linebacker step to the sweep and get a second level block for his troubles; Bredeson clobbers an OL, and Darboh's crack block absolutely hammers the Indiana safety Smith posterized on third and short.
The second must have been a bust by Indiana—possibly more than one. M runs power, one LB buries himself on the backside of the play, and the Indiana line does not execute the slant that usually indicates. Smith doesn't get touched until that same safety comes up to get run through:
The midseason bench Smith chatter was always silly—the man did not control the blocking he got—and he'll be a critical piece against OSU.
Wide receivers optional. Wide receiver blocking important. You'll note that on all three of the big runs embedded above, Michigan gets a critical block from a wide receiver. Chesson locks up a corner on the scramble; Darboh hammers Indiana Victim Safety on the first TD, and Crawford harasses the same guy into a missed tackle on the second.
Tyrone Wheatley's best day. John Duerr picked up on a lot of bodies moving backwards when Wheatley impacted them:
Ty Wheatley Jr's best block, as far as I can remember. pic.twitter.com/NwRHtHJ7hI

— Due (@JDue51) November 20, 2016
PFF agreed, with Wheatley finishing second to Smith in their offensive grades, and from my preliminary look at the game it's likely he finishes with some nice UFR positives as well. As reminder, the DL Wheatley moved are grading out decently at PFF; this isn't Wheatley plowing over Hawaii. It looks like some real progress.
DEFENSE
[Fuller]
More of the same. Indiana had exactly two drives on which they did anything more than pick up a first down or two and wander off the field. The first, their touchdown drive, was a real drive with various successful plays, including a second-and-fourteen conversion against a five-man box on which Channing Stribling didn't set the edge and a third-and-seven slant on Peppers. They were aided by Delano Hill falling down to give up a chunk.
The second was a series of absurd catches: Stribling raked out the 37-yard bomb and knew he it, but the replay booth refused to overturn it; Mitchell Paige tightroped the sideline; a poorly thrown wheel route managed to go under Dymonte Thomas and still get caught—a Leidner special. Those things can all be filed under "if the offense executes perfectly they win" or just crap luck. This was Indiana's longest gain of the night:
[Fuller]
It happens.
There is a theoretical minimum yardage that any vaguely competent (ie, Not Rutgers) offense is going to get just by executing, and Indiana didn't exceed that by much. Every drive other than the two scores ended in a punt or the end of the game; the longest of those gained 31 yards.
This does mean a little something since this was the best passing offense, per fancystats, that Michigan's faced this year. The only Indiana drive seriously impacted by the weather was the final one.
Run game dominance. Michigan gave up a couple of chunk plays on the edge and otherwise dominated. This is quite a stat from PFF:
RB Devine Redding worked for every bit of his 50 yards rushing on Saturday. He forced three missed tackles and earned 47 of those yards after contact.
Redding's line got him a total of three yards on the day. Indiana was S&P+'s #100 rushing offense before the game but even so that's impressive.
[Upchurch]
Taco taco man. As mentioned in the Awards section, Taco Charlton drove a lot of that, especially after he got a dubious personal foul penalty. Angry Taco is a good Taco. When he wasn't tackling for loss himself he was tossing his blocker into the running back and allowing the rest of the defense to swarm; Ryan Glasgow had a couple of shoestring TFLs that demonstrated his terrific range (and barely missed a couple more). Both inside linebackers also had good days, with little to no edge stuff that was on them. Gedeon even covered a wheel route well.
Sneaky good. Dymonte Thomas had an excellent day, with a PBU and another third-and-short stop in addition to his post-UCF avoidance of major mistakes. Michigan's defense has surged to fourth in the S&P+ metric designed to measure explosiveness*. That's a major credit to both safeties, who have rebounded from an understandably bust-laden early season to virtually shut down long opponent plays.
Thomas in particular has 7 PBUs and is a major reason why Michigan's been able to cope with the absence of Jeremy Clark. With Jourdan Lewis on the outside and no third corner Michigan's totally comfortable playing, it's fallen to Thomas and Hill to check slots, and they've done so.
Their ability in this department has allowed Peppers to blitz and spy almost constantly—the slant Indiana got on him during their TD drive was the first time he'd been targeted in coverage since... UCF? I think it was literally UCF. Most of that is Peppers simply not being in coverage downfield (other than the odd deep half of third) and opponents refusing to test him in the flat for obvious reasons.
*[That metric measures only "successful" plays, so Michigan's general defensive dominance doesn't play a role. Michigan is 4th in the country at preventing successful plays from turning into long, long gains.]
A bizarre leap. Indiana tried a fly route down the sideline that Stribling was in terrific position on. The WR leapt; Stribling leapt; an interception beckoned... and the ball fell harmlessly to the turf in front of both players. This was into the erratic wind and must have been knocked down by the same. It was bizarre to watch.
[Upchurch]
Serious production. Chase Winovich has five sacks on the season, one behind Charlton for the team lead*. Since he goes games where he gets 9 or 3 or 6 snaps and still turns in a sack he's got to be Michigan's most productive pass rusher on a per-snap basis. He's not going to be in Charlton's class as a run defender if only because of his size, but Michigan shouldn't see much dropoff on passing downs next year. He'll be everybody's pick for breakout player.
*[Here's a Don Brown stat for you: eight(!) different players have at least three sacks this year.]
SPECIAL TEAMS
[Upchurch]
Back with a vengeance. When not cowering in fear from golden god Ron Coluzzi, this section has been pretty thin on takes for much of the season because Michigan wasn't doing anything except scoring touchdowns in games way out of hand. With the onset of Midwestern Football Weather in earnest this Saturday, special teams took on an outsized importance.
To assert Michigan won this matchup decisively is to sell it short. Michigan hit two chip shot field goals, blocked two punts, saved big chunks of yardage on the line-drive ducks Indiana's punter was spraying anywhere and everywhere, and twice pinned Indiana deep in their own territory. The end result was something close to the MSU game last year where the total yardage on the scoreboard didn't reflect the way the game actually went because the special teams blowout was of such a huge magnitude.
Kenny Allen seems fine now. He's hit his last ten field goals. Only two of them were of any distance, but #collegekickers, man. I'll take a guy who's consistent inside 40 and run.
Big game for hidden Peppers yardage. With Indiana's punter spraying line drives everywhere Peppers's ability to catch balls was a big deal. He caught one punt on the dead run; that was 50/50 to be a TD and even though he got hacked down after ten or so yards that was a 20-30 yard swing in field position. He managed to grab another couple punts that otherwise would have kept rolling.
He also had the second muff of his career, but like the first one against BYU last year, it came on a ball he ranged all the way to the sideline to get; once it hit the turf he just whacked it out of bounds. I'm fine with him taking risks so close to the sideline, because if he does mess up nothing happens.
[Upchurch]
Spread punt: downloaded. Michigan picked up its sixth and seventh punt blocks of the year. Also they should get credit for an eighth huge swing in field position: the Coluzzi scramble/flip against Iowa was induced by a slightly high snap and the punt rush spooking Iowa's golden god. That's some vintage Beamerball stuff.
It is increasingly difficult to argue with the idea that Michigan went away from the spread punt because they discovered they could block the hell out of it by overloading the protectors. The Hudson block was again Michigan sending four and getting Hudson a free run at the punter:
G.O.A.T@KhalekeHudson pic.twitter.com/a0ehDzw1ZB

— Zach (@ZSchultzz) November 19, 2016
Michigan has never had a punt-block season like this since I've been paying attention. That one year Marquise Walker got four or five was the only thing even close. And I don't know what the opposition can do to combat Michigan's approach other than abandon spread punting.
FWIW, Michigan leads the country in blocked punts per the official NCAA stats, but since they've only got M down for 4 that number has to be off somehow. I assume they aren't counting deflected punts that cross the line of scrimmage, which is dumb. I'd guess Michigan is still ahead in the actual numbers.
McDoooooom. It was McDoom who pawed the ball back from the cusp of the endzone on one of the punts Michigan downed inside the five. Credit to the Michigan staff for teaching the college rule where the only thing that matters is where the ball is; so many times you see players trying to down punts screw up because they think NFL rules apply.
MISCELLANEOUS
TIMEOUTS. Multiple times in the first half the action went like this: timeout, two plays, timeout. Absolutely ridiculous. I have no hope this will ever get better because there's no mechanism for it.
Aftermath.
I was in my element pic.twitter.com/vK3CAvKJ4U

— Khalid Hill (@Thatboylid80) November 20, 2016
@Thatboylid80 @mgoblog pic.twitter.com/MRohm5Bqx4

— Eric Lloyd (@EricLloyd) November 20, 2016
All the feels. Senior day can hit you right there.
Michigan Senior TE @JBooty_88 soaking in his last few moments on the Big House turf in a Wolverine uniform. Thanks for the memories Jake! pic.twitter.com/7UIXVyyH9m

— Eric Upchurch (@EUpchurchPhoto) November 20, 2016
HERE
Best:  Senior Smash

In their last home games, it was the seniors that pulled this game out.  Wormley, Glasgow, Charlton, and the rest of the front 7 just chewed up Indiana for most of the game.  Indiana could barely get a pass off, and when they did Lewis and Stribling were there to knock the ball down or jar it loose.  On offense, Smith had a career-high in yards and had two fantastic TD runs that were vintage De'Veon: he'd snake through the line, take some contact, bounce off, and surge toward the endzone.  On a day when the passing game wasn't taken out of the barn too much and was sputtering when it did get a shot (7/16 for 59 yards, 2 sacks, overthrows or drops by Chesson, Darboh and Butt), Smith carried the offense to a win.  And while the offensive line wasn't great (I saw Bredeson consistently getting pushed back/run around by IU's aggressive front 7), Michigan still had 12 of their 15 first downs result from the run, and for the game UM was able to hold onto the ball almost 10 minutes longer than Indiana.
The State of our Open Threads:
The advanced metrics tell the story too:

FART Rate - 1.315, which is the fourth highest rate on the season

SHART Rate - 0.500, which is the fourth highest rate on the season

SQUIRT Number - 2.630, which is actually the sixth highest on the season

FAP Rate - 1.992, which was the sixth highest on the season

So, overall reaction to this game is - in season terms - kind of mild. It definitely was not the visceral reaction to the frustration of the Iowa game, but certainly not the comfortable reaction to Rutgers. This game sat sort of in that middle tier of games which can be best described as, "I think we're just happy that we won".
ELSEWHERE
Andrew Kahn has the definitive look at how quickly the blizzard escalated:
Here's the field at 6:33 p.m.:

And again at 6:39 (notice the cheerleaders' snow angels in the bottom right corner):

Just three minutes after that, at 6:42:

At 6:45, with cheerleaders sliding in the north end zone and making snow angels (again) in the south end zone:

And finally, at 6:49, with the players belly-flopping in celebration of a big win:
He also has much more in a post I urge you to read because I just C&Ped this and feel somewhat guilty about it.
The chosen Chaos Team of the Big Ten tore up Michigan for a while, but Michigan's defense and run game broke the Hoosiers. This is all fine in a game when the Wolverines were missing their starting QB, Wilton Speight, and playing an Indiana team with a pesky defense and a propensity for keeping games close. (Winning them, no; keeping them close, yes.)

However, this takes us all back to square one with what this Wolverines team is: one-dimensional offensively, fearsome defensively, and sometimes able to do Jabrill Peppers things. They might not have Speight against Ohio State and might have to start John O'Korn again. O'Korn passed for 59 yards against Indiana and looked very much like someone making his first start of the season.
O'Korn knew early that he would start:
O'Korn said he was told on Sunday afternoon -- the day after the Iowa loss -- that he would be starting this week against Indiana.
OFFENSIVE CHAMPIONS – As a senior, you always want to go out with a bang and leave it all on the field. De'Veon Smith once again gave his all, left no doubt and left nothing on the field Saturday. A career best 158 yards and two TD's was the perfect ending for Michigan's battering-ram of a runner. Never one to take the easy route or run out of bounds, Smith once again showed that he has a nose for the endzone. His two scores were classic Smith runs and a great way to punctuate your last game at The Big House.

I also wanted to call out Ben Bredeson for his play Saturday. He seemed to always be getting to the second level on his blocks and paving the way for Smith and his scores in the second half. I thought #74 was the best O-lineman out there and reminded me of another #74 – Mike Husar. He was another stalwart from 30 years ago who was a critical cog in those great O-lines that blocked for coach Harbaugh when he was a QB at Michigan.
For all of our calling Indiana #CHAOSTEAM, we tended to presume that Michigan would bounce back from the disappointment of that night at Kinnick, and rally behind John O'Korn and figure out how to get by Indiana, a team Michigan has not lost to since 1987, and has not lost in Ann Arbor to since 1967.  But the same problems from last week, from the last month, really, were cropping up.  Slightly off target passes, bad luck on spots, every toss-up ball to an Indiana receiver managing to be good for a solid gain.  By the end of a cold and blustery first half at Michigan Stadium, only Kenny Allen's punting seemed to be going right and Michigan and its fans felt fortunate that if this was the first time all season that they were going into the locker room at halftime down, it was only a 7-3 margin.
The question is: can Michigan get by with a similar performance in Columbus this Saturday? Instinct responds with a resounding "no," although it's not as if Ohio State isn't without offensive issues of its own.

Both the Buckeyes and Wolverines have spent their seasons subconsciously fighting proxy wars against common opponents. The numbers are all there, ripe for dissection and analysis.

But for all of the advanced stats that have flowered into being in recent years, the biggest storylines are reductive. Michigan has beaten Ohio State three times this century (2000, 2003, 2011). For someone like me, who grew up in the '90s when the situation was different but I wasn't quite old enough to appreciate it, I haven't known much else. Even in 2011, Michigan barely eked by a bad, Luke Fickell-coached Buckeyes squad.
Les Miles was back in the house. Random numbers and whatnot. Game hype starts in earnest.