Unverified Voracity Threatens You About Jenga
Stuff for a good cause. The UM Alumni Club of DC has an annual auction to raise money for the scholarships they endow. It's going on now, and includes things like signed Jake Long and Denard Robinson NFL jerseys, tickets to various games next year, and Michigan jenga. 100% of proceeds help kids go to M. Bid on everything.
Except the jenga. I will cut you if you try to take it from me.
[Bryan Fuller]
Exit the one thing I liked. I liked the "Legends" jerseys for the most part. Having a QB wearing 98 was unique, and Michigan does not have much recognition of the guys who have had jerseys retired. While yanking numbers around annually was a bit much, I thought it was a nice reminder of those who had gone before. No more?
So, it sounds like Michigan's Legends Jerseys, a staple under Brady Hoke, are no more. pic.twitter.com/FZ5eNryUzJ

— Brent Yarina (@BTNBrentYarina) March 23, 2015
I understand that we are going to discard many Brady Hoke staples with prejudice. Incessant second and eleven: seeya. Touching your armpits after observing another sack: GTFO. Allowing 400 passing yards to Rutgers: toodleoo. But in this one case I feel we may be throwing the staple out with the staplewater.
Also heavily rumored. Michigan may be rejoining the ranks of the bestickered helmets.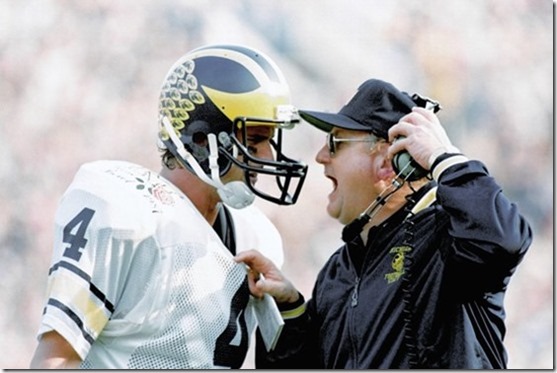 I'm in the middle here. I like throwback stuff; I like clean, simple stuff. I would prefer helmet stickers made occasional re-appearances for uniformz games, but that's not really how helmet stickers work.
Swat swat swat swat swat. If you follow me on twitter you know the existence of the UC Irvine Anteaters was killing me as they pushed Louisville to the limit in their first-round tourney outing. Irvine has a 6'8" guy… and two 6'10" guys… and a 7'2" guy… and a 7'6" guy. As someone who has pined for a rim protector ever since it became clear Michigan basketball was going to have a really good offense even if their center's game is limited to finishing around the hoop, I was having tiny little conniption fit about a tiny school that had never been to the tournament grabbing enormous people left and right.
Anyway, long story short Jon Teske is tall and alters shots:
Michigan pledge Jon Teske scored 12 points and blocked six shots in the loss, but had a much greater impact than the numbers might indicate.
Though he was credited for only six blocks, the seven-footer (Rivals.com's No. 96 junion nationally) altered at least a dozen shots near the rim with his ridiculous wingspan and was whistled for two fouls on which it appeared he had all ball.
The first two of those were against Esa Ahmad, a WVU-bound forward who Michigan recruited for a minute several months ago. Teske's currently enduring the usual crazy zone defenses that high school teams deploy when facing someone of his size, and he is a young guy who's still growing. Whatever he's going to be is still a long way off—hopefully that includes college-level rim protection duties.
If it isn't broke but could use some improvement, add gradually. Doesn't have the ring of "if it isn't broke, break it" but has the salutary benefit of applying to Michigan football instead of disruptive "sharing economy" Silicon Valley startups. And it's what DJ Durkin is doing to the defense:
"I wouldn't say we're doing 'most' of either (scheme), if there's a defense that fits a scheme and it exposes something with the offense, we'll play it," senior linebacker Joe Bolden said earlier this spring. "Some plays we'll be in 3-4, another we'll be in 4-3. Just depends on personnel, what the other team runs. The scouting reports in the fall will determine what we play. And, if we're playing a 3-4 better, why would we do a 4-3? And just the same the other way.

"I really don't think it's that hard to grasp, personally."

Michigan's defense won't be exactly the same next season, but it won't be drastically different either. More importantly for Durkin, though, the experience level is high.
And again it's what Michigan is going to try to do with that alignment that matters.
Neither option is good here. Funchess revealed that he had a boo-boo last year:
Devin Funchess tore ligaments, crack bone in a toe in the ND game. Took a shot in the toe before Utah. Re-injured it. Never got better

— Nick Baumgardner (@nickbaumgardner) March 21, 2015
So either that happened when he was inexplicably playing in garbage time or had already happened by the time he was inexplicably playing in garbage time.
I mean, come on. I'd like to see the NCAA burn as much as the next guy but this is laying it on a little thick:
Khari Harding transferred from Auburn to Tulsa to be closer to his ailing father and maximize his dad's chances to watch him play live next fall.

Under a new NCAA amendment ratified this week, the latter apparently won't be possible. The NCAA eliminated immediate eligibility hardship waivers for Football Bowl Subdivision transfers.

The rule change is effective immediately, so it doesn't matter that Harding — whose father Corie is battling cancer for a second time — has been taking classes at Tulsa for two months before the amendment was ratified.
Surely the ability to go to school for free in immediate proximity to your dad so you can see him all the time is the important thing here, not the fact that your football career is going to be delayed by a year. You could argue that the redshirt is actually a benefit.
Andy Staples disagrees with the above paragraph and proposes one weird trick for transfer rules that would handle cases like this by devolving the responsibility to people a bit less bureaucratic. In bullets:
1. Schools may not prevent athletes from transferring to another school and receiving financial aid.
2. The player must sit out the following season. (With only one possible exception.)
3. The athletic director at the previous school signs a form allowing the transferring player to play immediately. 
I'd be fine with that. The NCAA couldn't do anything to prevent conference rules from kicking in further restrictions (IIRC the SEC does not allow grad transfers between its institutions; the Big Ten has some restrictions that may or may not apply to Jake Rudock), so if you are concerned about the dread specter of Smotrycz proliferation don't be.
Big Puppy, NBA edition. Just a matter of time before he has his own t-shirts and line of dog food and possibly several different breeds of dog all competing to be renamed McGary:
3. Mitch McGary Running

It's like the Kramer painting: You can't look away.

Look at all that churning effort, the weirdly stiff arms and hands, the eager glance backward that says, "Please pass me the ball, I'm open, I'm running really fast, so fast, like the wind, am I going to get the ball?" He's like a dog looking for a Frisbee.

Jokes aside, big men who run the floor suck in defenders and open up shots for teammates. Good on the rookie for playing out the ball.
Yes, he's a purebred McGary. He generates possessions and feels at an elite level.
NO I WILL NEVER GET OVER IT STOP ASKING. Why has Al Borges never recruited a quarterback who could be considered successful*? Well, it may have something to do with his long-time association with Steve Clarkson, who seems to have fobbed off all his lower-level prospects on mister gullible. This Steve Clarkson as portrayed in Bruce Feldman's "The QB" and reviewed by Spencer Hall:
3. Dilfer's just one of the QB whisperers profiled, a group of guys who all come across with drastically different results. George Whitfield, the man on ESPN chasing guys around with a broom, comes off as half-cracked, but still seemingly legit. The guy who pronounced Tim Tebow's throwing motion to be fixed after three months or so of work, Tom House, might be the biggest beneficiary here: a flaky ex-pitcher with piles of data, a messy office to match, and a stellar roster of clients who quietly swear by him. In contrast, Steve Clarkson, the man who brought Jimmy Clausen to the world, comes off as a money-hoovering huckster prone to announcing any client as "the next [STAR QB GOES HERE]" if given enough cash. Feldman doesn't even have to try, really. You just write down Clarkson's quotes and they do their own work.
Clausen was actually pretty good, if not at all deserving of his hype level. The other guys…
*["successful" is here short for "was the clear starter for his team as an upperclassman."
I only kind of hate Wisconsin basketball. I apologize to that one guy whose entire question to me was a statement about said hatred, but Wisconsin is so fascinated by the NCAA stenographer that Nigel Hayes is answering questions like this:
I didn't know you had to capitalize xylophone. But that's why I'm not a stenographer.
Anyway, I still hate that they get away with the Wisconsin Chest Bump all the dang time but I have always coveted their bigs and I find them relatively tolerable when Michigan is not playing them. This has been a difficult confession. Share yours in the comments!
Etc.: Yes, please. Stopping taxpayer money from being spent on stadiums should be a bipartisan thing right? Jim Boeheim is just kind of this dude who doesn't like NCAA rules. Gasaway on the SCORING CRISIS. Relevant to our current situation: the rise of the vagabond QB. Congrats to Carol Hutchins on her 1400th win, a 20-0(!) bombing of OSU.
When I weep on national television I only get scorn.