I'm A Bitter Man, I Know, But Listen Honey You're No Fun
12/28/2013 – Michigan 14, Kansas State 31 – 7-6, 3-5 Big Ten, season mercifully over
we are desperate lonely and underpaid [Adam Glanzman]
If you were disinterested in a December bowl game that kicked off at 10:15 PM, don't feel bad about it. You are far from alone. Frank Clark:
"I think a lot of guys lost the will to play as a family. That's one thing you can't do in football. In football, you've got to stick in there and stay together as a family.
"It was our mindset from the jump, we weren't totally into it I would say. We didn't come out with a lot of energy."
For their part, the coaches didn't bother to go into the hurry-up down 18 points with 8 minutes left. As far as unconvincing attempts to look interested go, the fan is on level footing with the rest of the program.
The coaches did go up-tempo once it was 31-6, mysteriously. You've already given up. No one is going to feel better about losing by three scores to a 7-5 Big 12 team instead of four. I guess you have to send the message that You Never Give Up despite having already given up. That's the kind of program this is. We Never Give Up (we gave up).
That's as indicative of the current state of the Michigan football program as anything. Fail to live up to expectations, try to make it look good with meaningless hand-waving after things are decided. Michigan is just six… eight… sixteen… okay, thirty-five plays away from a really good season, you know, and Lloyd Carr's seniors are about to ride to the rescue.
--------------------------------------
I guess it's good that Michigan conceded from the drop that they could not run the ball whatsoever, because they were right about that. Eight tailback carries on the night, and three of those were option pitches. Michigan did not repeat their mistakes from the Penn State game.
Unfortunately, while they've learned what they cannot do they have not learned to do anything. Kansas State gave up 301 rushing yards to Oklahoma on the second to last weekend of the regular season; Michigan stared that front seven down and said "no thanks, we like end-arounds."
The most frustrating thing about this season is that any hint of progress is quickly stomped out. Michigan has a human run game against Northwestern, then gets obliterated by Iowa; they are once again human against Ohio State, then correctly assume they are helpless against Kansas State.
Meanwhile, the defense is so incompetent against a modern packaged offense that Kansas State essentially ends the game by the second quarter. Michigan had zero answers for a play that Rich Rodriguez pioneered at this very university. Here we are, talking a big game about how This Is Michigan and playing football like it's 1989, the last time This Is Michigan actually meant This Is A Consistently Elite Football Program.
Bo hovers over the program with speeches about the team the team the team, but his penchant for running quarterbacks and option football and running the damn ball has been discarded in favor of notions about a "pro style" offense that reflects the modern-day NFL in no way whatsoever. Chip Kelly's taking a team that was 4-12 last year to the playoffs with Nick Foles as his quarterback. QED.
At the beginning of the year I wondered aloud if Michigan was going to end up on the wrong side of history here, what with their failed attempt to move to the spread traumatizing them so much that they'd mutter something about Denard Robinson holding the offense back from its true form, which is apparently lots and lots of end arounds with two tackles next to each other. And sacks. Michigan's base play this year was a tackle for loss. This was our innovation.
I like the thing where the quarterback pulls up to throw late better.
------------------------------------
It'll get better. I mean, you'd think so. I know that's what everyone said about the offensive line this year. But we've detailed the various ways in which the previous coaching staff decimated this roster on both lines and the fact that Hoke has collected and retained a lot of guys who will be maturing over the next couple years. Michigan won't be ripping the redshirt off an offensive lineman midseason again.
But at some point I realized that the only thing that resembled what football used to be—fun—came when Dennis Norfleet grabbed the ball on kick returns and once when he took an end-around. He juked a guy and got nine yards and I felt a little flutter. Then the grim trudge resumed.
Maybe the reason I hold onto Denard so hard is because he's about 90% of the fun that Michigan football has provided since Bo died. As this season descended into a lifeless backwards march, I kept thinking about my uncle's exclamation during the 2008 Fandom Endurance III Northwestern game: "We do this for fun!" We did even then. There was a perverse joy in our abject stupidity. Five years on, all the diamonds have been sifted from that ash. We do this out of momentum now.
Awards
Brady Hoke Epic Double Point Of The Week. Obviously no one on the defense can acquire this, as the defense was completely disassembled. The offense… barely scraped over 200 yards thanks to a Shane Morris QB draw that went for 40. Jesus. Uh.
Well, Jeremy Gallon did break the single-season receiving record and is a cool dude, so Jeremy Gallon.
Honorable mention: Shane Morris?
Epic Double Point Standings.
3.0: Jeremy Gallon (ND, Indiana, K-State)
2.0: Devin Gardner(ND, OSU)
1.0: Desmond Morgan(UConn), Devin Funchess(Minnesota), Frank Clark(PSU), Matt Wile (Nebraska), James Ross (Northwestern)
0.5: Cam Gordon (CMU), Brennen Beyer (CMU)
Brady Hoke Epic Double Fist-Pump Of The Week. Nope.
Epic Double Fist-Pumps Past.
8/31/2013: Dymonte Thomas introduces himself by blocking a punt.
9/7/2013: Jeremy Gallon spins through four Notre Dame defenders for a 61-yard touchdown.
9/14/2013: Michigan does not lose to Akron. Thanks, Thomas Gordon.
9/21/2013: Desmond Morgan's leaping one-handed spear INT saves Michigan's bacon against UConn.
10/5/2013: Fitzgerald Toussaint runs for ten yards, gets touchdown rather easily.
10/12/2013: Devin Funchess shoots up the middle of the field to catch a 40 yard touchdown, staking Michigan to a ten-point lead they wouldn't relinquish. (Right?)
10/19/2013: Thomas Gordon picks off an Indiana pass to end the Hoosiers' last drive that could have taken the lead.
11/2/2013: Clock expires.
11/9/2013: Nebraska muffs a punt through no action of Michigan's.
11/16/2013: Michigan executes a clock-running last-second field goal to get the game to OT.
11/23/2013: 404 file not found
11/30/2013: Michigan forces a Hyde fumble to get back in the game.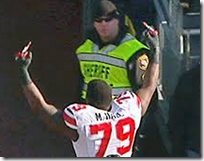 MARCUS HALL EPIC DOUBLE BIRD OF THE WEEK. Michigan, down 31-12 with two minutes or so left, runs a two-point conversion that features Jeremy Gallon taking an end around and throwing the ball to a wide open dude for the score.
First of all, you gave up already. Screw you and your two point conversion. Second, every Ohio State fan on twitter instantly said something along the lines of "oh wow that totally would have worked against us." I don't think it's possible to be more disgusted with a successful two point conversion.
[AFTER THE JUMP: stuff.]
Offense
Glanzman
Welp. There's not much you can do when your QB is a freshman who is liable to put the ball in a defender's chest twice consecutively when you finally do have to open things up far, far too late and your tailbacks rush eight times for 16 yards. Borges did the things he could do, implementing a screen and edge-rush attack that saw Michigan mount actual drives on their first two possessions.
Unfortunately, you can only run constraints for so long before they start getting obliterated, and once the scripted fancy new stuff was over so was the offense. The game was over once Michigan could not punch the ball in on either of their first two possessions and then punted once; down 21-6 without a prayer of a non-gimmicky offense, it was over. Gameplan took Michigan their first 120 yards, and then they had no more. On an individual game level, you can't expect much more from your offensive coordinator.
That Michigan went into this bowl game utterly convinced they could not run the ball conventionally against a not particularly good run defense is a huge failing that you can spread out to at least three different people: Rodriguez, Funk, and Borges. Rodriguez for the roster, Funk for being the position coach, and Borges for treating this rag-tag assemblage of walk-ons and freshmen like they're the Denver Broncos and expecting they could handle every run concept ever expressed by man as they were being bounced around like gas molecules.
Statistical complaint #341. It's inane that those touch passes forward that are essentially handoffs get filed as passes. Jeremy Gallon's probably happy that is the case since without those he probably does not pass Braylon Edwards for the single-season receiving record; everybody else should be shaking their fist at the NCAA scorer in the sky in a futile attempt to get stats that make sense. Scorers should be able to judge whether a play is a run or pass and credit accordingly.
One step forward, one step back. Michigan's approach to this game was mentioned above, but to reiterate: despite being forced to start a freshman quarterback Michigan assumed they were totally incapable of moving the ball on the ground. And they were.
I have no idea how this line improves enough next year for Michigan to be able to do anything after losing both tackles, who are going to be on NFL rosters next year. They can be better, but like the radioactive situation Rodriguez walked into the reclamation project here is a two-year job. (Yes, thanks in large part to Rodriguez.) Next year's line has no seniors and one junior.
God willing, Michigan goes into spring practice focused on getting this unit competent at one base running play instead of three and does not try a blizzard of different combinations during the season. That might be enough to make their running game bad. Anything more is in the realm of the fantastical.
Morris eval. Could have been worse. Hosing hoser hoses, which mitigates some freshman issues since he can rifle the ball late and not get punished because the thing gets there so fast. Has accuracy issues caused by firing every ball a hundred miles an hour and predictably put two balls in K-State defenders' chests late when Michigan was forced to try to go downfield; overall an encouraging debut. Morris's wheels are a surprising asset, as well. He is not Gardner; neither is he Navarre. He could be a Connor Shaw type QB who takes the occasional carry to mess with defenses. (Hypothetically.)
QB controversy? No. The training wheels were obvious and once taken off the punishment was immediate. Given what we've heard about practice he has Gardner's INT issues except worse, and as long as both guys improve at the same rate Gardner will still be well ahead.
Defense
Glanzman
That was a total disaster. The season as a whole was a macrocosm of the defense in each game: pretty good for most of it, gives up one WTF touchdown midway through (Indiana), and then collapses in a heap at the end. Kansas State has an underrated offense but even so, this drive chart…
75 yard TD
60 yard TD
59 yard TD
59 yard FG miss
33 yard drive ending in fumble one play after Tyler Lockett dropped a touchdown
60 yard FG drive
39 yards, punt
7 yard TD drive
EOG
…is a total and comprehensive failure. Michigan did not force a punt until there were 7 minutes left in the game and things were over. This follows a game in which Michigan gave up 393 rushing yards to OSU.
Now instead of having one solid unit that can expect to take another step forward as they age, Michigan has question marks everywhere. Mattison's reputation as salvager and hero took enormous hits over these last two games. Hooray.
Exposed. Tyler Lockett is an incredible player who was checked by essentially nobody this year; it seems like KSU decided they were going with Waters late mostly because he takes best advantage of a guy who is probably the best WR in the country. Any ideas that Blake Countess is in that league as a defensive back are now bleeding out in the gutter after Lockett ghosted in and out of Michigan's defensive backfield all night, knives at the ready.
While Raymon Taylor struggled equally, Taylor had been targeted all year and we had some grasp of how good he was already: decent, but not Lockett good. Countess had largely been avoided and made a lot of interceptions when not avoided; this was a comedown in hype and expectation level on par with that Mattison suffered.
Spread and shred. The most brutal event of the night was K-State busting a fullback up the seam for 40 yards on a version of QB Oh Noes that put Desmond Morgan in a bind: defend the QB draw or cover the fullback. With Waters not a huge threat on the ground, the answer was "cover the fullback fergodsakes"; either way the Wildcats were about to get a good chunk of yards. Morgan acted like it was a run and Kansas State was on their way to their third touchdown.
In the aftermath…
Snyder hit them with that QB run/pass option sweep. That play is no joke. Irony is first team I saw do it was Michigan with Denard under RR

— Smart Football (@smartfootball) December 29, 2013
…that was my exact thought, too. K-State just looked hard to defend in ways that Michigan is not. A lot of people were griping about Michigan's decision not to double Lockett, but when you're going up against a defense that uses the QB's legs in a way that demands attention you find yourself with limited options unless you can win certain one on one battles. Michigan could not, and as in the Ohio State game once that was the case it was over. There is no hiding weak spots against these spread to run attacks, and against Tyler Lockett every member of the secondary is a weak spot.
About that line. Dominated again. Zero pass rush and after some nice stops on the first drive, K-State had a quality day on the ground. Michigan spent much of the day stunting defensive ends into double teams, and those ended up with Clark and Ojemudia and Beyer on their back as dudes darted by.
I will never understand the insane deployment of Quinton Washington this year; we're now deep into Announce Everyone Was Injured All Year time and there hasn't been a peep about Washington, who was a quality starter all last year and spent most of this one on the bench. Without him and Pipkins, this outfit was just too light to hope to hold up. Other than Willie Henry, who is a freshman who needs some technique work badly, the rest of the line is Black, Beyer, and Clark: defensive ends all.
Things should get better next year, at least, with great piles of returning players and Pipkins hopefully coming back from his ACL tear. Much rests on him. I mean, much rests on him for a team that projects to finish third in their division.
Here
* Spielman said something about how he asked Mattison who his best defender was this year, and the first thing out of Mattison's mouth was "Frank Clark." Against Ohio State, Frank Clark had one tackle. Against Kansas State, Frank Clark had one tackle. When your best defender is averaging 1 tackle per game in his last two, something is wrong.
* As Ace pointed out, our two leading rushers were our QB and Tight End. Our running backs should be made to watch how K-State's little Hubert ran. I get it that the offensive line generated zero push, but eventually someone has to break a tackle or make someone miss. Our 4 RBs combined for 8 carries and 13 yards. Our offense was slightly better in not giving up so many TFLs, but that's because we rarely had the ball. K-State had 5 TFLs for a total of 13 yards lost. Hey, I'm looking for positives, no matter how small.
Worst:  The Coordinators

I'll admit to being a bigger fan of Greg Mattison than Al Borges, so up front I want to make it clear that Al Borges called a pretty good first half of football and Mattison seemed absolutely lost in stopping a team whose passing offense was "throw to #16" and "throw to guy wide open in the middle of the field."  Borges has no functional running game, in part, because nobody seems able to block defenders, and so he went about trying ever-ludicrous methods to move the ball on the ground and the air without putting too much pressure on Shane Morris.  These were all plays fans have seen before, but he wove in screens, end-arounds, sweeps, and easy middle-distance throws into a coherent gameplan that let UM move the ball pretty effectively on their first couple of drives.  At the very least, he came out punching despite having one hand behind his back, and for that he deserves kudos.  And in particular during that first foray into the redzone, a PI on either of Morris's two passes to Gallon and Funchess probably would have allowed UM to score a TD and kept the game closer.  The fact the offense sputtered in the 2nd half isn't that surprising, as WR runs and delayed screens only work so often when your base offense is churning up less than a yard a carry and your WRs are being blanketed when they aren't dropping passes from your amped-up QB.  Borges has shown an ability to adapt somewhat these past couple of games, and next year it is going to need to be flexible because I have a hard time believing it will suddenly start running the ball under center for 4 ypc while airing the ball out with aplomb.

On the other side of the ball, this "bending" defense clearly broke in the first half, as KSU had no trouble moving up and down the field despite holding penalties putting them in some poor down-and-distances.  Taylor and Countess couldn't keep Lockett even remotely contained, and it seemed virtually impossible for the team to bring pressure while also maintain their assignments, leading to long conversions after acres of open field just appeared.  The defense tightened up somewhat in the 2nd half, but this defense needs to make a massive step forward next year for this team to improve on their record, and it's now been two games in a row where the defense seems flat-footed and ill-prepared against good offenses.  That needs to change, and given the youth out there (Gedeon, Thomas, and Henry seemed to get significant run) along with some improving older players like Clark and a healthy Ryan, I expect that to happen.
bronxblue brings up the 2013 == death meme, and takes issue with it since the basketball team did make the NCAA final. I would like to point out that my particular version of 2013 == death is based on the Old Yeller premise, in which our once-loved dog contracts rabies, and is therefore 100% accurate except in this version of Old Yeller the dog is a cyborg with shotgun arms and continues blasting us long after our corpse has cooled.