Pink Michigan Helmet on EBAY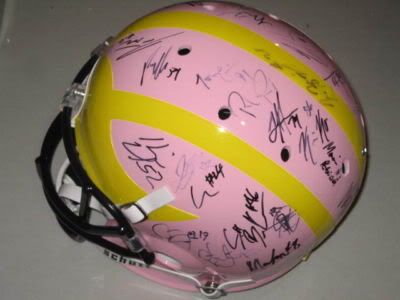 I saw this on ebay today.  Im not sure what to think. Part of me thinks its a total abomination and part of me thinks because its for charity its ok.  
I noticed only 10% of the total sale price goes to the Susan G Komen for the cure foundation.  Is this normal?   Bid starts at 749.99.
http://cgi.ebay.com/Michigan-Wolverines-10-Team-Signed-Pink-Football-Helmet_W0QQitemZ400174424752QQcategoryZ73402QQcmdZViewItemQQ_trksidZp3286.m7QQ_trkparmsZalgo%3DLVI%26itu%3DUCI%26otn%3D3%26po%3DLVI%26ps%3D63%26clkid%3D6681031470044272853#ht_17086wt_722