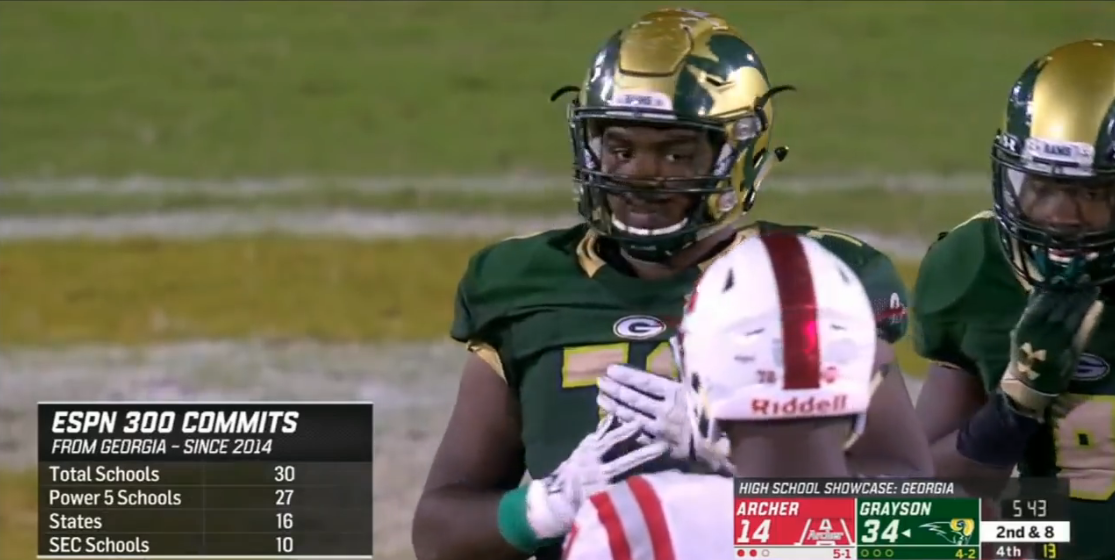 Future Blue Derivatives: Trente Jones
ESPN may have pulled back on publishing scouting reports of recruits, but with a little bit of ingenuity, some luck, and a whole lot of editing we're still able to use the Worldwide Leader's coverage to our advantage. Not in the form of scouting reports from their analysts, of course—sorry, you're stuck with me—but in their programming. The funny thing about having to fill nearly 9,000 hours of air time each year across each network is that they occasionally shelve the talking heads for a bit and broadcast actual games that are relevant to our interests.
Some of those games, such as the one scouted here, feel like what ESPN 2 should be broadcasting as often as humanly possible. Here they took advantage of a mid-October marquee matchup of schools that are top-tier nationally (Grayson was 153rd per Maxpreps, Archer 69th), both with rosters littered with DI prospects. Grayson has highly-regarded, heavily-recruited bookends on their offensive line. At left tackle is Wanya Morris, a five-star and the 13th-ranked player in the country. At right tackle is the focus of this post, Trente Jones. The most recent re-rank on 247 saw Jones shoot up more than 280 spots with no signs of stopping. He has moved up 55 spots in the composite in the last week alone, now checking in at #167. After watching him against Archer, I'm more surprised that he spent so much time ranked around #300 and less about the jump to the edge of the top 150.
[After THE JUMP: "Hm, a person who weights 100 pounds more than me moves in ways I could only hope to," says the guy with a bag of Jelly Belly next to him]
Trente Jones Every-Snap Film
[RT #74]
Scouting
It takes less than 20 seconds to see Jones' upside: he can move. At 00:19 he flies off the snap and targets the correct linebacker, turning the backer and moving him down the line; Jones' block is directly responsible for at least five of the running back's yards. He also shows some crazy athleticism (at least for a big fella) at 2:05, leaping over a fallen Archer defensive lineman to go pick off a linebacker. Jones doesn't get the linebacker squarely, but I'd still give him a plus for being able to jump while diagnosing the target.
As for Jones' athleticism, I think it's fair to extrapolate based on that part of his game and a few nice cave-ins on ends and assume he'll round out nicely in the run game, but in some ways it was difficult to gauge the level of that part of his game. He was lined up almost all game across from three-star Auburn SDE commit Colby Wooden, and though he generally fared well, he was asked to cut block often. Then there was the play at 3:45 where Jones folds inside, gets Wooden, but leaves to block the linebacker too early. That's a nitpick, really, in an otherwise strong game. Among the positive snaps is one at 1:59, where Jones gets in the way long enough to block two guys, including getting an arm into Wooden long enough to keep him from getting into the backfield. At 3:57 Wooden shoots inside and Jones shoves him just enough to give the back space to cut away. Jones stays low and throws a great drive block at 4:45 which moves Wooden a couple yards downfield, but then he falls off. Maybe he was leaning?
At 3:29 it appears that the line slides, which allows Wooden to come off the edge unblocked. Jones can't take care of that, but he does look for what he can do and ends up throwing a block on a previously-grounded lineman that springs the QB for at least 10 extra yards. One of the few times I was searching for an explanation was at 4:51, which looks like Down G. The DE feigns outside and then steps inside, rushing through the gap vacated by the guard. Jones seems caught off guard, as he doesn't shove him or anything.
That was a rarity, though. Jones was usually excellent at reading the play, whether it be adjusting to the steps of the defensive end or finding a player to block as a play broke down. Grayson runs a stretch at 2:15 and though Jones is looking for a guy to pick up on the frontside of the play, he catches a linebacker hitting the gap behind him free, turns, and gets enough of the LB to slow down the would-be backside pursuit. Another highlight comes at 2:24, where Jones' athleticism allows him to kick twice in pass pro and yet recover in time to get into the DE once he sees Wooden dive for the inside gap. One las example of what Jones does to benefit the run game outside the structure of the play comes at 4:02. Jones is step-for-step with Wooden as they shuffle down the line, but the guard ends up throwing a block that pushes Wooden back and leaves Jones with nothing to do. Jones picks up the most pressing threat out of the corner of his eye, flipping his hips and squaring with a linebacker, once again erasing any danger of the runner being brought by backside pressure.
Summary
Jones is listed at 6'6" and 282 pounds on 247, though ESPN's graphic from this game had him at 300. Either way, he's got the size to play tackle. I don't see him moving inside, as a player of this size with Jones' feel for the game and footwork is too great an asset to slide over. I think he will need to add strength to stand up to the rigors of the run game in college, but he doesn't appear to have much (if any) bad weight to shed. As such, his athleticism isn't surprising. Jones' kick step allows him to get depth quickly in pass protection. His feet are fast enough and he processes the game with such speed that he was able to drop, see a defensive end slanting inside, and recover in time to get his hands on the end. It was evident from the first few snaps that Jones is quick off the ball, and not only does he get to the second level in a hurry, but he seems to be able to target the correct linebacker the majority of the time. Good pass-protection footwork and minimal targeting issues are exceedingly rare among high school offensive linemen.
Keenly aware of his surroundings, Jones is excellent at finding someone to block when the play breaks down. On multiple occasions, he was able to find extra work and throw a block that added significant yardage to his quarterback's scramble or that snuffed out backside pursuit before it could become an issue for the runner. Jones wasn't asked to kick out the end, so that element of his run blocking is impossible to judge. Overall, Jones appears to be ahead of the developmental curve in pass protection compared to other high school tackles, and his athleticism makes him a critical piece to a power-spread rushing attack. I think the ceiling for Jones is very high, and I'd be surprised if he isn't a starter under Ed Warinner's tutelage.