2012 Opponent Preview: Purdue
For each week until the season starts, I will preview one of Michigan's opponents beginning with B1G teams. I'm saving non-conference for last when they will be much more relevant; B1G previews will have the same amount of handwaving now as they will have in August. 
Purdue
Holy crap Quarterbacks. For the past couple years Purdue failed to pray adequately to their Angry ACL-hating God, and they paid dearly for it. The PTSD from the experience was so severe that they now have eight quarterbacks on the roster.
Eight!
"Wow, we go 8 deep at quarterback. Now thats some good ACL blowout insurance."
(It's also good Snake-Oil insurance, btw)
They return Robert Marve, Rob Henry, Caleb Terbush, and Sean Robinson, the first three of whom have significant game experience. So obviously for the class of 2012 they went out and signed four quarterbacks.
Wait, wha--? How do you even do that? Did these guys not know about each other when they committed? Because that would make it really awkward on the first day of fall camp.
Bafflement aside, I was just thinking that if only they had two more QBs, per modern journalistic convention I would have to use numerals to express the number of quarterbacks on their roster. Which would be nerd-cool.
No way …
Austin Parker (http://www.purduesports.com/sports/m-footbl/mtt/parker_austin00.html)
Erich Berzinskas (http://footballrecruiting.rivals.com/content.asp?CID=1316762)

Also, Dolap McCarthy was a QB before switching to WR and 2012 commit BJ Knauf will play wide receiver at Purdue but played at quarterback this year in high school.
Eight scholarship QBs and two walk-ons. If every one of them tore an ACL, they could still fill out a two-deep with the remaining healthy knees.
Anyway, the end of the story is the Boilermakers are doing one hell of a job living up to their "Cradle of Quarterbacks" moniker. They have employed a pair of rabbits to make these guys, and they are going to make for one hell of a sextuple pass play.
The actual preview part.
1000-foot view.
First of all I need to apologize to the Purdue fans who got offended when I said last season that they played in three games after which fans stormed the field. That number is actually one -- the OT win over Ohio State -- and I guess, as Michigan fans, who are we to blame them?
This season the Boilermakers are embracing their darkhorse candidacy for the Woody Division title. It's a dark, dark horse considering where they ended up last season when their 4-4 B1G record came third to Wisconsin (6-2 B1G) and Penn State (6-2 B1G) in their division. That gap was a mile wide considering that they would have needed two more B1G wins against much stronger teams (Iowa, Michigan, Penn State, Wisconsin) just to tie.
But with Ohio State out of the running in 2012, Wisconsin rebuilding, and Penn State recovering, this might actually be Purdue's shot. They return 15 starters, good for top quartile-ish in the nation and 3rd in the B1G. More importantly, they return nearly all of their playmakers from 2011. Only two players from that team got drafted -- 5th and 6th rounders -- and both of them were offensive linemen.
Proof it happened once, at least.
Schedule?
Schedule.
Sept 1, Eastern Kentucky
Sept 8, @ Notre Dame
Sept 15, Eastern Michigan
Sept 22, BYE
Sept 29, Marshall
Oct 6, Michigan
Oct 13, Wisconsin
Oct 20, @ Ohio State
Oct 27, @ Minnesota
Nov 3, Penn State
Nov 10, @ Iowa
Nov 17, @ Illinois
Nov 24, Indiana
If Purdue doesn't get six wins out of this schedule, it wouldn't be for a lack of planning. While Marshall and -- I can't believe I'm saying this -- Eastern Michigan aren't quite the body bag games they once were, I didn't know until now that Eastern Kentucky did anything other than give high schoolers credit for correspondence courses in things like Health and US History.
Road games at Notre Dame and Ohio State seem like automatic losses. Michigan, Wisconsin, and Penn State will be home games for the Boilermakers. All three will likely be favored against them, but since those teams each have some figuring out to do between now and when they visit West Lafayette, at this point (you know, three months before the season starts) it's probable that the Boilermakers might eke one victory out of this group.
Visiting Iowa seems 51/49, advantage Purdue, since the Hawkeyes return QB James Vandenberg, C James Ferentz, and WR Keenan Davis and then about 10 guys whose names I don't even remember reading. Maybe I'm underrating the Hawkeyes, though. They do do things like "be physical" and stuff, and they're replacing offensive coordinator Ken O'Keefe with a radical young maverick who will bring Iowa's historically punt-first attack blazing into the 21st century. For those of you who don't know who Greg Davis is, I'm being facetious.
Back to Purdue, their other road games at Illinois and at Minnesota seem imminently winnable, although the Gophers ended last season on the upswing, and it's hard to tell what Illini will do with "coaching." Assuming that neither program figures it all out this season, the Boilermakers should at least be able to grind out both of these the ugly way. The B1G way. The American way.
Indiana will lose just because.
Their schedule is as favorable as: Getting dealt pocket jacks.
X's and O's
Offense
Henry, Marve, TerBush
Purdue runs the spread, so they will use lots of shotgun, zone running, quick passes, receiver screens, jet sweeps, that sort of thing. The Boilermaker offense is less predicated on a running quarterback compared with Oregon's or Rich Rod's spread, but some athleticism is asked of their signalcaller, whoever that might be out of the 10 on their roster. A guy like Dan Persa would be the perfect QB for their system.
That said, Purdue likes to run the ball with their running backs and receivers. Zone running and receiver end-arounds and jet sweeps form the basis of a ground game that averaged 4.4 yards per carry in 2011, which was on the cusp of being top third in the FBS.
The Boilermakers return top running back Ralph Bolden (674 yards, 4.6 ypc, 6 TDs) who was limited while recovering from ACL surgery last year, so if anything he should be more productive this fall as their every down back. He's not particularly big (5-9, 190 lbs) or fast, but he can juke!
Purdue's highlight reels are crowdsourced. Literally.
Can juke.
Behind him is Akeem Shavers (519 yards, 4.7 ypc, 6 TDs) who looks to be a quality backup who might end up pushing Bolden for carries. Shavers is a little bigger (5-11, 203 lbs) than Bolden, but the two seem to fit similar roles.
They'll be running behind an offensive line that probably has a little bonding to do in the offseason. As I mentioned earlier, only two Boilermaker players (LT Dennis Kelly and RG Nick Mondek) got drafted this year, but both were linemen. The other guys that are returning are reportedly learning new positions, so offensive line development will be something to keep an eye on throughout fall camp and the non-conference.
At quarterback Purdue has three guys who have had significant starting experience. Caleb TerBush (62%, 1905 yards, 13 TD, 6 INT) ended 2011 as the nominal starter with Robert Marve (56%, 633 yards, 4 TD, 5 INT) working from a backup and situational role while rehabbing his ACL. Rob Henry (2010: 53%, 996 yards, 8 TD, 7 INT) sat out for the entirety of the season because of -- what else? -- ACL stuff.
The three signalcallers are reportedly neck and neck after spring practice, but the smart money is on TerBush to take the first snap against Eastern Kentucky. Marve might have an edge in athleticism but hasn't quite had everything upstairs in order. Henry has been out for a year and wasn't that good when he was healthy.
Either way, the Boilermakers' innumerable and interchangeable QBs will be throwing to a WR corps that has some soul searching to do. Their top two guys, Antavian Edison (44 rec, 584 yards, 3 TD) and OJ Ross (33 rec, 356 yards, 3 TD), are sorting through legal and academic issues respectively, so at the moment their return is not guaranteed. That leaves Purdue with KR Raheem Mostert, who has yet to catch a pass from scrimmage.
Purdue's offense is as frightening as: Shotgun pellets fired from a paintball gun at five yards. Fear level = 3 on a scale from 1 (New Mexico) to 10 (Oregon).
*****
Defense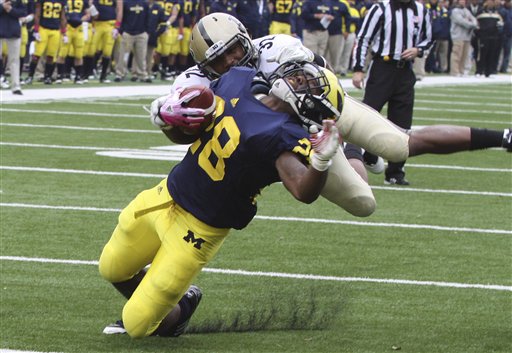 Boilermaker Tackling Fundamentals 101: Grab on to the metal thingy.
Despite not being known to excel on this side of the ball, Purdue has produced a number of talented players in recent years and look to have a few potential stars on this year's squad. The Boilermakers return most of their defensive line and secondary. Things may get dicey for them if none of their inexperienced new linebackers step up by September, but mediocrity at that position would still make for a unit that could end up in the top half of the B1G.
Purdue played a base 4-3 defense last year and didn't do anything too funky with it. How quaint, I know. This year they have a new defensive coordinator in Tim Tibesar who spent the last three seasons in the Canadian Football League, who has reportedly tried implementing a 3-4 in closed practice.
… GERG, is that you?
Yes, that is a stupid idea. 
As far as the defensive line goes, 1st team All-B1G DT Kawann Short (54 tackles, 17.5 TFL, 7 sacks) passed up the NFL draft to play his senior season in West Lafayette and anchor the line. If all goes well he could hear his name during the first round in 2013. Around him are two solid returnees in DT Bruce Gaston (29 tackles, 6.5 TFL, 3 sacks) and DE Ryan Russell (32 tackles, 4.5 TFL, 1 sack). This defensive line should end up being excellent by most standards, particularly in the middle. Why the Boilermakers would want to take any of these guys off the field in favor of a linebacker is beyond me. 
The secondary will be one of the better ones in the B1G, too. 2nd team All-B1G CB Ricardo Allen (79 tackles, 3 TFL, 4 PBU, 3 INT) is a proven commodity, and he'll benefit from playing another year opposite CB Josh Johnson (63 tackles, 3.5 TFL, 9 PBU, 2 INT), who is also an active B1G corner. Despite losing WHODAT safety, they return WHODAT safety and seem to have a good nickel corner in WHODAT, who had a strong spring game.
So the linebackers … Nobody really knows anything about their linebackers, but five bucks says opposing teams will combo block and option the crap out of this group.
The Tibesar fellow thinks he should have four of them on the field, though.
Their defense is as frightening as: An accordian -- with a nice, soft crumple zone in the middle. Fear level = 7 on a scale from 1 (GERG ) to 10 (Alabama) if they stick with the base 4-3; 4 if they switch to a 3-4.
*****
Special Teams
They lose Punter/Kicker Carson Wiggs (19/25) to graduation. He was their best kicker in school history. They will have to replace him.
Raheem Mostert will probably continue to return kicks and stuff.
That's pretty much it.
Predictions
Their record will be: 7-5, 4-4 B1G (see above)
When they play Michigan: It could be close if Michigan still can't figure out how to get their act together on the road, but Michigan's ground game will eventually overwhelm their linebackers, and Purdue simply won't have enough playmakers on offense to keep up.
Their chance of winning the B1G is as good as: Raising their bet on pocket jacks. Indiana folds; Ohio State gets caught playing with jokers; everyone else calls. An ace and two kings appear on the flop … Michigan State goes all in.