The Luckiest Teams of 2009 (updated with Michigan 2008)
Was Michigan lucky or unlucky last year? Who were the luckiest teams in the Big 10 last year? What teams were the unluckiest nationally?
To try and answer these questions, I took my team PPG values for the full 2009 season and then "re-played" the regular season schedule to see how the season would play out if the teams played at that consistent level and the fluky plays were eliminated.  All first half plays and any in the second half with the game within 2 touchdowns were included.  Interceptions are included, fumbles are not.  Standard special teams plays are included, punt blocks, on-sides kicks etc. are not.
The results were based on the actual schedule (excluding conference championship games or Bowls) and home-field advantage was worth about 3 points per game, based on the actual results. 
So what did I find…
Michigan 2009
Michigan was a fairly unlucky team last year.  Based on how their play was over the course of the season, on an average year, they would have won 6.3 games (most likely 6 with an outside shot at 7).  Michigan's results were about 1.3 wins below the expectation based on their schedule and their average performance over the full year. 
On average, they should have won about 5.1 of their 8 home games.  In reality, they won 5 of 8.  Notre Dame was a game with a 40% win likelihood based on the full season for both teams.  Indiana was a 73% chance.  The pickup from those two games was offset by failing to pick up victories over long shots Penn St (34%) or Ohio State (13%) but mostly due to failing to defeat Purdue which Michigan should have won about 58% of the time.
Michigan was only favored to win one (Illinois, 56%) of its four road games and on average, would have won 1.2.  Michigan failed to pick up any of the wins, falling to Michigan St (29%), Iowa (13%) and Wisconsin (22%).
For the season as a whole, Michigan went 1-2 in relative toss-up games.  They didn't lose any games they should clearly won but didn't win any they clearly shouldn't have.  Michigan was the 20th most unlucky team in the nation last year.
Michigan 2008
Very similar to 2009 in terms of luckiness of the results.  Michigan finished the year a game and a half unlucky.  This team was still not a good team by any stretch, but thanks largely to fumbled punts and 100 yard interception returns, the record indicated a season even worse than it should have been.
The biggest chunk of the unluckiness came against Toledo, where an 81% win probability turned into one ugly loss.  Beyond Toledo, Michigan went 2-3 in toss-up (40-60% win odds) games (Wisconsin, Minnesota, Illinois, Michigan St, NW) and 0-2 in longer shot games against ND and Purdue.
Before two data points become an indictment on coaching, the scatter plot of 2008 vs 2009 in terms of "luckiness" does not show any correlation between the two.  That doesn't mean that Rich Rodriquez couldn't be unlucky or that Pat Fitzgerald should be out buying lottery tickets, but it isn't saying that with any certainty.  Two points may make a line, but not much of a trend. 
It is interesting, however, that the Big 10 as a whole exhibited a lot more consistency of luck in 2008-09 than the rest of the nation.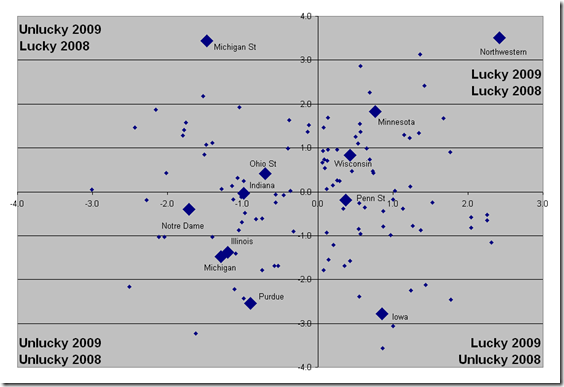 The Big Ten
The luckiest team in the nation resided in the Big 10 this year. 
| | |
| --- | --- |
| Team | Luck Variance |
| Northwestern | 2.4 |
| Iowa | 0.9 |
| Minnesota | 0.8 |
| Wisconsin | 0.4 |
| Penn State | 0.4 |
| Ohio State | -0.7 |
| Purdue | -0.9 |
| Indiana | -1.0 |
| Illinois | -1.2 |
| Michigan | -1.3 |
| Michigan State | -1.5 |
| Notre Dame | -1.7 |
Northwestern did not perform like a team that would win 8 games against their schedule.  In fact, it was a stretch for them to be bowl eligible.  Iowa and Minnesota both came in with about an extra game with Ohio St, Purdue, Indiana and Illinois all managed a game or so of underachievement.  Michigan St and Notre Dame proved to be the unluckiest teams in the greater Big 10.
The Nation
Top 10 Lucky Teams in 2009
| | |
| --- | --- |
| Team | Luck Variance |
| Northwestern | 2.4 |
| Bowling Green | 2.3 |
| Wyoming | 2.3 |
| Rutgers | 2.1 |
| California | 2.0 |
| UCF | 2.0 |
| Ohio | 1.8 |
| UNLV | 1.8 |
| Georgia Tech | 1.7 |
| Oklahoma State | 1.5 |
Bottom 10 Unlucky Teams in 2009
| | |
| --- | --- |
| Team | Luck Variance |
| Oklahoma | -3.0 |
| Western Kentucky | -2.5 |
| North Texas | -2.5 |
| Louisiana Tech | -2.4 |
| Ball State | -2.2 |
| Arizona State | -2.1 |
| Tulsa | -2.0 |
| Maryland | -2.0 |
| Colorado | -1.8 |
| Colorado State | -1.8 |
Oklahoma's season turned out to be unlucky in more ways than one.  Despite getting only a handful of snaps from returning Heisman Trophy winner Sam Bradford and losing one of the top tight ends in the country before the season, Oklahoma managed to have the breaks go against them in win column as well.  Throughout the season, the Sooners played like a 10 win team, but only managed 7.  This is what happens when you have four of your five losses by a total of 12 points and your average margin of victory in your six FBS wins is over 31 points.
Beyond
I think there is a lot of true "luck" that can come into play in these numbers.  I do think that with a more substantive history, this will also be a good measure of one of the strengths of coaching.  A team/coach that consistently shows overwins, or overlosses, throughout the course of several years would be a good testament to the classic "little things" that is often luck but possibly true for a select group.  As I get more years in my database, I plan on returning to this topic and seeing how various coaches stack up on this metric over time.