Haven't seen much info about The Opening so far outside of a little Alex Malzone love. Thought I'd share the SPARQ top-10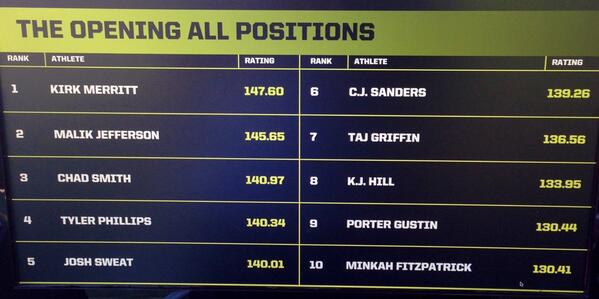 The SPARQ test, developed by Nike, accounts for a player's weight (to normalize results), 40-yard dash time, 5-10-5 test, kneeling powerball toss, and vertical jump. SPARQ shows how quick athletes are for their size and speed, and it also measures explosiveness, power and agility. For reference, a score above 130 puts an athlete in an incredibly elite group:
Some info on Josh Sweat - an amazing athlete!
The second overall prospect in the nation, defensive end recruit Josh Sweat ran a 4.46-second forty-yard dash at The Opening — all 6'4, 230 pounds of him. That's an incredible time for a player his size, and it was enough to put him in the top five at the camp.
Looking forward to all the scores to see where Malzone and Kirkland end up...and would love to hear more about their recruiting efforts!