New MGoBlogger 707Oxford began his first MGoPost with an inquiry about the Twin City socks made famous in John U. Bacon's Three and Out :
     But before the players do any of those things, they stand in line at the equipment managers' window to get the gear they deem most important. It's not the $257 helmets or $330 shoulder pads or even the $150 jerseys.
     Nope. It's the $4 socks. But not just any socks. Twin City socks—the thickest you can find.
     Center David Molk, at the front of the line, handed me a pair. They are so dense, you could wear them as slippers around the home—or fill them with water.
     "Best part of being a Michigan football player," Molk said, holding up a pair, "is these socks." Every one of his ­teammates—and I mean every one—agreed with that assessment.
     At dinner Molk approached linebacker Jonas Mouton, who was enjoying a huge helping of pretty much everything.
     Molk asked Mouton if he knew where his Twin City socks had gone.
     "I don't know, man," Mouton replied, taking a bite out of his drumstick and chewing very slowly. "Go see Big Jon." Falk, that is, the equipment manager.
     "It's dinner," Molk said. "He's not here."
     "Go see him tomorrow," Mouton said, picking up a roll.
     "I want them now."
     "Guess you'll just have to wait, then."
     After Molk turned and walked to the back of the buffet, ticked off, Mouton leaned forward and said, "I'm wearin' 'em." 
Well, they are some great socks as a number of MGoBloggers -- not to mention David Molk -- have attested.  But the M socks also have a great history.
2011 was a historically weird year in the history of Michigan football uniforms.  Our host and MGoProprietor Brian observed that it called into question the very notion of "uniform":
...a steady procession of dumb ideas, some of which are not quite as awful as the others.  
Someone might have thought to offer the purely technical argument that, like, at least all of our own guys were "uniform" even though they away uniforms changed virtually every time out.  But even that's a lie; on that beautiful indian summer night in Evanston, our guys were wearing two or three different uniform jerseys when some of them figured out that the Wildcats were slowing us down by grabbing handfuls of white adidas Tech-Fit.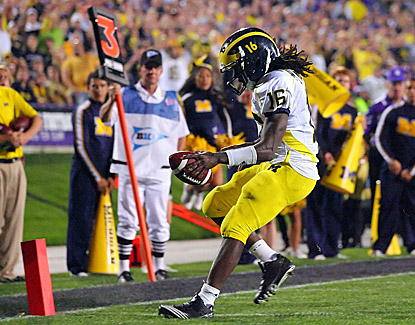 But back to socks; Denard showed off his Twin City Block M's against Northwestern:
There's history with those socks.  Meet Mr. Harmon; sometime punter:
And there's John Gabler, running hard against Duffy Daugherty's Spartan defense in 1967:
This bunch of Michigan guys up against a bunch of Ohio guys in 1968:
And this group of Michigan Men in the NCAA championship game in 1965:
You get the idea.  Of all of the dubious uniform concepts exhibited by Michigan in the last year, the socks were a universally good one.  I'd like to see Moe's offer the M socks by TCK, but it is going to be tricky; it is frankly wierd that we got away with wearing non-adidas gear in any of our games and I suspect that we won't get away with it too much in the future.  Not in Dallas, it appears.