Reading the Tea Leaves, 2012 Midseason Edition
Before the season began, I read some tea leaves, and came up with the following, Star Wars-themed probabilities for how we'd do in the regular season:
1. The Empire Strikes Back (12-0; p = .01)
2. A New Hope (11-1; p = .19)
3. Return of the Jedi (10-2; p = .29)
4. Revenge of the Sith (9-3; p = .31)
5. Attack of the Clones (8-4; p = .19)
6. The Phantom Menace (7-5; p = .01)
Though they were always a bit unlikely, Episodes V and IV are sadly now off the table. As a result, I have to redistribute the probabilities, as I did last year at midseason. Unlike last year, though, I have to redistribute down, rather than up. But hope is not lost! The Big 10 kinda sucks this year, or more accurately is very mediocre. That means all of our upcoming opponents, aside from Ohio, range from worse-than-expected (Sparty, Nebraska) to better-than-expected-given-that-not-much-was-expected (Northwestern, Iowa) all the way to better-than-expected-given-that-basically-nothing-was-expected (Minnesota).  Hardly a murderer's row.
Consequently, there's only one game where I figure we're more likely to lose than win, and four others we "could" lose but shouldn't. If I make that into a simple algorithm, where a "near-lock" (Minnesota) gets 1.00, a "should win" gets 0.67 (Sparty, Nebraska, Northwestern, Iowa) and a "can win" (Ohio) gets 0.33, we get this:
(1.00 + 4(.67) + 0.33) = 4.01
Translated, that predicts a 4-2 record over our last 6 games, and an 8-4 record overall. It's easy to see how this would happen: a loss away at Ohio plus one more unforeseen loss, such as a fifth straight against Sparty, another road stinker at Nebraska or a "looked-past" Iowa or Northwestern. Incidentally, this is exactly the same number of wins the Mathlete predicts. I'm moderately more bullish than that, though, and think we'll do better. Here's why:
1. Our defense is not the same one that took the field during the first two weeks
2. Our offense seems to have returned to late-2011 form
3. One of our losses, to a consensus top-10 team, happened because of a turnover and penalty fest that's unlikely to be replicated.
4. Our other loss was to consensus number 1 Alabama, and we don't play anyone even remotely that good again in the regular season.
5. Of our 5 remaining "losable" games, 3 are at home, and 1 of the others is against Nebraska, who didn't match up well against us last year, and don't seem all that different this time around.
To put it another way, I still think a 5+ loss season is unlikely, and relatively less likely than a 3 or even 2 loss season. Unfortunately, given our penchant for an occasional offensive identity crisis, that 4-loss scenario is hard to argue against. So without further ado, I present to you the revised predictions, Indiana Jones-themed this time:
The Scenarios
1. Raiders of the Lost Ark
Scenario: We kick Nazi ass. We search for—and find—ancient relics. We close our eyes as the blinding light of truth and justice melts the egos and arrogance of our enemies.
Record: 10-2. We run the table. We win the Big 10 Championship. We play in the Rose Bowl. We are possibly good enough to beat whomever we play in the Rose Bowl. We finish the season with our heads held high. Denard goes out like the hero he is.
Probability: (p = .20).  Not likely but not outside the realm of possibility either. Is Ohio really that good? Color me skeptical. That defense had a rough go of it against Indiana, and a pretty rough go of it against Nebraska too. The offense can score points, but hey…so can we! Unfortunately the game's away, and we haven't won in Columbus since 2000. Still, I wouldn't exactly be shocked if we did win. And there isn't a single other team on our schedule that scares me. The worry there is more about numbers.
2. The Last Crusade
Scenario: We reunite with our Dad, who did this a lot in the olden days.  It's tough realizing we are our father's sons, but in the end we realize it's just who we are, and the old man has a lot he can teach us. But we'll never stop trying to be better than he was. Never.
Record: 9-3. We kick a lot of ass, but stumble somewhere along the way, probably but not necessarily at Ohio. Depending on who we lose to, and how other teams do in conference play, it's still probably good enough to go to the Big 10 Championship Game, which we would probably win. That means Rose Bowl, though in this scenario we'd go in with a lower ranking and lower probability of winning it.
Probability: (p = .30). I've got a gut feeling this is it. Even though the Big 10 is deeply mediocre this year, it's also deep with peskiness. Iowa and Northwestern, for example. A fired up Sparty has that potential too, though
3. The Temple of Doom
Scenario: We end up in a chaotic place where evil ones eat monkey brains and pull the hearts out of still-living captives. We make it out alive.
Record: 8-4. Racist stereotyping aside, this was an okay film. Rephrased, we could say an 8-4 season is "adequate but problematic." That's a good way to describe a scenario in which we lose 2 of the 5 losable games (probably at Ohio plus one we-should-have-taken-them loss), but still get to a decent bowl game.  Maybe this year it's even good enough to get to the conference championship, and a clear path to the Rose Bowl (where we'd get to play any one of the several Pac-12 teams that are currently ranked higher than we are). It would also be a disappointing, but not too disappointing, end to the whole spread-option experiment..
Probability: (p = .40). This is what the math and the Mathlete think is going to happen. It's probably the most rational prediction at this point, given our high-ish ceiling in a mediocre conference, but also our occasional, sometimes-inexplicable regression to the mean. If you are a betting man/woman, and like to make your bets cautiously, put your money here.
4. Kingdom of the Crystal Skull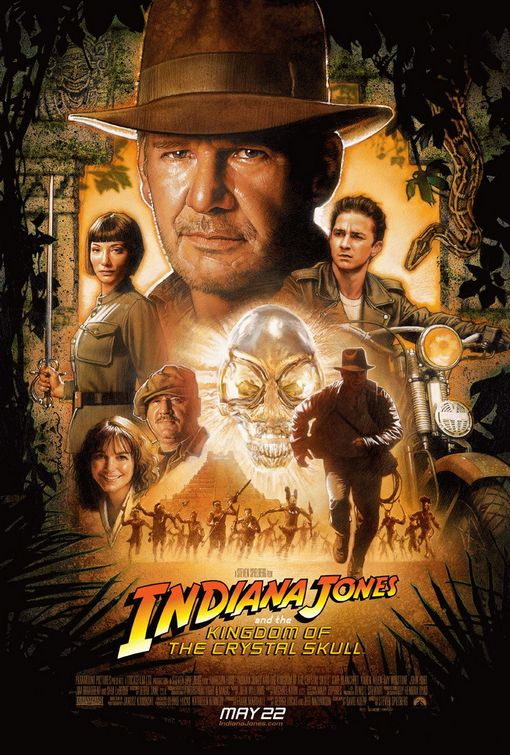 Scenario: FAIL.
Record: 7-5 or worse.  We lose 3 or more of the 5 losable games—keeping in mind that 3 of those 5 teams are not very good. Ergo, we are not very good.
Probability: (p = .10). While I probably won't be as angry with 5 losses as I was when I saw this "film," I might be if we go 6-6. I don't really see that happening, but it's more realistic than it seemed at pre-season. I just don't see it unless we have some catastrophic injuries or a hurricane parks over the state of Michigan for the next 45 days.
Gee, That's A Weird Distribution
Yes it is. I struggled with the way it skews, but in the end feel it's justified. Why? Because the only game on our schedule I see us potentially losing even with a clean game, healthy roster, normal conditions and appropriate offensive gameplan is the showdown with Ohio.* The others would all necessitate disastrous penalties, a major injury, another trash tornado and/or another game in which Al Borges and Denard inexplicably come to believe that Denard is Brett Favre the Gunslinger only to find he's the wrong kind of Brett Favre the Gunslinger.  Thankfully those moments of delusion seem to only happen on the road—and sometimes, like Notre Dame 2011, he really does look a bit like the good Brett Favre.
Simply put, my instinct says we go 9-3 but the rational part of my brain says 8-4. The semi-rational fan in me says 10-2. The amygdala, where fear impulses come from, says 7-5 or worse, but we don't listen to it and neither should you.
*That isn't to say we will lose to Ohio, or that it will happen this way, just that I can picture it in a sort of last-year-but-opposite kind of way.