Opponent Recap: Minnesota
Previously: Western Michigan, Notre Dame, Eastern Michigan, San Diego State
[Note: I plan to do these twice a week from now on so that we (I) can have closure with the 2011 season by sometime in February. Apologies if you find this content dated, but since there are people still writing papers about dinosaurs, I feel somewhat timely, relatively speaking.]
Minnesota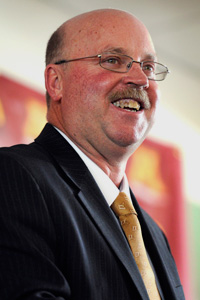 Schedule:
@ No. 25 USC, 17-19 (L)
New Mexico State, 21-28 (L)
Miami (NTM), 29-23 (W)
North Dakota State, 24-37 (L)
@ No. 19 Michigan, 0-58 (L)
@ Purdue, 17-45 (L)
No. 13 Nebraska, 14-41 (L)
Iowa, 22-21 (W)
@ No. 17 Michigan State, 24-31 (L)
No. 18 Wisconsin, 13-42 (L)
@ Northwestern, 13-28 (L)
Illinois, 27-7 (W)
Record: 3-9 overall, 2-6 B1G, 6th place Bo Division
Stats:
 
Offense
Defense
Rush:
160.0 ypg, 56th
186.4 ypg, 91st
Pass:
150.3 ypg, 109th
216.7 ypg, 49th
Total:
310.3 ypg, 110th
403.1 ypg, 77th
Scoring:
18.4 ppg, 111th
31.7 ppg, 94th
T/O margin:
-8, 100th
Recap: There was a time not too long ago when Michigan fans could look at a team with a new coach that had finished a season with a 3-9 record and say, "I have no idea know what that's like, but that must be terrible."
Now that we know exactly what that's like -- and yeah, it's pretty terrible -- let's take a closer look at how coach Jerry Kill and his Minnesota squad ended the season 3-9 and weep together as repressed memories begin to surface.
(more after the jump)
The Gophers started their schedule with a road game against USC where they came within a couple fourth-down conversions of beating the Trojans. QB Marqueis Gray started the game but had to leave due to leg cramps; QB Max Shortell played admirably in relief, scoring Minnesota's lone pass TD and almost leading his team to a comeback victory on the last drive.
Despite the loss, the fact that the Gophers played USC so close kinda/sorta put the rest of the Big Ten on upset alert. "Crap," said Iowa. "There's another Northwestern in the conference."
With a soft non-conference schedule between them and the Michigan game, it seemed the Wolverines would have the ill fortune of being the first Big Ten team to test that hypothesis.
But games are played out for a reason. In a shocking turn of events, Minnesota fell to New Mexico State the very next week, losing Gray (again) to cramps and their head coach to seizures. They hobbled through the next two games, barely beating Miami (NTM) and then losing to FCS North Dakota State.
By the time the Gophers arrived in Ann Arbor they were down their starting quarterback and any semblance of morale. On offense they made it into Michigan territory what, like, once? And then fumbled? Defensively, well … 58 points later Minnesota shut down its football program, and that was the end of that.
... Just kidding. They didn't shut down the football program, but clearly the program had a lot of soul searching to do. Two more conference losses to Purdue and Nebraska later, the Athletic Department granted Kill a seven-year contract extension.
Soul: found.
Good move by them. It's like telling college students the day before the final paper is due that they get another week to work on it. It's highly recommended if you're the type of professor that cares more about reading higher quality papers than the fact that they were done on time.
The next weekend the Gophers beat Iowa. The weekend after that they nearly didn't lose to Michigan State. While they got trounced by Wisconsin and couldn't quite handle Northwestern, they ended the season on a high note by drubbing Illinois 27-7 and kicking the chair out from beneath Ron Zook.
Which is great for Minnesota. Regardless of the overall record, they can take the momentum from winning their last game against a pretty talented (albeit floundering) team into the offseason and look forward to next season.
So what does this mean for their future? The Gophers will suffer from a talent gap for some time before their reputation is repaired and Kill can get higher-rated recruits on campus. In the meantime they'll have to resort to the "milk the crap out of your two-/three-star talent" strategy a la the Iowas and Northwesterns of the world. But that won't be easy next season. Everyone who was anyone on their defense was a senior in 2011. On offense, Gray has another year of eligibility, but it's unlikely he's going to turn into Chandler Harnish especially with how awful their O-line play is.
After that, who knows? Kill and his coordinators haven't had the luxury of establishing offensive or defensive personalities at Minnesota yet, so we'll evaluate in another season or two. 
Ultimately, I'm going to handwavingly predict that they'll have to weather a couple 5-7 seasons before they notch their first winning record sometime around 2014.
Best win: Iowa.
Worst loss: New Mexico State. The Michigan loss was numerically worse and possibly more humiliating, but this was the one that really derailed the first half of their season, especially with what happened with Kill's health.
When Michigan played them they were as frightening as: A person choking on a grape. Fear level = 2.
Now we know they're as frightening as: The grape. (If you're Iowa or Illinois, it's a 7.)
What the win meant for Michigan: Michigan pitched its first shutout since 2007, Al Borges whipped out the Fritz formation, and Vincent Smith completed a TD pass. At the time it wasn't so much evidence for the Wolverines being legitimately good than it was evidence for Minnesota being legitimately bad. It was comforting to know at least that Michigan would no longer be the "game that got their season back on track" for struggling opposing teams as it has been for the last several years.
And it totally felt as awesome as: Making s'mores over the flames as someone's house burns down.
I don't have any photos from the Minnesota game, so here's a photo from practice. At least Stonum got to wear the No. 1 jersey before he went out.