Opponent Recap: Notre Dame
Notre Dame
via The Shredder
Schedule:
South Florida, 23-20 (L)
@ Michigan, 35-31 (L)
No. 15 Michigan State, 31-13 (W)
@ Pittsburgh, 15-12 (W)
@ Purdue, 38-10 (W)
Air Force, 59-33 (W)
USC, 31-17 (L)
Navy, 56-14 (W)
@ Wake Forest, 24-17 (W)
Maryland, 45-21 (W)
Boston College, 16-14 (W)
@ No. 6 Stanford, 28-14 (L)
Overall: 8-4
Rankings/Standings: Unranked; borderline Top 25 team receiving a couple votes in each poll.
 
Offense
Defense
Scoring:
30.5 ppg, 44th
20.9 ppg, 28th
Total:
424.1 ypg, 34th
348.8 ypg, 34th
Rush:
166.0 ypg, 51st
147.1 ypg, 58th
Pass:
258.1 ypg, 33rd
201.7 ypg, 34th
T/O margin:
-13 (+13, -26), 115th
Season recap [wsg ed-S taking a metaphor way further]: Year two of the Brian Kelly regime was rough sailing. It wasn't that they lost four games; it was that they lost four games in creative and terrible ways.
The Irish entered the season ranked 16th in the nation only to drop their first two games in television-shattering fashion. This mass destruction of TV sets explains why nobody now remembers their 31-13 thrashing of Michigan State. Those old CRTs had to go anyway though, and this meant the few Notre Dame fans who hadn't checked themselves into some sort of facility for the psychologically damaged and turnover-prone got to watch Tommy Rees and co. beat up some mediocre teams (and a couple more turnover meltdowns to rivals USC and Stanford) in crystal high-def.
There were some close, ugly wins here and there, but the story of the 2011 Irish was dominance split and bookended by wanton TV carnage.
Notre Dame's biggest problem was with turnovers, and if you really want to point fingers (you do) you'd be epic-Hoke-double-pointing at the Irish quarterbacks. QB Tommy Rees and backup Dayne Crist combined for 19 TDs and 13 INTs plus a handful of fumbles that put Kelly on the fast track to vascular dementia. But then yea in the last half of the last game there came in sophomore Andrew Hendrix to lead an almost-comeback v. Stanford and rekindle hope for the future. Hope might have been 11-24 for 192 yards, 1TD and 1 INT but it does come in a golden dome.
That 20/14 TD/INT ratio is not so good if you're a passing spread offense. To compare, Tony Pike and Zach Collaros combined for 39 TDs and just 8 INTs during Kelly's last year at Cincinnati.
Coaching clearly contributed. Despite being equipped with two explosive running backs and a powerful offensive line, Kelly relied too much on his turnover-prone quarterbacks to make plays.

Stephen Dunn / Getty Images
This led to him turning purple when they did something stupid, which was often.
The playcalling cost them the game against USC and contributed to a couple other losses. Against the Trojans, RB Cierre Wood and RB Jonas Gray combined for 43 yards on a paltry 9 carries. It's only fitting that the game-breaking play was a fumbled snap as Crist dropped back to pass on third-and-goal from the one.

via The Chicago Tribune
That said, the Irish were approximately two plays away from a 10-2 season and a possible BCS bowl.
They looked like a BCS bowl-contending team on paper. The Notre Dame offense came well stocked with skill players who should have been able to make up for the signalcallers' weaknesses given the right coaching and game planning. The defense was filled with talent too, and despite some horrific breakdowns here and there they shoulda woulda have posted better stats had the offense not been coughing up the ball every other series. Their front seven demolished Michigan State's run game, and we all remember what they did to Michigan's offense for most of Under The Lights.
The defensive unit as a whole also held Matt Barkley and Andrew luck to mediocre performances, and it was the defense that allowed the Irish to survive the ugly games against Pittsburgh and Boston College to prevent the team from going 6-6.
In sum, the Irish had enough talent on both sides of the ball to stack up to the best teams in the country, but turnovers and embarrassing collapses during big games condemned them to a disappointing season.
Best win: No. 15 Michigan State
Worst loss: All of them.
When Michigan played them, we thought they were as frightening as: A seven year old with an M80 because they were as prone to hurting themselves as they were to hurting other people. Fear level = 6.
But now we know they are as frightening as: A 13 year old with an M80 -- about the same as before but now with a recently discovered, poorly developed taste in fashion. 6.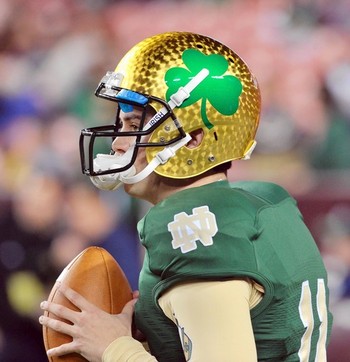 Ew! Gross!
What this win meant for Michigan: Every flaw born of the coaching transition got exposed in this game: ineffectiveness from the I-formation, no intermediate passing game, Denard's interception-fest, NFL blitzes without NFL-calibre players, and the clear lack of a number one running back despite the promise shown a week earlier. All the warts were well lit and on full display, yet somehow Michigan still managed to win.
That's not to say the Wolverines didn't do anything right and don't deserve credit for the win as much as Notre Dame deserves credit for the loss. The game did also provide the first glimpses of the defense's third-and-short domination, the emergence of Jeremy Gallon as a reliable weapon as a return man and receiver, the rise of the "jump-ball" offense (a.k.a. say what you want about Denard's passing, but all your defensive backs are belong to Michigan's receivers), the inaugural supereffective throwback screen, and abundant reaffirmation that Denard still has It.
Over the course of the season the Wolverines would work out most of the bad things while retaining most of the good things. Sounds simplistic, but if that isn't QED for the superior level of coaching at Michigan, I don't know what is.
The biggest disappointment about the win over the Irish is the Irish. Notre Dame losing their first and last games meant that the Wolverines beat a tough team that was ranked neither at the time nor at the end of the season. It doesn't really matter now because Michigan made a BCS bowl anyway, but having the second-best beaten opponent be more competitive down the stretch wouldn't have hurt.
And it totally felt as awesome as: Watching this video over and over and over.
"But he's a poor thrower!"
Bowl game: Champs Sports Bowl vs. Florida State, Dec. 29 at 4:30 p.m. EST