Somewhat Informed Hockey Bits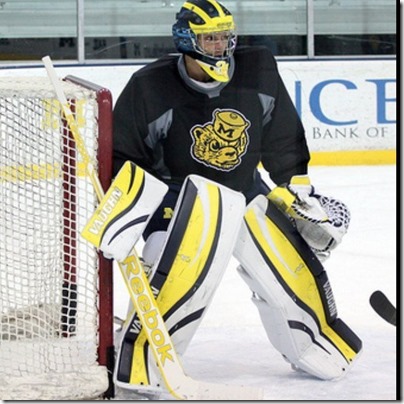 Nagelvoort rides to the rescue
Due to some recording snafus I ended up catching only the final two periods of Friday's game and the third period Saturday, along with the overtimes. Also, the feed FCS picked up looked like an internet stream and it was really hard to figure out who anyone other than Kevin Lohan was even though the announcers tried their damndest to keep us informed. (Seriously, they were great.) I didn't actually see any goals until the Motte winner on Saturday, though I saw replays of some of them. Not enough to write a column, but here are various bullets:
That was probably a good UNH team. The Wildcats were 20-12-7 last year, 13-8-6 in Hockey East, reaching the second round of the NCAA tournament. They lost a couple of their better forwards but returned the vast bulk of their scoring—10 of their top 12—and both goalies. They opened with a solid win over Clarkson in the Icebreaker and then lost 3-2 to Minnesota. By the end of the year that's going to be another quality scalp for Pairwise purposes. Michigan's done a lot of work in just two weeks here.
So far so good for Nagelvoort. Man, when Racine went down with what was obviously a groin issue that I'd be lasts a month or maybe longer (he's definitely out this weekend, and not practicing), dark thoughts flitted through my head. Nagelvoort comes out, my former goalie buddy remarks on how enormous his pads are, and he proceeds to shut UNH out through a rampant third period in which they outshoot Michigan 14-2, with one of those stops an impressive recovery on a penalty shot.
The next night he holds UNH to two goals through an entire game and overtime. Four games in Michigan's save percentage is .937 as a team and Nagelvoort is at .949. Massive sample size disclaimers are of course warranted. It's still the best possible start you could have hoped for minus the Racine injury. Hopefully it keeps up.
Power play: extant. Michigan's 6 of their first 16, a 38% strike rate, and that feels like a sustainable thing since Michigan's been going up against good teams and has been setting up in the zone for extended periods of time. The puck movement is night and day from last year, when their single idea was "get the puck to Trouba." It's too early for me to tell you much else—I get my mind around hockey things slowly.
Recovery. Michigan scrambled their lines for the first time this year after they got pinned in their zone for disturbingly long stretches of the third period on Friday night. They ended up getting outshot nearly 2 to 1 and that was a fair reflection of the play on the ice, if aided by buckets of penalties—UNH had eight power plays. The next night the script flipped and Michigan was better in the last 25 minutes.
Buddies. Michigan's line scramble affected almost everyone but did leave two forward pairs joined: Copp/DeBlois and Motte/Compher.  I expect those pairings are untouchable with the success the former has had since its formation at midseason last year—Copp also leads the team in points with 6—and the success the latter's had since their NTDP days. Motte and Compher have already connected on a number of plays that show great understanding of each other and seem like they're more than the sum of their parts when they're on the ice together.
The defense is about what we expected. Bennett is far more aggressive with his puck rushes, Clare's slow speed of thought on the ice gets Michigan trapped in their own zone too often, and Serville continues to make scary mistakes. The freshmen have been a pleasant surprise, especially Lohan, who I figured would mostly ride the bench but has been in the way of a lot of scoring plays. Judgments here are still extremely tentative—ask me again after the upcoming four-game homestand.
Michigan's going to need to get some more playmaking from these guys. Successful passes to set up rushes have been lacking. Four games in the defensemen have four points between them, all of them assists, three of them Clare's.
Nieves stands out. Nieves had the proverbial jump over the weekend; on Friday his line was the primary one generating chances in the final two periods. The shuffle put him with Guptill and Hyman and while they didn't score the line got Guptill seven shots. That is a good guy to get shots; Nieves seems to be emerging. Di Giuseppe, too, seems to be more active this year.