Mailbag: Not Having Timeouts, Foul Trouble Subs, Donde Ondre, Borges (Not That Borges)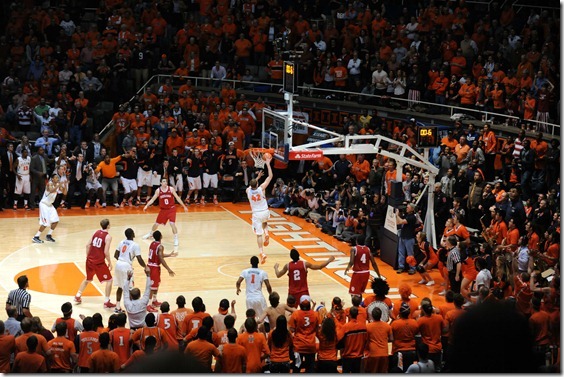 this did not happen after a timeout
Timeout issues?
Please address/discuss....

Beilein's time out management. In light of almost blowing it at the end of MSU, he did the same thing on Sunday and it cost us. The first one in the second half,, the trey on the floor one, and the the THJ in bounds at the end (even though he jumped the gun a few sec early) were all legitimate but the other was a total waste and should have been banked.

Also, do you think having a t.o at the end, w 10 sec left, would have really mattered? or is the quality of the look Trey and Jordan had high enough to negate whatever impact the t.o would have had?

Thanks,
DB [ed: not that DB]
Not having timeouts at the end of a couple of close games doesn't move my coaching-issue needle. UMHoops just posted some data on baseline out of bounds and sideline out of bounds plays; Michigan is tops in the league at those two combined at 0.95 points a possession. They score 0.96 in their generic half court sets—there is no difference. After a timeout they score 0.93, and given the rarity of timeouts relative to other possessions that's probably just sample size.
Having a timeout for the last possession would have given Michigan a sideline OOB throw in with six or seven seconds left, at which point Trey would have probably done the exact same thing he did without one. The defense would have been at least as set, and possibly better prepared to challenge. Michigan got a meh look for Burke that came paired with a high chance of a Kobe assist since Zeller abandoned Morgan. It's hard to criticize that outcome anecdotally, and if the numbers show any trend it's towards timeouts being slightly advantageous to the defense.
You mention that Michigan's lack of timeouts nearly cost them against State when Michigan was stuck inbounding to 44% FT shooter Mitch McGary. That's true, but it cut the other way in that one when Tom Izzo called timeout on MSU's last possession. That turned a transition opportunity into a set defense and set up a Trey Burke steal when a prepped Michigan team denied a screen for Harris and trapped him on the perimeter.
Basketball coaches call timeouts to give themselves the illusion of agency late. It's their equivalent of pushing the "close door" button on an elevator that doesn't have it hooked up.
Foul issues?
Another emailer had a similar complaint about the timeouts, which I omitted. Here is a second potential issue:
Why put in McGary at the 8 minute mark? I thought this was a huge mistake
when it happened and it ended up allowing Zeller a couple of easy inside
buckets for fear of foul trouble. At this point Morgan still had 2 to give
and I felt he should have been the one on the court with 8 minutes to go.
Then, Indiana subs Zeller out at 5 mins and Morgan goes in.

Personally, I feel like this should have gone the other way. Zeller has an uncanny ability to have things go his way in a basketball game so I don't think sending someone with 4 fouls onto the court against him with 8 minutes left was the best move.

Thanks for your time. Go Blue!

-Dean
I've always been a play 'em zealot since in some sense fouls you don't use are wasted resources. If McGary has four fouls and his mean time to fouling out is six minutes, you might as well throw him in there at eight minutes if you think he can help.
The thing that destroys those assumptions is the fact that basketball players like staying on the floor and once they get in foul trouble it affects their game negatively. Did that happen with McGary? Not to my mind. McGary stuck his chest in for a charge, got Zeller to turn it over once more, and did fairly well against a guy who was pretty rampant against Morgan, too. The PBP shows this Zeller/McGary related stuff starting at eight minutes:
Zeller turnover
McGary missed layup
Zeller layup
McGary OREB
McGary missed layup
McGary OREB (of own miss)
McGary layup
Zeller missed jumper
…and then Morgan is back in. Except insofar as everyone on the floor was hurting Michigan by not acquiring offensive rebounds, it doesn't look like McGary's entry at 8 minutes was detrimental.
Generally I'm in favor of playing guys. The worst thing that happens is they foul out, and by putting them on the bench for huge stretches of the game you're kind of fouling them out yourself. Now, in McGary's case the frequency he was racking up whistles demanded he hit the bench. When it's Burke or Stauskas or whoever, benching them drives me nuts.
Pipkins disposition
11/27/2012:
Any chance that Michigan starts Pipkins and Washington in a similar way that they used Washington and Campbell this year?

-Daniel
Today, after I posted on that possibility yesterday:
Just sayin... haha

-Daniel
FINE DANIEL HERE WE GO
I've been skeptical that Pipkins will start at the three tech* for a couple reasons. One is that Pipkins was pretty far away from being a quality option last year and he would have to make a major leap to go from meh backup to starter quality in an offseason. It is possible; if I had to bet I'd guess he ends up behind someone else, and at that point you may as well have him back up the nose.
The second is that defensive tackles rotate so extensively that the second nose is going to get up to 40% of the snaps if he's good. Pipkins is the only non-freshman available to back Washington up unless you think Richard Ash is going to surge to playing time. At this point, that's unlikely, so moving Pipkins away from the nose damages your depth chart at that spot more than it helps at a fairly well-stocked three-tech.
If Pipkins does play the three that's probably good since it means Ash or Willie Henry is pretty good and/or you can't keep Ondre off the field. It just seems unlikely either of those things is true just yet. Wait until 2014.
*[I assume Washington, having established himself a quality Big Ten NT, will stay there; Hoke certainly made it seem like he was a given. ]
The Borges difference
Howdy Brian -

Man, when it comes to gutshots, Michigan's b-ball games against Wisconsin and IU have got to be in the top 5.  A missed lay-up here, a missed free throw (or five) here and we're talking smack on a grand scale to our midwestern friends.  Ah well.  Beer.

Anyway, I randomly came across this today:

http://en.wikipedia.org/wiki/The_Garden_of_Forking_Paths

[ed: The Garden of Forking Paths is a Jorge Luis Borges short story inside several other short stories that… well…

Borges conceives of "a labyrinth that folds back upon itself in infinite regression", asking the reader to "become aware of all the possible choices we might make."…  You "create, in this way, diverse futures, diverse times which themselves also proliferate and fork".

Borges (not that Borges) was a weird guy, brilliant guy.]

I challenge you to work that into a blog post, what with the author clearly being a long lost distant relative of Big Al Borges.  Or maybe make Lorne do it.  Call it initiation or something. :)

Hope all is well.  Go blue!

-Kevin
Oh man. I would if I could but Borges (not that Borges) was a genius and any imitation would be terribly pale. It is exactly right though, and I wish I had thought of it when trying to talk about the infinite opportunities for brooding that basketball provides when it goes awry. Fork not that many paths this year and Michigan is your outright Big Ten champs. Makes you appreciate last year all the more, as that team was well below the other two co-champs in efficiency margin and still managed to pull it off.
Can I tell you about my unfinished screenplay that's an adaptation of the Library of Babel in which two Rosencrantz-and-Guildenstern-type figures wander the library in search of the book that tells them how to get out of the library? I'm titling it "Michigan State Rose Bowl." This concludes today's Jorge Luis Borges joke festival.