Hokepoints: The Marlin-Brian Q&A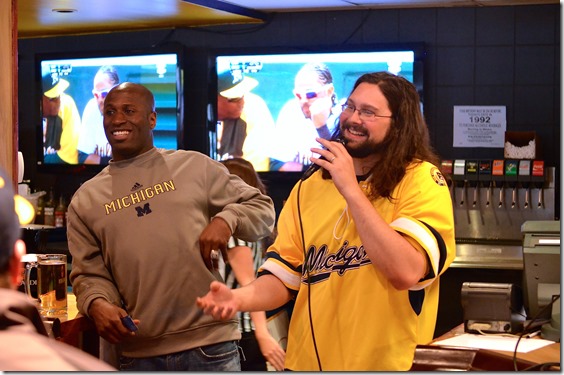 photoshoppers, start your GNUs
So we did the meet and greet Q&A thing, and other than the liveblog portion being pretty much a disaster, A+++ would do again. I couldn't type fast enough to keep up with all the good info in the Q&A so below I've written up those answers plus some we answered after the fact via email.
We're tentatively talking another one the Friday night before the Notre Dame game, so calendar that. If you're coming in from out of town, Jared of Sports Power Weekends, who sponsored this whole thing, mentioned he's putting together a trip for that weekend that includes tickets for the game and a private tour of the Big House before we do drinks and ALL THE SHANE MORRIS.
Some things went way better than expected and other things not so much. Didn't go well: We had no way to plug our mic into the speaker system, fortunately remembering just in time that bartenders have friends with guitar amplifiers. The other thing that could have gone better is we forgot to warn Brian that Jehu Chesson was in the audience before your favorite blogger launched into his heuristic reasoning as to why Amara Darboh would be more effective this year because Chesson is still a waif.
New heuristic: Chesson sitting = Heiko standing minus an inch.
Did go well: lots of luminaries showed up. Players current and former included Chesson, Countess, Donovan Warren, and John Duerr. An incomplete list of bloggers: Bryan Mac (aka BiSB), MGoPhotographers Eric Upchurch and Bryan Fuller, Burgeoning Wolverine Star, Lloyd Brady, M-Wolverine, Craig Ross, and LSAClassof2000. Epic shirts: Heiko's bubble screen smile, and a Branch-Morelli sweatshirt.
In things that surpassed all expectations, let me being with actual nicest guy in the universe Marlin Jackson himself. Walking out of the game to his car took about 25 minutes because he signed every hat, helmet, t-shirt or whatever thing put before him. We talked NBA decisions, how the Jake Butt TD was on Jarrod Wilson's as-yet-unadvanced field awareness, and that the biggest difference with this staff is they "teach football."
After being introduced by Brian as "the man who still has Reggie Williams in his back pocket," to kick off the Q&A Marlin talked about his Fight for Life Foundation. He was candid about his youth: Jackson grew up in the projects with a mother addicted to drugs and a father he never met. As you can imagine this isn't the best way to learn things like accountability, the value of an education, or even your own value and that of others. Marlin learned these things through Michigan; it's the goal of his foundation to give similarly underprivileged kids the opportunities he received because of his athletic talents.
Fight for Life runs three programs: Field of Dreams (link) is an in-school and after school program that basically helps get the kids back up to speed with their classmates. Seal the Deal (hyperlink) is a series of leagues and football camps for youth through high school with an educational/character-building component. R.A.P. (reach out and access your peers – url) is an SEL* program that gets kids to open up through, e.g. a discussion of their future aspirations or by presenting a paper on their favorite song lyrics. They need to raise about $200k per year to fund these programs.
* Social and Emotional Learning, the spread offense of education. Full context is linked above but you may cognate as learning that's the opposite of 'Another Brick in the Wall.'
We then talked about things like that one year the Colts paired Manning with a real defense, which receivers were the hardest to cover, and his impressions on the young defensive players at Michigan today. That after the jump. But first here's three generations of next-Woodsons:
Fuller has a nicer version on the Flickr collection but this one I took on Countess's phone is superior for capturing our new official Robot Ace Anbender headshot.
[jump]