Hokepoints: The Marlin-Brian Q&A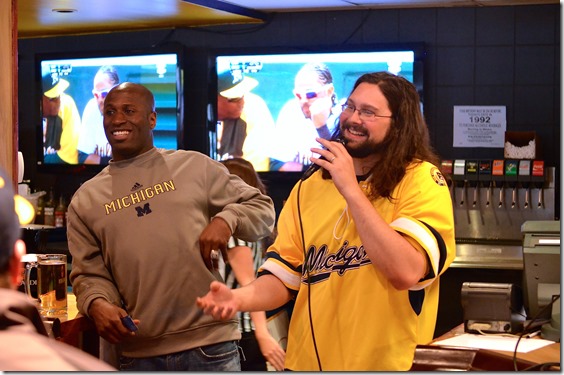 photoshoppers, start your GNUs
So we did the meet and greet Q&A thing, and other than the liveblog portion being pretty much a disaster, A+++ would do again. I couldn't type fast enough to keep up with all the good info in the Q&A so below I've written up those answers plus some we answered after the fact via email.
We're tentatively talking another one the Friday night before the Notre Dame game, so calendar that. If you're coming in from out of town, Jared of Sports Power Weekends, who sponsored this whole thing, mentioned he's putting together a trip for that weekend that includes tickets for the game and a private tour of the Big House before we do drinks and ALL THE SHANE MORRIS.
Some things went way better than expected and other things not so much. Didn't go well: We had no way to plug our mic into the speaker system, fortunately remembering just in time that bartenders have friends with guitar amplifiers. The other thing that could have gone better is we forgot to warn Brian that Jehu Chesson was in the audience before your favorite blogger launched into his heuristic reasoning as to why Amara Darboh would be more effective this year because Chesson is still a waif.
New heuristic: Chesson sitting = Heiko standing minus an inch.
Did go well: lots of luminaries showed up. Players current and former included Chesson, Countess, Donovan Warren, and John Duerr. An incomplete list of bloggers: Bryan Mac (aka BiSB), MGoPhotographers Eric Upchurch and Bryan Fuller, Burgeoning Wolverine Star, Lloyd Brady, M-Wolverine, Craig Ross, and LSAClassof2000. Epic shirts: Heiko's bubble screen smile, and a Branch-Morelli sweatshirt.
In things that surpassed all expectations, let me being with actual nicest guy in the universe Marlin Jackson himself. Walking out of the game to his car took about 25 minutes because he signed every hat, helmet, t-shirt or whatever thing put before him. We talked NBA decisions, how the Jake Butt TD was on Jarrod Wilson's as-yet-unadvanced field awareness, and that the biggest difference with this staff is they "teach football."
After being introduced by Brian as "the man who still has Reggie Williams in his back pocket," to kick off the Q&A Marlin talked about his Fight for Life Foundation. He was candid about his youth: Jackson grew up in the projects with a mother addicted to drugs and a father he never met. As you can imagine this isn't the best way to learn things like accountability, the value of an education, or even your own value and that of others. Marlin learned these things through Michigan; it's the goal of his foundation to give similarly underprivileged kids the opportunities he received because of his athletic talents.
Fight for Life runs three programs: Field of Dreams (link) is an in-school and after school program that basically helps get the kids back up to speed with their classmates. Seal the Deal (hyperlink) is a series of leagues and football camps for youth through high school with an educational/character-building component. R.A.P. (reach out and access your peers – url) is an SEL* program that gets kids to open up through, e.g. a discussion of their future aspirations or by presenting a paper on their favorite song lyrics. They need to raise about $200k per year to fund these programs.
* Social and Emotional Learning, the spread offense of education. Full context is linked above but you may cognate as learning that's the opposite of 'Another Brick in the Wall.'
We then talked about things like that one year the Colts paired Manning with a real defense, which receivers were the hardest to cover, and his impressions on the young defensive players at Michigan today. That after the jump. But first here's three generations of next-Woodsons:
Fuller has a nicer version on the Flickr collection but this one I took on Countess's phone is superior for capturing our new official Robot Ace Anbender headshot.
[jump]
Note: This will be heavily paraphrased since it's been mostly reconstructed from memory. Also apologies--I don't remember who asked what questions because I was facing away from the crowd and typing furiously.
So what do you think of bubble screens (Heiko)?
[groans]
How good was the Colts defensive backfield with Jackson and a healthy Bob Sanders?
Marlin: "That was the best defensive backfield I've ever been part of. Everybody was really aggressive, a lot of hard hitters. Everyone really played for each other, and you could really go and make plays."
Who was the most challenging receiver you ever went up against? (crowd)
Marlin: "I get this quite often. At Michigan we had some great receivers—Braylon, Avant, Breaston—all those are NFL guys. Braylon and I competed hard and I'd say pretty even. By my junior year we weren't allowed to go up against each other because we'd end up fighting. We had some great players on that team.
"In a game, Santonio Holmes in college. He had a lot of moves he could kill you with, and he mastered all those techniques and routes. In the NFL, Andre Johnson, hands down. Just look at these metrics: guy is 6-4, 230 lbs., and runs a 4.3 You just don't want that coming at you. We had some great receivers in practice too. Reggie Wayne and me we had a Braylon thing; [Marvin] Harrison too but Wayne and I had a really good competition.
How well do you think the big question marks played during the game today? I'm thinking specifically at SAM linebacker… (jamsohnson)
Brian: "Ah the Cam Gordon question. I think we saw what we wanted to see. He had some trouble on the pass rush when going against Lewan and Schofield but that is only human. When they put the backups in I thought he showed he could get some pressure. What I really liked is he seemed to do well at that thing the SAM has to do that's really hard which is to come up and set the edge without giving up a lane inside of you. There was that one play he did that and Norfleet tried him on the outside and Gordon just shot after him for a loss. So in terms of problem spots on this team I don't think he's going to be one. I think he's clearly ahead of Beyer but that's to be expected because Beyer just moved back.
Marlin: "I remember when he played safety he didn't have the aggression and didn't play with any confidence. He can hit, but that's not going to help you unless you're going aggressive and making those plays. He has come a long way. Like Brian said you have to set that edge and cover ground. I thought he had a little trouble then did well."
(photo: Bryan Fuller)
How did you choose to come to Michigan? (crowd)
Marlin: "Well you know I committed first to Penn State before I even ever visited. I hadn't come to Michigan yet. I took a spring visit and everything was unbelievable; I told my coach "I gotta go back there!" Back then the position coach was Teryl Austin, who was from Sharon and he knew my high school coach, so they were always talking, although my coach was a Penn State guy.
The more I got up here, the more I got the feeling I'd been here for years. I met everybody and that was the thing: I loved the people, the coaches, the other players, the staff. It came down to Michigan, Ohio State and Penn State, but Michigan was really where I wanted to go because I loved everybody up here and felt I was already a part of it.
Talk about the best game you ever played? (crowd)
[To our young readers: six PBUs against Reggie Williams and No. 10 Washington]
Brian: "Oh yes, let's talk about that."
Marlin [smiling]: "Ahh that game."
Brian: "Did you think Brabbs was going to hit that kick?"
Marlin: "Oooh. I thought what you all thought, let's say that. But man you gotta love Phil. He's a great guy and that was a rough game for him and he just NAILED it."
[Sighs] that game. I was really prepared. They were a Top 10 team and Reggie Williams the previous year just abused Todd Howard. We were both freshman All-Americans and he was a bit of a talker as well, always chirping and I generally don't like guys who are chirpin'—just play the game—and it was the first game of the year so I was just really prepared. I knew all his moves, knew what routes they liked to run with him and I probably knew his timing with his quarterback as well as he did. And that was great because I really learned that's the kind of preparation you need to be a player—you have to do that every day in the NFL.
We got Phil that second shot and he made it."
At this point somebody points out Blake Countess is at a table over yonder with his family.
What do you think of Blake Countess, and what advice would you have for him? (crowd)
Marlin: "Well first I just want to say I know you're gonna be a great player. When you went and made that interception last spring I was like "there it is!" So advice? Don't ever let it go to your head. You have to stay driven to be the best you can be because the minute you think you can let off the
gas you fall back. Stay hungry.
"Stay humble. Once you do well on the field it's Blake this and Blake that and Blake's a big star. You have to block that out and remember the players you're going against aren't afraid of you and they're gonna be putting in the time to make you look like a fool.
"Study. Study the game. The game is about to get a lot deeper and if you're fortunate enough to go to the NFL the game gets MUCH deeper. Knowing splits, knowing alignments, knowing your position on the field, knowing down and distance, knowing formations, personnel. Studying the game is how you make plays. You look at the best backs out there—Charles Woodson and Ed Reed—they have an idea what's coming and can anticipate, and that's why they look so fast. You only get that by studying, so when the game comes to you you're already moving and communicating, not having to think about what you're seeing.
"Make plays. This is how you make yourself stand out and earn your spot. My freshman year there were some returning starters and established guys who'd been around since '98 but I made some plays [ed-S: /wriggles in happy memories of #20 making that first interception] and that made me stick out. You made that interception a year ago in the spring game—that was a great play—and some plays as a freshman that stood out so you're doing the right things. Don't let those opportunities go by.
Who hit harder, you or Shazor? (crowd)
Marlin: "He was bigger; I felt like I hit harder."
Brian: "Oh really?"
Marlin: "Ernest, he was a great safety."
Brian: "I'll say this: you were the best run support cornerback at Michigan."
Marlin: [laughs] "Tell that to Coach Carr. You tell him exactly that when you see him."
What was your craziest away game experience? (Jared from SPW)
Marlin: "Oregon! It was really hot that day, that stadium gets really loud and they let you hear it.
"The most fun was Notre Dame my sophomore year. I had an interception for a touchdown, right there with touchdown Jesus in the endzone. It was a lot of fun. We lost that and…well it was a lot of fun.
[ed-S: Yes, 2002 fans, he was about to talk about the refs in that game and didn't.]
Brian: "Um, does anybody have a question for me or am I moderating this?"
Who looked more ready to contribute today? Amara Darboh or Jehu Chesson? (from SheridanforMVP)
Brian: "Darboh just 'cause he doesn't look like Caris LeVert. You saw Darboh make that over the shoulder catch that we haven't seen from a big guy since… yeah. Amara is a big dude and his style is more of a possession guy who can stretch the field right now that Michigan needs; with Gallon on the field already I think you want that underneath guy who's a matchup problem if left one-on-one—think Junior Hemingway and the 2010 receivers. I think Chesson can stretch the field better and I like his future a lot—he's the Braylon to Darboh's Avant—but he probably needs one more year to grow. Plus Darboh played last year while Chesson redshirted so add that to the heuristics."
Heiko: "He's here." [everyone turns and sees Jehu. We quickly turn to the James Ross question[
Is James Ross terrifying yet? (crowd)
Brian: "YES! One thing I've learned when watching plays and doing UFRs is when something goes wrong with linebackers it's hard to see what went wrong on that play. When Ross is on the field, nothing goes wrong. That is an incredible statement. That is Dave Harris stuff, though no I'm not saying he's David Harris yet because he still probably needs to put on weight and even Harris wasn't a force until he was a redshirt junior. But in terms of advanced knowledge of offenses and making his reads and executing quickly he is way ahead of the other linebackers."
[ReadYourGuard is nodding vigorously at this.]
Marlin: "On linebacker plays, we call it the 'reading the triangle': guard-center-guard-running back. How good a linebacker is depends on how quickly can he read and react to the triangle—see if it's a pass and get depth on his coverage, or diagnose run and attack. That attack-or-drop decision and how quickly you make that decision is what middle linebacker is all about. Ross stands out to me already as a guy who can make that decision fast. You think about guys like Larry Foote who could do that and even if they're small or not even that fast they're great linebackers because of how they can diagnose the triangle."
I wanted to ask this earlier: So how good was Jordan Kovacs? (Brian to Marlin)
Marlin: "Well, he was smart. Not the fastest guy but really smart, great technique."
Brian: "I think he was the best."
Marlin: "We'll say he was the best of Rich Rod's era; we can say that. I said earlier Shazor..."
Brian: "Nooo! Shazor got out of position a lot!"
Marlin: "Kovacs, he was good. But he wasn't fast enough and he couldn't do things. Ernest: he made plays. He was aggressive! Ernest was the best safety I'd say we had in 15 years."
Brian: "Only because you were injured that year!"
On WTKA this week, Sam Webb compared Dymonte Thomas to Marlin Jackson. What does Marlin think about that comparison? (from jivas)
Marlin: "What's his mentality. Is he aggressive? They say that he's very aggressive and he wants to be great. I've heard from different coaches and I was talking to them a little bit when I was down there today and they say he's really aggressive and he's got the right mindset and talent to be great. He's just a freshman but I believe he's gonna be great."
How would you evaluate corners—or what should the layman be looking at when we're trying to evaluate cornerback talent?" (from Ace)
Brian: "Don't say 'aggressive.'"
Marlin: "It starts with athleticism. You look at his overall athleticism, are his hips fluid, are his feet quick? Does he get out of his breaks smoothly or does he look choppy? Does he look balanced when he's backpedaling and breaking? Watch his ability to play the ball and be confident, fearless, be…aggressive."
Brian: "doooooh."
Marlin: Okay CONFIDENT. I think that's what you look for the most: does he play on his heels and diagnose or is he making plays and looking composed and confident out there? Does he make plays? I stepped in and made an interception and that's how I stood out. That's how Donovan stood out and Blake Countess stood out.
Reflections on Lloyd – as a coach, man, generally speaking? (from headasplode)
Marlin: "As a coach, a great motivator. Sometimes he'd say some things that really get under your skin but it was to motivate you and to get the most out of you. You hear this about guys a lot but he really 'taught football' and that's something you can say about this staff too.
As a man, he cared more about you than your talent on the football field. He cared the most that we graduated from the University of Michigan. 'THE TEAM' is what he always reiterated to us. It's all about being accountable, being reliable. Those are the life lessons he taught.
"What did Lloyd say to get under your skin? (from Brian)
Marlin: "I only had one time when he really bothered me. Junior year when I got in trouble [ed-S: Marlin was falsely accused in 2003 of throwing a beer bottle at some douche; he was ultimately exonerated]. In a team meeting Lloyd suggesting 'some of you might be on your way out of here' and looked at me. I defended myself successfully and the guy looked like a fool but at the time I didn't feel like he had my back. But we got past that and that was the only time I was really bothered."
[Jehu Chesson has now made it to the front and takes the mic]
"It's an honor to meet you. Mr. Jackson: what is your favorite memory at Michigan?"
Marlin: "Beating Ohio State in the 100th game, and winning that Big Ten title in Michigan Stadium and everybody celebrating and knowing we were going to the Rose Bowl. There's a lot of great memories but that one stands out because that's what you work for all year…and that was the only time we beat them."
What is it about Brady Hoke that's making him more successful? (from crowd)
Donovan Warren: "…than Rich Rod!"
Marlin: "Some coaches berate their staff, yell and scream; they're always counting your hours, like how much did you come in. Some coaches like the media and like being in the spotlight and having it all be about them.
[Brian seems to be breaking out in a coughing fit. You okay Brian? That sounded almost like a wheeze or a sneeze there.]
"Coach Hoke isn't like that. He'd like to come in here and have a beer with all of you and talk about football. He's a regular guy who just happens to coach at Michigan. He's not focused on all the other stuff, but making sure you learn the game and graduate and grow into a good person. He's genuine. All the staff you can say that about. Greg and Al and Curt Mallory and Mark Smith and all those guys: they're the real deal and you can tell and that's actually pretty rare, and that's I think why they're so successful."
Brian: "He's Brave. Hoke will go for it on 4th down when it's the right call when most coaches wouldn't because that's the easiest way to get criticized. But Hoke believes he will make it—he believes in his players and his confidence trickles down to them, and that helps him make the right call. He's a good poker player."
"What was your strangest recruiting pitch?" (from Ace)
[ed-S: players nearly always deflect this question]
Marlin: "Well I'm not going to say, but I had a really embarrassing moment on a recruiting trip if you want to hear it?
"So I was looking at a bunch of different schools: mostly Penn State, Michigan, and Ohio State, but I also was looking at some SEC schools especially Tennessee. So I was at a Tennessee camp, and I was kind of a perfectionist so after practice that night I was in my room in my boxers practicing my backpedaling and breaking, backpedaling and breaking.
So you remember Phil Fulmer—yeah—Fulmer walks in and there I am in my boxers, backpedaling and breaking. And he's like 'What is this kid doing?'"
How did Wormley look out there? Next Stage of evolution remarks warranted?? (from tiger woods' illegal)
Brian: "His hair is out there! We didn't get to see him as much; I think he got about half the snaps but didn't stand out, though I have to look again because I think I was mostly focusing a lot on Cam Gordon. Wormley looked big. He's tall."
Marlin: "I saw Taco out there. That's a big kid, was making plays."
Brian: "Yeah but I think he was mostly doing that against the second team, not like Schofield and Lewan. But okay, yes, I much prefer my freshmen to show up and dominate the backups than otherwise. He looks like Thor.
"I still think Clark is your starter there; depending on how Clark does I think it'll be between him and Ojemudia for that nickel rush end that Jake Ryan played, since Cam probably isn't going to be develop that part of his game. More than anything I think it's great that we have a lot of options out there. How many times in recent memory have we been pinning all our hopes for a pass rush—or several things—on just one guy turning out, but having lots of options makes me pretty confident we can expect good production from that spot this year.
"What's your favorite non-football memory at Michigan? (from M-Wolverine)
Marlin: "West Quad South Quad snowball fight! I only got to do that freshman year but it was a lot of fun and we really competitive."
Brian: "That was unfair to put the honors college against the football team."
Marlin: "So you lost then…?"
[At this point R.U.B. gave $200 to Marlin's charity and we all clapped and stuff. Afterwards I emailed some of the unanswered questions to Marlin so here's his responses to those…]
Who was the biggest trash-talker you ever encountered across the line of scrimmage? Who was the chirpiest among your teammates? Any golden comments worth sharing? (from "superhans")
The biggest trash talker I've ever faced across the line of scrimmage would have to be Bo Scaife, former tight end of the Tennessee Titans and Texas Long horns. Playing in the AFC South the Titans were one of our main rivals, Bo could just quite never seem to shut up!
The chirper among teammates would have to be Chris Perry, Chris is a super competitive guy and he constantly talked trash during workouts. We all loved it though because it made you compete even harder.
The thing about trash talking is that it's Trash. Really can't repeat things that have been said, lol. I can say trash talking crossed the line while playing MSU my freshman year, one of their players spit in my face, the worst.
What's your favorite type of defense/base formation? Is there one that's more fun to play in and another that you think is the most effective, or are those one and the same? Bonus points if you can answer this question without using the word "aggressive." (from me)
My favorite type of defense is the 4-3  zone blitz with a mix of cov 4 and cov 2.  My favorite coverage was one named Rolex, a mix of cov 4 and 2. DBs must read the number 2 receiver in order to know which cov to play, if 2 goes to the flat, outside corner comes off one and plays cov 2 while the safety pushes over the top of #1. If #2 goes vertical instead of to the flat, the safety takes #2 and the corner stays on #1 playing quarters cov.
[I need to diagram this one day]
What are the typical activities that captains arrange for the summer when coaches cannot contact them? (from "tacopants")
Captains are obviously leaders of the team. I wouldn't say it's about necessarily setting up activities, but more about knowing the pulse and make up of the team. Captains hold players-only meetings when things may be getting out of hand in certain areas, the captains are also liaisons between coaches and players. My days of being captain was filled with leading by example and speaking up, being a motivator when it was needed. I loved being captain of the University of Michigan football team.
What knowledge have you gained over your career that you wish you could give to the Marlin Jackson coming out of high school? (from "mightnmain")
Man, what don't I wish I knew coming out of high school, lol. You know hindsight is 20/20, on the football field the number one thing I wish I knew was the importance of flexibility, the important role that diet plays in athletics, as well as understanding the overall care that is needed in taking care of your body while playing football. The lack of knowledge I had within these areas caused me to become injury-prone during my latter years in the NFL. If I learned, what I know now, I would still be playing. But everything happens for a reason, so it's all good.
Off the field I would be much more active, engaging with other students, networking, the University of Michigan has one the greatest alumni groups in the country. Go Blue!
[Massive thanks all around to Sports Power Weekends for their sponsorship, to R.U.B. for putting us up and putting up with us and being very responsive to everything we needed, to Warren and Countess and Chesson and Duerr and Blake Countess's mom for turning it into the Spring Game after-party, to Brian and Ace and Heiko and Eric and Bryan with a y who writes and Bryan with a y who shoots, and all of the fans who came out, and especially Marlin Jackson and the Fight for Life Foundation.]