Everywhere And Nowhere At All
11/19/2016 – Michigan 20, Indiana 10 – 10-1, 7-1 Big Ten
[Bryan Fuller]
When Midwestern Football Weather looms, there is only one priority for the experienced fan: please, not sleet. The heavens can aim at my head with golf-ball-sized hail as long as the precipitation is of the form that can be dodged or shaken off. The icy needle stuff that penetrates anything short of a spaceship hull is decidedly not preferred.
That's what we got in 2008, figuratively and literally. The infamous Fandom Endurance III game against Northwestern that sent Michigan to 3-7, guaranteeing no bowl bid for the first time in 40-some years, was played in a driving sleet that is bar-none the worst weather I've ever experienced at a game. I imagine the only competition available is that Purdue game from the 90s that ended 5-0; I was not present.
At halftime of 2008 Northwestern the sleet sent me to the concourse in the hope the pretzel machines could restore some feeling to my hands. They could not. And yet:
This is how weird it's been of late: as I huddled near a pretzel contraption at halftime of a game between 3-7 Michigan and Northwestern, soaked, frozen, pondering the grim futility of all things, I discovered that I was sort of enjoying this. Yeah, sure, you had to peel back layer upon layer of misery to get to the morbidly sunny core. But it was there.
That column is staggeringly old now, especially for Michigan fans who aged in dog years during the RichRod era and in you-chose-the-wrong-grail years during the Hoke/Brandon double-barrel fiasco. By the stuttering end of Hoke's tenure I was referencing that column only to repudiate it, my goodwill stripped to the bone and pecked at by Brandon in case there was any seat-cushion related morsel he could take from me and give to himself.
--------------------------
[Eric Upchurch]
I don't know what's going to happen Saturday. John O'Korn didn't look like a quarterback who could win against OHIO STATE, but Ohio State didn't look like the all-caps version of themselves in a one-point win over Michigan State, or a four-point win over Northwestern, or a loss to Penn State. I don't know if John O'Korn is even going to play.
Having an Ohio State game hanging by a thread because of a quarterback problem is frustratingly familiar turf. Denard Robinson and Chad Henne literally could not throw their senior years; Devin Gardner played most of an OSU game on a broken foot; Drew Henson didn't even bother to play his senior season. It is brutal to have this defense and not know if they're going to have a chance because of yet another backup quarterback throwing a spanner in well-laid plans.
I spent large portions of that game playing Ohio State in my head. I've been doing this since the end of the Wisconsin game, to be honest. I didn't like the results much, but I suppose neither did the sliver of the OSU fanbase capable of complex thought after the Buckeyes got outgained by 3-8 MSU.
I think about ten years ago, and how seismic that felt. It felt like the world would rise or fall based on the result of one goddamn game, and how that was right. And Saturday, and ugh, and can we get this over with.
Then the heavens opened up.
-----------------------------
What people with no experience of winter fail to understand is its capacity for sheer beauty. Saturday's transient blizzard turned a football game into a kaleidoscope of lacy geometries. The individual flakes traced whorls across the sky, each brilliantly lit. As they began to stick the stadium brightened, and brightened, until it was glowing. Light bounced from white to white until it seemed to come from everywhere and nowhere at once.
I forgot about Speight's shoulder, and the looming nausea machine this weekend, and Twitter, and even the fucking red hat TV timeout guy. What looked dim from the outside was brilliant as mid-day on the interior. It is something I will not forget.
[Fuller]
110,000 people felt that same lift. Maybe they weren't thinking quite as far back in the sleety past as I was, but they knew the difference between then, and now. Someone started chanting "BEAT OHIO," and thousands more took it up, as Michigan marched out a victory lit by a sun of a their own devising.
One game to change it all. Saturday.
HIGHLIGHTS
Full suite from MGoVideo.
AWARDS
[Upchurch]
Known Friends And Trusted Agents Of The Week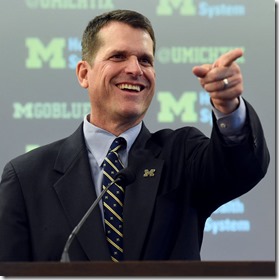 you're the man now, dog
#1 De'Veon Smith had more than half of Michigan's yards and more or less produced all their points. On one particular short yardage run he ran directly over safety Tony Fields, causing him to eject an object that was either his mouthpiece, tooth, or soul. Fields kept coming, and Smith kept turning him into mulch.
#2 Taco Charlton collected 2.5 TFLs and created several more by driving his man deep into the backfield. He has been virtually unstoppable as a pass rusher; this was his best outing against the run. And now his ankle's 100%. Look out, world.
#3 Jourdan Lewis had three pass breakups and only gave up one of the two completions he ceded because it was in a blizzard and he was giving up ten yards on purpose. He had a couple of important PBUs on third down slants that booted Indiana off the field.
Honorable mention: Channing Stribling gave up one completion for 20 yards or so but had his share of PBUs and solid coverage; Ryan Glasgow was an interior terror; the offensive line in general blew up what had been a very good rush defense. Dymonte Thomas had an impressive thunk to prevent a drag route from converting a third down and had one of those PBUs where I have to check to make sure that he's not Lewis.
KFaTAotW Standings.
10: Wilton Speight (#1 UCF, #1 Illinois, #3 MSU, #1 Maryland)
9: Jabrill Peppers(T2, Hawaii; #3 UCF, #1 Colorado, #2 Rutgers, #2 MSU)
7: Taco Charlton(three-way T1, PSU, same vs Rutgers, #3 Maryland, #2 Iowa, #2 Indiana).
5: Ryan Glasgow(#2 UCF, #1 UW), Chris Wormley (three-way T1, PSU, same vs Rutgers, #1 Iowa).
4: Jourdan Lewis (#3 UW, #2 Maryland, #3 Indiana).
3.5: De'Veon Smith (four-way T2, PSU, #1 Indiana).
3: Mike McCray(#1, Hawaii), Ben Gedeon(#3 Colorado, #3 PSU, three-way T1 Rutgers), Amara Darboh(#1 MSU),
2.5: Karan Higdon(four-way T2, PSU, #2 Illinois).
2: Jake Butt(#2 Colorado), Kyle Kalis (#2 UW)
1: Delano Hill (T2, Hawaii), Chris Evans (T3, Hawaii, four-way T2, PSU),  Maurice Hurst (three-way T1, PSU),  Devin Asiasi(#3 Rutgers), Ben Braden (#3 Illinois), Channing Stribling (#3 Iowa).
0.5: Mason Cole(T3, Hawaii), Ty Isaac (four-way T2, PSU).
Who's Got It Better Than Us Of The Week
This week's best thing ever.
De'Veon Smith stakes Michigan to a lead that felt much larger than three points.
Also, shirtless men.
Honorable mention: O'Korn scrambles for 30 yards; Smith extends the lead to 10.
WGIBTUs Past.
Hawaii: Laughter-inducing Peppers punt return.
UCF: Speight opens his Rex Grossman account.
Colorado: Peppers cashes it in.
PSU: Wormley's sack establishes a theme.
UW: Darboh puts Michigan ahead for good.
Rutgers: Peppers presses "on".
Illinois: TRAIN 2.0.
MSU: lol, two points.
Maryland: very complicated bomb.
Iowa: The touchdown.
Indiana: Smith woodchips Michigan a lead.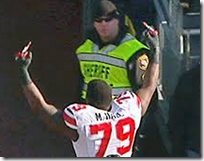 MARCUS HALL EPIC DOUBLE BIRD OF THE WEEK.
This week's worst thing ever.
Indiana goes on a Legitimate Drive in the middle of the second quarter and takes the lead at a point where you're wondering if Michigan can actually score a touchdown of their own.
Honorable mention: Various O'Korn things; the back-to-back-to-back ludicrous catches to set up an Indiana FG.
PREVIOUS EPIC DOUBLE BIRDs
Hawaii: Not Mone again.
UCF: Uh, Dymonte, you may want to either tackle or at least lightly brush that guy.
Colorado: Speight blindsided.
PSU: Clark's noncontact ACL injury.
UW: Newsome joins the ranks of the injured.
Rutgers: you can't call back the Mona Lisa of punt returns, man.
Illinois: They scored a what now? On Michigan? A touchdown?
Michigan State: a terrifying first drive momentarily makes you think you're in the mirror universe.
Maryland: Edge defense is a confirmed issue.
Iowa: Kalis hands Iowa a safety.
Indiana: A legitimate drive.
[After THE JUMP: Quarterback fussin'.]