Couldn't get the update done for yesterday's game last night because I got home really late from Ann Arbor, so I'm gonna do one big one here.
Weather shuffled the lineup of this weekend's series.
At the last minute on Friday morning, a tweet was sent out by the department that the Sunday game would be cancelled with the game moving to Friday at 3pm, making Friday a doubleheader with the 6pm game the nightcap. The Saturday game remained unchanged.
Unfortunate for those out of the area who bought a ticket for Sunday because it was sold out and this update was really late. As a result, the first game on Friday was played before a sparse crowd of hardcore fans. It was a breezy day in the low 60s.
#19 Michigan took on Indiana. A team they've owned, having won the last 12 meetings prior to yesterday, with Michigan having an incredible 56-3 record against Indiana since 1995.
The storyline of this series was another sister battle. The newly-minted starter at DP Maddie Uden against her older sister who plays for Indiana, Taylor Uden. Their parents made the trip all the way from Arizona for this series.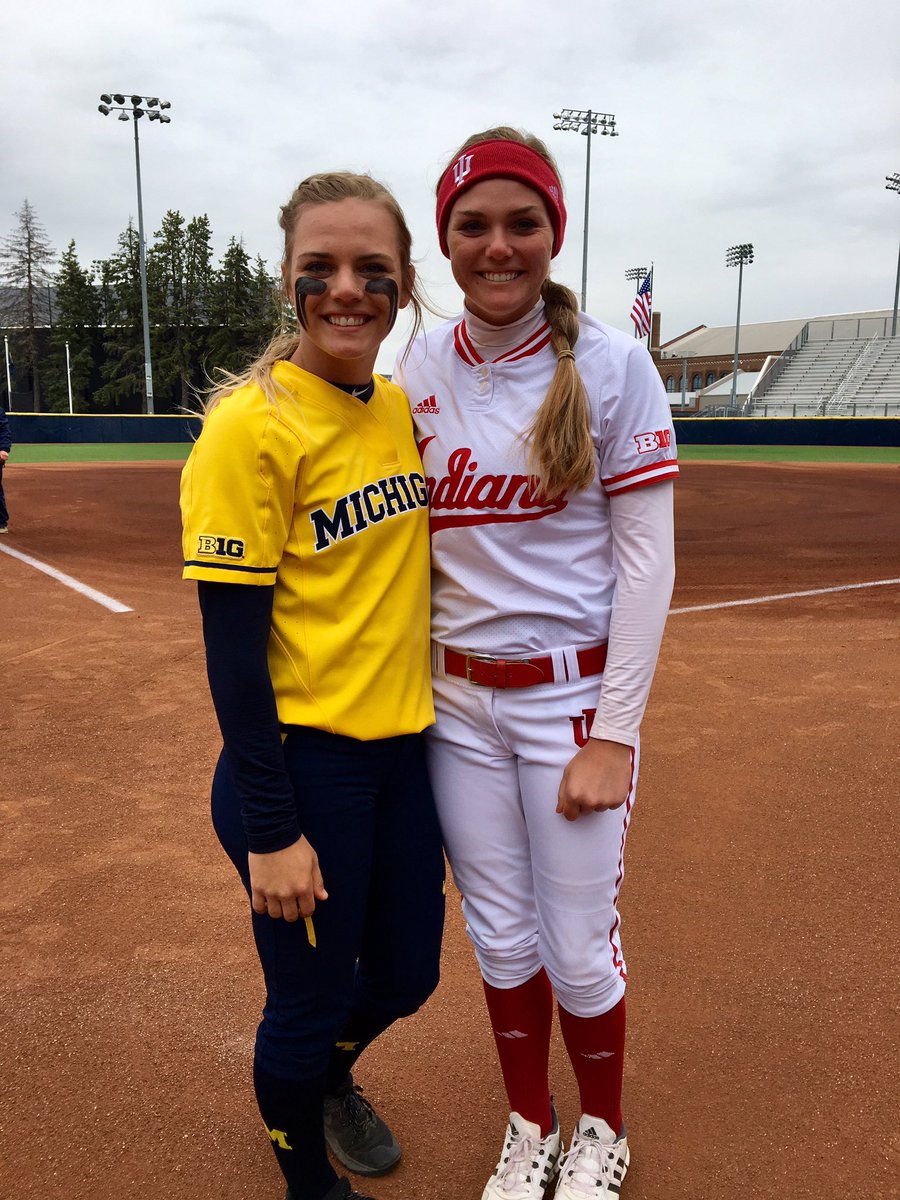 Michigan took game 1 of the DH by a score of 7-1. Michigan took a 2-0 lead in the first inning on a wild pitch and passed ball. Faith Canfield belted a homer to RF in the 3rd to make it 3-0 Michigan.
Two batters later on the first pitch, Madison Uden hit a ROCKET to center field for her first career home run. From where I was sitting, I could her older sister smiling at first base.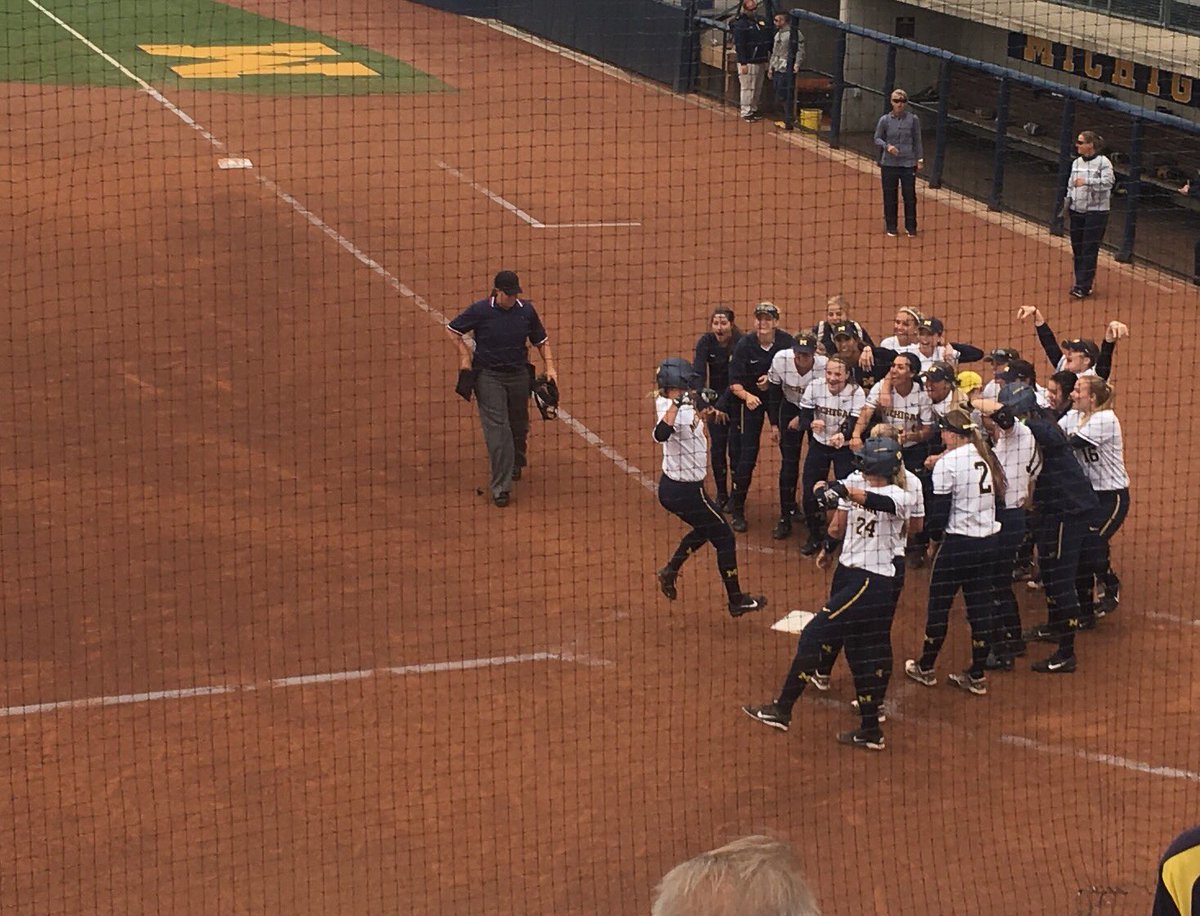 Michigan added two more runs and wound up winning 7-1.
Alumni Field filled up for the second game. Looked pretty much full to me.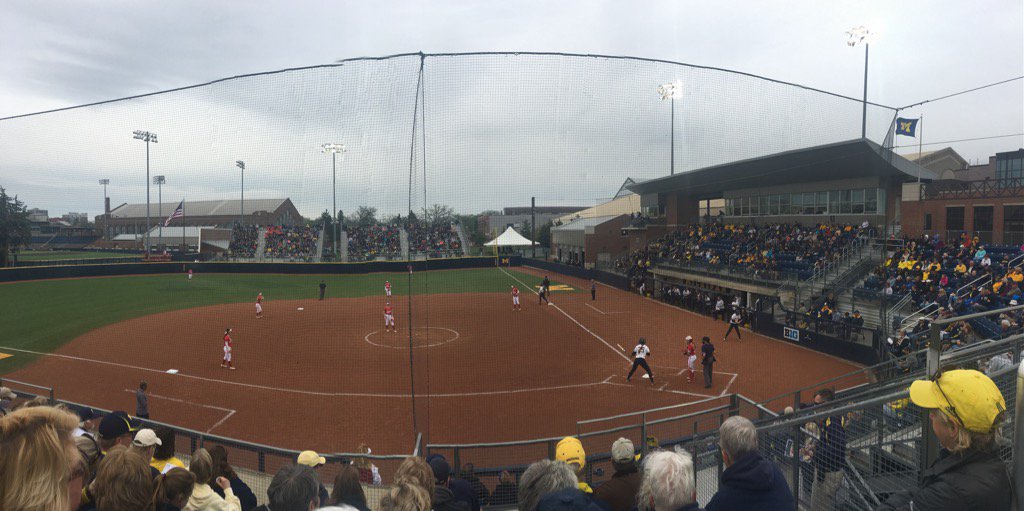 It was a low-scoring game.
Indiana actually led for most of the game, 1-0 on an RBI double.
Alex Sobczak got the start at catcher in this game, and it's a good thing she did. Because in the 5th inning, she hit a moon shot into the trees out in center field to tie the game at 1-1.
One inning later, Aidan Falk blasted a solo shot to center to give Michigan the 2-1 lead. Megan Betsa relieved Tera Blanco to get the final 3 outs in the 7th and gave Michigan the 2-1 win.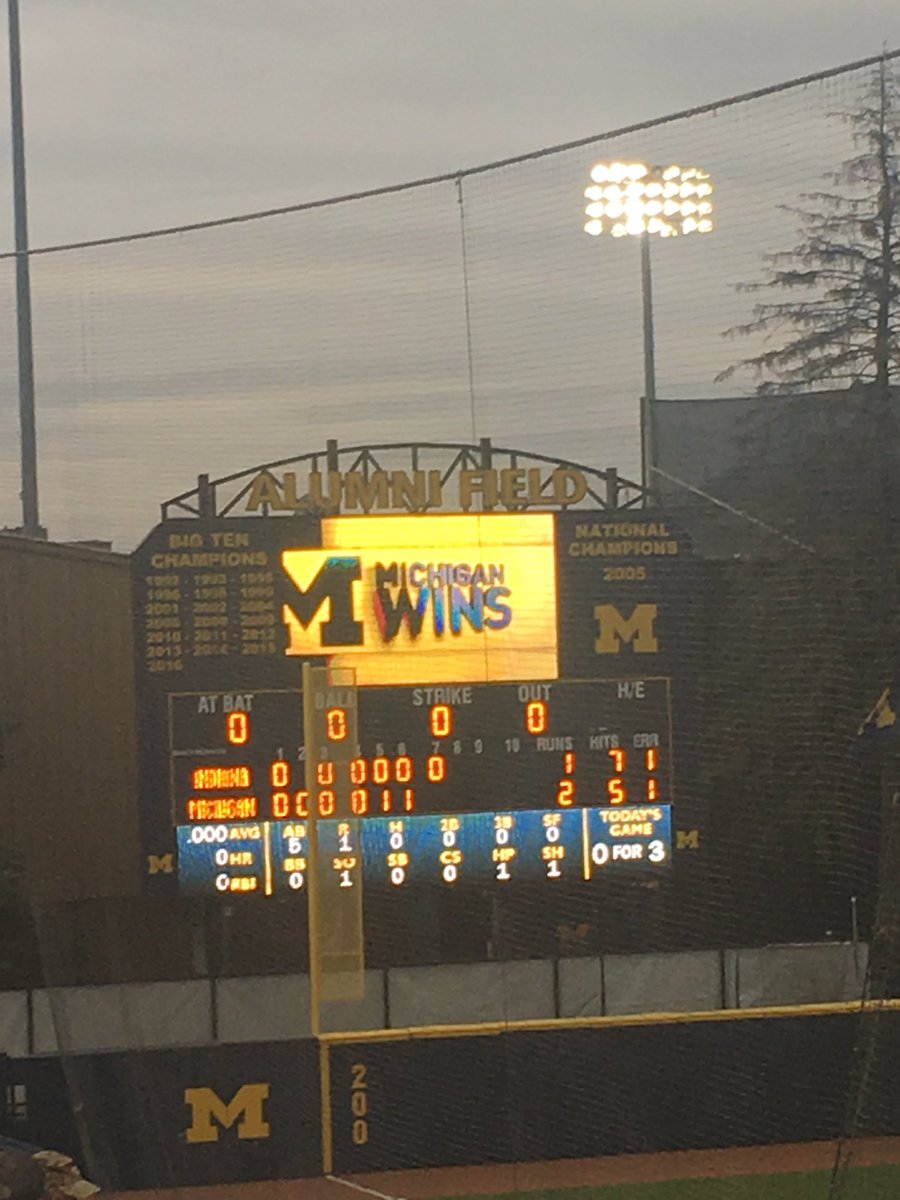 Today's game was more like game 1 yesterday.
It was on U-M graduation day, caps and gowns all around Ann Arbor. And a bitterly cold one for it being 2 days from May.
Only in Michigan would hot chocolate be the best selling concession for a softball game 2 days from May.
Nonetheless, it was another full house today. Sold out for senior day where seniors Megan Betsa, Lindsey Montemarano, Kelly Christner and Abby Ramirez were honored.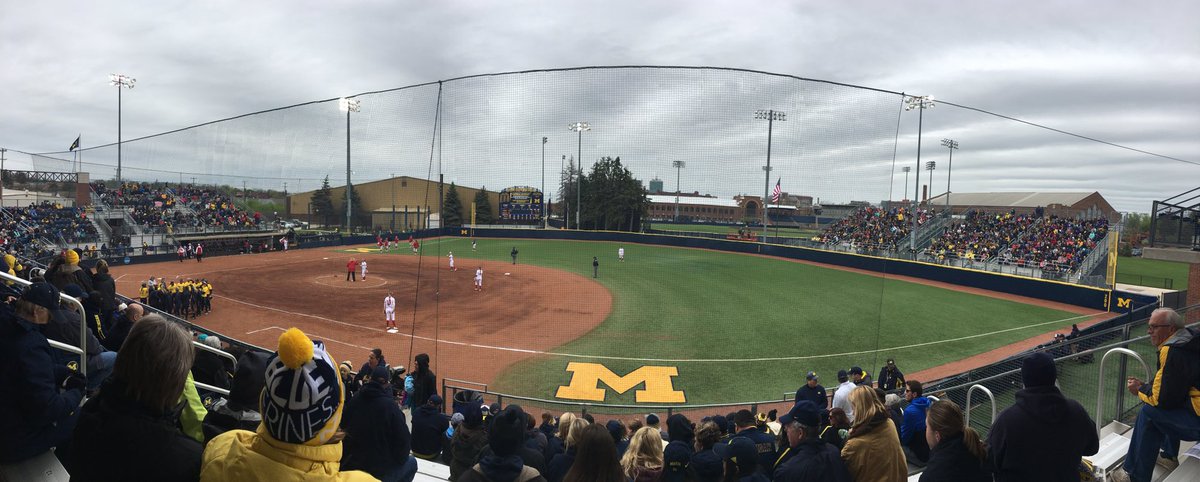 Michigan took a 1-0 lead in the 2nd inning on a Blanco Blast on a 3-2 count.
Two innings later in the 2nd, Katie Alexander hit a long ball to LF that awkwardly just rolled off the top of the wall and went over. Another home run, 2-0 Michigan.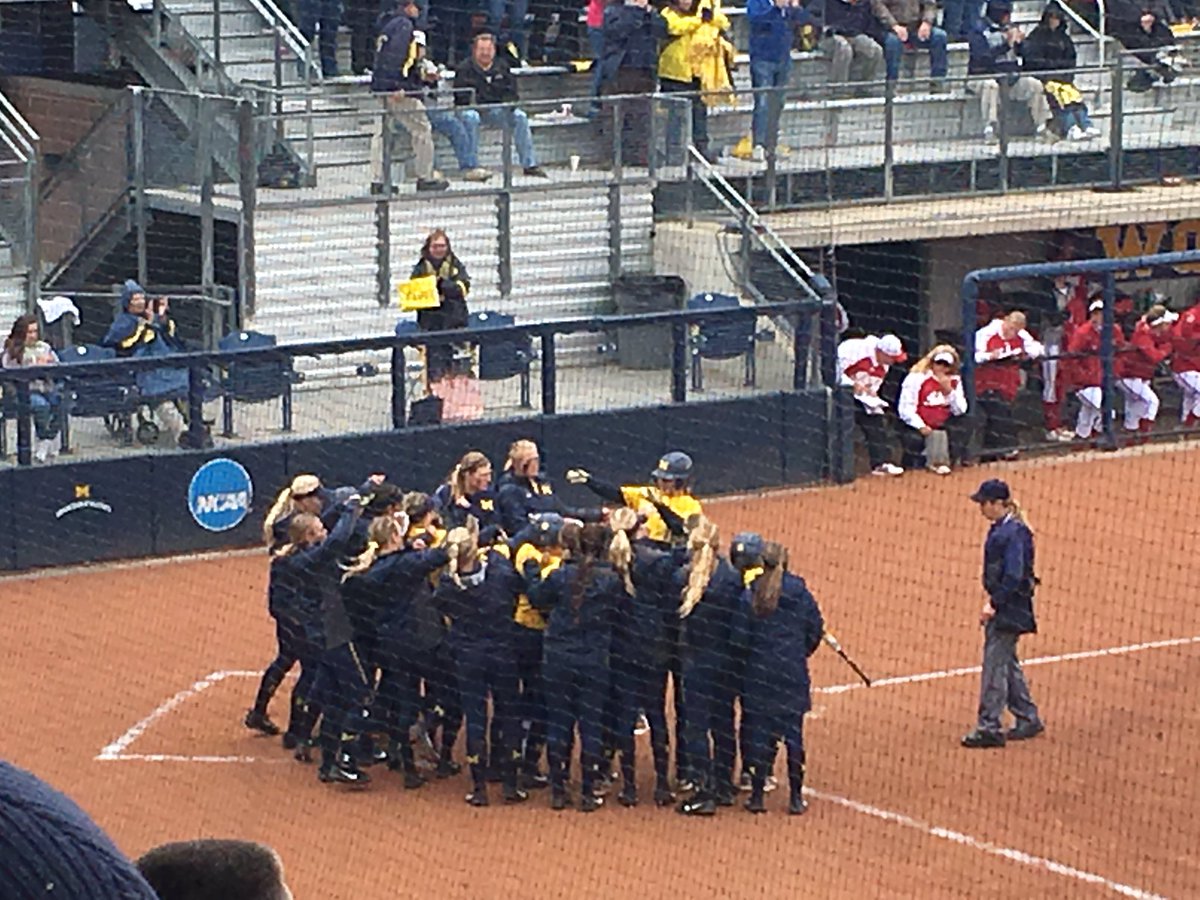 In the 5th, Tera Blanco struck again.
A 3-run bomb for her 2nd HR of the day, putting Michigan up 5-0.
The Wolverines would add two more runs in the frame when the senior Abby Ramirez drove in the freshmen pair of Thais Gonzalez and Madison Uden to make it 7-0. Michigan could not get the extra run in from 2nd to end the game in the 5th.
Unfortunately Megan Betsa's no-hitter was broken up in the top of the 6th. Had that run at 2B got home, she would've had her 3rd no-hitter this season.
Michigan did end this one on a high note though, as Natalie Peters ended senior day. The slap hitter snuck one inside the RF foul pole, over the wall.
Walkoff winner in 6, Michigan takes it 8-0.
The 3 wins this weekend put Michigan at 37-10-1 and 17-3 in the B1G.
One last non-conference game remains. Tuesday at 6pm against Western Michigan in the annual Pink Game that coincides with the Michigan Softball Academy.