Goal-by-Goal Analysis: Notre Dame
[James Coller]
Friday, February 16, 2018
#1 Notre Dame 2, #18 Michigan 4
1st period
WINBORG GOAL
ND 0 UM 1 EV 12:34 Assists: Hughes & Cecconi
Hughes carries the puck into the zone and starts down the wing long enough to draw a defender, Gilbert, toward him. Gilbert is wise not to step up and into Hughes because Raabe is coming down the wing and, as far as timing is concerned, in excellent position to receive a drop pass.
Hughes waits until Gilbert gets close before making his move. He sees that Gilbert's moving more or less in a straight line toward the boards, so he cuts up toward the blue line and moves laterally across it.
Adam Winborg is the Michigan skater in the blue box below. Dawson Cook is the Notre Dame skater in the blue box below. Quinn Hughes is the puck carrier in the screen cap below. Two of the people in said screen cap have just noticed that Winborg is headed for the front of the net. One of them has the puck and is in good position to shoot, and the other has to shift his weight and chase Winborg.
Winborg keeps his blade on the ice and Hughes' shot hits it and goes airborne. The puck goes in over Morris' shoulder in one of the only ways he can be beaten.
[After THE JUMP: good defense creates offense, though crazy accuracy and puck luck helps, too]
DANCS GOAL
ND 0 UM 2 EV 15:40 Assists: Marody & Piazza
Marody carries the puck through the neutral zone and into the offensive zone, where he begins to weave through three defenders near the top of the faceoff circle. He loses the puck as Evan's skate hits his stick. The puck gets kicked right to Theisen.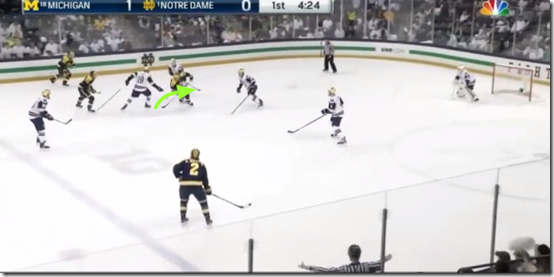 Theisen looks up-ice and can't even get a stride in that direction before Dancs cuts inside him and swipes the puck.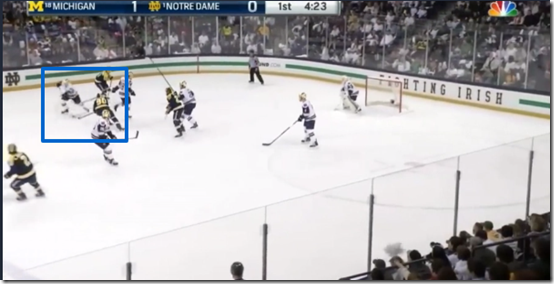 Wade doesn't have enough time to close the gap on Dancs as he glides diagonally through the faceoff circle, but he's close enough to get his stick out and reasonably expect to alter Dancs' shot. He doesn't. Dancs doesn't hesitate, and his quick release gets the puck just barely under Wade's stick. He beats Morris short-side, as Morris pulls his arms in like he's expecting the puck to hit him in the chest. This leaves a puck-sized gap between his arm and the post, and that's what Dancs hits.
2nd period
Wegwerth goal
ND 1 UM 2 PPG 1:27 Assists: Hellickson & Evans
There's no video of this one because NBC Sports doesn't let you stream past games unless it's the Premier League or something and it didn't make the highlight package.
CALDERONE GOAL
ND 1 UM 3 EV 4:27 Assists: Sanchez & Marody
Calderone outraces a winger, but ND has two defensemen back. He could conceivably continue skating to the netfront area, but he sees that Marody's defender is trailing and instead tries to thread a pass to him.
The pass to Marody misses, but Sanchez has the wherewithal to cut to the middle and is in position to stick his skate out and corral the errant puck.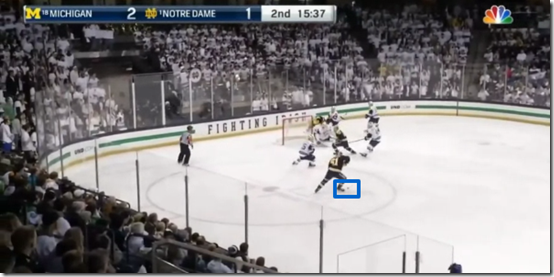 Two defenders went with Calderone behind the net while another is pulled through the slot as he chases Marody. This clears out the slot for Sanchez, and he fires a backhander into Morris.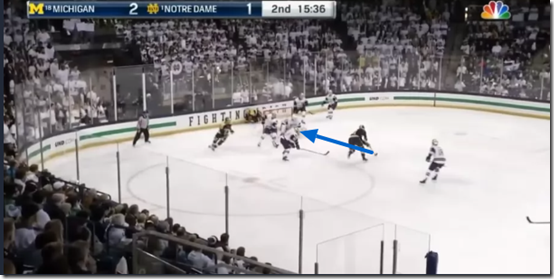 Sanchez follows through with his pursuit to the net and whacks Morris as he tries to freeze the puck. It's a crafty move, and it's one that works: the puck comes free.
Calderone, meanwhile, has circled behind the net after dishing the pass that started this sequence. He sees the puck sitting in the crease and turns on a dime. He keeps his blade low and as part of his turn gets under the stick of an ND player about to clear the puck, knocking the puck past the goal line in the process.
Nardella goal
ND 2 UM 3 PPG 18:47 Assists: Gross & Oglevie
Notre Dame gets into their umbrella power play and lets Nardella quarterback it from the point. He decides to pass to Gross, who holds long enough to pull a Michigan defender up. It's not Norris, though Norris is closer; instead, Piazza skates up from his position as the lower left corner of the box. At this point Gross passes back to Nardella. I guess this sort of allows Norris a better chance of getting into Nardella's shooting lane.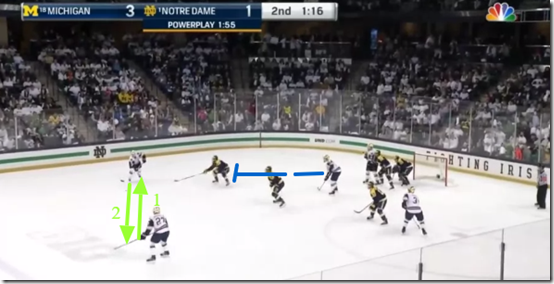 But, once the shot comes, Norris isn't altering it. What is, however, is the Luke Martin trying to cover a Notre Dame skater who set up in front of the net. Martin's on the side he should be (if he's on the opposite that gives ND an easy opportunity for a point-shot-netfront-redirect) but he's still screening Lavigne. To his credit, Lavigne was standing and peering around the screen, and though he tracked the puck from Gross to Nardella, he was too late getting into his butterfly to stop a one-timer.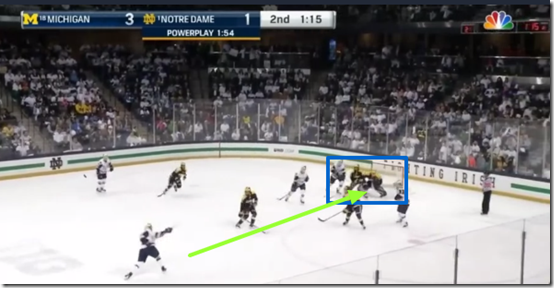 3rd period
M. PASTUJOV GOAL
ND 2 UM 4 EV 8:08 Assists: N. Pastujov & L. Martin
Nick Pastujov has Gilbert bearing down on him at center ice. He flips the puck ahead, digs in, and turns hard to get past the defender. He picks the puck back up, takes two strides, and starts to take a sharp angle toward the net.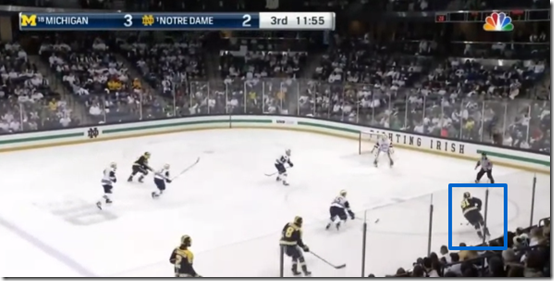 Oglevie takes a nice angle to Pastujov, closing the gap quickly and seemingly taking away the passing lane. That's why it's so weird that there's an arrow on the screen cap below.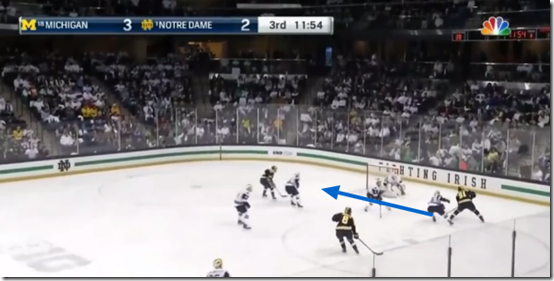 I be like dang.
It sort of looks like Dello (in the green box below) gets blown past and could have done more to get in the passing lane, but the broadcast angle shows that Becker was cutting toward the net. I think he stayed in place to pick up Becker on the off chance that Pastujov was able to force the puck through Oglevie and drop it for Becker. Plus, Michael Pastujov is defended really, really well by Theisen. Not quite well enough, though, as Michael Pastujov's shot get past a defender's stick by about the same distance as Nick Pastujov's pass did.
Sunday, February 19, 2018
#18 Michigan 1, #1 Notre Dame 0
1st period
No scoring
2nd period
CALDERONE GOAL
UM 1 ND 0 EV 19:21 Assists: Marody
A goal so nice I GIFed it thrice.
Notre Dame is looking to clear their defensive zone as Gilbert passes ahead for Cook. Dancs is forechecking hard, and he closes on the puck enough to slightly alter Gilbert's pass; Gilbert just wants to puck off his stick before Dancs hits him. The puck hits the back of Cook's skate and skitters into the middle of the high slot.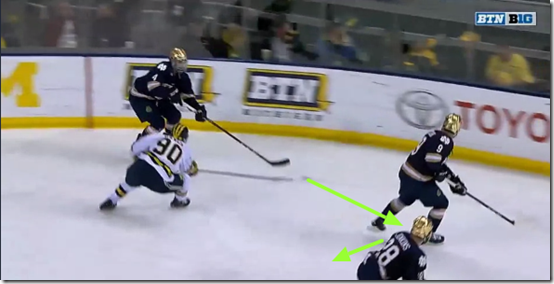 Marody picks up the loose puck and just turns, knowing that he has Calderone behind him and Wade closing in. Marody drops it for Calderone as soon as Wade is close enough to ostensibly knock the puck loose with his stick. The pass is clean and Marody has baited Wade, who did this the night before as well, into HULK SMASH mode when he should be playing the new shooter. Wade finishes his check, and Calderone is in all alone.
Calderone one-times it and finds just enough space over Morris' glove-side shoulder and under the post to score.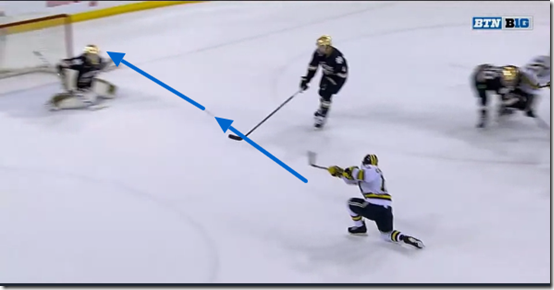 I mean just enough space.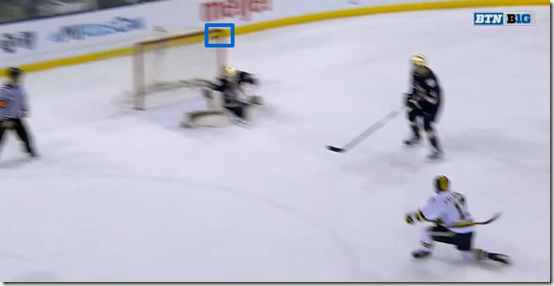 3rd period
No scoring
Assorted thoughts on Michigan's best weekend in 5+ seasons
Lavigne was stellar when he needed to be this weekend. He's a body-blocker and a space-eater, yes, but he always seems to get that bulk in the way of point-blank shots, and he's been particularly big when Michigan's been unable to clear the zone and allowed multiple attempts from in tight. He's not all that athletic—he's not going to go post to post to rob a one-timer—but he doesn't have to considering Michigan's defensive effort of late.
I don't have any other takes on individual players that I haven't written here before; what stood out was team-level stuff. Michigan's defense was able to dictate what Notre Dame's offense could do for 106 minutes. I honestly don't remember the last time a Michigan defense was able to do that. Sure, Notre Dame's offense really comes from their power play (as has very much bee the case in their four games against Michigan), but they were forcing Notre Dame to take garbage shots at even strength. With even-strength offense neutralized, Michigan just had to control as much as they could in terms of risky decision-making to stay out of the box. They did a good job on Sunday, allowing two true power plays and killing both.
That was huge, because Michigan took six penalties on Friday—five of which led to power plays—and the shot charts ended up looking like this (h/t Jacob Shames):

The numbers with check marks next to them are power-play attempts. The few remaining numbers came at even strength, where Michigan was content generally to collapse and let Notre Dame take shots from the outside. I think it's a smart strategy, because there's a better chance of Lavigne body-blocking a shot than stoning someone on a cross-ice feed. That's not a huge knock on his abilities—he obviously had a heck of a weekend—but it's playing to the strengths of your guys. Even Morris couldn't stop a quick cross-ice pass on the Pastujov brothers' goal, so clogging things up and letting them rip shots from outside seems fine to me.