By This Grainy Screenshot We Will Curse Thy Name
9/20/2014 – Michigan 10, Utah 26 – 2-2
[GIF via Ace]
We have a grainy screenshot that symbolizes the demise of the Carr era. It's a zone stretch against Ohio State on which every Buckeye has slashed through the Michigan line.
Michigan would trundle to fewer than 100 yards of total offense. Chad Henne's shoulder was separated and he was still the best available option because the only other was a freshman version of Ryan Mallett who fumbled 20% of the under-center snaps he took and got in screaming matches on the sideline. That's because the quarterbacks recruited after Chad Henne were Jason Forcier and David Cone.
By the time that Ohio State game rolled around Michigan had desperately talked Alex Mitchell out of retirement so they could start him. In that context that shot is barely surprising. And then Carr went out and beat Tim Tebow, because nobody got off the mat like Lloyd Carr.
We have just received the grainy screenshot that will symbolize the demise of the Hoke era.
As you've no doubt screamed into a pillow about already, there are ten men on the field as Utah returns a punt for a touchdown. I'm not sure that even matters since two of them are within 30 yards of the guy when he catches the ball.
This site has been complaining about the punting since Hoke's hire, and it has cost Michigan dearly in two losses—Ace Sanders also returned a punt for a touchdown in South Carolina's last-gasp Outback win—and seen Michigan dawdle at the bottom of punt return yards ceded the last two years.
Worse than the yards given up has been Brady Hoke's approach when challenged about it. Never has he given a justification that's even remotely plausible. Once he said he wasn't comfortable with it. At the time I said this was a crappy answer, and it remains a crappy answer:
MGoFollowup: What's your opinion of the spread punt formation vs. the traditional punt formation?

"Uh, we don't use it."

MGoFollowup: Is there a rationale for that?

"I think, you know … I'm more comfortable with what we use. That's the rationale."
When pressed a couple weeks ago he said "I don't want to talk about it."
As we get more data about Brady Hoke's tenure that seems less like an isolated crappy answer than the whole damn thing. Anybody with a spreadsheet and an ability to tell up from down could have put compelling evidence of the spread punt's efficacy in front of Hoke's face. Maybe they did.
It wouldn't have mattered. Brady Hoke isn't defending it, so you can't argue back. "We don't do it because we don't do it" is an unassailable position. It is not a rationale.
So it goes. Michigan has settled into a pattern of doing nonsense things, from everything on offense last year to the punting to their continuing, shocking inability to go faster than a waddle. That stat from last week about how Michigan was faster than only Army amongst D-I teams is astounding. Michigan had spent an entire half down three scores, and their tempo was still nationally worst. These things all come from the head coach.
When Michigan goes down by ten, it's over. Lloyd Carr isn't walking through that door. You want to talk leadership and toughness? Leadership turns a mob into an army. And Michigan is no army.
-------------------------------------
The worst thing is I don't really feel that bad. My main problem at the moment is the fact that I have to write this column, and then somehow eight more, and analyze a team that is unlikely to go anywhere and talk about a coach who is 95% dead man walking. I bet you can't wait for "Yup, Almost Certainly Still Fired: Episode VI". Here is the otter.
HENRI THE OTTER OF ENNUI: this does not break the record for earliest appearance
I fired off some hot takes in the stands, as did large numbers of the people around me, but once I was out of the stadium it was like "okay, now I can go do something else."
I even watched football after! A Michigan loss is supposed to be a weekend-ruining event that makes the idea of watching more football an impossibility. Now it's not a big deal, possibly because I don't recognize whatever Michigan is doing as football. I cannot be reminded of Michigan when turning on Clemson-FSU because Clemson and FSU aren't playing sludgefart.
I know this isn't an aging and maturing thing because 1) obviously and 2) I almost died just a few months ago when Kentucky hit that three-pointer. There's just nothing there to care about. So you show up, and you shrug, and you get annoyed, and then you go home. Sometimes you get wet. Meh.
It was appropriate that Hoke's downfall came amidst a biblical deluge. The Hoke era started with one against Western Michigan. The game was over when the lightning came, but I stayed. A bunch of students did, too, roaring and chanting. When the game was over the stadium was still half-full.
There was no thought of that Saturday. Everyone except the players' parents, Utah fans, and the clinically insane cleared out as soon as the stoppage was announced. Maybe half of them had already exited before the lightning hit.
When Michigan returned to play in front of the obligated and deranged, it looked like the future had finally been created.
[Bryan Fuller]
Take the cosmic hint.
When Can We Fire This Guy Section
There is still a small (very small) chance that Michigan pulls its collective head from its collective rear and gets to 9-3, at which point a transition is probably not happening. Anything short of that and it's goodbye. Hoke is at the point where you extend or fire him and you can't extend a guy who went 8-4 in the worst Big Ten ever, presumably went 0-3 against major rivals, had at least two humiliating blowouts starring coaching incompetence.
But please don't bring up a midseason canning. Those are reserved for severe breakdowns of authority. Most importantly, firing Hoke now erases any chance there's a new athletic director by the time Michigan embarks on a coaching search.
Awards
John Beilein Being Good At Coaching Points Of The Week.
#1 Jourdan Lewis had an outstanding game, chasing things down that other people screwed up and hunting Utah wide receivers like they were weakened alpacas.
#2 Willie Henry scored Michigan's only touchdown and was part of a forceful Michigan defensive line.
#3 Devin Funchess powered through an obvious injury to bring in a number of spectacular catches and would have had an even more impactful game if Gardner was not having one of the worst games of his career.
Honorable mention: Ryan Glasgow, Frank Clark, Brennen Beyer.
Epic Double Point Standings.
7: Devin Funchess (#1, APP, #1 ND, #3 UT)
5: Jourdan Lewis (#2 MIA, #1 UT)
4: Willie Henry(#2 ND, #2 UT)
3: Derrick Green(#1 MIA)
2: Devin Gardner (#2, APP)
1: Ryan Glasgow (#3, ND), Brennen Beyer(#3 MIA)
0.5: Kyle Kalis (T3, APP), Ben Braden (T3, APP)
Trey Burke Against Kansas Of The Week.
For the single individual best moment.
FAT GUY TOUCHDOWN
mr henry this is an internet meme it's not my fault please don't destroy me [Fuller]
For all the good it did. ESPN briefly gave Michigan 12 points they were so astounded, which should be the FAT GUY TD rule.
Honorable mention: Nope!
Epic Double Fist-Pumps Past.
AppSt: Derrick Green rumbles for 60 yards.
ND: Nothing.
MIA: Derrick Green scores a goal line touchdown without being so much as touched.
Utah: Willie Henry FAT GUY TOUCHDOWN.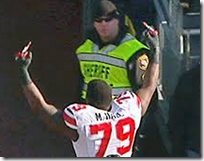 MARCUS HALL EPIC DOUBLE BIRD OF THE WEEK.
Worst. Event. Ever. This Week.
Miami takes back a punt 66 yards after Michigan obliges with a line drive punt and two gunners. Oh, and they only put ten guys on the field.
Honorable mention: Interceptions. Fumbles. Hellacious rain. Everything.
PREVIOUS EPBs
AppSt: Devin Gardner dares to throw an incomplete pass.
ND: Countess nowhere to be found on fourth and three.
Miami: You did what to Funchess now when?
Utah: lol ask Brady about punt formations again
[After the JUMP: woo! naw just kiddin'.]