"Support The Troops" Is Not An Argument
9/13/2014 – Michigan 34, Miami (Not That Miami) 10 – 2-1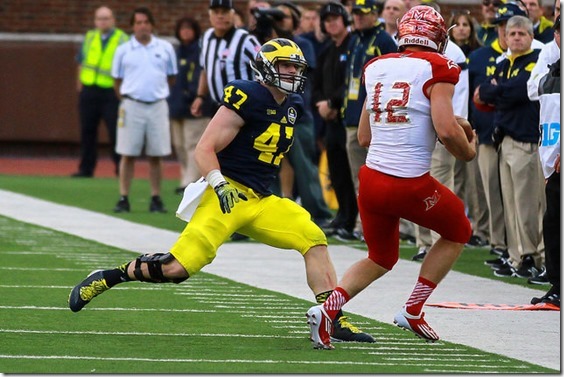 Jake Ryan did a good job of not blowing up Hendrix for penalties [Eric Upchurch]
Michigan Stadium was a roomy place on Saturday, somewhat full of cranky people waiting for an opportunity to vent their ire. They held their fire after a Gardner interception; they held their fire when Michigan was tied 10-10 with a team that hadn't won a game since 2012 midway through the second quarter.
This was a bit of a surprise. Hell, the 1997 team(!) got booed at halftime of their game against Iowa when they went into the locker room down 21-7. (This was definitely performance-related, exacerbated by a late Tim Dwight punt return touchdown. The tenor of the boo was WE KNOW YOU ARE BETTER THAN THIS LET'S GOOOO and when they came out of the locker room the corresponding cheer was much louder than it usually is. But damn we used to have some expectations.)
In 2014, after seven years of mostly unrelenting failure, on the heels of a humiliating shutout in the Last Notre Dame Game, I was expecting more audible grumbles. Michigan fans held off, possibly too stunned by last week to do anything but meekly absorb events in front of them.
Then Michigan took a delay of game penalty (after a timeout!) and decided to punt from the Miami 37 with a minute left in the half. This was pure coaching malpractice that reminded a grumbly Michigan Stadium of last year's Penn State game. The boos rained down. It was loud. It was grumbly. It was statistically accurate.
--------------------------------
As the game rolled along and Michigan proved themselves about as superior as you'd think they should be, this game receded from the hateful constellation of lower-level matchups that turned into stomach-churning wins or even losses.
When you end up giving up fewer than 200 yards to an opposing offense you've established that they are very bad and you are not. Eventually Michigan's ground game kicked in and put up similar YOU ARE BAD numbers. Erase some pretty random turnovers (deflected pass at the line, redshirt freshman pop-up kickoff fumble) and this is 45-0 or thereabouts.
I know you don't believe turnovers are random, person on the internet who I am anticipating a "LOL" comment from, but even you have to admit that when a throw goes from probably on target to directly in the chest of an opposing player because it glances off a fingertip that's just life giving you the middle finger, and not—oh you just said MAKE PLAYS in seriousness on the radio nevermind this sentence. Players make plays. Etc.
Anyway: in retrospect I am not stressing about this game.
I was in the second quarter, like everyone else, and while I didn't actually boo—I am in the too-shocked-to-do-anything club—I agreed with it. What's more, I deeply appreciated that the people still mad enough to let someone know about it waited for  the perfect moment.
-------------------------
When Pat Fitzgerald was asked about Northwestern fans being upset in the aftermath of the Wildcats' 0-2 start, he responded thusly.
"No shit."
This is a press conference answer to get behind. It is brief, quotable, and addresses the situation. Fitzgerald is not surprised that fans are upset; he is upset (he called the team "an embarrassment to anyone that ever put on the purple and white"); fans should be too.
When Brady Hoke was asked an open-ended question about his message to the fans, he said this:
As far as the fans that watch from the outside and see some of the similar issues that they saw last season, what would you say to them and how concerning is it as a coaching staff?

"If they're truly fans they'll believe in these kids and what they've done and the hard work that they've put in. If they're not, they won't."
To the great misfortune of someone whose words are repeated verbatim on the internet, he would later claim to be misquoted. At least he has been told that knocking the fans who pay his salary and are currently leaning towards "tar and feather" over "put FOR SALE signs on front lawn" is not great, Bob.
But he has succumbed to the post-9/11 Godwin's Law: eventually someone in charge of the troops is going to tell you to support the troops, because he thinks that's the best argument he's got left. You think knocking over tinpot dictators halfway across the world with no real hope of installing anything that won't collapse the minute you leave is a bad idea? Support the troops, buddy. Why don't you support the troops?
So kudos to Michigan Stadium for holding its fire until the guy on the sideline with the timeout blundered his way into a fourth and eleven punt that went into the endzone on the fly. It was 1000% clear who was and was not supported at that moment.
Michigan is at least tolerant of the troops even when they're struggling against Not That Miami. Michigan is pissed off at the guys in charge. No amount of deflection will hide that fact.
Highlights
Awards
Brady Hoke Epic Double Points Of The Week. #1 is Derrick Green, who was often the recipient of gaping holes but hit them and even made some yards himself.
#2 is Jourdan Lewis, who turned in excellent coverage all day and came up with an excellent interception.
#3 is Brennen Beyer, because it is impossible to really distinguish between the various guys whipping up on Miami's OL but Beyer got a sack.
Honorable mention:
Epic Double Point Standings.
6: Devin Funchess (#1, APP, #1 ND)
3: Derrick Green(#1 MIA)
2: Devin Gardner (#2, APP), Willie Henry (#2 ND), Jourdan Lewis (#2 MIA)
1: Ryan Glasgow (#3, ND), Brennen Beyer(#3 MIA)
0.5: Kyle Kalis (T3, APP), Ben Braden (T3, APP)
Brady Hoke Epic Double Fist-Pump Of The Week.
For the single individual best moment.
This was a one yard run but let us sit and savor the fact that even against a terrible defense Michigan had a touchdown that looked like this.
[Upchurch]
Honorable mention: Jake Butt shakes free for a fake screen(!) touchdown, something we haven't seen since Hoke's arrival. Jourdan Lewis runs a guy's fade for him, picks off a ball thrown too far inside. Dennis Norfleet and the KO unit execute a right-sided return on a kick to the left out to the 50. Derrick Green breaks backside and breaks a tackle for a 20-yard gain.
Epic Double Fist-Pumps Past.
AppSt: Derrick Green rumbles for 60 yards.
ND: Nothing.
MIA: Derrick Green scores a goal line touchdown without being so much as touched.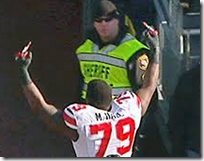 MARCUS HALL EPIC DOUBLE BIRD OF THE WEEK.
Worst. Event. Ever. This Week.
Devin Funchess standing on the sideline because Michigan threw him a bubble screen halfway through the fourth quarter of a 31-0 game.
Honorable mention: Delay of game ack ack ack, Gardner interception (deflected, FWIW), kickoff mishap, Darboh fumble, various early runs that didn't go anywhere.
PREVIOUS EPBs
AppSt: Devin Gardner dares to throw an incomplete pass.
ND: Countess nowhere to be found on fourth and three.
Miami: You did what to Funchess now when?
[After the JUMP: getting it together, strangling the opposing offense, and goodbye gun.]
Offense
[Upchurch]
It came together. Things were grumbly and grim early with Michigan pounding its head against the pillowy soft wall that is the Miami defense with little success, but for whatever reason they got it straightened out on a grinding second quarter drive that plowed them back to the lead, and from there they put together a day that is about on par with reasonable expectations: 6.1 yards a carry.
Michigan couldn't get six yards a carry against anyone last year; hell, in the third game of last season Fitz Toussaint could only manage 71 yards on 19 carries, 3.7 a pop. Akron would go on to finish 54th in the country in that department, decent for a MAC team. Michigan was on average worse than those MAC teams at running on the Zips, and that's with Gardner chipping in 103 on ten carries.
So while it was pretty stupid for about 30 minutes there, by the end things looked about right. The highlights above feature a lot of the offensive line mashing guys yards off the ball, and I won't be surprised to find some missed holes or a Miami tweak that had Michigan confused early when I look at the tape.
Green bounceback. After a torches-and-pitchforks kind of outing against Notre Dame, Derrick Green took a lot more of the large holes provided him and even obeyed Mike Valenti's command to MAKE PLAYS on a second-half cutback that saw him run through a defensive back's tackle to pick up a chunk.
That play was not blocked particularly well; Green went and got those yards himself. Those are the first he's earned by himself in a winged helmet aside from the odd  yard or three he's plowed out after contact.
It's a start.
[Upchurch]
Darboh steps forward. In Funchess's absence it was Amara Darboh emerging into the top target, with almost half of Michigan's 13 catches including the self-troll touchdown above on which a cornerback in press coverage with inside leverage barely even touched Darboh before giving up that leverage. Hooray touchdown! Boo reminding me of last week.
Darboh looked pretty good, sure handed and athletic enough. Miami is obviously not much of a test in that latter department.
Goodbye, Norfleet. Hope to see you again before the bowl. Norfleet disappeared from the gameplan, taking one 21-yard end-around and IIRC not even getting a target otherwise. That's frustrating. When your only touches other than fair-caught or doomed punts are a 21 yard run and a kickoff return out to the 50, you should be getting more looks.
We've yet to see Norfleet act as a real live receiver downfield except on the drive at the end of the first half against ND, where he got open twice. It seems like it would be really hard to stick with him on option routes underneath, and then he is going to be able to get you some YAC.
Someone show Michigan tape of Steve Breaston.
Goodbye, shotgun. After a game in which Michigan had something like eight under-center snaps not dictated by field position or short yardage, Michigan went under center far more against Miami. Probably more than 50%.
This was in no way a departure as radical as the thousands embarked upon by Borges last year—they're still a one-back, inside-zone focused offense. It's still a little odd. Are they repping the under-center stuff only against tomato cans because they don't have confidence in it yet? Or is it because there's an offense for big games you would like to win and one for This Is Michigan purposes? Or did they decide to de-emphasize the gun after getting shut out?
I don't know. Time will tell.
Hello Butts. The Butt touchdown was excellent in many ways. It provided breathing room that Michigan needed, it signaled that Butt was just about full-go after his ACL surgery, and it was blitheringly wide open as Michigan successfully faked a wide receiver screen and went over the top.
Did we ever see that under Borges? I don't think so. The number of times Michigan's play design busted a guy wide open was so much lower than it was during the QB oh noes pop pass phase under Rodriguez that it boggled the mind. Funchess got singled on a linebacker in last year's Penn State game, that's one. It's hard to think of others that weren't massive coverage busts that had little to do with the OC. I mean, it's not like Notre Dame was shocked by the Gallon wheel route in 2011. They just blew it.
Anyway: I like that Michigan is making teams defend the whole field and defend the perimeter both short and long. The "long" is still mostly hypothetical but they did try a couple fake-bubble-to-downfield-ish against Notre Dame that didn't go so well.
The next stop for Butt should be replacing Kerridge on a lot of those plays where Michigan splits him out wide. Butt can be a matchup issue on the outside; Kerridge just signals that the defense is in zone.
Also:
Finally figured out why personalized jerseys exist pic.twitter.com/DxV6ds7RB9

— Adam Schnepp (@aeschnepp) September 14, 2014
Meanwhile, Butt threw up three goggles after his touchdown. Stauskas swag welcome anywhere it shows up.
This was pretty, but not complete [Upchurch]
Can a brother get some help out here? Shane Morris came in and delivered two perfect downfield darts, neither of which got brought in. This strike to Chesson in the endzone was raked out by the defensive back, which will happen. Heitzman flat dropped a 25-yarder. I know the ball spins the other way but cumong man. Men.
Morris showed that he can be a reasonable threat running the ball. He's more Connor Shaw than Denard, but that's a nice option to have that your artillery piece types don't bring.
Minor one-back complaint. Feels like Michigan should still be deploying an honest to god fullback on short yardage. Michigan got snowed under by penetration once in a fashion that having Kerridge in the backfield may have prevented. I know they have to defend more gaps if you spread 'em out across the line but when it's short yardage the equation changes to make the fullback a better option.
Defense
[Upchurch]
No problems here. Michigan did what you would expect them to do against a team like Miami, giving up the odd first down here and there and little else. If not for two short fields set up by the Gardner interception and the kickoff mishap Michigan likely shuts Miami out; for the game they gave up under 200 yards of offense.
Even when they did cede first downs it was often a "life happens" kind of event: one particular 20-yard chunk came with 1) Frank Clark breathing down Hendrix's neck, 2) Jabrill Peppers grabbing at the arm of the receiver and 3) Jeremy Clark coming in to bash the guy as soon as he caught it. Okay. If the offense does everything perfectly you can't stop it.
Other than that and the rollout followed by an out first down that everyone always gets Michigan was as good as can be expected.
I should mention that Miami helped things out considerably by being a disheveled mess: false start, delay of game, false start, delay of game, some other penalty for variety. Part of the fan meltdown was that for a good chunk of the second quarter it was unclear if Michigan was any better organized than the goons opposite them.
Hello. [Upchurch]
That didn't take long. Jabrill Peppers spent most of his playing time at boundary corner, rolled up to the line and playing mean ol' press coverage. This went very well; receivers got the odd bit of separation only and Peppers was able to jam guys into the sideline repeatedly. He split time there with Lewis, and as the season goes along it seems likely that he'll lock down that spot.
That shift saw a number of formations with Countess back at the nickel spot he is familiar with, once again leaving Mattison to sigh and scrap his hybrid space player plans. At least putting Peppers to the boundary allows him to remain part of the blitzing plans; one of Miami's life-happens plays was a pretty back-shoulder fade completed on Jeremy Clark after Peppers was sent on a blitz.
Meanwhile, Countess at nickel is something Michigan knows and does well with. When Taylor gets back it'll be interesting to see what happens; I imagine Countess goes back to full-time nickel with Lewis and Taylor mostly to the field as Peppers comes into his authorita.
Ready the order of St. Kovacs. We'll have to wait until midseason but three games in there is no indication that Ryan Glasgow is in any hurry to cede his starting job. On the first play of this game he ripped his way to the tailback on an interior run; Miami spluttered its way to 1.4 yards a carry with Glasgow carrying the bulk of the NT load. I want to see him against Minnesota and MSU power running outfits before declaring him just plain good, but Heininger Certainty Principle and all that.
On the snaps I was watching him he looked just as good as you would expect a guy coming off that ND game to play.
This x10 per game [Upchurch]
Clark is okay you guys. The box score once again does not think Frank Clark did much—three tackles, a QB hurry—but I am telling you that tackles are having a very hard time blocking him and he's going to have a game coming up here where he spends a lot of it sitting on the quarterback's head.
Once Michigan gets their coverage figured out and the defensive tackles get a little more push, a little more lane responsibility, those pressures from Clark will start turning into big plays.
Check complaint reprise. A complaint as traditional as the one about the spread punt: it bugs me when Michigan tips a blitz against hurry-up-and-check offenses, sees the offense check in response to that tip, and then runs the blitz anyway. I don't think I saw Michigan check to something else once when this happened, and the blitzes were for the most part easily picked up. (IIRC there was one on which Michigan got through anyway.) Doesn't matter against Miami. Against other teams…
Michigan shouldn't be checking every time this happens, but they should be doing it at least 30-40% of the time so that there's some uncertainty about what Michigan is throwing at you.
Miscellaneous
Special K Dope Beat Of The Week. "Cherry Pie," third quarter. Bringing the Déjà Vu playlist to Michigan Stadium is a little too on the nose in re: tawdry defilement even for the guy who played that Flo Rida song about beejers, know what I'm sayin'?
WE FORGOT HOW TO DO IT. Did we even do the Go… Blue cheer last year? I don't remember doing so because we have to get Candi up to the main stage during commercial breaks now. I may be forgetting because I look at my phone a lot these days in an attempt to not pay attention to the dope beats of the week. Anyway, we tried it against Miami… and we screwed it up.
The way it works: half of stadium is shown signs that say "GO". Other half shown signs that say "BLUE." They alternate. Often there is pointing back and forth. This is not very hard and we have lost even this, as the cheerleaders just showed everybody GO and then BLUE.
1) Have we really lost so much institutional memory that even the freakin' cheerleaders don't have someone around who can say "do it like this because this is how we have done it since Yost"?
2) One of the side-effects of constant very loud music is to disincentivize anyone else from doing something interesting. The students used to chant Go… Blue at each other at various points and now they mostly stand around, doing nothing, because every available moment of space is filled.
It's an apathy machine. Remember the Saddest Tailgate Ever? They've started a series about life in the student section, and their latest entry reminds you of a fact that's shocking once you hear it:
Cow bell? Depressingly not yet this season. Other students reading this: we must fix this if nothing else
There's no cowbell! They've gone full Penn State: suck all the oxygen out of the stadium and watch your niche stuff—the stuff that matters—die. These people could not be worse for Michigan's long term.
For a guy who constantly says the only thing that will ever get students back is cell reception he doesn't seem to be doing anything about it. I got zero reception until the second half when an already kind of empty Michigan Stadium started downsizing in earnest; in contrast my reception at ND was near-flawless. If you actually believe the words you are saying about kids and their screens, why has coverage gone backwards from last year when there was spotty-but-okay wifi for most of the year?
I know for a fact that Michigan is way behind on this. For one, I've had great reception at ND and Penn State. For two, I know that when the NHL was coming in for the Winter Classic they were appalled by the coverage at Michigan and were trying to badger the athletic department into improvements. This is not an area where Michigan is paving the way for thought leaders of tomorrow.
Here
Best:  Depth at Wide Receiver or
Worst:  Is That Depth Only Interchangeable?

It was great to see guys like Darboh, Chesson, and even a brief appearance by Canteen get some focus in a passing attack that still seems to be figuring out what to do with the players available.  Darboh clearly established himself as the starter across from Funchess, and he looked sufficiently athletic enough to punish teams who single-cover him, at least with the ball in his hands (that first fumble was due as much to ball security as a good tackle by Miami).  Chesson couldn't pull in a gorgeous pass from Morris in the endzone when the MU corner swiped his arm, and he was the intended receiver who got crunched on Devin's tipped INT, but he his holding off some decent players for his spot and is also contributing on special teams.  Norfleet didn't catch a pass but had a great kickoff return to start the game and his 21-yard run on 1st down in the 3rd quarter gave Michigan great field position that they ultimately squandered.  Even Jungle Beats got in on the action, and looked like he could be a playmaker as the season progresses.

At the same time, it was a bit disheartening to see the passing offense remain a bit stagnant, at least in terms of downfield threats.  Darboh averaged a shade over 14.5 yards per catch, and that included a 26-yarder that featured quite a bit yac tacked onto a short slant/crossing route.  The longest completion of the day was on Butt's TD, which required absolutely every Miami player to not keep their eyes on a big Butt as it passed them by.
I think there was a sequence of plays where we may have turned the corner on this running game and left 2013 in the rear-view mirror. With 7:24 to go in the 2nd, Michigan was tied 10-10 with Not that Miami. A pass to Darboh brought the ball to Miami's 40 yard line. After that, Gardner was sacked for a 7 yard loss. I was thinking, "seriously?" My hope is that what happened next is the harbinger of good things to come.
- Green, Derrick rush for 27 yards...
- Green, Derrick rush for 11 yards...
- Green, Derrick rush for 8 yards...
- Green, Derrick rush for 1 yard to the MU0, TOUCHDOWN
Run game established, at least against the Miamis of the world.
Game day in Ann Arbor is an experience steeped in tradition. Nevertheless, the stadium experience, and with it the student section experience, has necessarily evolved, even just within my 6+ years in the NW corner. So to kick things off, here are some rapid fire questions/answers:

Kegs? No

Flasks? Yup, though I will add that, at least in the lower sections, most students appear to have gotten less tolerant of drinking and drunkenness from other students. If you're being positive and happy drunk, great we love you. If you're incessantly bitching about the team, complaining about the players, generally being negative and happen to stumble into me, I'm getting event staff. And I wouldn't be the only one.

Marshmallows? Uhh honestly I haven't seen this in any season I've been there…

Beach balls? Have seen them recently, didn't today.

Cow bell? Depressingly not yet this season. Other students reading this: we must fix this if nothing else

Travelling band? Nope (and I don't think they have for a year or so but I'm not sure). Definitely remember being entertained by that in years past
We have a mini-UFR on Shane's throws that got dropped, and can I interest you in the state of the Big Ten? No? Right, silly of me to even suggest so.
Elsewhere
At times...like that horrible 5 minute stretch in the second quarter, yes it was ugly...very ugly. But in the second half, when it mattered most Michigan responded. Regardless of what the box score tells us, this Michigan team is still very inconsistent. Maybe it's a product of playing a bad team...maybe a little Notre Dame hangover...poor coaching...poor preparation...maybe its a combination of everything.

Or maybe football is just a weird sport sometimes and things don't always go the way you want. When you have a 2nd quarter like Michigan did, its easy to second guess everything and everyone.
I like Michigan's corners. Jabrill Peppers (3 tackles) played quite a bit on the outside, and while he looked raw in some aspects of coverage, he clearly has the speed, strength, and hips to be a very good corner. It's just a matter of time with him. Jourdan Lewis (1 interception) also looked like a good man coverage guy, which we already knew. They both seemed to get a little more playing time than Blake Countess, although I could be wrong about that. Once Raymon Taylor comes back, I think Michigan will be in good shape. Miami quarterback Andrew Hendrix was completing 48% of his passes but for 338 yards/game coming into this one, and he finished 12/26 for 165 yards, 1 touchdown, and 1 pick.
Also awards.
OFFENSIVE LINE – Kind of stepping out on a limb here but, Derrick Green does not run for 137 yards and 2 TDs without some holes being created by the O-Line.  Derrick Green does not look like High School Derrick Green without the Big Uglies getting it done up front.

I realize the opponent was a MAC school that hadn't won a game in almost 2 years, but I saw signs of progress by the Hosses in the trenches.  I had a feeling this line would show some addition by subtraction, and now that the 2 senior tackles have left, this unit is starting to gel.  Again, I'm not talking B1G Championship here – just saying that when you gain over 450 yards of offense, the guys up front are something right. Doing it in September is one thing.  Getting it done in November is another.
Not from THERE.  Miami band displayed a "NOT COLUMBUS" banner on the opening number before playing THE VICTORS.  Pandering?  Guilty.  Do I Love it?  Guilty.

Capacity – Two minutes before kickoff, sparse in the student section and the unsold whatever-we-call-it section just north of the students:
On some level, it feels gauche to complain about a 24 point win over a MAC school.  Even one that has now lost nineteen games in a row.  But I think that there is a lesson in Saturday.  It didn't come on the punt debacle at the end of the second quarter.  It didn't come on the special teams meltdown in the middle of the second quarter.  It came at half time.

Watching the Michigan band, and the Michigan choirs, and the flyover, and the Miami band, and well, everything else that was happening simultaneously, my wife turned to me and said "It's like they're trying too hard."  Welcome to the last three years of Michigan football.
Hoke as forthcoming as usual on Funchess injury. 14 ejected, 4 arrested. Braylon Edwards has reputation for being controversial and that's probably why this take is being regarded as hot:
"It's year four, people want to see results in year four. The first couple years they'll give you excuses ... but in year four, you've got your own guys, your own players, your own staff and we want to see the results of your program," Edwards said. "A lot of pressure is on Brady to win three games. He lost one. He lost one of the three and there's a lot of pressure on him to win the other two."
I just think it's accurate.
When Michigan needs him most, they turned to Derrick Green. Or Jake Butt. Or nobody since "needs him most" is definitely not a construction we want to use for Miami (Not That Miami).
I object to this sentence in John Niyo's column:
This is what you get when you're marketed as an elite team but playing like a generic brand.
Michigan is marketed as a generic brand so hard yo.
Turnovers are bad. Oh look someone's still linking Drew Sharp like it's 2005. More MNBN takes. Offense every snap.