Preview 2017: Linebacker
Previously: Podcast 9.0A. Podcast 9.0B. Podcast 9.0C. The Story. Quarterback. Running Back. Wide Receiver. Tight End And Friends. Offensive Line. Defensive End. Defensive Tackle.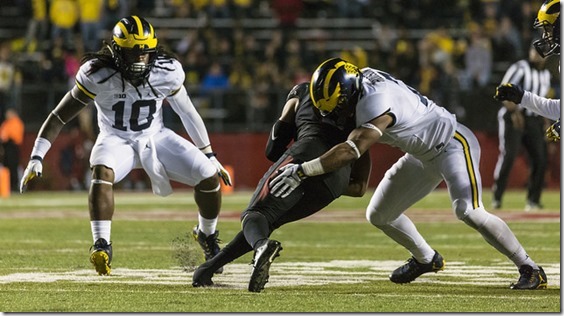 next gen [Patrick Barron]
Depth Chart

|      VIPER! | Yr. | MIDDLE LB | Yr. | WEAKSIDE LB | Yr. |
| --- | --- | --- | --- | --- | --- |
| Khaleke Hudson | So. | Mike McCray | Sr.* | Devin Bush | So. |
| Noah Furbush | Jr.* | Mike Wroblewski | Sr.* | Josh Ross | Fr. |
| Josh Uche | So. | Elysee Mbem-Bosse | So. | Drew Singleton | Fr. |
Michigan loses two of three starters from last year and has a couple of start-by-default replacements. Unlike the secondary, though, expectations are high for both newbies after veritable torrents of offseason hype. Michigan now has a linebacker corps that Doctor Blitz can do nefarious things with. Youth will lead to mistakes; Brown will solve his problems with aggression. As one does when one is Doctor Blitz.
VIPER: DOCTOR WHO JUST HIT ME WITH A TRUCK
Rating: 4.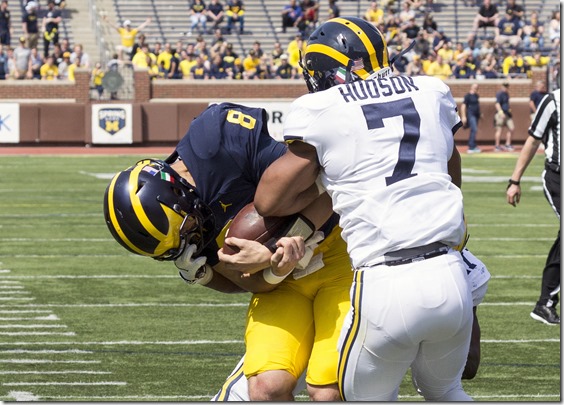 Hudson is wha ah ah ah ah down with the sickness [Barron]
Yeah, Jabrill Peppers is gone. I'm not sweating it. I'm wearing a KHALEKE HUDSON [recruiting profile] fez, waving a Khaleke Hudson flag, and writing a PhD dissertation about Khaleke Hudson's senior highlight reel. Anyone who's read this site for a hot second knows its staff comprises the biggest Hudson fan group outside of his immediate family, and if he takes off like Michigan hopes he will they're going to have to really up their game at Christmas.
So far, so good as Hudson tries to redeem our unseemly enthusiasm. All the overheated rhetoric from his recruiting profile is on track, whether it was from an opposing coach…
"He is the best combination of strength, speed and burst I've seen in a long time," said Ruane. "Every tackle, run and block is violent with him. He will be playing on Sundays someday. And I'm happy he's graduating."
…or your author:
A multiple-position star who is seemingly designed by man and God to punish people … I mean, he's not Peppers. But other than not being Peppers, he's basically Peppers.
The people saying these things are now his coaches and teammates, and that's one step closer to realizing his potential. Chris Partridge:
Khaleke Hudson and the skills that he brings to that position?

"Violence. Aggression. Hammerhead. He's a guy that just loves contact. I think that people feed off that, too. He's becoming very well rounded as a player so he's going to be very enjoyable to watch."
"Well, I love him. He's a very physical guy. His learning at that position has been outstanding and he's competing at a high level. … Some guys' arrow is flat, some guys' arrow is down -- his arrow is constantly going up."
Brown doesn't just rattle off praise for everyone—see the CB spot. If he's a Hudson believer that's meaningful.
Hudson got his first action on Michigan's punt block, where he was sufficiently explosive and physical to drive through shield blocking and return two to sender. But he was clearly behind Metellus, who was getting more garbage time snaps and got the call when Peppers was unavailable for the bowl game. That's likely because Metellus picked up the defense faster. Don Brown calls him a "savant"; meanwhile a couple of insider reports I got asserted that Hudson was a bit slow to grasp Brown's intricate defense.
Spring, and a definitive move to viper, has cleared Hudson for liftoff. He says he's got the defense down now:
"I feel like I know it really well now," Hudson said. "I still go back and forth with Josh. We both get reps at viper, but I feel like it's starting to be a good position for me."
Reports started reaching our ears about Hudson's tendency to pound people who ventured into his area and the "spectacular, freaky plays" he was making. Partridge again:
"He's very physical, he's low to the ground, he gets under people, he strikes people, he plays really hard, he's very self-motivated."
He impressed in the spring game. Ace named him one of the standouts:
The hype here isn't going to slow one bit after today. Hudson was everywhere on defense, looking like the heavy-hitting player we expected against the run and proving equally formidable in coverage, where he broke up a couple passes and nearly came up with an interception. As is his wont, he came inches away from a blocked punt, too.
That heavy hitting was deployed against John O'Korn in the picture that leads this section. O'Korn broke the pocket and looked certain to punch the ball into the endzone until he met Hudson:
Nice hit at the goal line from Khaleke Hudson (in the slot) against John O'Korn. pic.twitter.com/1940SOvkhJ

— Tony Gerdeman (@TonyGerdeman) April 24, 2017
O'Korn is the first, but certainly not the last, victim.
Insider chatter this fall has been about as over the moon as this here site. He and Bush are "looking amazing" per 247, with "rave reviews" coming from teammates. McCray offered some of those publicly at Big Ten media day:
"I think he's going to be one of the best players in the nation this year, and in the future, because he can play linebacker, and he can play safety. If he wanted to, he could probably play corner. He's just a freak athlete, and he's really good."
Webb asserted that Hudson kept it up from his excellent spring and has "found his home" at viper(!), where his tendency to be a large hadron collider was a "revelation." Later he'd talk to JT Rogan, who concurred:
"Khaleke Hudson is a great downhill player. He is similar to Jabrill Peppers... man, is he strong and he's fast."
He's "a bull against the run game" and Rivals reports that Michigan tight ends are hugely productive... when Hudson is on the sideline. That about covers it.
Hudson's a perfect fit for the glamor spot in Michigan's defense and has all the arrows pointing the right way. He'll have his share of busts in year one as a starter; when not doing that he'll be turning in more TFLs, big hits, and PBUs. He won't be Peppers, but he's basically Peppers.
[After THE JUMP: fey Johnny Depp! Hhhhhhhyyyyaaaaarrr!]